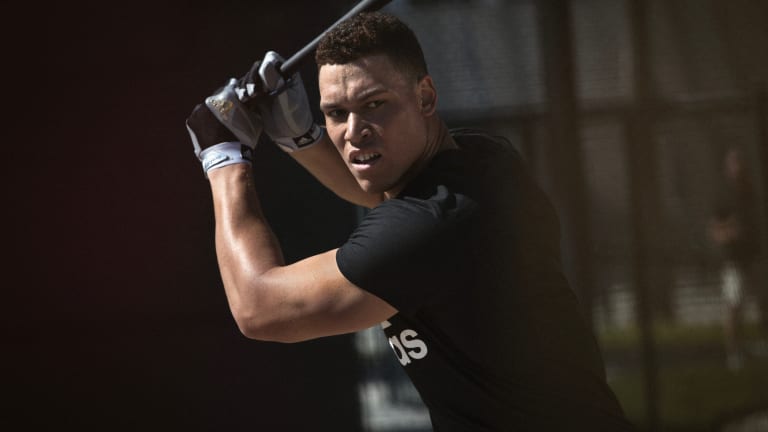 Exclusive: Yankees Superstar and AL Rookie of the Year Aaron Judge Joins Adidas
Aaron Judge is the newest prominent young baseball player to join Adidas.
In March 2017, Yankees outfielder Aaron Judge was a minor league player trying to crack the big league ballclub. In March 2018, Judge is the defending Rookie of the Year, the defending Home Run Derby champion and, as of today, the newest member of Adidas. Oh how much can change in just one year.
"Did I think I'd sign this kind of deal this early in my career? To be honest no," Judge said. "But I'm really excited for this opportunity to join Adidas and work with them,"
"Never in my dreams would I have envisioned that I'd be signing an endorsement deal at all."
Judge is the latest young baseball star to sign with Adidas, which recently inked Chicago Cubs third baseman Kris Bryant and Houston Astros shortstop Carlos Correa. In an era where athletes are morphing into industry symbols and influencers, Judge felt Adidas was the company to not only amplify his profile, but allow him to explore cross-platform options and ascend to something more than a baseball player.
​
"The coolest part is that they're not all about sports, and that was so clear in one of my first meetings with them," Judge says. "They're about lifestyle and showing who I was and who I am as a person. It's what made the choice easy." 
Signing Judge was a no-brainer for Adidas. By landing the 25-year-old Yankees star, Adidas now has one of the most marketable young players in the game, and one who finished 2017 with 52 home runs in his first full Major League season. Pair him with Correa and Bryant and Adidas has now inked three Rookies of the Year since 2015 and three of the game's most promising young talents. Due to his physical stature at 6' 7" and symbolic stature in New York City, Judge may be the most significant client Adidas has signed this year.