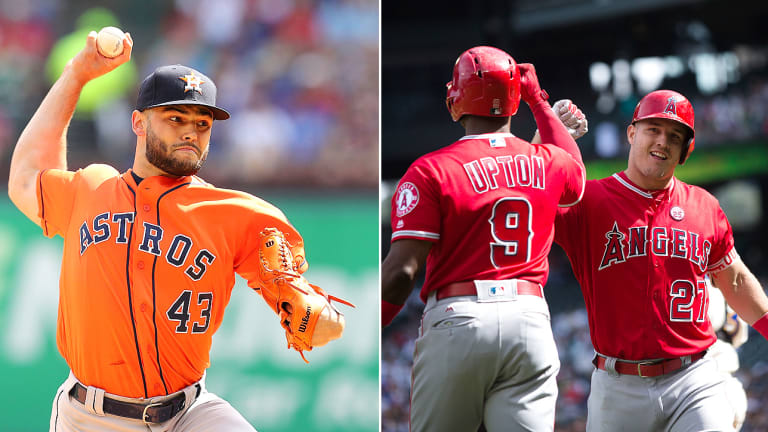 MLB DFS Plays for April 6
It's an unusual MLB Friday slate with just nine games, creating a few holes in the DFS landscape. We'll help you use the holes to your advantage.
Early season baseball always gives us a few odd slates. One of those is in play Friday, a day when all 30 teams are typically in action. This Friday, however, there are just nine games, with two of them starting in the afternoon. Few elite starting pitchers are taking the mound, which could lead to some big offensive numbers in DFS. Consider using some of our recommended pitchers and stacks, and then plug them into our MLB Lineup Optimizer to round out your lineups.
Starting Pitchers
Carlos Carrasco, vs. Royals (FD: $9,400, DK: $12,800)
Corey Kluber understandably gets most the headlines in Cleveland, but Carrasco is an ace, too. He just isn't his own team's No. 1. Not only did he set a new career high with 18 wins last year, but he also recorded a 1.10 WHIP and 10.2 K/9. He has a WHIP of 1.15 or better in each of the last four seasons and does a great job of keeping hitters in the park, allowing 0.9 HR/9 or fewer in four of the last five years.
His first start of the season did not go as planned, giving up five runs and two long balls in 5 2/3 innings against the Mariners. The Royals offense wasn't great last year to begin with, but they also lost Eric Hosmer and Lorenzo Cain over the winter. Carrasco should get it going on Friday.
By Adding a Cutter to His Arsenal, Cardinals Ace Carlos Martinez Is Even More Dangerous
Lance McCullers, vs. Padres (FD: $8,600, DK: $12,300)
McCullers had a brief scare when he was hit by a comebacker in his first start of the season against the Rangers, but stayed in the game, finishing with 10 strikeouts in 5 1/3 innings. That's the McCullers we know can dominate, the one we saw for the first half of last season. Despite the way he slowed after the All-Star break, he still possesses a front-of-the-rotation ceiling, one he showed with consistency for most of last season. The Padres lineup is missing one of its key pieces in Wil Myers (arm) and wasn't very deep to begin with, leaving McCullers with excellent upside Friday.
Luis Castillo, at Pirates (FD: $7,100, DK: $8,700)
Castillo drew a tough first start of the season against the Nationals, eventually giving up six earned runs in five innings. Don't let that dampen your enthusiasm for the youngster. He made quite the impression in his first taste of action in the majors last year, posting a 3.12 ERA, 1.08 WHIP and 9.9 K/9 in 89 1/3 innings. He also showed excellent control for a young power pitcher, allowing just 1.8 BB/9. He induced a lot of grounders as well with a 58.8% ground-ball rate.He picked up against the Nationals where he left off in the strikeout department, whiffing six in the outing. Things get much easier for him in a matchup with the Pirates on Friday. Castillo can play in cash games, but should definitely be on your tournament radar.
Offensive Stacks
Los Angeles Angels vs. Daniel Gossett, Oakland Athletics
Stadium – Angel Stadium
Gossett takes the hill for the Athletics on Friday after having a horrid 2017 season, finishing with a 6.11 ERA and 1.61 WHIP. Not only did he have a 2.1 HR/9 and 3.1 BB/9, but he only had a 7.1 K/9. He was never a big strikeout pitcher in the minors, either, posting an 8.1 K/9 in 398 2/3 innings.
Things didn't look any better for him in his first start of 2018, allowing four earned runs and failing to record a single strikeout against these same Angels. He struggles equally against batters from both sides of the plate, making the Angels an excellent stacking option Friday.
Jake Odorizzi Is the Twins' Latest Addition And He's Showing Off a Refashioned Curveball
Toronto Blue Jays vs. Matt Moore, Texas Rangers
Stadium – Globe Life Park in Arlington
Outside of Cole Hamels, the Rangers starting rotation is shaky to say the least. Although Moore is just 28 years old, his best days appear to be well in the rearview mirror. He was terrible for the Giants last year, finishing 6-15 with a 5.52 ERA and 1.53 WHIP. He struggles with his control, posting a 3.7 BB/9 for his career.
Moore was roughed up in his first start of the season against the Astros, allowing four earned runs in four innings. He did record six strikeouts, but with only an 8.2 K/9 for his career, don't expect to see significant improvement in that area this season. The Blue Jays lineup can do damage against left-handed pitching as Josh Donaldson, Justin Smoak and Kendrys Morales all had a wOBA of at least .412 against lefties last year.
Los Angeles Dodgers vs. Derek Holland, San Francisco Giants
Stadium – AT&T Field
The Giants rotation is a mess with Madison Bumgarner (hand) and Jeff Samardzija (pectoral) both on the DL, opening up a path for Holland to start. He certainly didn't land a starting spot based on his production in 2017, finishing with a 6.20 ERA and 1.71 WHIP as a member of the White Sox. He also posted a 5 BB/9 compared to just a 6.9 K/9. That's not a recipe for success.
Holland has been particularly bad against right-handed hitters, allowing a wOBA of .408 to them last year. He faced these same Dodgers in his first start of 2018 and wasn't terrible, allowing three earned runs in five innings. Based on his recent struggles, though, he might not be so lucky in their rematch.
Once One of 2018's Top Free Agents, Charlie Blackmon Safely Signs Extension With Rockies
Colorado Rockies vs. Brandon McCarthy, Atlanta Braves
Stadium – Coors Field
The Braves have some young starting pitchers that they are really excited about, but have inserted McCarthy into their rotation to hopefully eat up some innings and provide veteran leadership. However, he hasn't pitched more than 100 innings in a season since 2014, so it's unclear just how long he'll be starting for his new team.
Like many other starting pitchers, McCarthy has struggled mightily in Coors Field during his career, recording a 7.94 ERA and 1.77 WHIP in four games, three of which were starts. He doesn't have an overpowering pitch arsenal, which helps create a great opportunity to stack Rockies on Friday.