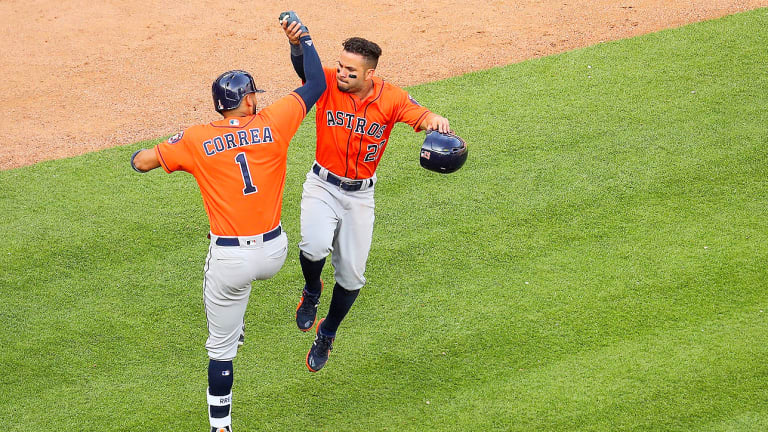 MLB DFS Plays for April 18
There are 14 MLB games on Wednesday, divided evenly between the afternoon and evening. That gives us two big DFS slates to play.
Half of Wednesday's 14 games begin before 5 pm Eastern time, so there are two big slates of games on both main DFS sites. We'll have picks for both below that you can plug them into our MLB Lineup Optimizer, which will help you round out your lineups, no matter which slate you're playing.
Starting Pitchers
Jose Berrios, vs. Indians (FD: $9,800, DK: $11,000, evening slate)
Berrios is off to an excellent start this year, posting a 2.18 ERA, 1.68 FIP and a microscopic 0.63 WHIP through three outings. Teams continue to have a hard time squaring him up with an 18.4% hard-hit rate to go along with his 10.5 K/9. The Indians have the lowest team batting average (.208) and OBP (.284) in the majors, leaving Berrios with excellent upside.
Rick Porcello, at Angels (FD: $8,500, DK: $7,700, evening slate)
Porcello's numbers have been stellar through three starts this year, entering Wednesday with a 1.83 ERA and 0.76 WHIP. His FIP is even better at 1.66, and his hard-hit rate is all the way down to 21.4%. He's generating a ton of grounders, as well, with a 51.8% ground ball rate, which is actually close to his career mark of 48.9% than where he was a season ago. He doesn't provide much strikeout upside, but Porcello is still someone to consider for your entry at this price.
Jake Faria, vs. Rangers (FD: $5,500, DK: $6,200, early slate)
Faria was crushed in his second start of the season against the Red Sox, allowing eight earned runs in only 1 2/3 innings. He had major control issues in that game that resulted in five walks. Outside of that, he allowed two earned runs total in 9 1/3 innings in his other two outings.
It may not be a coincidence that he was lit up in his only road start so far this season. He finished with a 3.10 ERA at Tropicana Field last year compared with 3.72 on the road, but more importantly, he had just a 1.06 WHIP at home while posting a 1.35 WHIP on the road. He'll also get a far easier lineup in the Rangers on Wednesday, so he might be worth the risk in tournament play for the early slate.
The Table Setter: Pleading for Mercy from the Winter, and Previewing the Season's Third Week
Offensive Stacks
Houston Astros vs. Mike Leake, Seattle Mariners, evening slate
Stadium – Safeco Field
Leake's 3.50 ERA this season looks good, but his 5.86 FIP suggests he has not pitched all that well. Luck has been on his side with opponents registering a .211 BABIP, well below his career mark of .294. Another area of concern is that he has a 4.5 BB/9 compared with just a 4.0 K/9. He has a career 6.1 K/9, so he clearly does not have an overpowering pitch arsenal.
The Astros have a lot of talented right-handed hitters who hit righties well, so you don't have to be discouraged by lack of a platoon advantage. If you are looking to key in on a left-handed hitter for your entry, Josh Reddick finished with a .357 wOBA against righties last year.
Arizona Diamondbacks vs. Chris Stratton, San Francisco Giants, evening slate
Stadium – Chase Field
Stratton has been impressive in his first three starts this season, recording a 2.60 ERA and 0.98 WHIP. He's been extremely lucky, though, holding opponents to a .213 BABIP, and he only has a 5.7 K/9. Neither of those are strong indicators for continued success.
With regression likely on the horizon, Stratton could be in for a rough start on the road against a Diamondbacks team that is averaging more than five runs per game at home this season. Not only are Paul Goldschmidt and A.J. Pollock two excellent options for your entry, but so is David Peralta, who had a .353 wOBA against right-handers last year.
It's Not too Early to Call the Breathtaking Shohei Ohtani a Big League Phenomenon
Atlanta Braves vs. Vince Velasquez, Philadelphia Phillies, evening slate
Stadium – Sun Trust Park
Velasquez has had a hard time keeping runners off base during his Major League career and he has a 1.37 WHIP through three starts this year. He has strikeout upside, but didn't do himself any favors with a HR/9 of at least 1.4 in both of the last two seasons.
Velasquez allowed two runs across 12 1/3 innings in his last two starts, but it should be noted that they came against two of the worst lineups in baseball in the Marlins and Rays. His first start of the season came against these same Braves and he did not have similar success, allowing seven runs (four earned) in just 2 2/3 innings. Don't hesitate to take advantage of him in their rematch Wednesday.
Colorado Rockies vs. Chad Kuhl, Pittsburgh Pirates, early slate
Stadium – PNC Park
Kuhl did not pitch particularly well in his first full season as a starter last year, finishing with a 4.35 ERA and 1.47 WHIP. His K/9 wasn't terrible at 8.1, but batters were able to post a 36.1% hard-hit rate against him. If he's going to continue to allow runners to reach base at that pace, his hard-hit rate is eventually going to lead to some ugly performances.
The Rockies offense is known for putting up big numbers at home, but they have actually scored the third-most runs on the road (54) in baseball so far this season, and have slugged 19 home runs away from Coors Field. With Kuhl's bloated 1.79 WHIP through three starts, don't be surprised if the Rockies throw up another crooked number Wednesday.