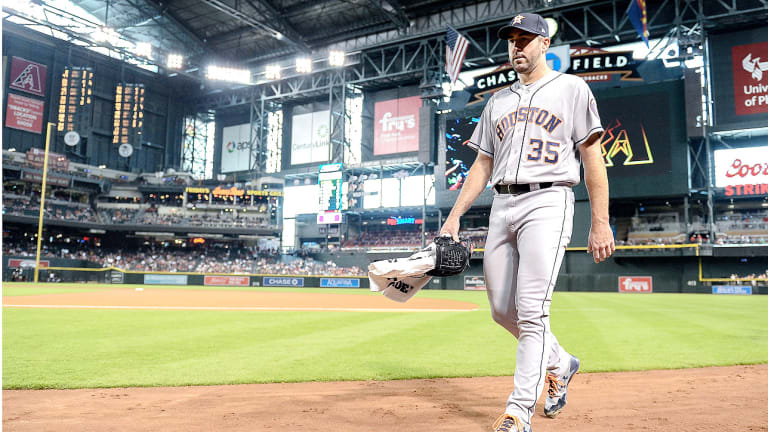 MLB DFS Plays for May 11
Justin Verlander and the Braves offense lead our DFS plays for Friday.
With only one day game on the schedule in baseball Friday, we've got a bevy of options to choose from for the evening slate in DFS. Max Scherzer and Justin Verlander lead the charge in terms of starting pitchers, but there are also some great hitting matchups on the board, as well. Consider using the picks below and plugging them into our MLB Lineup Optimizer to help round out the rest of your lineup.
Starting Pitchers
Justin Verlander, vs. Rangers (FD: $11,300, DK: $13,000)
Verlander thrived after being traded to the Astros last year and has been one of the best pitchers in baseball again this year with a 1.17 ERA, 0.71 WHIP and 11.7 K/9. He is currently on pace to set new career highs by throwing a first-pitch strike to 65.5% of the batters that he has faced and recording a 14.5% swinging-strike rate. Opponents are likely to improve on their .205 BABIP against him, but he has tremendous strikeout upside every time he takes the mound. The Rangers had no success against Verlander in two previous games this season, scoring one run and striking out 16 times against him in 14 innings. He's expensive, but don't be afraid to pay up for him.
Tyler Skaggs, vs. Twins (FD: $8,200, DK: $8,600)
Skaggs has proven to be a valuable part of the Angels rotation with a 3.08 ERA, 1.18 WHIP and 9.2 K/9 through seven starts. He gave up six runs in one game against the Red Sox, but hasn't allowed more than two earned runs in any of his other outings. His .299 BABIP allowed isn't abnormal and his 34.9% hard-hit rate allowed is actually a little higher than his career mark, which doesn't indicate significant regression is on the way. His improved numbers could partly be attributed to throwing a first-pitch strike to 67.5% of the batters that he has faced and his 10.5% whiff rate, both of which would set new career bests. The Twins have scored the seventh-fewest runs (147) in baseball, leaving Skaggs with upside at this price.
Way-Too-Early 2018 Fantasy Football Rankings
Marco Gonzales, at Tigers (FD: $6,900, DK: $7,000)
At first glance, Gonzales' 5.19 ERA and 1.44 WHIP don't exactly instill confidence for playing him Friday. However, he has a 3.08 FIP and has been incredibly unlucky with opposing hitters recording an unsustainable .400 BABIP. He only has a 1.6 BB/9 and has shown strikeout upside with a 9.9 K/9. The Tigers lineup wasn't great to begin with and is even thinner right now with Miguel Cabrera (hamstring) and Leonys Martin (knee) both on the DL. It's usually a good idea to lean toward a pitcher with strikeout potential when you are looking for a cheap tournament play, but this matchup also makes Gonzales a strong candidate.
Offensive Stacks
Atlanta Braves vs. Dan Straily, Miami Marlins
Stadium – Marlins Park
Straily has only made two starts for the Marlins this season and they have not gone well, allowing six earned runs across eight innings. He has already given up three home runs, a problem that has carried over from last year. With a 3.5 BB/9 for his career, as well, Straily can be prone to giving up some crooked numbers. The Braves have been lethal this season with the third-most runs scored (196) in baseball, presenting a prime stacking opportunity for your entry.
Colorado Rockies vs. Brandon Woodruff, Milwaukee Brewers
Stadium – Coors Field
Woodruff has mainly pitched out of the bullpen this season, but will join the rotation Friday with Zach Davies (shoulder) and Wade Miley (oblique) on the DL. Woodruff did make eight starts for the Brewers in 2017, finishing with a 4.81 ERA, 1.33 WHIP and 6.7 K/9. The normally potent Rockies offense has struggled a bit this season, but part of that can be attributed to them playing only 15 of their 38 games at home. They have a .723 OPS at home compared with a .679 mark on the road, so this won't be an easy task for Woodruff.
Is Dodgers Rookie Walker Buehler a Potential Frontline Starter?
Los Angeles Dodgers vs. Matt Harvey, Cincinnati Reds
Stadium – Dodger Stadium
The Reds have been desperate for starting pitching, so they decided to take a chance by acquiring Harvey from the Mets. Harvey was terrible last year with a 6.70 ERA and 6.37 FIP and has carried those struggles into 2018 with a 7.00 ERA and 5.68 FIP. Not only did he finish with a WHIP of at least 1.47 in both of the last two seasons, but he's not a big strikeout pitcher anymore either with only 6.7 K/9 this year. The Dodgers offense has been inconsistent and is still missing a couple of key players, but they have a much better OPS (.734) against right-handed pitching than they do against lefties (.663). Things might not end well for Harvey in his first start with his new team.
Philadelphia Phillies vs. Steven Matz, New York Mets
Stadium – Citizens Bank Park
Matz has a respectable 4.23 ERA and 1.16 WHIP, but he's been very lucky with opponents recording just a .227 BABIP against him so far. He's allowed a .308 BABIP for his career and has allowed a 36.1% hard-hit rate this year, so regression may be in the offing. His 10.1 K/9 is impressive, but with an 8.3 K/9 for his career and batters swinging at a career-low 18% of his pitches outside the strike zone this season, he probably can't keep up this pace. The Phillies have scored 36 runs in their last five games, so don't be surprised if they keep things rolling against Matz on Friday.