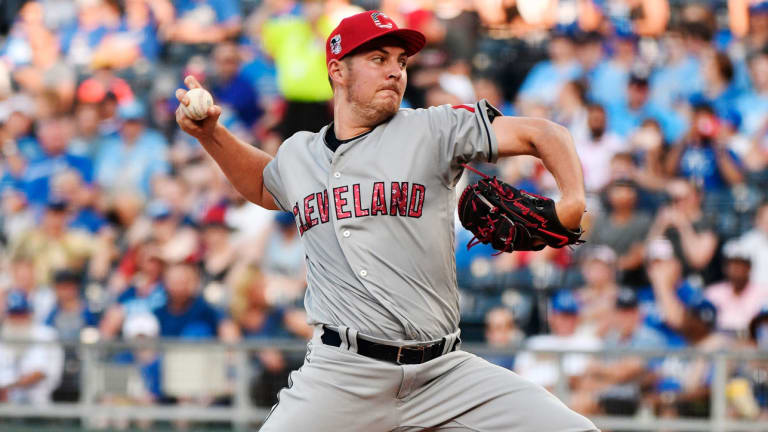 MLB DFS Plays for July 10
Trevor Bauer takes the hill and the Red Sox have a very favorable offensive matchup. It's time to fill out your July 10 DFS lineup.
As baseball works its way towards the All-Star break, we've got a full slate of 15 games Tuesday to take advantage of in DFS. There are a few elite starters who will take the mound, but the overall pitching pool is not very deep despite the loaded schedule. As a result, there are some great stacks that could provide significant production. Consider using the picks below and plugging them into our MLB Lineup Optimizer to help fill out the rest of your lineup.
Starting Pitchers
Trevor Bauer, vs. Reds (FD: $12,000, DK: $13,600)
Bauer is showing no signs of slowing down in what is shaping up to be his breakout campaign. He has allowed two runs or fewer in four straight outings and has allowed more than three earned runs in start only twice all year. He has a stellar 2.45 ERA as a result, which is supported by his 2.17 FIP and 1.09 WHIP. His 13.1% swinging-strike rate is almost four percentage points higher than last year and has led to a career-high 11.6 K/9. After allowing at least 20 home runs in three straight seasons, he has given up just five homers in 121 1/3 innings. The Reds are in the top-third of baseball in runs scored, but Bauer's tremendous strikeout upside still makes him one of the best options on the board Tuesday.
Rich Hill, at Padres (FD: $8,000, DK: $8,600)
Playing Hill can be a risky proposition. He's battled blister issues throughout the season and left his last start with a stiff neck after sliding head first into home plate. The good news is he has allowed two runs or fewer in three of his last four starts and has a 9.7 K/9 for the season overall. His 4.56 ERA is higher than it has been in recent seasons, but he's been a bit unlucky with opponents posting a .307 BABIP against him. The Padres have scored the fourth-fewest runs (343) and have struck out the most times (876) in baseball, so Hill might still be worth the risk even with his health concerns.
Jhoulys Chacin, at Marlins (FD: $7,700, DK: $8,500)
Chacin has been a nice addition to the Brewers starting rotation, posting a 3.63 ERA, 3.84 FIP, and a 1.29 WHIP across 19 starts. He has only allowed 0.6 HR/9, which is nothing new considering he has a 0.8 HR/9 for his career. That's especially impressive since he spent six seasons pitching his home games in Coors Field as a member of the Rockies. The Marlins have had a couple of big offensive performances lately, but they have still scored four runs or fewer in 9 of their last 14 games. They have also hit the third-fewest home runs (77) in baseball overall. Chacin doesn't provide a lot of strikeouts with a 7.2 K/9, but he is still a viable option in tournament play.
Offensive Stacks
Boston Red Sox vs. Yovani Gallardo, Texas Rangers
Stadium – Fenway Park
If the Rangers had other quality options, Gallardo likely wouldn't still be in their starting rotation. He has not pitched well in four starts with the team, posting a 5.87 ERA and a 1.35 WHIP. He has allowed four home runs in just 23 innings and finished with three or fewer strikeouts in three of those four outings. This matchup is about as bad as it gets for him too since the Red Sox have scored the most runs (494) and hit the second-most home runs (130) in baseball. They also have the highest OPS against right-handed pitchers (.820) and the highest OPS at home (.854).
Atlanta Braves vs. Marcus Stroman, Toronto Blue Jays
Stadium – SunTrust Park
Stroman had the best season of his career last year with a 3.09 ERA and a 3.90 FIP. The Blue Jays had high hopes for him again this year, but right shoulder inflammation limited him during spring training. It may have been the main reason why he got off to a horrible start by allowing at least four runs in six of his first seven starts. He found himself on the DL with shoulder fatigue in early May and missed more than a month of action. His first two starts since being activated went well, but he was hammered for six runs in 4 2/3 innings against the Mets in his last outing. Considering the Mets have scored the third-fewest runs (341) in baseball, that doesn't exactly install confidence for Stroman moving forward. He's never had an overpowering pitch arsenal even when he is healthy and will have his hands full against a Braves team that has scored the sixth-most runs (439).
Arizona Diamondbacks vs. Tyler Anderson, Colorado Rockies
Stadium – Coors Field
As is the case with most of the Rockies pitchers, Anderson struggles when pitching in Coors Field. He has a 3.48 ERA and a 1.09 WHIP on the road this year, but a 4.37 ERA and a 1.37 WHIP at home. He has thrown seven fewer innings at home, but he has allowed three more home runs there than he has on the road. The Diamondbacks only have a .681 OPS against right-handed pitchers, but have excelled against lefties with a .762 OPS. They scored seven runs over 2 1/3 innings against Anderson earlier this year and could hang another crooked number on him Tuesday.
St. Louis Cardinals vs. Dylan Covey, Chicago White Sox
Stadium – Guaranteed Rate Field
Covey allowed a whopping 20 home runs in 70 innings last year. Add that to his 1.67 WHIP and he finished with a 7.71 ERA. He got off to a great start this season in large part because he didn't allow a single long ball in his first six starts. However, he's allowed six in four outings since. His ERA jumped from 2.29 to 5.54 during that stretch. With a 1.59 WHIP, his starts can get out of hand in a hurry if he can't keep hitters inside the part. The Cardinals haven't had the most prolific offense this year, but this matchup leans heavily in their favor.