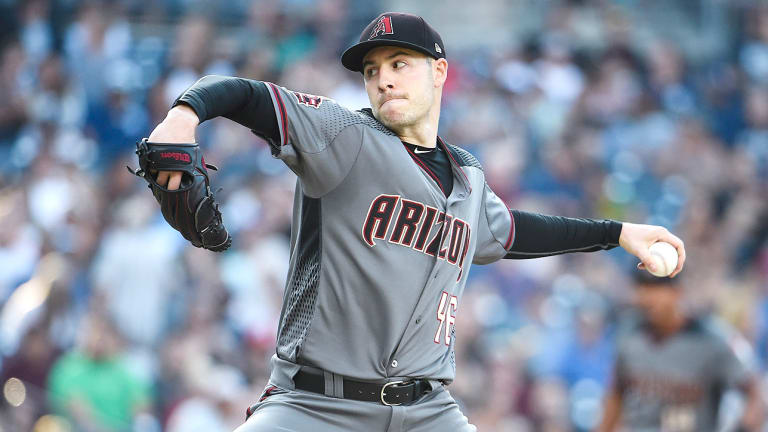 MLB DFS Plays for August 3
Finding the best pitchers and lineup stacks for Friday's DFS contests.
Several aces are scheduled to take the mound Friday, including Jacob deGrom, Justin Verlander and Luis Severino. It's a great night for pitching options beyond the big three, as well, with a strong group of second-tier options on the board. Add in a few favorable stacking opportunities and it should be another fun DFS slate. Consider using the picks below and plugging them into our MLB Lineup Optimizer to help fill out the rest of your lineup.
Starting Pitchers
Patrick Corbin, vs. Giants (FD: $9,800, DK: $10,400)
Corbin is having an excellent season with a 3.26 ERA that is supported by an even better 2.65 FIP. He's missing plenty of bats with a 14.8% swinging-strike rate, which has helped him post a 1.06 WHIP and an 11.0 K/9. His 42.6% hard-hit rate is considerably higher than his career mark, but opponents haven't been unlucky with a .292 BABIP against him. Home runs haven't been an issue for Corbin, either, as he's surrendered just 11 across 135 1/3 innings. He's already faced the Giants four times this year, giving up five runs and recording 29 strikeouts over 26 2/3 innings. Considering the Giants are in the bottom-third of the league in runs scored, look for Corbin to have plenty of success against them again Friday.
Anibal Sanchez, at Mets (FD: $8,500, DK: $8,000)
Sanchez was originally lined up to start twice this week, but the Braves decided to call up Kolby Allard to start Tuesday, pushing everyone back a day. After Wednesday's game was postponed due to rain, Sanchez's start was moved again to Friday. He hasn't pitched since July 26, but the extra rest might not be a bad thing for the veteran who's in his 13th season in the majors. The move back to the National League has certainly agreed with him, as he has a 3.00 ERA and a 1.09 WHIP to go along with an 8.5 K/9. This is an excellent matchup against a Mets team that has by far the lowest OPS at home (.625) in baseball.
What Will New Offensive Coordinator Norv Turner Bring to Carolina's Offense?
Vince Velasquez, vs. Marlins (FD: $8,100, DK: $8,000)
Velasquez had trouble keeping hitters off base with a 1.50 WHIP last year, but he's made excellent progress this season with a 1.24 WHIP. His .289 BABIP allowed isn't low, either, which is good news for his value moving forward. His 4.02 ERA isn't great, but some of that can be traced to a disastrous start against the Brewers at the beginning of June when he allowed 10 runs over 3 2/3 innings. Since that outing, he has a 2.48 ERA and a 1.00 WHIP across 40 innings. The Marlins have scored the fourth-fewest runs (421) in the league, leaving Velasquez with an excellent opportunity to continue his recent run of success.
Offensive Stacks
Cleveland Indians vs. Jaime Barria, Los Angeles Angels
Stadium – Progressive Field
Barria's 3.74 ERA and 1.20 WHIP are deceiving. His FIP stands at 5.12 and opposing hitters only have a .256 BABIP against him, so he's not pitching nearly that well. He's not fooling many batters with a 6.5 K/9 and he's already allowed 14 home runs in 77 innings. This could get really ugly against an Indians team that has not only scored the third-most runs (549) in the league, but also has the fourth-highest OPS at home (.819). One thing to keep in mind is that even though Barria is right-handed, he's allowed a .241 wOBA against lefties compared to a .397 wOBA against right-handed hitters.
Washington Nationals vs. Anthony DeSclafani, Cincinnati Reds
Stadium – Nationals Park
DeSclafani hasn't made it out of the fifth inning in any of his last three starts, allowing 12 runs over 12 innings during that stretch. He's recorded a quality start in only two of his 10 outings, leaving him with a 5.47 ERA and an even worse 6.07 FIP. When you add his 1.35 WHIP with the fact that he has given up 2.6 HR/9, it's not surprising that he's struggled so mightily. The Nationals have a .776 OPS at home.
Fantasy Football 2018: Wide Receiver Primer
Oakland Athletics vs. Blaine Hardy, Detroit Tigers
Stadium – Oakland-Alameda County Coliseum
Hardy has been excellent out of the bullpen, posting a 1.69 ERA, 1.13 WHIP and a 9.3 K/9 across 10 appearances. He hasn't had nearly that kind of success as a starter, though, with a 4.01 ERA, 1.26 WHIP and a 5.9 K/9 over 10 outings. He did start against the A's previously this year, allowing six runs, three earned, and two home runs in four innings. The A's are a much better hitting team on the road, but this is still a matchup to consider. One player to specifically target is Mark Canha, who has a .419 wOBA against lefties this season.
Texas Rangers vs. David Hess, Baltimore Orioles
Stadium – Globe Life Park in Arlington
Hess is expected to start Friday in place of Kevin Gausman, who was dealt to the Braves at the trade deadline. Hess made nine starts for the Orioles earlier this season, posting a 5.94 ERA and a 1.53 WHIP. He only had a 5.0 K/9 and gave up 10 home runs over 47 innings, which doesn't exactly bode well for him Friday. The Orioles bullpen is also severely depleted after they traded away Zach Britton and Brad Brach. The Rangers enjoy hitting in Arlington, evidenced by a .783 home OPS.