The six moments that defined Strikeforce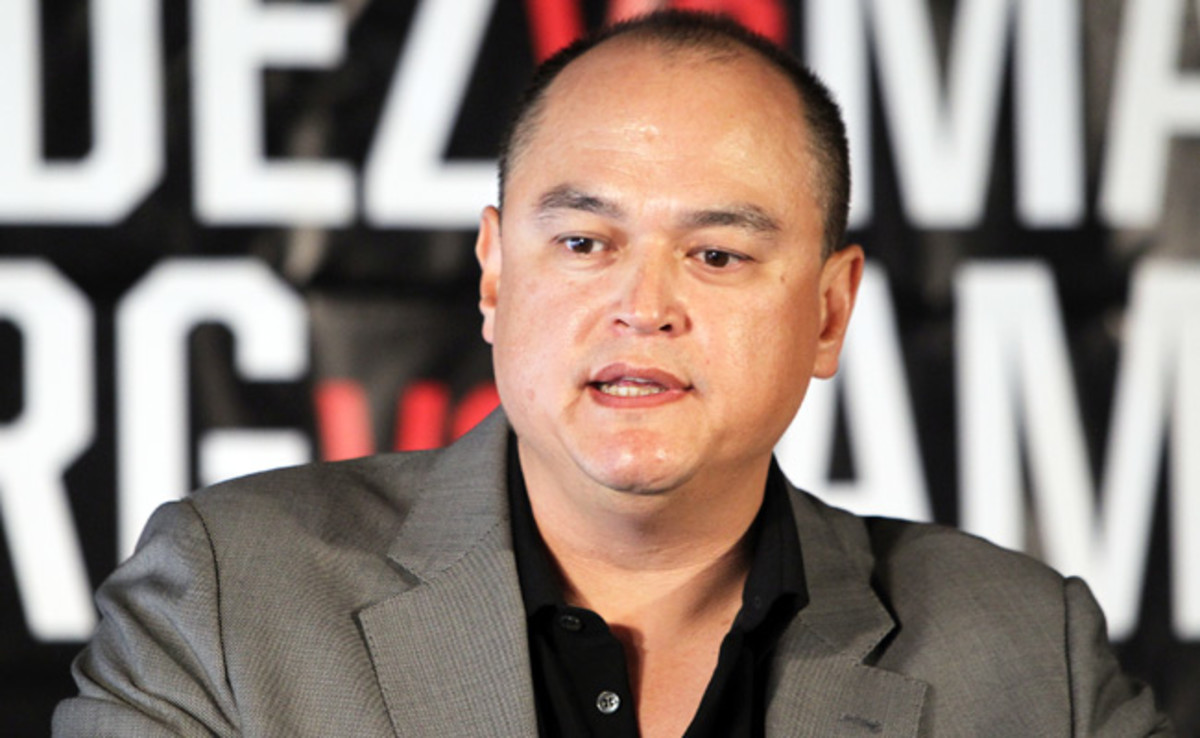 Though the drama and uncertainty that surrounded Strikeforce during the last two years might cloud our memories, the little-promotion-that-could left its mark on the sport during its seven-year tenure.
At its height, Strikeforce was the legitimate No. 2 competitor in a UFC-dominated market, a viable option and bargaining tool for fighters in search of another stateside home and a haven that nurtured and helped propel talents like Gil Melendez, Gina Carano and "King Mo" Lawal onto greatness.
Strikeforce was the creation of Scott Coker, a martial arts student and teacher who began promoting kickboxing events under that name in the late 80s around his hometown of San Jose, Calif. Strikeforce events became quite popular in the area and even aired on ESPN2, which led to Coker joining the staff of Japan's K-1 promotion, then a juggernaut, world-caliber kickboxing event that was broadcast worldwide.
In March 2006, Strikeforce graduated to mixed martial arts and Coker -- who now had 22 years of promoting experience in the state under his belt -- was approved as the first to hold a regulated event in the state. Strikeforce slowly flourished out of the UFC's shadow until 2011, when UFC owners Zuffa LLC, purchased the company from Coker and Silicon Valley Sports. After a final event on Saturday, Zuffa will cease Strikeforce operations and move its assets to the UFC.
Strikeforce wasn't the first promotion to be gobbled up by Zuffa (the WFA, Pride FC and the WEC all met similar fates) but its purchase was one of the more influencing shake-ups to the sport's very infrastructure. From record crowds to the development of women's MMA, Strikeforce had its monumental moments that forever changed the sport.
Opening Night: Standing Room Only
For over a year, Scott Coker had waited for that phone call from the California State Athletic Commission. After years of convincing, the CSAC had passed MMA regulations and guidelines in 2005, but the last few months had been about haggling its language among the big players like Pride Fighting Championships and the UFC.
In January 2006, Coker finally was approved to produce a March 10 show at San Jose's HP Pavilion, home to the San Jose Sharks and a healthy local fanbase. Coker had already gone to Silicon Valley Sports and Entertainment, a sports-property acquisition company that owned the Pavilion, and struck a partnership deal with them to promote MMA at the venue. Coker hired a skeleton, three-person staff, which set out, in conjunction with Silicon's staff, to organize the event.
"Frank Shamrock was the only fighter I knew at that time, so we sat down at a Starbucks in San Jose and I asked him to come out of retirement," said Coker of his hunt for a worthy main event. Shamrock (23-10-2) had retired a UFC champion and had fought only two times in the last four years. Still, he lived in San Jose and was the favorite of both locals and nostalgic hardcore fans. He agreed to fight for a low six-figure purse.
Shamrock's opponent, Brazilian jiu-jitsu black belt Cesar Gracie, had the golden last name in MMA, though the CSAC heavily scrutinized allowing the match-up because it couldn't verify Gracie's record, as all his fights were said to have taken place in Brazil. Therefore Gracie entered the fight with a 0-0 record.
The UFC was just taking off with its Spike TV reality series, The Ultimate Fighter, and was the only U.S. promotion that could regularly draw crowds of more than 10,000 people. Coker set his attendance sights much lower.
"Honestly, when we set up the arena, we only did it for a few thousand," remembers Coker. "It just kept growing and we just kept opening sections and before you know it, I got a call from the HP that we were sold out."
The venue had even sold tickets earmarked for Coker's family, who had to scramble to recoup them.
When the gate was tallied, 18,265 spectators had filled HP Pavilion to capacity -- a North American record that stood until UFC 68 edged it out in March 2007 (the event still holds the U.S. record for most paid attendees). The numbers were more impressive than the main event (Shamrock crumbled Gracie with an overhand right in 20 seconds), but the fans were receptive and enthusiastic. There was plenty on the card to like, including future dueling lightweight champions Gil Melendez and Josh Thomson, future UFC standout Clay Guida and perennial hometown favorite Cung Le, a San-Shou champion Coker had been promoting since 1997.
In its first two years, Coker relied heavily on Le, Shamrock, Melendez and Thomson to build the Strikeforce brand. Coker was a savvy businessman, but his personable demeanor was a hit among the fighters, which he used to his advantage. The UFC already had the lion's share of top talent signed, so Coker turned to what was left. His matchmaking theory was not to pit the best against the best -- he could rarely accomplish that -- but to create electric match-ups. What resulted was a promotion that became known more for excitement than top-ranked fighters, and it worked.
Strikeforce Moves to Big League with Showtime/CBS Deal
Frank Shamrock's ambitious return to the sport can be thanked for Strikeforce's break onto Showtime. In 2007, as MMA continued to explode, Shamrock went and signed to also fight with a Los Angeles upstart called Pro Elite. Coker and Pro Elite settled out of court to share Shamrock's services in two co-promoted events, which aired on Showtime in 2007.
"That's really how I got to meet the Showtime guys," said Coker -- the beginning of what would become a powerful relationship later.
In October 2008, Pro Elite ran out of funds and closed its doors some $55 million in deficit ($20 million of that reported to be owed to Showtime) and with more than 100 fighters still under contract. Coker, who had been promoting four Strikeforce events a year, saw an opportunity.
In February 2009, Strikeforce and Showtime signed a three-year deal to produce 8-10 live events together in its first year. As part of the deal, Coker and his matchmakers were able to sift through the fighter contracts and acquire the most attractive prospects. Gina Carano, Kimbo Slice and Jake Shields were among the most coveted. But the cherry on top was a four-fight option to air live events on CBS, a platform where EliteXC had drawn promising numbers before its demise. The only missing piece Strikeforce needed to get on CBS was a lightning-rod star, a role Coker would eventually fill handily. This was a move to the big leagues.
Carano vs. Cyborg
Promoting a worthy women's MMA main event was a no-brainer for Coker, who'd promoted female kickboxers for years. However, Coker had to first convince a squeamish CSAC to allow women's MMA in the state at all. Originally, the CSAC stipulated that women's bouts could only go two to three minutes per round (unlike the men, who got five minutes), but later caved to public pressure. After Coker saw the reaction to his first women's MMA bout between Gina Carano and Elaina Maxwell in December 2006, he knew he was onto something.
Carano, a raven-haired beauty with massive sex appeal, and Cristiane "Cyborg" Santos, a muscular Brazilian wrecking machine, seemed destined to cross paths. Carano was on the doorstep of mainstream stardom, while Cyborg was the division's fiercest competitor. Promotion of the event included New York and Los Angeles media events (Carano put on a demonstration in a cage set up outside Madison Square Garden) and the build-up managed to hold up well against UFC 100's fanfare the month before. Carano even drew interest from outlets such as ESPN the Magazine and the New York Times, coverage that traditionally went to the UFC.
The women met on Aug. 15, 2009 at the HP Pavilion in Strikeforce's main event on Showtime -- the first women's bout ever to headline a U.S. event on television.
Nearly 14,000 fans crowded the Pavilion to watch the bombshell take on the bomber and it earned a $736,000 gate. Cyborg battered Carano for most of the single-round bout, earning a referee stoppage at 4:59 of that first frame. The bout peaked with 856,000 viewers on Showtime, a record for the premium-pay channel at the time.
"That fight was very historic in a lot of ways for Strikeforce and MMA," said Coker. "We had some people that didn't like [women's MMA], but there were far more people who loved it. We had a ton of support for that fight."
In a progressive move, Coker also created and maintained championship titles in two women's divisions, the precursor for today's all-women's Invicta promotion, and women's divisions in Bellator and, most recently, the UFC.
"We Got Fedor"
These three simple words made Strikeforce a bona fide player in the industry when the promotion signed the world's No. 1 heavyweight to a three-fight contract. Fedor Emelianenko, a quiet 30-something Sambo champion who'd annihilated Pride's heavyweight division in Japan and remained technically undefeated over the last nine years, was the total package: great striking and movement, even better grappling and ground-and-pound skills and a mystique that put fear into the hearts of any opponent who dared stand in front of him.
The UFC had bought the Pride promotion, where the Russian fighter had been previously employed, in March 2007, but Emelianenko's modified contract had allowed him to walk away a free agent. UFC President Dana White used the media and fans to pressure Emelianenko into a UFC contract, but the fighter wasn't the only decision maker to be convinced. M-1 Global, a Holland-based promotion of which Emelianenko had limited ownership, brokered all of the coveted fighter's deals and they didn't like White's tactics. They also wouldn't back off their intentions to co-promote any event their star client headlined -- a deal breaker for both sides.
So, it was Strikeforce who signed Emelianenko (34-5, 1 NC) at a hotel in Irvine, Calif., in August 2009 for an undisclosed, multi-million dollar sum. (M-1 officials vehemently denied White's claim that he'd offered a $30 million deal for six fights.) Strikeforce was able to do something that the UFC couldn't -- hire the world's most dominant fighter in what would become the last serious run of his career before he retired in 2012.
Alongside Zuffa, Coker had chased Emelianenko for six months -- the longest Coker had ever spent on signing one fighter. The Fedor name did come with immediate cache, but also some baggage. Coker had agreed to M-1's co-promotion terms, which meant he'd have to share the steering wheel with the Russian outlet that was led by millionaire businessman, Vadim Finkelstein. Naturally, there were artistic differences between the two groups.
"The Fedor negotiations are a book in themselves," said Coker. "Dealing with M-1 was challenging, but Fedor brought a lot to the table and that's why we kept pushing."
Fedor was the key that opened CBS's doors back up to MMA. In October 2009, Emelianenko made his network television debut against Brett Rogers, an up-and-comer who had leapfrogged the line by knocking former UFC champion Andrei Arlovski out a couple of months earlier. Emelianenko stopped Rogers in the second round to the tune of 5.46 million viewers, with indeterminable millions more watching worldwide.
"If you think of what it did for the branding of the company to have Fedor onboard and the visibility it brought -- there were a lot of Fedor fans who came out for Strikeforce because he was fighting under our banner," said Coker.
The power of Fedor also made it easier for Strikeforce to sign additional high-caliber talent, the most notable being Olympic wrestler Dan Henderson, who left the UFC for Strikeforce and beat Emelianenko via first-round TKO in July 2011.
There was one more reason Coker had fought for Fedor so ardently, but he wouldn't reveal that grand plan until late 2010.
The Brawl To End It All
Strikeforce took its greatest stumble at an April 2010 event in Nashville, where a brawl broke out in the cage live during the promotion's second CBS broadcast.
Unpredictable middleweight Jason "Mayhem" Miller had made his way into the cage on his own accord to challenge champion Jake Shields during his post-fight victory speech. But Shields' teammates, who included the rough-and-tumble Diaz brothers and lightweight champion Melendez, did not take to Miller's antics kindly. The brawl only lasted a few seconds on national television before the cameras cut away, but the damage had been done. Come Monday, word quickly spread that CBS was taking a step back from MMA broadcasts. CBS hasn't revisited MMA since.
In the next few months, Shields, Miller, Nick Diaz and Melendez would all receive suspensions from the Tennessee Athletic Commission for their unruly conduct.
"It's was a national event and letting that situation happen was an embarrassment," said Coker. "Part of my greatest regret in MMA is [that] here I am trying to contribute to the growth of martial arts and MMA... and I never meant to do a disservice to the industry, but that's what it felt like at the time."
The Heavyweight Grand Prix
If Coker had learned one thing from working with Japan's K-1 and Pride organizations, it was the notion of pageantry. In late 2010, trying to rebound from the shame of Nashville, Coker announced that he was assembling an eight-man heavyweight tournament to be decided over three events in 2011, a show format originated in the UFC in 1993 that had faced stateside, but thrived in Japan.
"I'd always had the tournament in the back of my mind, but I thought it was missing two pieces. One was Fedor and the other Josh Barnett," recalls Coker. "Once we signed Fedor, the others quickly got onboard."
On February 12, 2011, the field of eight took the stage at the Izod Center in East Rutherford, N.J. There stood the best eight heavyweight fighters not under UFC contract, fireworks crackling behind them, with Fedor centerstage as their anchor. The sight was reminiscent of the legendary grand prix entrances of Pride -- both visually and emotionally powerful. Coker had finally realized the dream he'd worked toward since the promotion's 2006 MMA debut. The night was also a ratings success, with Emelianenko's fight against Antonio "Big Foot" Silva netting a peak 1.1 million viewers -- still a record for the pay cable network.
It would be the final achievement of Coker's Strikeforce promotion. On a Saturday morning in March 2011, news that Zuffa had bought Strikeforce spread through the MMA community like wildfire, leaving broadcast partners, employees, sponsors, and fighters in its wake. With a handful of sports properties to look after, Silicon Valley Sports and Entertainment had decided to get out of the MMA business in late 2010. Coker had quietly looked for a new partner to take on Silicon's 50-percent share, but no one was able to beat Zuffa's offer to buy the whole promotion for around $40 million.
After the purchase, Coker became Strikeforce's general manager under Zuffa's employ and Zuffa renegotiated a broadcast agreement to air a scaled-back number of shows on Showtime. That last show takes place Jan. 12 in Oklahoma City, and then the more marketable fighters will transfer on to the UFC.
It's a bittersweet ending for the promotion that was able to do something in five years that others hadn't, which was form it's own identity among the fans. When you think of Strikeforce, you remember a promotion that didn't have quite the feel of its biggest competitor. There was something different about Strikeforce in the land of UFC copycats and wannabes and that, along with all of Strikeforce's achievements and follies, is what should be remembered.