Reinstated Overeem cagey about his PED-linked past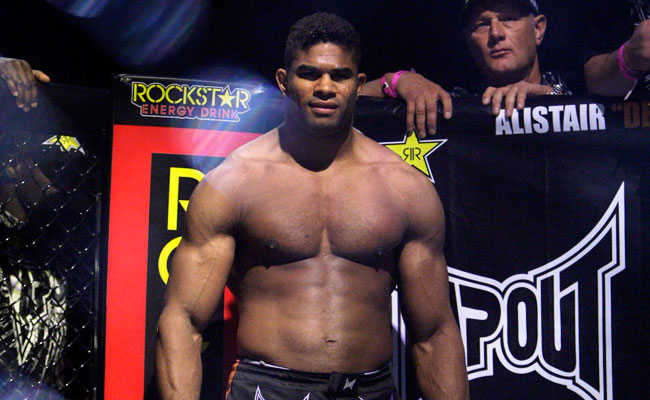 LAS VEGAS -- It's Media Day at the Mandalay Bay Events Center and heavyweight star Alistair Overeem is sitting at his assigned booth, bulging arms crossed, declining to answer my questions.
"Next interview, please," he says to no one in particular as he turns his head away from me after I ask if he knowingly used performance-enhancing drugs.
"I'd rather talk about my next fight," he says.
But talking about his next fight also means talking about his first fight back from a Nevada State Athletic Commission-imposed hiatus after Overeem failed a drug test last April. Overeem's Saturday night matchup with Antonio "Bigfoot" Silva marks the end of Overeem's exile and the beginning of his quest for the heavyweight title. If the 32-year-old Dutchman wins his faceoff with the Brazilian, Silva, he stands a good chance to be the No. 1 contender against current heavyweight titleholder, Cain Velasquez. Should he lose, it's possible his next opponent will be the fighter he's wanted all along: former heavyweight champion Junior dos Santos.
Overeem was scheduled to fight dos Santos last May but a Nevada State Athletic Commission drug test that had been administered two months before the fight showed a 14-to-1 testosterone-to epitestosterone levels -- more than double Nevada's 6-to-1 limit. Overeem testified under oath that he unwittingly took a medical cocktail provided by a Texas doctor and that he was unaware it contained banned substances. The NSAC listened intently but yanked Overeem's fighter's license for nine months, anyway, as punishment.
Overeem says he's used the nine-month hiatus constructively. He relocated to South Florida to train fulltime with the Blackzilians, a team that includes Rashad Evans, Vitor Belfort and Eddie Alvarez, among others, and ditched his former management team. He also claims to have cut ties with the Texas doctor Overeem implicated in his failed drug test.
"I made the most of my time off. I just hit the gym. I just improved my game. Got a lot better. Did some appearances here and there," Overeem says, before he stopped taking my questions.
Asked what he's learned from his ordeal, he says, "I learned that you have to be careful. There's a lot of things that can go wrong even when you think you've everything under control. You need to be sharp. You need to have your staff around you very sharp."
He's entrusted his career to prominent MMA agent Glenn Robinson as part of his comeback. "This medical mistake happened," Robinson says, who notes Overeem has since passed seven drug tests. "He was given his sentence. He served his time. . . It's an issue of the past. What really defines Alistair is what he's going to do this particular weekend and every time he gets in the cage thereafter."