With Showtime getting Mayweather-Guerrero, what happens to HBO?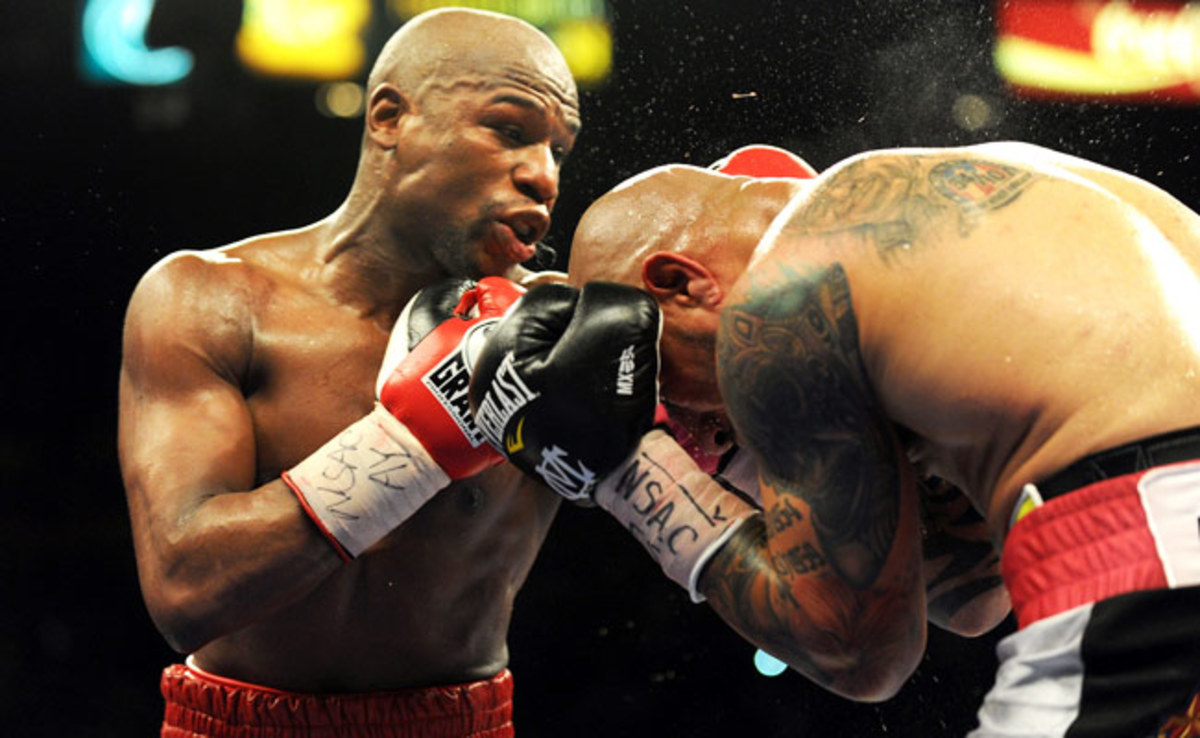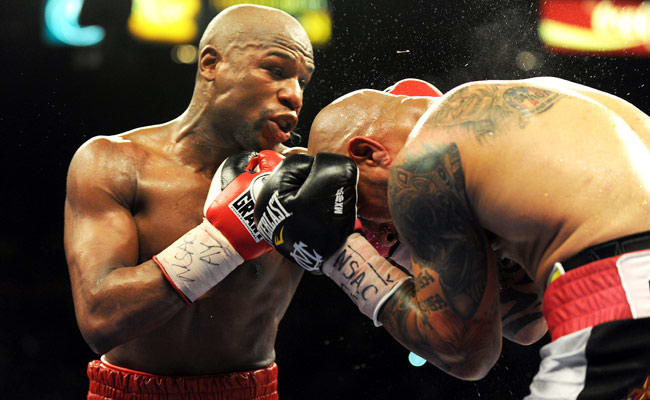 Pound-for-pound king Floyd Mayweather Jr. will defend his WBC welterweight title against Robert Guerrero on May 4.
That isn't a surprise.
That Mayweather will do it on Showtime Pay Per View is.
Despite Mayweather's recent tweet that IBF welterweight champion Devon Alexander was the frontrunner to face him, no one believed it would be anyone but Guerrero or 154-pound titleholder Saul 'Canelo' Alvarez. Guerrero was coming off a big win over Andre Berto, has a strong backstory that includes his wife's successful battle with cancer that will play well on any reality promotional shows, fights in a weight class (147 pounds) that Mayweather is most comfortable in and wasn't going to ask for more money -- probably a few million, with some upside on the pay per views -- than Mayweather was willing to give.
It's exactly the type of opponent Mayweather is looking for. Guerrero is dangerous, no question. With the recently obliterated Manny Pacquiao now out of the conversation, Guerrero ranks among the most difficult opponents Mayweather could face. There is Sergio Martinez, but no one can criticize Mayweather, who doesn't feel completely comfortable at 154 pounds, for not wanting to move up again to face the middleweight king, even if Martinez was willing to come down. Same can be said for Gennady Golovkin, a superstar in boxing's inner circle but one not yet well known in the mainstream.
Alvarez was an option, but that's a fight that's coming: In all likelihood, Alvarez will fight Austin Trout on the undercard, setting up a potential Mayweather-Alvarez super fight in the fall.
Right now, Guerrero makes sense. He earned the fight the hard way. Before stunning Berto, knocking him down twice in a lopsided unanimous decision, Guerrero beat Vicente Escobedo (then more well regarded than he is now), Michael Katsidis and Selcuk Aydin, a powerful puncher Guerrero jumped two weight classes to face. He's more than qualified and his rugged, southpaw style should present some challenges.
"Robert Guerrero deserves this fight," Golden Boy Promotions CEO Richard Schaefer told SI.com. "He has been campaigning for a Mayweather fight to the point where media members were getting sick of him. We told him to go earn the fight and that's exactly what he did. Without any doubt, he is the biggest challenge for Floyd Mayweather. He has power, speed and a hell of a chin. He will be bigger than Floyd on May 4. Add it all up, and it spells trouble for Floyd. He will be 36 [on Sunday] and he hasn't fought in a year. From a dietary point of view, his time in prison can't help. This is a terrific fight."
That it landed on Showtime? Surprising, to say the least. It was no secret that representatives for Mayweather were negotiating with executives at both HBO and Showtime. And while Showtime has built a strong relationship with shadowy advisor Al Haymon and Golden Boy since the hiring of Stephen Espinoza, an attorney who worked closely with Golden Boy in the past, as the head of sports programming, few expected Mayweather to turn his back on HBO, the network he has worked with for most of his pro career and where he has had enormous success.
But he did, accepting a staggering offer from Showtime that guarantees him six dates over the next 30 months. The agreement calls for Showtime Pay Per View to "collaborate with CBS Corporation to comprehensively promote Mayweather's events on the CBS Television Network and via the corporation's expansive media platforms" and is called "a unique revenue sharing arrangement." According to Schaefer, the promotion for Mayweather-Guerrero could include a nationally televised press conference on CBS, extensive promotion during the NCAA tournament and appearances by Guerrero on one or more of CBS's morning shows, in addition to regular All Access episodes, Showtime's version of HBO's 24/7.
Espinoza told SI.com that he expects cameras to be on Mayweather within the next 24 hours.
It's a monster deal for Mayweather. According to sources briefed on the negotiations, Mayweather sought massive guaranteed money from the networks. Besides Guerrero and Alvarez, a source said that Mayweather listed junior welterweight champion Danny Garcia as a possible future opponent. Showtime is banking on Mayweather continuing to be both an elite fighter and a huge pay-per-view star. In his last fight, against Miguel Cotto, Mayweather generated 1.5 million pay-per-view buys and $94 million in domestic revenue.
The danger for Showtime is if Mayweather begins to regress and it is on the hook for big payouts to a rapidly declining fighter. Still, Espinoza says he believes it's a solid investment.
"The one thing we know about Floyd is that he draws viewers, generates attention and creates compelling content," Espinoza said. "As a programmer, I'm thinking 'what am I going to get out of it.' Here, based on Floyd's track record, I know what we are going to get out of this."
The loss of Mayweather is a body blow for HBO, which has been at war with Showtime since Ken Hershman left the network for HBO in 2011. But it's hardly a death sentence. HBO still has Manny Pacquiao, Andre Ward, Sergio Martinez, Nonito Donaire, Gennady Golovkin and Brandon Rios and others in the rotation. The loss of a soon-to-be 36-year-old Mayweather won't cripple programming.
"We made an aggressive and responsible pay-per-view offer," an HBO spokesman said in a statement. "Now we move on. We are focused on the best boxing franchise in the television business. We are proud of the roster of superstar fighters and emerging stars who are scheduled to appear on the multiple HBO television platforms this year."
But with Mayweather gone, HBO has a decision to make: What to do with Haymon and Golden Boy fighters? For years, HBO has catered to the needs of Haymon, swallowing bad matchup after bad matchup (see: Keith Thurman; most of Andre Berto's career) so Haymon would keep his star studded stable, headlined by Mayweather, fighting on the network. But over the last year, Haymon and Golden Boy have moved the stars developed on HBO over to Showtime. Garcia, Berto and Amir Khan are a few of the big names that have jumped ship.
With Mayweather gone, HBO has to wonder: Was it worth it?
HBO will likely continue its relationship with Adrien Broner, who continued his climb with an emphatic fifth round knockout of Gavin Rees last Saturday, and it should. Broner is a bona fide superstar in the making. And Schaefer told SI.com that he would was ready and willing to discuss a multi-fight deal for Broner with the network, so he is likely staying put.
The future for everyone else is murky. When asked if he expected some blowback from HBO for his part in moving Mayweather, Schaefer was uncertain.
"I think that's going to be a question you need to ask HBO," Schaefer told SI.com. "HBO needs to sit back and analyze what is going on here and hopefully learn from these experiences and make the right decision as to how to market fights and put their muscle behind it. They have to decide what weight classes they want to be in or if they want to keep buying one fight here, one fight there. To be re-doing all the Super Six fights is not a strategy I would do."
"We have the best stable in boxing. We are the best-financed entity with an extremely strong balance sheet. We are young, excited and a company that will be here for a long time. If HBO wants to continue to work with us, we want to work with them. We have a number of fighters over there. I'm looking forward to continuing to work with HBO. I have no ill will towards HBO. The potential future pound-for-pound fighter, Adrien Broner, is there. I have no plans to move him anywhere else. If they want to move forward, great. If they don't, that's fine too."
GRAHAM: Mayweather's 10 most memorable moments on HBO's '24/7?
PHOTOS: Floyd Mayweather's greatest hits
MANNIX: Adrien Broner is boxing's next big thing