After years in and out of MMA, Ivan Menjivar finally eyeing title shot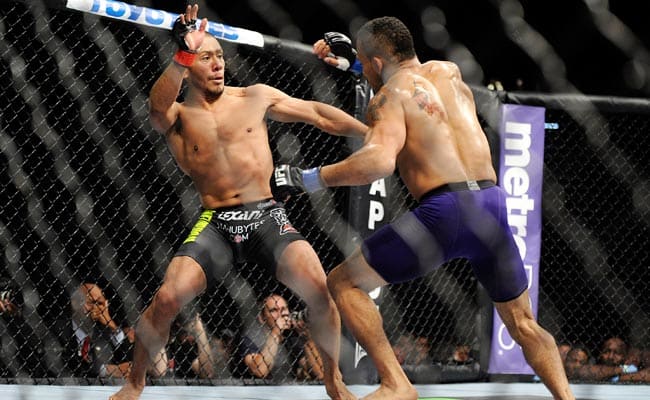 Ivan Menjivar is excited, though it's not because he could leapfrog into title contention after Saturday should he soundly beat top-fiver Urijah Faber in their bantamweight rematch at UFC 157 in Anaheim, Calif. The Salvadorian-Canadian fighter is really looking forward to his recent hiring with the Montreal's public transportation department after a 14-month layoff from his previous occupation as an airport security guard.
"It's a new experience, something different," said the 30-year-old Menjivar, an El Salvadorian refugee who settled in Montreal with his family at age 11.
Menjivar is one of a dying breed of top-tier fighters who still juggles a full-time job with training and competition. Most fighters today approach their careers with an all-or-nothing attitude. They train, eat, sleep, and train again, surviving off their purses in between assignments. Menjivar didn't come from this current generation of fighter.
By 2004, Menjivar had already made a name for himself in the sport, two years before UFC owners Zuffa LLC purchased the WEC and used it to firmly establish the featherweight and bantamweight divisions stateside. It was a different time: the opponents were bigger, the purses smaller and there were fewer guarantees that one could make a family-sustaining living in MMA.
This is one of the reasons why Menjivar consciously decided to become a jack-of-many-trades so he'd never have to lean on the niche sport for his livelihood.
The 13-year veteran is probably a better fighter for it. He's never had the fear of losing looming over him, which has given him a lot of freedom both in and out of the cage.
"It's impossible to say, 'I'm just going to do MMA,'" said Menjivar, who's won four of his last five UFC bouts. "You need to have a second option. If tomorrow, I fall and break my ankle or have another injury, there would be no more fighting for me and I'd need to have something else."
Over the years, Menjivar has made sure he has many things to fall back on. He holds certifications in business management and massage therapy. He's also licensed to drive big-rig trucks (an occupation he's yet to try), and a five-year stint in airport security undoubtedly aided in his recent hiring.
"After a fight, I'd get a little money and I'd pay for a course, sometimes just for fun," said Menjivar. "I thought I could spend it on something or invest it. I invested it in me."
That decision has kept food on his family's table, but squeezing in the rigorous training required for true advancement in the sport will only take you so far. The fighters of Menjivar's generation are becoming more rare at the elite level. In this new era, fighters are younger, faster, stronger and willing to dedicate their entire lives for fighting fame and fortune.
Still, here Menjivar is -- despite an erratic training schedule that kept him out of the sport for four years -- competing on Saturday's main card against the division's No. 2 ranked fighter. The UFC championship belt is slowly coming into focus for Menjivar -- not that this is his ultimate motivation.
"I don't do this to be famous, said Menjivar. "I love fighting and training. If I wanted fame, I'd sing or act. For me, it's only part of my life. Win or lose, I'm not scared of that."
The Pride of El Salvador
Menjivar was born in La Paz, a south central department (or district) of El Salvador in 1982. His parents owned multiple businesses, including a restaurant and a small grocery store, and Menjivar remembers them working hard and prospering for a time. Menjivar's family eventually fled from the country's corrupted government in the early 90s. It was on the heels of a decade-long civil war between Salvadorian leadership and militant guerilla groups, a dangerous time where people would disappear from the streets without a trace, never to be heard from again.
"I was too young to really understand it at the time," said Menjivar. "but that's life in many small countries."
Menjivar's mother brought Ivan and his closely-aged brother and sister to Montreal, with his father joining them a year later. Friends helped them find an apartment and gave them their first winter jackets and boots.
"It was the first time I'd seen snow," said the soft-spoken Menjivar, who was sent to public school to learn French one month after they arrived. (It took him an additional seven years to learn English.) "We had nothing when we got here. No clothes. No toys. I remember having just my bed and a little radio."
Menjivar acclimated quickly though, he believes because his family was made to feel welcome by the community. He found martial arts not long after, when his younger brother convinced him to try out a local Kung-Fu school with him. After six months, Menjivar's little brother left to dabble in something else, but Ivan stayed.
"I fell in love," said Menjivar. "I started with Kung-Fu, then found a Brazilian jiu-jitsu school. Then I was trying amateur MMA."
At age 19, Menjivar went pro in the Universal Combat Challenge, a popular Montreal-based promotion. It was January 2001, the same month that Zuffa purchased the flailing UFC from Semaphore Entertainment Group for $2 million. In its day, the UCC (later rebranded TKO Major League MMA) could draw healthy crowds nearing 10,000 fans, and it became the launching pad for many UFC veterans, including Georges St.-Pierre, David Loiseau and Patrick Cote. Menjivar suffered his first loss against St.-Pierre in his fifth professional bout, even though he weighed no more than 165 pounds on his heaviest day against the future welterweight king. (They'd later become training partners at the famed Tristar Gym in Montreal.)
In fact, all of Menjivar's early defeats came against opponents who'd make their marks in heavier divisions (which included a loss to future lightweight champion Matt Serra at UFC 48 in 2004). But in those days, if you wanted to fight, you made concessions.
By the summer of 2006, Menjivar had graduated to Japan's flourishing MMA scene and fought for Hero's, an MMA offshoot of the world-recognized K-1 kickboxing promotion. MMA was at the height of its popularity in Japan and Menjivar was invited to participate in a well-publicized 16-man lightweight tournament. He advanced to the semi-finals, where he dropped a two-round decision to legend Caol Uno and tore his knee to shreds in the process. Menjivar picked up another loss, a split decision nod in favor of Bart Palaszewski, in the International Fight League a month later before opting to stop for surgery.
The injury -- which included damage to Menjivar's ACL, PCL, LCL and MCL, according to longtime trainer Firas Zihabi -- and his Haitian-born wife's first pregnancy were more than enough to persuade Menjivar to weigh his options. He took a job with Garda, one of the world's largest private security firms, that same month.
At Montréal-Pierre Elliott Trudeau International Airport, Menjivar worked the security gate, the last line of defense for the 10 to 14 million passengers who pass through the major hub each year. Once in a while, a flyer would recognize the semi-retired fighter and ask to take a picture with him. But most days, Menjivar was the quiet observer, eyeing the lines for fidgety flyers and suspicious behavior. Rooting through their bags, Menjivar would find guns, grenades and drugs. The more nervous ones, usually holding illegal substances on their bodies in the most uncomfortable of places, would crack and give themselves up before inspection. Others would try and make a break for it, sending the airport police into pursuit. There were times when a choke or hold might have aided them, but Menjivar wasn't hired to detain infractors this way.
"It was the kind of job where you didn't need to use your strength. You talked to people," said Menjivar. "I'm a fighter, yes, but this is why I would never want to be a policemen. I hate running after trouble."
After four years on the job, Menjivar felt the itch to compete again. Now the father of two young children, Menjivar had no inclination of giving up his steady paycheck, but he'd kept his training up enough to give fighting another go. Menjivar's wife supported the idea.
"She'd tell you that the kids are much calmer when I'm not home," said Menjivar.
A tune-up win in June 2010 led to an invitation from the WEC. Menjivar lost a decision to British striker Brad Pickett at WEC 53 that December, but his chops were still there. Only a few days later, Zuffa would announce its decision to fold the WEC into its main promotion. Menjivar was back in the Octagon by April, which proved a fortuitous stroke when the French Canadian fighter was laid off from Garda seven months later, right around Christmas. Menjivar took the news in stride.
"It was alright because it gave me more time to train and fight," he said.
For the love of it
At this stage of the game, Menjivar shouldn't be able to keep up with the UFC's youthful and dynamic bantamweight division, but he's submitted two of his last three opponents and snagged an extra $115,000 in performance bonuses from Zuffa along the way.
"It's incredible to me how he can come back after an ACL, PCL, LCL and MCL injury," said Zihabi, Menjivar's trainer of 10 years. "His knee was completely torn apart, but he was able to come back from that and fight at an elite level after one or two fights."
Zihabi said Menjivar is the most mentally strong of all his fighters because he doesn't approach his bouts like the others.
"Ivan has more than just fighting in his life. On fight night, it's an enjoyment for him. It's not make or break," said Zihabi. "Some guys only have fighting in their lives and they sacrifice everything, so when they fight and lose, they lose it all.
"I always recommend to my fighters to have more than just fighting. Have a job, have a career, have something to fall back on. Be balanced."
When asked about a looming title shot, Menjivar humbly explains why he hasn't earned one yet.
"The bantamweight division is tight," he says. "There are a few others ahead of me," he justifies.
Regardless, a win over Faber (26-6), a former WEC champion and arguably the most recognized fighter in the division, will give Menjivar back some of notoriety he lost during his four-year absence.
The UFC bantamweight division is in flux at the moment. Faber is coming off a loss to interim champion Renan Barao and champion Dominick Cruz, sidelined for 16 months and counting from a knee injury, hasn't been scheduled to return yet. Barao could defend again before the summer and beyond, which doesn't make Menjivar as far-fetched an option as he'd have you believe.
This isn't what drives Menjivar, though. Sure, the money hasn't hurt, but Menjivar really competes for the love of it with a calm serenity, knowing that wherever the sport takes him, it will always be good enough.
"I have the opportunity to fight now, so I do it," said Menjivar. "If tomorrow something changes, I'm going to be happy with what I did, but I'll keep going on with my life."