Rousey wins historic women's debut at UFC 157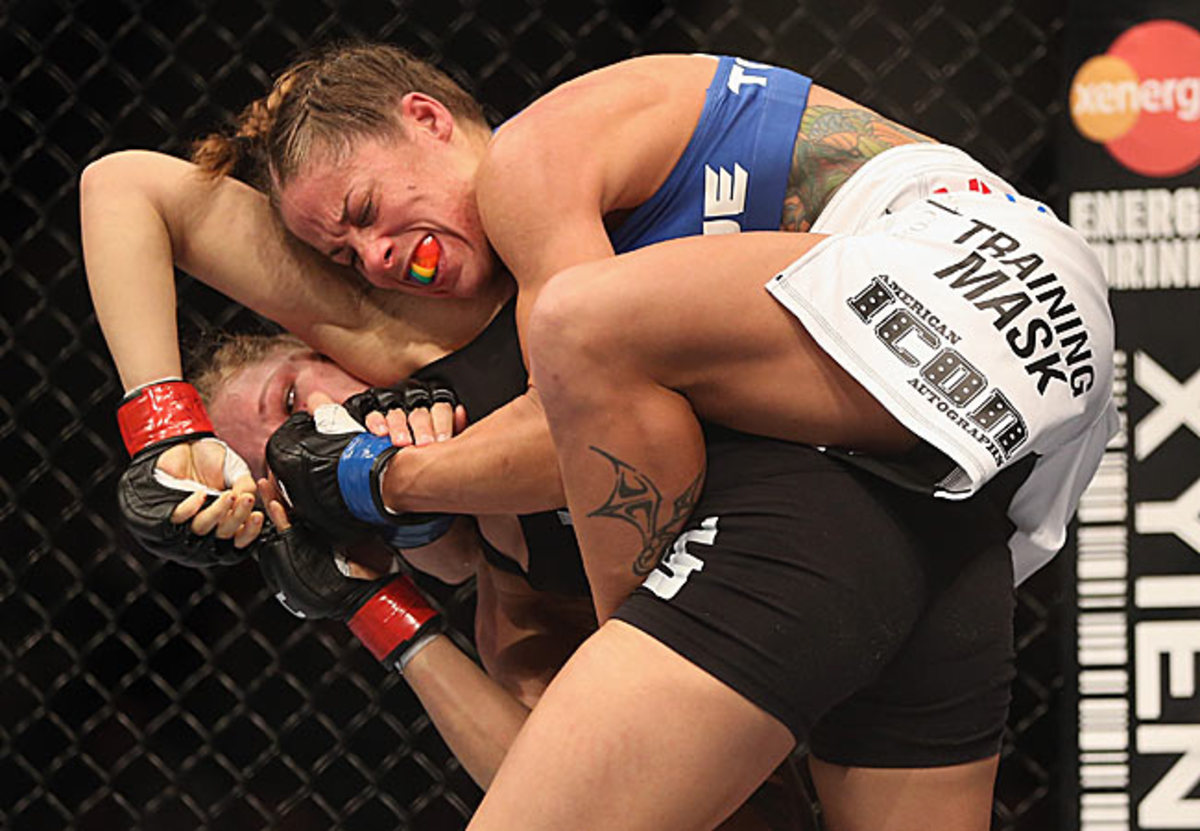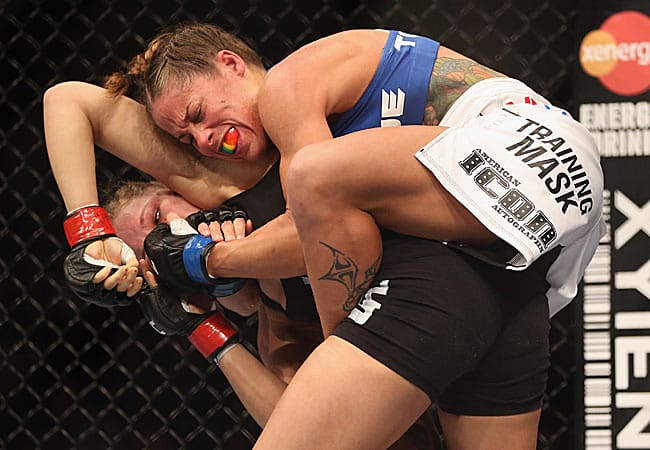 ANAHEIM, Calif. (AP) -- Ronda Rousey won the first women's bout in UFC history Saturday night, beating Liz Carmouche on an armbar with 11 seconds left in the first round of their bantamweight title fight at UFC 157.
Rousey (7-0) defended her belt with her signature move, forcing Carmouche to tap out after bending back her arm. Rousey raised both arms in victory while flat on the canvas after the longest fight of the mixed martial artist's ascendant career.
"Is this real life right now? I'm not sure," Rousey said.
Former UFC champion Lyoto Machida won a lackluster split decision over 42-year-old veteran Dan Henderson on the undercard at Honda Center, and bantamweight Urijah Faber beat Ivan Menjivar with an acrobatic rear naked choke late in the first round.
But the sellout crowd largely showed up to see Rousey, whose star power and athleticism ended UFC President Dana White's long-standing disinterest in women's MMA - and even put Rousey and Carmouche in the main event of a pay-per-view show.
Rousey and Carmouche didn't disappoint in their sport's pressure-packed debut. Although Rousey was heavily favored, Carmouche (7-3) actually got Rousey in trouble early, nearly landing a rear naked choke while clinging to Rousey's back in the opening two minutes.
Rousey, who had never been so seriously threatened in a bout, barely escaped the chokehold. She gradually imposed her will on the former Marine after that, finally getting her legs on top of Carmouche and patiently separating her arms to land an armbar.
Rousey has won all seven of her professional MMA bouts by armbar, a judo move that has dislocated at least two prior opponents' elbows.
"I had to learn to take my time in judo, and I was just able to keep a clear head," said Rousey, who became the first American woman to win an Olympic judo medal in Beijing.
Carmouche earned a huge ovation from the sellout crowd for giving Rousey more trouble than she had ever faced.
"I thought I had it," said Carmouche, who served three tours of duty in Iraq. "Like everything else, you make a mistake, and it turns around."
Rousey had to deal with constant attention from media and fans in recent weeks, but said the pressure was nothing she couldn't handle.
"There's no amount of press that can save these girls from me," she said.
Machida (19-3), the former light heavyweight champion, had lost three of his previous five bouts before edging Henderson (29-9) in a slow, technical fight. Machida used his typical elusiveness and unorthodox, karate-based techniques to pick away at Henderson, who had won four straight fights.
Henderson finally took down Machida in the third round, but couldn't capitalize. Both fighters raised their arms in victory after the third horn, but Machida landed 68 percent of the fight's significant strikes, with a 23-8 advantage in head strikes.
Two judges favored Machida 29-28, while the third had Henderson winning 29-28.
"He's a very great opponent for me, and I have a lot of respect for him," Machida said while fans booed. "My strategy was to keep the fight standup, and I think I got it. I think I completely dominated the first round, second round, third round."
Faber (28-6) got his career back on track with an impressive victory over Menjivar (25-11), a Salvadoran veteran fighting out of Canada. With his home-state crowd behind him, Faber took early control on the ground and then finished Menjivar by clinging to his back and wrapping both legs around his standing opponent, forcing Menjivar to tap out while on his feet with 26 seconds left in the opening round.
"Ivan is a very crafty veteran," Faber said. "I just attacked the neck. He let me hold on too long, and that was that."
Although Faber has a huge fan following after dominating the now-defunct WEC, he was just 2-2 since moving to the UFC two years ago, dropping narrow decisions to bantamweight champion Dominick Cruz and Renan Barao.
Earlier, Robbie Lawler stopped Josh Koscheck with 1:03 left in the first round with a series of strikes, and Court McGee beat Josh Neer by unanimous decision in his welterweight debut.