Arlovski vs. Johnson showdown could be just the beginning for WSOF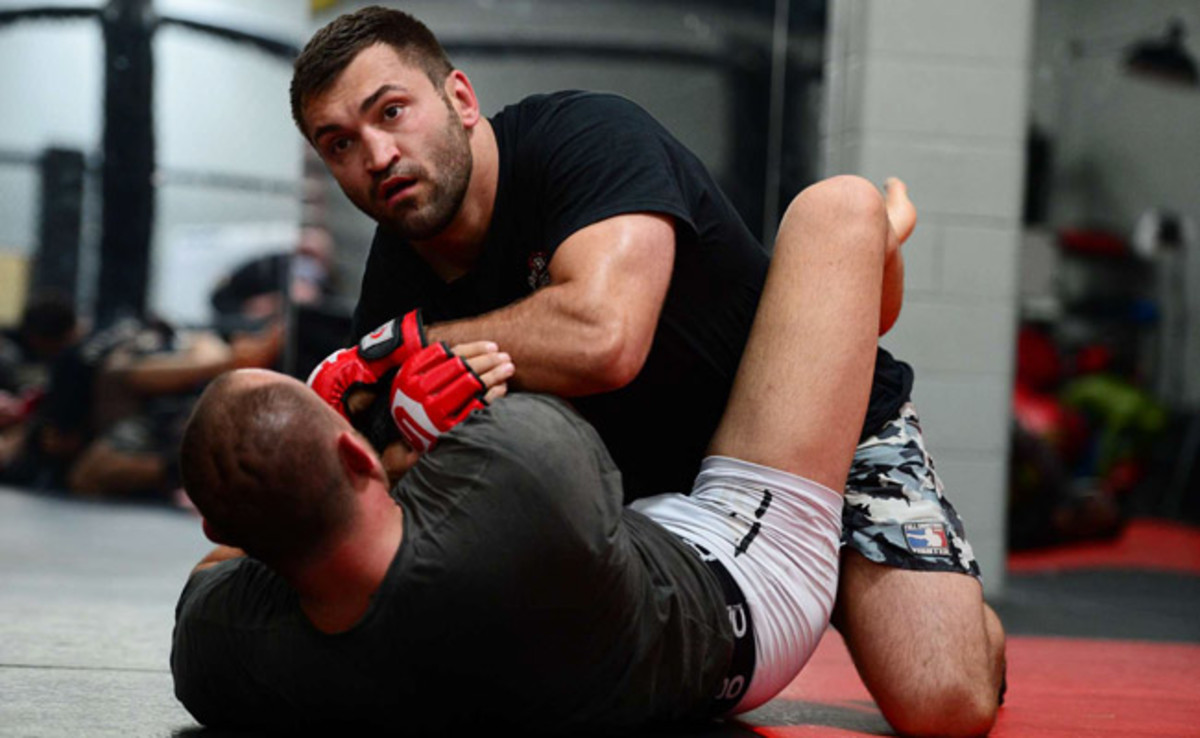 "Martial arts is like life itself," says Ray Sefo, kickboxing world champion turned MMA fight promoter turned fistic philosopher. "You're going through a great stretch, and suddenly it all falls apart. You don't know what happened. But you have to find a way to get on with it."
That's what Andrei Arlovski has done. He once was on top of the world as the UFC heavyweight champion, with a long string of dominant finishes. But after losing the belt and bouncing around other promotions, "The Pit Bull" found himself in a tailspin with four straight losses, three of them by ugly knockout. The 34-year-old Belarusian has turned things around, though, and is unbeaten in five fights over the last couple of years.
Moving on with the fight career is also what Anthony Johnson has done. However, the downfall for the man known as "Rumble" wasn't losing inside the cage. It was not losing outside the cage. Twice during his UFC tenure, during which he won seven of 11 bouts and earned a couple of Knockout of the Night bonuses, Johnson missed the 170-pound welterweight limit at weigh-ins. The last straw for the promotion came last year when, the day before a middleweight bout with Vitor Belfort, he tipped the scale at 197 pounds, 11 over the limit. Johnson was unceremoniously released, and missed weight for a smaller promotion in his next bout. He has fought at light heavyweight ever since. And won.
Now reclamation is set to meet reinvention when Johnson (14-4) and Arlovski (19-9, one no contest) fight in the heavyweight main event of the second World Series of Fighting show on Saturday night (9:30 ET, NBC Sports Network) in Atlantic City, N.J.
Yes, that says heavyweight. You might say "Rumble" is taking it to the next level. He's getting bigger and bigger in the sport. He's ... well, let's leave the next Johnson quip to the WSOF president.
"He really has some eating problems," Sefo says with a laugh, "if he doesn't make 265."
That's Sefo for you, keeping things light, not taking himself so seriously that he loses sight of what's right in front of him. And what's in front of Sefo and his promotion is opportunity. Strikeforce is gone, the UFC is talking about setting loose a hundred fighters from its roster, and Bellator is locked into a tournament format that might not suit some of the more established competitors looking for a new home. And there, amid it all, sits the WSOF and its brand new three-year television deal with the NBC Sports Network.
"Our biggest challenge is ourselves," says Sefo. "We need to focus on putting on exciting fights."
The New Zealander brings a refreshing perspective to his role as the president and public face of the WSOF, which formed last year and had its first show in November, with both Arlovski and Johnson scoring first-round knockouts. The six-time muay Thai champion and onetime K-1 Grand Prix runner-up, who also has competed professionally in boxing and MMA, speaks not merely as a promoter but also from the point of view of someone who's been there.
As a fighter who always competed at heavyweight, Sefo looks at the 29-year-old Johnson -- "he's a big boy" -- and thinks he knows where the former junior college All-American wrestler went wrong. "The wrestling mentality is that the lighter you can be at weigh-in, the stronger you will be when you're rehydrated on fight night," he says. "I somewhat disagree, but who am I to say? It works for some guys. But it wasn't working for Johnson."
Sefo, who at age 42 still considers himself an active fighter, also believes he understands where Johnson's opponent is at this stage of his career. After all, when he says of Arlovski, "He just wants to give it the best run he can before he retires," the company president might as well be speaking about himself.
Actually, Sefo could say much the same about his promotion's star signee. Top-10 welterweight Jon Fitch, the most noteworthy release by the UFC so far, joined the WSOF earlier this month. And while the one-time challenger for Georges St-Pierre's belt isn't the first fighter who comes to mind when you hear Sefo talk about his company's mission of "putting on exciting fights," Fitch sure excites his new boss. In describing the grind-it-out wrestler's appeal, Sefo pulls out an analogy from his training gym, Xtreme Couture in Las Vegas. "Look at Randy Couture, one of the icons of the sport," he says. "He wasn't the best striker out there. But I tell you what: He had the biggest heart, and he would grind till he stopped somebody. Fitch is that kind of guy."
And there are plenty more where he came from. If the UFC continues with its severe trimming of the roster, there'll be a vast pool of available talent for the WSOF, which could use established fighters to draw eyes to the fight cards -- a minimum of six a year -- called for in the NBC deal. Sefo insists that he and his team are not sitting around waiting for the UFC to make its moves -- "we're signing fighters from all over the world" -- but when the sport's acknowledged top promotion lets fighters go, the WSOF will be paying attention. "If any of those guys make sense," says Sefo, "we'll make it happen."
One fighter Ray Sefo fully expects to entice into the WSOF cage this year: Ray Sefo. "I've had a couple of offers to fight in Moscow and an offer or two from Australia and Japan," says the veteran of more than 80 pro fights, though only three in MMA. "When I presented the offers to my team, they were like, 'Why don't you fight in our own league?' So, keeping fingers cross, I'll hopefully be in the cage for the World Series of Fighting by the end of the year."