Diaz likes running his mouth, but he may be right this time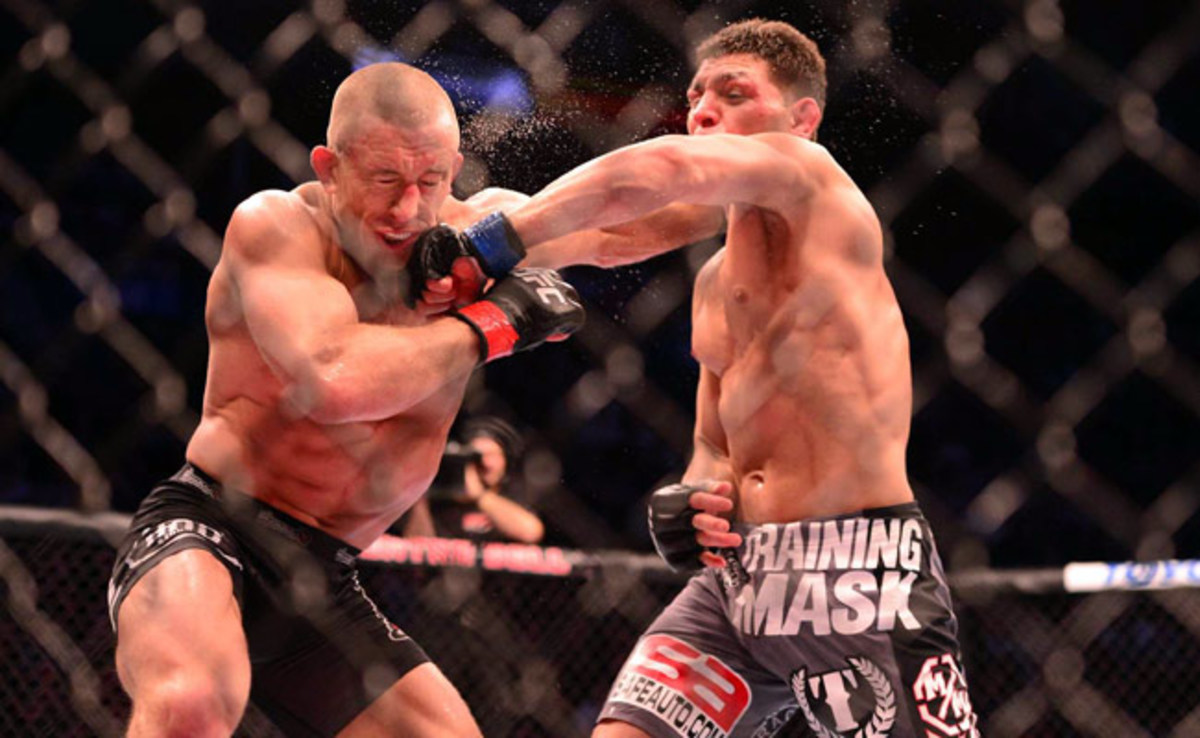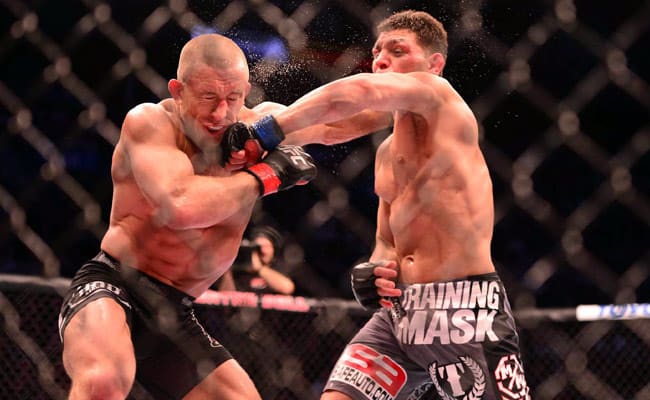 Forget Anderson Silva and his 17 consecutive victories stretching back seven years. Who cares about Jon Jones and his destruction of five former UFC champions packed into the last 24 months? Georges St-Pierre impressing judges enough to get the nod in practically every round he's fought since 2007? Ho-hum.
The true champion of mixed martial arts is Nick Diaz. How could it be anyone else? Diaz is undefeated. Never even been touched. He's not scarred, homie.
The official record of 26-9, with one no contest? Details, details. Every "L" on the list can be explained away, as long as we're allowed a few F-bombs because, well, that's Nick being Nick. We'll bring up stuff that'll have you hailing Diaz as not just the pound-for-pound best but even the sport's greatest when measured ounce for ounce. And by citing that unit of measurement, we're not alluding to the fighter's medical marijuana stash. Although if you buy this week's excuse-making by Nick and his team, you might be asked what you've been smoking.
The thing is, for the longest time there was no need for Diaz excuses. We still heard plenty of them, mostly lamenting matters surrounding Nick's relative lack of wealth and fame. But Diaz was having his hand raised, again and again, so that distracted us from the true story: Nick Diaz gets robbed every time.
We saw that as clear as a cloudy day in Nick's February 2012 interim title bout. For the first time in a dozen fights going back four years, the hand raised at the end was the other guy's. That would be Carlos Condit, who over five rounds did nothing but run, run, run. Never mind that fleet-footed Carlos landed 151 significant strikes to forward-plodding Nick's 105. That Condit threw over 70 more than Diaz. That in the championship rounds the striking disparity was even more lopsided. That two of the three judges had Condit so far ahead, Diaz needed a KO or submission going into the final round. None of that means a thing. The scorecards were just the judges' opinions. The FightMetric stats were just the numbers' opinions.
And that robbery was nothing compared to the outrageous behavior we saw in Montreal two weeks ago. We're not talking about the 25 minutes of Georges St-Pierre beatdown, in which the welterweight belt holder doubled Diaz's striking output, including a 30-4 blowout in significant strikes over the first two rounds and also notched nine takedowns on the way to winning every round on every scorecard. That's what you saw? Well, you weren't watching the same fight as Diaz and his people.
For the biggest bout of his career, Nick employed an aggressive game plan. No way he wanted to get off to a slow start against the champ. So he started throwing the heavy stuff very early ... like, days before he and Georges even stepped into the cage. Two days prior to fight night, Diaz went on a national radio show and, ramping up the acrimony that was building ever since the matchup was originally made 18 months ago, claimed GSP is on steroids. This is a champion who has been regularly tested over his career, with not a single irregularity. Did Nick have evidence to support his mud-slinging? No, he did not.
The enigmatic challenger could have made the dirty accusation face-to-face if only he'd joined St-Pierre at a UFC 158 open workout the day before, but Nick missed that one. Apparently someone had the audacity to sneakily situate Montreal a full 2,500 miles from Stockton, Calif. And the airline served Diaz nothing but "toxic water" on his flight, which unquestionably was longer and bumpier and with a lesser-quality movie than those of co-main eventers Condit (from New Mexico) and Johny Hendricks (Texas). Both of those travel-weary fighters took part in the fan-friendly workouts along with local guy GSP. Diaz was a no-show because he needed to sleep it off.
Then, on fight night, Nick even snuck in an excuse before stepping into the cage. His camp checked the hand wraps of St-Pierre, as is the right of any opponent, and gave approval. Then, after the gloves went on and were taped up, the Diaz team appeared in GSP's locker room to check the wraps a second time and, after being sent away by the athletic commission, made a loud stink. St-Pierre, who at the time was trying to warm up and bring his focus to the task at hand, would later say, "It was very stressful."
Diaz knows exactly what he means. After being dominated for five rounds, Nick showed up at the post-fight press conference talking about the innumerable stresses he'd faced: from having to adjust his watch from Pacific Standard Time to Eastern ("I was trying to time this whole hours delay between the U.S. and here, and I was confused"), from not having a coach to tell him when to sleep ("I was like, 'Should I stay up? Should I go to sleep?' And, like, I slept all the way till 8 o'clock today"), from dealing with the constant threat of not being knocked out ("No offense, but this guy has no punching power"). What inspiring perseverance. Hey, Dana White, maybe you should send a UFC film crew out to Nick's crib in the 209 to capture this human interest story for one of those UFC Countdown shows you like to do. Dana? Dana?
And now there's more. This week the Diaz camp launched a couple of bombshells aimed at the Régie des alcools, des courses et des jeux, the body that regulates combat sports in Quebec, claiming improprieties at both the pre-fight weigh-ins and postfight drug testing. Here we go again with Diaz irrationalization, right? Well, guess what: While it's tempting to dismiss this latest huffing and puffing by characterizing Nick as the boy who cried wolf tickets, his people seem to have stumbled upon something real this time. Who woulda thunk?
The weigh-ins flap relates to the athletic commission's late notification to Diaz, via a UFC official who called it "kind of an off-the-record type of thing," that weights for the welterweight title bout would be calculated only in whole numbers, not down to the decimal. "If you're 170.2, it's 170," senior vice president Michael Mersch can be seen telling the fighter on a video the Diaz team posted online. "If it's 170.9, it's 170."
The commission claimed this is standard operating practice in Quebec. But there's much evidence to the contrary, judging by the procedures followed at the weigh-ins for various UFC events held in Montreal in the past, and for boxing cards as well. At the very least, by neglecting to inform Diaz and St-Pierre of these unorthodox weigh-in rules until mere minutes before they were to step on the scale, the authorities are guilty of poor communication. And maybe a little sadism, for making the fighters sweat off whatever last ounces they thought they needed to shed to hit 170.
The Diaz camp, naturally, sees something more nefarious than miscommunication. "The Quebec Commission deliberately relaxed the rule in this case and, by its own admission, allowed their hometown fighter to 'make weight' even if he weighed more than the contracted weight," wrote attorney Jonathan Tweedale in a statement released to media outlets. That's not merely an accusation of inconsistent adherence to regulations or even outright incompetency. With the "hometown fighter" bit, there's an implication of corruption.
And while Tweedale heaps the blame on the commission, he insists St-Pierre and the UFC must remedy the situation. "In the circumstances, Mr. St-Pierre remains legally and ethically obligated to fight Mr. Diaz at 170 pounds," he wrote, "or else vacate the belt in favor of those prepared to fight at welterweight."
This is nonsense, of course. Even if it were established the Quebec commission was wrong to disregard the decimals, what does that prove regarding GSP's weight when he stepped on the scale? I cite only the champ here, not the challenger, simply because Diaz weighed in at 169, so even if that really meant 169.9, he was still on weight. St-Pierre was announced at 170. It's possible he was 170 on the button. It's possible he was close to 171. Possibility is not proof, though, and unless the attorney can produce a witness who saw the scale tip past 170, where's the beef?
Here's another twist: We don't even know if Tweedale is speaking for Diaz. The Vancouver-based attorney certainly has been taking up Nick's cause these past several months. When news outlets reported on Dana White's recent accusation that Diaz had neglected to show up for two on-camera interviews with the video crew taping a Countdown show to hype UFC 158, Tweedale contacted reporters to refute White's version of events and demand a retraction. "Nick requires things to be done in an organized and orderly manner," Tweedale wrote. "That is the kind of professional he is."
Um, yeah.
After the fight, when Diaz's endless rant at the press conference somehow veered off into the fighter's claim he'd never paid taxes, Tweedale made a statement to USA Today in which he put the onus on Nick's trainer and manager, Cesar Gracie. Whereupon Gracie stated he doesn't manage Diaz's money, that he'd referred his fighter to an accountant on more than one occasion ... and that Tweedale does not even represent Nick. Really?
Nick Diaz is a man of mystery, to be sure, but he's really surrounded himself with the gang that couldn't shoot straight. If Diaz is to be believed, the Gracie camp brought in no wrestlers to work with Nick in preparation for his fight with the top takedown man in UFC history. And Cesar's out-of-the-gym advocacy of Diaz has been no less puzzling. When the fighter failed to show up for a pair of press conferences and was yanked from his original date with GSP back in 2011, Gracie telephoned White and agreed replacing Nick was the right thing to do. He told MMAjunkie.com his fighter "got what he deserved." Yet that didn't stop Gracie from sniping at the UFC after Diaz was put back in the main event as a replacement for an injured St-Pierre. "Well, little star guy didn't fight and Nick Diaz did, but they pulled a lot of money from Nick's purse because it wasn't structured for him to make as much if it wasn't GSP, even though he was the main event now and put the people in the seats," Gracie told Sherdog radio. "Nick Diaz saved that card. OK? That's what people need to remember when they talk about responsibility."
Dana White surely noticed the about face and factored it in when he said, in the wake of the Diaz no-shows leading up to UFC 158, "I think Cesar Gracie is a huge part of the problem." And it's hard to imagine the UFC president thinks much more highly of Jonathan Tweedale, especially if he's heard about the barrister's demand that Diaz be given a rematch with St-Pierre. It's an ultimatum that defies logic, but lawyers being lawyers, the matter could gum up the welterweight division for a spell.
Wouldn't it be interesting, though, if the UFC were to cave in and make the rematch? The delusional side of me wonders how St-Pierre would fare next time against the undefeated Diaz. The cynical side ponders whether, given more time to prepare, Nick would outdo himself with Hall of Fame-worthy excuse making. The compassionate side wonders how Johny "Sisyphus" Hendricks would feel. Then there's a small, quiet voice inside that tells me to ignore all the nonsense and just move on.