Never afraid, Gilbert Melendez aims for an undisputed UFC title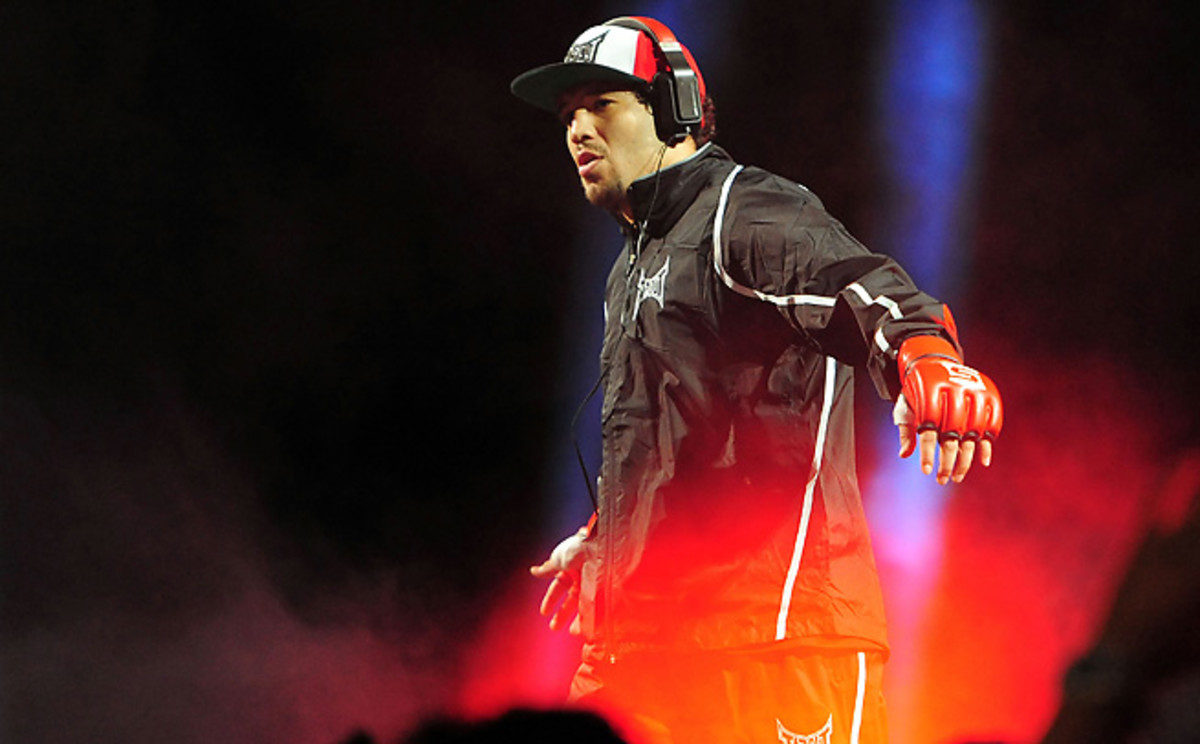 Gilbert Melendez has been a very patient man.
For over a decade, his quest has been to become the No. 1 lightweight in the world, but because he hasn't fought in the UFC, he's never been in the position to proclaim himself the undisputed champion. Until now.
On Saturday, Melendez (21-2) challenges UFC lightweight champion Benson Henderson (18-2) on UFC on Fox 7 (8 p.m. ET, Fox) and viewers are in for a treat.
Melendez (21-2) is an anomaly of the sport, one of a handful who started their careers outside the UFC and earned top-five world ranking without ever fighting for the premiere organization. The 31-year-old Melendez has been consistently named among the top three world lightweights for the last few years.
It's rare that a fighter debuts for the UFC promotion on its main card. It's even scarcer for that debut to be a championship bout. However, Melendez's body of work speaks so strongly for itself that fans didn't flinch when the matchup was announced in January. In this case, there was no argument that this title shot had actually been earned.
Still, the former Strikeforce champion is not the favorite to win outside of his old stomping ground of San Jose, where this weekend's show takes place. Henderson, making his third appearance on Fox, is as dangerous as they get. His striking, wrestling, submission and ground-and-pound skills are all top-notch. He's flexible, able to contort his body impressively from many positions, and he fights calmly, which enables him to seamlessly shift gears. On of top of that, Henderson's wide shoulders and thick legs make him bigger than most his opponents and usually noticeably stronger.
Melendez has his work cut out for him. There's no argument about that, either.
A Natural
On any given Sunday, Gilbert Melendez would burst through his parent's bedroom door and run down the NFL updates for his father. Melendez started this tradition around age four, said his father, Gilbert Sr., and it wasn't hard to predict that sports would figure heavily in his future.
"I liked contact sports," said Melendez. "It was fun to see guys bang it out, knock each other it, and tackle."
Melendez's first sport was T-ball, though he begged his parents to allow him to box all the way up to junior high school. Melendez's mother eventually caved and allowed her son to try Pop Warner instead.
Melendez loved pro wrestling and his loyalties lied firmly with Brutus "the Barber" Beefcake. At a WWE event, Melendez and his friends were asked on-camera to name their favorite wrestler. One by one, they all answered "Hulk Hogan" and when it got to the young Gil, he froze and parroted the same answer, betraying his childhood hero. It's something he still carries with him.
"I'm glad I can clear that up now," he said, with a hint of relief.
Gilbert Sr. blamed his son's early passion for all-things-combat on his Melendez's pro wrestling fascination, but he never discouraged his son from pursuing traditional sports. In fact, Melendez's dad coached him in Pop Warner, soccer, and Little League.
"[As a coach] my dad's no nice guy," said Melendez. "His famous line was 'I'm not a babysitter here, guys.'"
Melendez said he never felt that his father was trying to live vicariously through him or pushed him unnaturally to embrace sports.
"He was trying to keep me active, keep me from being lazy and veering me away from some of the bad things I could have gravitated to in Santa Ana," said Melendez,
In the 80s and 90s, the less affluent Santa Ana, Calif., south of Los Angeles, was rife with drug dealers and gang activity. It was the type of place where a parent had to keep a watchful eye on their child. Melendez remembers friends with less diligent parents who didn't fair as well.
The Melendez family experienced Santa Ana crime firsthand. A car stopped outside their home with a flat tire once escalated into a gun fight. The Mexican-American family also had a thief who routinely snuck into their home while they were away during the day.
"He was taking showers, a piece of cake would go missing," recalls Melendez. "One day, my dad stayed home, put away all the knives and hid in the closet with a baseball bat. The guy came through, whom we he recognized as living down the street in somebody's garage. My dad beat the crap out of him, dragged him back to the garage and brought back our iron and a couple other items he'd stolen."
Melendez and his twin sisters (who both became professional dancers with Ballet Hispanico) were kept on a tight leash, though that didn't stop him from getting into the occasional scrap on the street. Melendez had a penchant for standing up to bullies, he said. Gilbert Sr. was relieved when his son found the wrestling room at his junior high school, because he never left it after that.
Wrestling, of course, was a perfect fit for Melendez, who thrived in one-on-one competition. He qualified for two state championships while at Santa Ana High School, enough to earn a scholarship to San Francisco State. There, Melendez wrestled alongside another grappler named Jake Shields.
As Melendez forged a friendship with Shields, the Northern California native opened up about his side hustle as a professional fighter. Sensing a challenge, Melendez immediately challenged Shields to a fight.
"It was pretty humbling," said Melendez, who described himself as a "disciple" of Shields after that.
During Melendez's sophomore year, Shields brought him to meet his coach, Cesar Gracie, a member of Brazilian jiu-jitsu's first family. After watching Melendez move on the mat, Gracie let the wrestler train at his Pleasant Hill gym for free.
"Cesar is hardcore. He throws you right in and I jumped in, no questions asked," said Melendez. "I think that's why I fit in so well there."
Under Gracie's tutelage and a tight-knit team that included Shields and brothers and future UFC stars Nick and Nate Diaz, Melendez began taking local fights in 2002. He'd fight without telling his parents, though he always called his dad afterward to let him know how he'd done.
"My dad would tell me to stay in school, but I could always tell that he got a kick out of it," said Melendez.
Melendez's dad attended his son's fourth professional bout in Lemoore, Calif., and became an instant fan. He didn't miss a fight after that, and eventually became one of his son's trusted cornermen and later his manager.
"There's no one in this world who has my best interest in mind more than my family," said Melendez.
There probably wasn't anyone better at keeping Melendez on track than his father. When Melendez opted to head to Rosarito Beach in Baja, Mexico one spring break and didn't follow Shields to Las Vegas for training, Melendez's father asked him what he was doing.
"I always remembered that and started to get more serious and trained even harder," said Melendez. "There's walking the walk, and I decided to do that."
In his initial fights, Melendez leaned on his wrestling, but he leapt at the chance to finally try boxing. Melendez and his teammates quickly discovered that he could give and take a punch quite well.
"I didn't want to have to go into my fights thinking I had to take someone down," he said. "There's an art to learning how to take a punch and absorb things right. It's almost mental. I don't feel it much, to be honest."
Melendez also had another "leg up" thanks to his father. While wrestlers were usually coached to start with their dominant right leg forward, Gilbert Sr. instructed his son to lead with his left "like the boxers did," which made the transition to striking later much easier.
However, Melendez's greatest advantage early on was his mindset. He was a fearless competitor who excelled at striking in the pocket. Fighters are coached to not linger too long directly in front of their opposition, but Melendez won many of his fights there. Coupled with his unstoppable wrestling shots, the mop-topped Melendez climbed the ranks quickly.
Within two years of going pro, the 5-0 Melendez was recruited by the Shooto organization, a respected Japanese promotion with a plethora of lightweight talent. At 9-0, Melendez co-headlined the first regulated MMA event in California in 2006. Strikeforce, the brainchild of savvy San Jose martial arts businessman Scott Coker, would become Melendez's stateside home and eventually the No. 2 promotion in the world behind the UFC.
Melendez fought for the Strikeforce lightweight title in his second bout with the promotion, earning a split decision over future UFC favorite Clay Guida and the victory led to back-to-back bouts in Japan's Pride Fighting Championships. Pride was at the tail end of its reign as the world-dominating fight promotion. Melendez arguably emerged as a top-ranked fighter with his unanimous win over former Shooto champion Tatsuya Kawajiri at Pride's annual New Year's Eve extravanganza show.
Melendez, who believes his "El Niño" nickname came from the Japanese fans, was preparing to compete in Pride's next star-studded lightweight tournament (Melendez said Kawajiri, Matt Hughes, Josh Koscheck and Takanori Gomi were among those asked to participate) when the Japanese promotion was bought for millions by UFC owner Zuffa LLC. That Pride tournament championship would have virtually guaranteed Melendez unconditional No. 1 status, but Zuffa wasn't interested in picking up where the previous owners left off. Zuffa was an unwelcome addition among a fervent Japanese fanbase who resented the sale of its beloved promotion, and never promoted a Pride event in Japan. Melendez would have to wait for another chance like this somewhere down the road.
A Trilogy, A Transfer, and The Title Shot
With the demise of Pride, Strikeforce's Coker was happy to provide Melendez with fights, but the upstart promotion was only holding five or six events per year. Due to inactivity and a dash of lethargy, Melendez lost two of his next three fights -- his only career defeats -- and suddenly found himself reassessing his goals. The second loss, a split decision to the very capable Josh Thomson (19-5, 1 NC) in mid 2008, cost Melendez the Strikeforce title.
"That was the hard one, because I knew I could have fought better," he said. "That was the one that made me take a step back and think about what I was doing with my career."
Since 2003, Melendez had been certain he could grow his MMA career into something that would pay for a future home and support a family, but the athletes around him were evolving quickly. To get his title back, Melendez cut out distractions, fortified his training and wrangled in his diet. Melendez fought Thomson again 18 months later and this time, his hand was raised and the belt placed back around his waist.
"I'd trained with [Thomson] a while early on, thinking we'd never fight," said Melendez. "Getting past him [the second time] was the greatest relief. Getting that monkey off my back was the best feeling ever."
The Melendez-Thomson rivalry would become Strikeforce's greatest trilogy and among the most competitive in the sport's history.
"We seemed to bring out the best in each other," said Melendez, who beat Thomson a second time by unanimous decision in May 2012.
During his second Strikeforce reign, Melendez cemented his world ranking with a dominant win over Dream lightweight champion Shinya Aoki (33-8) in 2010. At the time, the matchup accomplished something many thought impossible in the fragmented sport -- a bout between two legitimate champions from two reputable promotions. Melendez shined.
The fight aired live on CBS, with Melendez's teammate Shields anchoring in the main event. Melendez was among the group flanking Shields when a scuffle broke out in the cage during the live telecast following Shield's championship win. Gilbert Sr. was also among the mangled throng, trying to break up the impromptu tussle between the fighters and their entourages.
"It wasn't a proud moment, but I was coming to the aid of my friends," recalls Melendez, who was suspended three months and fined $5,000 for his role. "I was looking around for security, the commission to do their job and it wasn't happening. Looking back, I wouldn't have done things differently. Say what you want, but that's my family."
The televised brawl was detrimental to both Strikeforce and the sport as a whole, as CBS stopped broadcasting MMA events altgoether.
"Did I want to hurt the sport? No, I didn't," said Melendez, who'd welcome the birth of his daughter Leylakay Valentina four months later. "And I'll take some responsibility for that."
Eleven months removed from the skirmish, Melendez woke up one Saturday morning like everyone else to find out that Strikeforce had been sold to Zuffa for around $40 million. Overnight, and without warning, Melendez's contract was transferred to the UFC's parent company. The debate began immediately over what was to happen to Strikeforce and it was widely anticipated that the brand would be buried and its fighters migrated over to the UFC. Melendez was at the top of of that transfer list, and he had a difficult time hiding his excitement about it.
"I can't tell you how many people had come up to me and said, 'I hope you make it to the UFC someday,'" said Melendez. "A lot of people didn't think I was a real fighter because I didn't fight in the UFC."
Welterweight and heavyweight champions Diaz and Alistair Overeem were cherry-picked outright to strengthen those UFC ranks. However, the other titleholders, Melendez among them, became bargaining tokens in the growing discord between Zuffa and its adopted broadcast partner Showtime. The two organizations reached an agreement that December to keep the remaining Strikeforce fighters where they were, much to the disappointment of many of them trying to exit the sinking ship.
Melendez handled the news gracefully. After a title defense against Jorge Masvidal (23-7) that same month, Melendez praised Strikeforce rather than speak negatively about the tenuous situation. Melendez had been a patient man. He could be patient a bit longer.
Following his rubber match with Thomson in mid 2012, Melendez was slated to headline a Strikeforce card that September against Pat Healy , but injured his shoulder in training 12 days out and withdrew from the bout. Melendez never fought again for Strikeforce before Zuffa officially closed its doors in January. He walked away with an impressive 10-2 run and an unmeasurable contingent of fans who've always wanted to see what Melendez could accomplish in the UFC.
After a decade of chasing after undisputed No. 1 status, the very patient Melendez will finally get his chance.