Jackson/Winkeljohn cornermen are crucial to their fighters' successes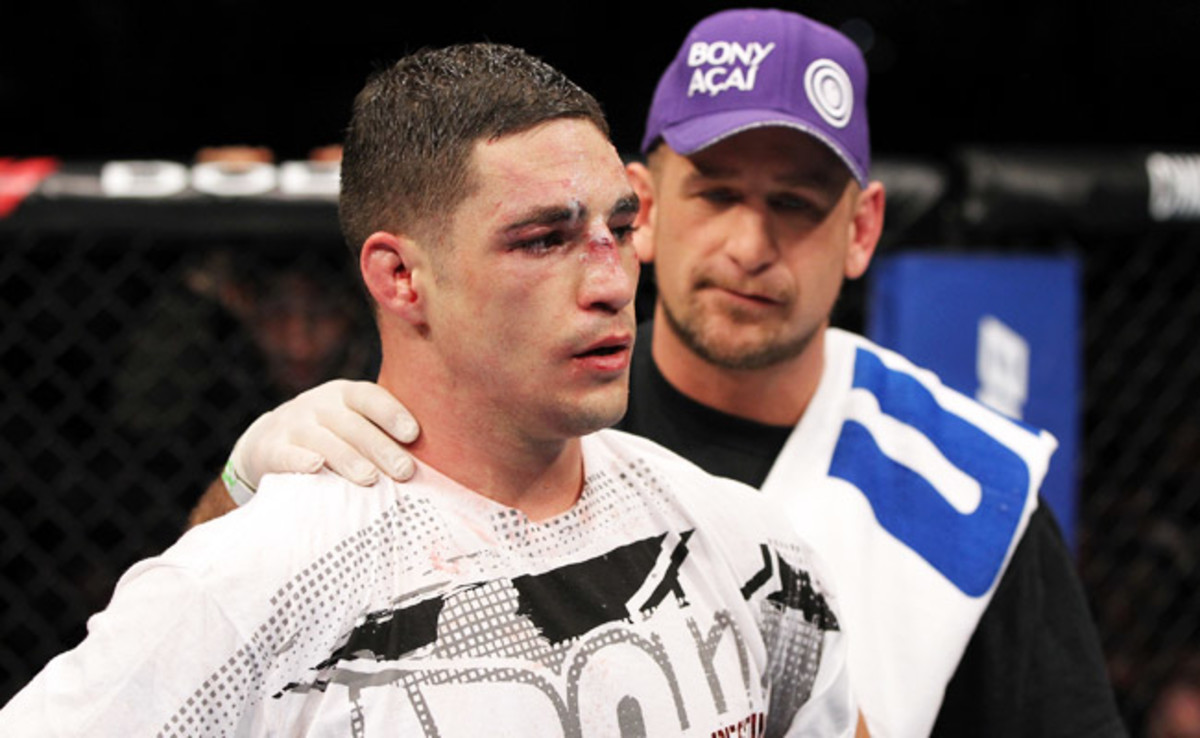 ALBUQUERQUE, N.M. -- Nothing cornerman Greg Jackson said got through to the fighter he called Gibbs. Not changing the tone of his voice or the cadence of it. Not enlisting one of his two other cornermen to call out his instructions. Not even his tried and true approach -- "The Dad Method" -- in which he taunts his fighters with sarcasm the way Jackson's dad has goaded him ("If you want to lose, keeping doing what you're doing"), could convince his fighter, in the middle of his match, to capitalize on his takedowns by sitting up and unleashing his ground-and-pound. The crowd directly behind Jackson, more beer in its belly than its cup, started yelling it's no-so-subtle disapproval when the idea struck him. The crowd. The yells. Of course!
Jackson quickly turned from his corner stool and leaned over the railing to the crowd corralled directly behind him.
"Hey, do you guys want to help me out," Jackson asked the fans behind him.
"Yeeeeaah," they said, lifting up their plastic beer cups.
"Let's get a chant going, "Posture up, Gibbs. Posture up, Gibbs."
Within seconds, the venue shook with Jackson's directives.
Add Jackson's conscription of the crowd to other masterpieces in the art of cornering, harkening back to boxing's Golden Era in which Muhammad Ali's cornerman, Angelo Dundee. Dundee famously pointed out a small tear on Ali's glove mid-fight to give his fighter a few extra seconds of rest as they tracked down a new pair and would purposely untie his fighters' shoes than sloooowly retie them as they caught an extra breath or two.
The best cornermen are those who improvise as effectively as they strategize. They are simultaneously master tacticians skilled at inflicting physical pain and capable psychologists proficient at easing emotional distress during one-minute appointment times offered on a wooden stool rather than the proverbial couch. They are masters at emotional metering -- both evoking their fighters' feelings while keeping their own closely in check. Most of all, they are -- at least at the upper echelons of mixed martial arts -- sometimes the difference between a win and a loss.
No contemporary corner team has orchestrated more wins from the stools than Jackson/Winkeljohn's MMA of Albuquerque, N.M.. Their corner teams, often anchored by Jackson and his co-head coach Mike Winkeljohn over the last 20 years, have guided so many fighters to so many titles and outlasted so many fighting organizations, they've literally stopped counting. The MMA website, Sherdog.com, has listed the team with the top win percentage, which hovers around 80%. The Jackson/Winkeljohn team will look to better that win percentage on Saturday, as they corner three of the 12 bouts scheduled for the UFC 159 from the Prudential Center in Newark, N.J.. But before they lead fighters Leonard Garcia, Rustam Khabilov, and headliner and UFC light heavyweight champion Jon Jones down they aisle and to the cage, Jackson will stop himself, take a deep breath and repeat his mantra. Calm, cool, collected. Calm, cool, collected. The fighters reach the cage and take off their walk-in shirts and hand them to the cornermen, each fighter well aware that he's entrusted much more than his clothing to men calling the shots in his fight.
***
Jackson always starts from The Stack. That's what he calls the seating arrangement he creates before the start of each fight. The Stack starts with standup and striking coach Winkeljohn's stool placed in front -- fights starts upright, after all. The second stool, right behind Winkeljohn's, will bear the weight of a sport-specific trainer like wrestling-specialist Izzy Martinez, secondary striking coaches Mike Valle or Brandon Gibson. Jackson places his in the back for the same reason Catholic priests anchor processions -- because shepherding happens from behind, not in front.
Each corner takes his seat knowing not the exact moment as much as the precise context in which he will speak. Striking? Wink. Wrestling? Izzy. Ground game and overall approach? That's all Jackson.
"I feel like I'm conducting a symphony," says Jackson, the son of a tenor in the New Mexico Philharmonic.
Jackson takes a last look at the opposing fighter entering the ring. Is he nervous? Too calm? Too amped? Jackson tries to make a final assessment based on the other fighters subtle motions, microscopic tells. "This guy might come out swinging hard," he's said to his fighter. Or, "This guy looks a little tentative. Put the pressure on him some more."
"I'm not always right but it's something to do," Jackson says.
***
Ask any of the Jackson/Winkeljohn's coaching team what makes a good cornerman and every one of them will explain what good cornering is not. Cornering is not cheering. Yelling encouragement is not the same as imparting instructions. And enthusiasm must never, ever, spill into emotion.
That's a lesson Jackson/Winkeljohn wrestling coach Martinez learned the hard way. While cornering bantamweight Erik Perez's UFC debut last June on The Ultimate Fighter 15 Finale, Perez's opponent, John Albert, managed to trap Perez with a deep triangle hold in the first round. "I got freaked out because you care about the guy so much," says Martinez. "You're like, this is his dream and all of a sudden he's out there getting choked out. I just yelled out, 'Fight out of it!' instead of relaxing and telling him to stay calm and just work your technique. I gassed him up and it got tighter." Fortunately for Perez -- and, by extension, Martinez -- Perez slithered out of the hold and scrambled to secure Albert in an armbar for the win.
"Whether the fighter can see you or not," Martinez says, "he can hear a lot of things by listening to your voice."
But most of the yelling from the Jackson-Winkeljohn corner involves a series of carefully constructed codes -- "Nice working, be careful of his 7," Winkeljohn can be heard yelling cageside, or calling for a 2 or 10 or an 8. They've drilled their coded commands into their fighters' reflexes over the course of their camp -- even if the call is against the fighter's will.
"What's crazy is that if Greg tells me to do something in training or in a fight -- even if I think it's wrong -- it's like my body, it doesn't second guess what he says," says Garcia, a featherweight, who takes on Cody McKenzie on Saturday.
But not all that's shouted cageside from the corner is meant to instruct the fighter as much as it's meant to influence the judges -- an attempt to wring out every advantage possible in a sport where centimeters means the difference between a chokehold and an easy escape.
Then there's the patter between the cornermen to each other which continues all they way until they hear the clap of the 10-second warning, and quickly grab their towels, water, and buckets of ice.
***
No matter the fighter, the opponent, or the arc of the bout, the Jackson/Winkeljohn team usually starts its one-minute break between rounds with Jackson instructing his fighters, "Give me three deep breaths."
"I want that heart rate coming in under 160 [beats per minute] if we can get it so that they're rational," says Jackson. "If you're talking to someone whose heart rate is through the roof, they're breathing is out of control, they're not going to hear you."
The cornermen choreograph who says what and when on their 10-second sprint to the corner, the order and content of their instructions a byproduct of the incessant dialogue they've had with each other throughout the round. But no matter the message, the defining characteristic of those 60-second meetings remains the same: Simplicity.
"The corners that I see that are good are the ones that give them just a few good instructions versus the 14-punch combination," says Winkeljohn. "Sometimes it's not just that one technique works but sometimes it might be a theory that we use that applies to many techniques," Winkeljohn says. "Telling a fighter to fight longer doesn't just mean stepping back 12 inches, it means so many more things."
But fights are as much about grit and will as they are about techniques and tactics. By extension, so, too, is cornering. Corners can address how to fight in an instant but understanding why a fighter climbs in the cage and what keeps him there? It takes months to cultivate what Jackson calls "acquiring your fighter's utility," he says, "understanding what makes them work the best."
Only through months of training their fighters will the corners learn the specific needs of their fighters. The training time away from the lights and cameras is when they learned fifth-ranked featherweight Cub Swanson tends to overthink and benefits from a joke between rounds to keep him loose but that he also needs a sense of urgency to keep him focused. That's why Jackson told him before his final round with Dustin Poirier last February that Swanson had split the previous two rounds, even though the Jackson knew he didn't.
It's when they learn, like Winkeljohn did, that heavyweight Shawn Jordan can weather any insult except the word p---y, compelling the coach to look Jordan in the eye between rounds and say, "You're getting your ass kicked because you're not doing what you're supposed to do. Go back to your quick motions, you're quick movements. Use your athleticism. Do it or forever be a p---y and out of the UFC."
It's how they know that nothing will motivate Ultimate Fighter Season 1 winner Diego Sanchez the way the mention of his family will or that Jones doesn't appreciate cussing in his corner.
"It usually takes me three or four fights," Jackson said of the time needed to learn his fighter's makeup. It's also during this time that the corners learn not only the fixed personality traits of their fighters but their situational reactions, too. In other words, it's not enough to know Jones doesn't like cussing when he's been trapped by a Victor Belfort armbar like he was last September.
"Greg could see on my face that I was starting to freak myself out a little bit," Jones says of the armbar.
At the end of the round, Jones headed to the corner, having heard his arm pop, then go numb, when Jackson arrived, bucket in hand.
"Be comfortable here," Jackson told Jones. "You feel no pain."
The words steadied a flustered champion, eased already damaged nerves.
"He just calmed me down and kept me in the fight just by simply telling me not to be a baby about a half-broken arm. It worked," says Jones earlier this month, having rehabilitated the strained ligaments in his arm. "I went out there and competed like I didn't feel it. If it was a different coach, he could have been babying it and making me think in my head that it was worse than it was."
Garcia remembers a similar instance in his April 2010 World Extreme Cagefighting bout against Chan "The Korean Zombie" Sung Jung. Garcia returned to the corner after the second round, feeling the bone in this right hand sliding around.
"My hand is broken," Garcia told Jackson.
"Leonard, your hand is going to be broken this round. It's going to be broken next round. It's going to be broken tonight. It's going to be broken tomorrow. When we're on the plane ride home, it's going to be broken. So, you've got to make a choice, are you going to stop throwing it and stop fighting for something you're not going to be able to deal with or are you going to use that mental toughness and keep fighting?"
"Just keep fighting," Garcia said.
"Ok, so when you go out there, throw it. Three times. I don't care if it lands. I don't care if it doesn't land. Just don't let him know that it's broken."
Garcia would win the fight.
Not every tale from the corner, of course, has a happy ending. It's when they don't, most especially, that corners make what their final evaluation of the night: How best to support their fighter. Does the fighter need space or a hug? To cry or to scream?
The wins, those are always easier. Winkeljohn finds them to be the best time to pinpoint a fighter's weaknesses and highlight what needs improvement. Jackson finds it most appropriate to slink off. Let the fighter bask in the glow of his victory while he and his team recede back into the place they feel most at home, in the deep, dark corners.