Conor McGregor defeats Nate Diaz at UFC 202 by majority decision
Conor McGregor defeated Nate Diaz in an absolute war at UFC 202 that came down to a majority decision.
The highly anticipated rematch between Conor McGregor and Nate Diaz went down Saturday night at UFC 202 inside the new T-Mobile Arena in Las Vegas. McGregor was originally slated to fight Rafael dos Anjos for the lightweight belt at UFC 196, but an injury forced him off the card and Diaz stepped in on 11 days notice.
What went down at UFC 196 would be cemented into UFC history, with Diaz strolling in and knocking off the UFC's biggest star with a rear-naked choke in the second round. McGregor obsessively demanded a rematch against Diaz and the fight was booked for UFC 200 originally, before being delayed to UFC 202.
When Saturday's match was finally done, McGregor had his revenge as he downed Diaz in a majority decision. As they stood up when it was over, Diaz helped McGregor to his feet, a show of respect after an absolute war and perhaps all-time great fight. The fight went to the judges' scorecards, and the two shared an embrace before the decision was read. Two judges gave the win to McGregor by a score of 48–47, with another scoring the bout 47–47.
• Conor McGregor earns record $3 million at UFC 202
The build up to this rematch has been a tense war of words, boiling over in the week leading up to the fight with water bottles being hurled across a crowded theater at one another and extra security being brought in to keep the peace. It carried over into the bout, with an army of Nevada State Athletic Commission officers lining the middle of the cage to separate the two during intros.
With the previous round ending with Diaz hitting the mat, it seemed going into the final round that Diaz needed a finish to win the fight. McGregor led on most cards three rounds to one. McGregor continued to escape and run to re-set up position, drawing boos but keeping him out of danger. McGregor went for a flying knee that didn't connect and it was a bad move, and Diaz took advantage by pinning McGregor against the cage. McGregor broke free and moved around with little intention to engage until he felt comfortable with the distance and ability to get set. Diaz continued to walk down McGregor, pinning him against the cage one more time and going for the takedown. McGregor fought it off to keep the fight standing up. Diaz went for a Stockton Slap and McGregor walked away. Diaz followed him and showed him the middle finger, letting his frustrations with McGregor's tactics be known.
GALLERY: UFC 202 PHOTOS
Conor McGregor defeats Nate Diaz: UFC 202 best photos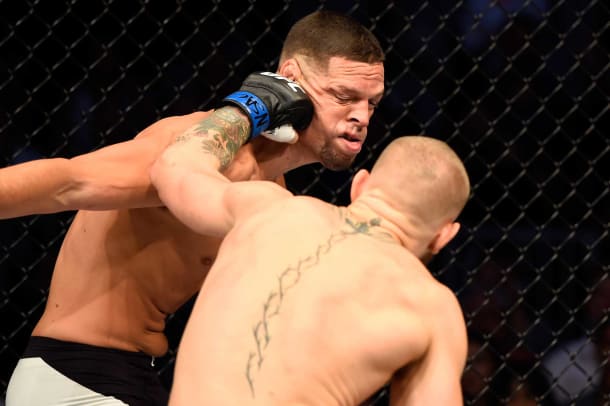 • UFC reveals the remainder of its 2016 schedule
Diaz eventually backed McGregor against the cage and began to work with some elbows that connected. Diaz was able to wrap both arms around McGregor's legs, but couldn't get the take down. With an underhook in place, Diaz continued to throw punches to the body with his free hand. McGregor reversed the position, pinning Diaz against the cage with roughly a minute left to go. Diaz reversed the position and tried to connect with knees. Diaz got McGregor to the mat and went for some ground and pound at the final whistle before the bell rang.