Precapping 2013: The year where a cursed number became lucky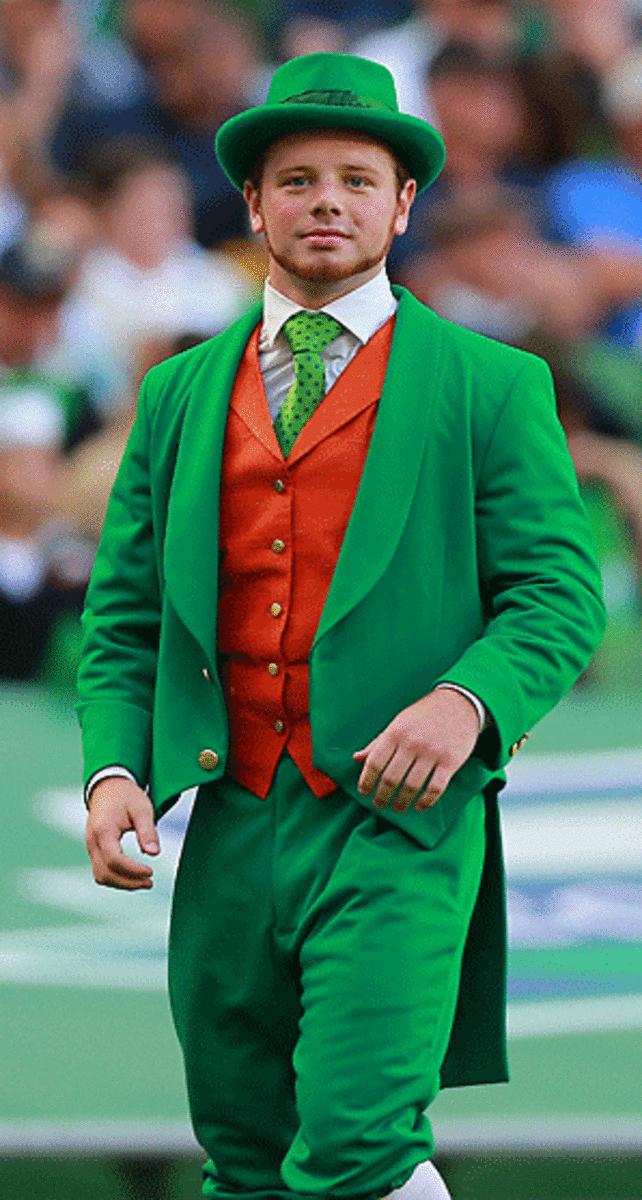 It's time to look back at the year ahead with our annual wrap-up of the next 12 months. As everyone else recaps 2012, we're pre-capping 2013, reviewing the year before it's begun. And what a year it wasn't (or hasn't yet been).
From the start, '13 didn't look promising. Thirteen never does. If it were a hotel floor, they'd have skipped it entirely, but then '13 was an odd sports year in every sense of the phrase: No Olympics, no World Cup, no Ryder Cup-- not even a Stanley Cup-- to give it ceremony. Triskaidekaphobes?those who fear the number 13?had good reason to be afraid.
But luck cuts both ways, and thirteen likewise was a two-sided coin?a gold coin, at the end of a rainbow, in a pot guarded by leprechauns, in the case of Notre Dame. When the Fighting Irish beat Alabama 21-17 on the seventh day of '13, and Manti Te'o held aloft that BCS national championship trophy, the Irish had come full circle. (Or full oval, given the trophy's resemblance to Joel's mom's glass egg from "Risky Business".) Having begun their season in Dublin, they ended it with that piece of crystal from Waterford-- the same $30,000 trophy that an Alabama parent shattered in 2012 after tripping on a rug in the Crimson Tide's athletic department. It was just as well that 'Bama didn't win another one this year. There's a crack in the egg, Joel.
Perhaps broken trophies, like broken mirrors, bring bad luck. Or maybe these superstitions mean nothing: Horseshoes, after all, are supposed to be lucky, but in his first season without one on his helmet, Peyton Manning, late of the Colts, did something in February that only one other Manning had ever done before: He won his second Super Bowl, equaling Eli's family record.
What's more, Peyton did it in New Orleans, in the stadium where his father used to play. The Broncos narrow victory over the Seattle Seahawks saw the NFL MVP, Manning, defeat the league's Rookie of the Year, Russell Wilson, a quarterback named for two sporting good manufacturers. (We await a baseball player named Rawlings Spalding.) By leading Seattle to the Super Bowl as a rookie, Wilson established himself as the most successful of the three sensational first-year QBs, just ahead of RGIII, who looked even better in '13-- like an RG4, with retina display.
The other rookie quarterback phenom was, of course, a kid named Luck, who wore a horseshoe on his helmet for the resurgent Colts. In '13, luck, with a small L, was everywhere. It smiled on the Miami Heat, who made it again to the NBA Finals, where their fans urged them to (all together now) "beat L.A." The L.A. Clippers, that is. The Clips' appearance in the championship series appeared to vindicate the Mayans, who might have miscalculated the apocalypse by a mere six months.
Mercifully for mankind, the Heat held off the Clippers--and the end of the world?to win their second straight title. Pat Riley hastened from his home court to a court of law, where he attempted to trademark several slogans, including "Re-Heat," "Heat-Peat" and?pushing his luck?"Three-Heat."
Luck won't tolerate being pushed. Push it too far, it pushes back harder. By loading their rosters with high-priced talent, the Angels, Dodgers and even the Blue Jays tempted Fate, which seldom ends well. Except that sometimes it does, as the Washington Nationals proved. Fifty-eight years after the Washington Senators sold their soul to the devil to get to the World Series in "Damn Yankees," the Washington Nationals removed the governor from Stephen Strasburg and won the whole thing for their long-suffering city. Theirs was the shortest trip to the White House in baseball history and?after 89 years without a title -- also one of the longest.
Those who believe in all that Senators' soul-selling stuff might have noted that it was the Dodgers who lost to the Nats in the National League Championship Series of 2013 -- 100 years after the opening of Ebbets Field, in Brooklyn, which the Dodgers abandoned in 1957. Was it fate, then? Or just dumb luck?
Luck, by its very nature, is impossible to identify. It's a shape-shifting creature, variously described as dumb, tough, blind, hard and feminine. (Think of Lady Luck.) Luck also rhymes with a dirty word that seldom gets printed in newspapers or magazines. That word, of course, is puck, and it returned to our vocabulary in 2013 after a 16-month absence, when the NHL finally came to its senses and resumed play in October. As hockey returned to Hockeytown, it was nice to see Red Wings center Pavel Datsyuk back in his 13 sweater for the Red Wings, proof that 13 isn't always unlucky.
To be sure, 13 has been monumentally unlucky for some?Ralph Branca wore that number and surrendered the biggest home run in baseball history, to Bobby Thomson at the Polo Grounds. But 13 has also brought enormous good fortune: Wilt Chamberlain wore 13 and claimed to have gotten lucky more than 20,000 times in his career.
As a year, '13 was like most others: One person's bad luck was another person's good luck. (And vice versa.) But '13 was also unlike any other year (as all years are): Unique, unrepeatable and completely unpredictable.
Looking back on it now, we're very much looking forward to it.