Max Aaron surprises, another bobsled title for Lolo Jones, more notes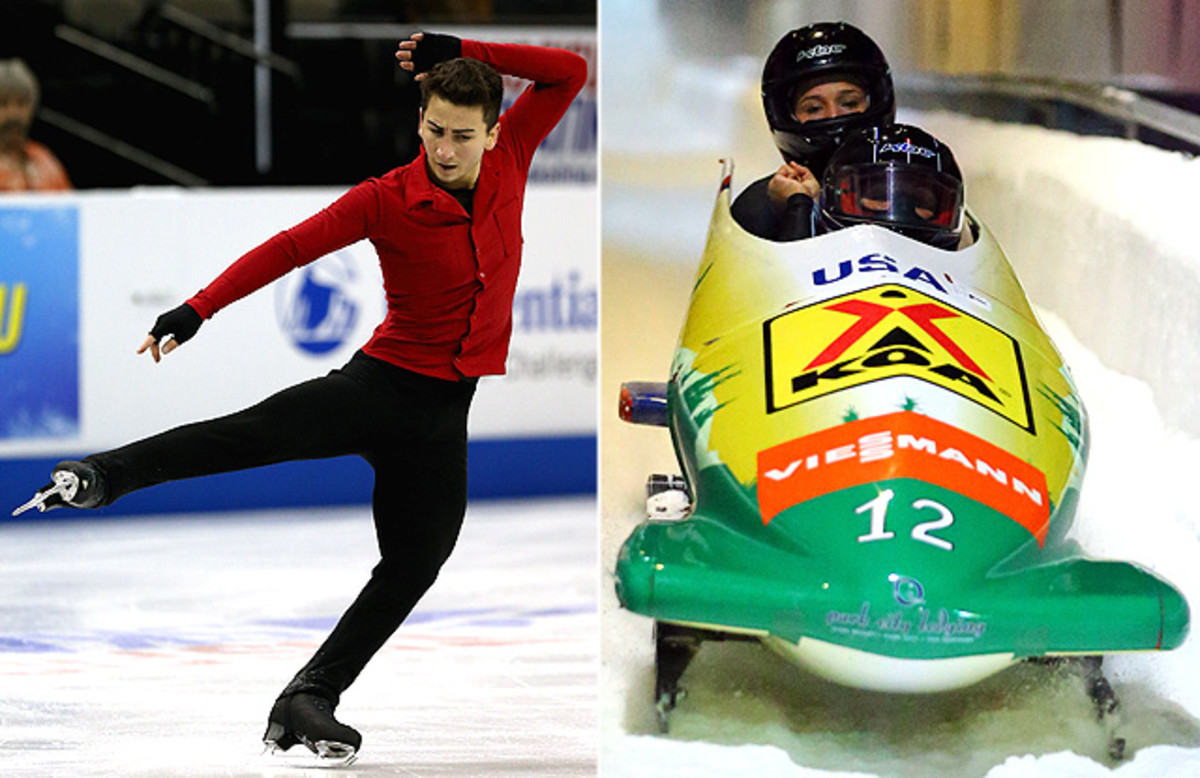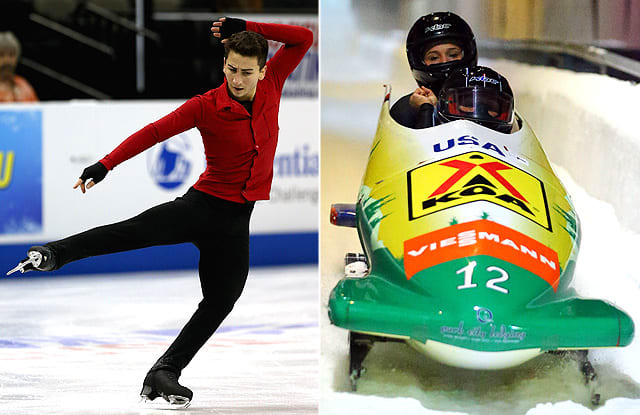 With the U.S. figure skating team showing weakness in some areas (singles depth) and strength in others (ice dance), the U.S. championships in Omaha this past weekend produced some expected champions (Ashley Wagner in ladies singles and strong Olympic contenders Meryl Davis and Charlie White in ice dance), but also gave some new faces a chance to emerge.
Consider that before the competition began, unproven 20-year-old Max Aaron seemed about as likely to win the men's singles title as baseball player Hank Aaron. Yes, he was the country's junior national champ in 2011; but last year, his first at the senior level, Aaron placed only eighth at nationals, with some names missing from the results list.
Then in Omaha Aaron broke out pair of quads, which sounds more fitting for a bike racer than a U.S. men's figure skater at a time when the men have been struggling. But more often than not, the quad -- a jump with four revolutions -- is becoming necessary currency for male skaters who want to win a major international competition. (Evan Lysacek may become the last man to win the Olympics without one.) Aaron landed two quad Salchows in Omaha and leapfrogged from fourth after the short program to first, locking up a berth on the U.S. team that will go to the world championships in London, Ont. in March.
Worlds this year holds additional importance because it also serves as a qualifier for the Olympics in Sochi next winter. The placings for two U.S. men (and women, too) must equal a number no greater than 13 for the team to send a third skater in that discipline.
Aaron doesn't have the name recognition yet and, as the forgiving marks given to U.S. women's champ Ashley Wagner showed, an earned reputation may get skaters a few extra points; the lack of a reputation may keep them from getting credit for some skills and earning important presentation marks that are less clearly defined. Not only has Aaron has never skated at a world championship, but he has yet to compete at a single Grand Prix event on the international circuit. And sure he needs to make a splash. Runner-up Ross Miner, the other U.S. man who will go to London, has a little international seasoning, but no big success stories. He placed 11th at the world championships in Moscow two years ago.
Aaron trains with reigning world champion Patrick Chan of Canada in Colorado Springs and says very generously of Chan, "He's the one who has taught me how to compete." Maybe it's time for Chan to be less generous with his teaching.
Jeremy Abbott may be the best U.S. male skater -- he won the Grand Prix final in 2008 and he's a three-time U.S. champion. He's shown patches of sparkling programs, but he's also been wildly inconsistent throughout his career. In four world championships and an Olympics, he has finished 11th twice and ninth, eighth and fifth once each. Abbott placed third in Omaha, a finish that in other years would still have earned him a spot on the world team. Instead, with just two skaters going, he will sit this one out. Both he and reigning Olympic champ Evan Lysacek are wildcards for next season and would be greatly aided by a third available U.S. berth in Sochi. Lysacek has been battling injuries and recently withdrew from the championships with a sports hernia injury.
The trick for Aaron now is to get some currency with international judges. His performance in London will be a fat resume entry for whatever marks they might grant him at the Games in Sochi next year, should he make the team. He has strong, fast spins and footwork, with the requisite quad jumps to boot. He skates to West Side Story, and apropos of the memorable scene that spawned the music, it's his time to rumble.
*****
Lolo Jones wrote another chapter in her athletic career that has been colored with achievement, disappointment and, at times, melodrama. The hurdler who won two world indoor titles added another world championship in her new sport of bobsledding in St. Moritz on Sunday. Granted, Jones won the non-Olympic event in the team competition that combines times not only from different classifications of bobsled racing, but also includes times in the skeleton -- though it is still an impressive honor for someone who just launched her career in the sport.
The quirky team event combines results from two-person bobsled runs for men and women and times for men's and women's skeleton events. Jones was the brakewoman for driver Elana Meyers in the women's bobsled portion. Earlier, Meyers teamed with Katie Eberling to win a silver medal in two-woman competition. Olympic champion Steven Holcomb drove the U.S. men's sled, which was braked by Steve Langton. John Daly and Noelle Pikus-Pace were the team's skeleton entries for the team event.
Jones's Olympic career is remembered not for what she did, but what she didn't achieve. In the final of the 100-meter hurdles at the Beijing Olympics in 2008, she led most of the race but clipped the ninth hurdle and stumbled across the line into seventh place, giving up the gold medal. Four years later she took fourth at the Olympics, again barely missing out on a medal.
She was often derided last year because of a marketing campaign that presented a conflicting image of her, awkwardly fudging the line between an athlete and a persona. In trying to play both sides of that persona, from sultry to virginal, she has left a picture of someone who, in the words of one teammate "can't be trusted or believed." Several of her teammates scoffed that she was stealing attention from them as they were putting up better results.
For that reason, Jones' showing on the bobsled track may be invaluable to her reputation. She is again a successful athlete, improving and building a positive trajectory. Could she be an Olympian in a second sport? Sure. Other track stars have parlayed their capacities for explosive starts from a low, inert position in running blocks to the complementary needs of a strong push athlete on a bobsled team -- Willie Davenport, Edwin Moses, Willie Gault, Herschel Walker -- all of whom qualified for national teams in the process. Even those who did not come from world-class track backgrounds often dabbled in the sport at some point in their lives.
Jones is doing that, too. A winter Olympic berth is within her reach, especially considering how quickly she has progressed through the ranks of her new sport and how comparably fewer people toil in it compared to the sprints and hurdles. She is good. Now she just needs to quit the affectation and desire to become a personality she hasn't quite figured out how to portray. Jones has a second chance here, and we're not just talking about winning medals.
CAZENEUVE: Julia Clukey makes her return to skeleton after nearly two years