Minnesota wrestler Joel Bauman another victim of NCAA hypocrisy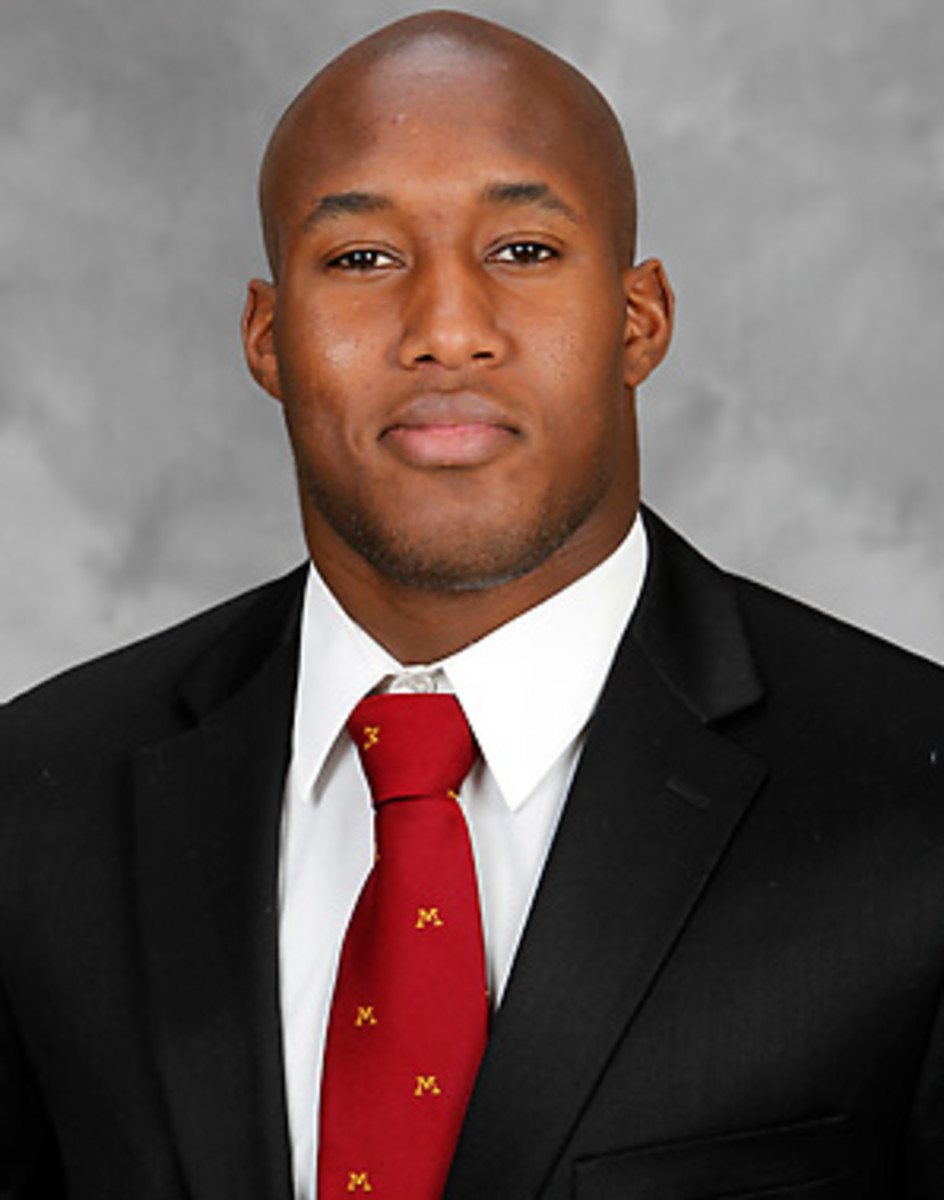 Every year during the NCAA men's basketball tournament, the NCAA bombards us with ads that remind us that most college athletes will go pro in something other than sports. It's a great reminder that most of the athletes the organization serves are not headed for seven-figure contracts, and it serves as a de facto explanation for why the NCAA tries to limit the athletes who are headed for those deals from realizing their market value while in college.
Unless he develops a character and wows Vince McMahon, Minnesota wrestler Joel Bauman is not going to make millions from any iteration of his sport. Bauman, a redshirt sophomore from Kerkhoven, Minn., wants to go pro in Inspiration. At the moment, he's trying to do that through music and motivational speaking. Bauman has recorded some songs -- syrupy stuff that would be right at home on gospel radio -- that seek to encourage rather than tear down. Bauman was adopted as a one-month-old. As a kid in rural Minnesota, Bauman faced taunts and funny looks as the black child of white parents. But he overcame discrimination, and he wants to let young people know they can overcome any circumstance and succeed.
That's the message that could be silenced by an NCAA rule.
Bauman embodies everything for which college athletics should stand. He should be the face of the NCAA. But the NCAA wants to make sure it is the only entity that can make money off Bauman's face. Fearing an NCAA reprisal, Minnesota officials have asked Bauman to take his name off his songs and remove his image from the videos if he wants to remain eligible to wrestle at Minnesota.
He has two more years of eligibility remaining, but he is willing to sacrifice his scholarship rather than go by an alias in his music. "Now that I have a message," Bauman said Wednesday, "I'm not going to go by an alias to deliver my message. ... If I stop, what would that show people? If I just made an alias, what would that show people? That I'm going to quit what I started?"
This is the NCAA in a nutshell. When it isn't busy hijacking a federal bankruptcy deposition to gather dirt in defense of its flawed model of amateurism in an infractions case involving Miami, its schools use that same flawed model as the rationale to attempt to crush a young person's non-sports career. Never mind that if Bauman were a minor league baseball player instead of a singer, the NCAA would allow him to keep his baseball earnings and still wrestle. Apparently, those 99-cent iTunes downloads of Bauman's Ones In The Sky represent a threat to the purity of college athletics, even though Bauman has yet to make a cent of profit. "I've not broken even on anything I've done," he said.
At some point, the people at the NCAA and the leaders of the universities that comprise its membership need to stop and think about what exactly they're fighting for here. Bauman's case is yet another example of a group of people who have their heads stuck so deep in their massive rulebook that they can't see the bigger picture.
Bauman, who is just returning to the mat in practice after missing three months because of concussion issues, is hoping he can make a last-ditch effort to keep his music and his scholarship without giving up his name. "I have a plan," he said. "I'm going to run it by our compliance department." If he wanted to go by DJ Takedown or MC Reversal, Bauman could promote his music on YouTube and sell his songs on iTunes. But why should he have to? If Bauman's name is the price of a wrestling scholarship, the price is too high.
Bob Williams, the NCAA's vice president of communications, wrote in an e-mail that Minnesota's compliance department made the interpretation and that Bauman could seek a waiver if the school chose to back him, but that seems awfully unnecessary. Schools shouldn't need to be so terrified of NCAA justice that they threaten the scholarships of athletes such as Bauman. The rule is the problem.
The rule exists so a well-known athlete can't cash in on his fame while still in college. It exists so Texas A&M quarterback Johnny Manziel can't write a cookbook and sell it to Aggies boosters willing to pay $10,000 a copy. It exists so South Carolina defensive end Jadeveon Clowney can't produce a Harlem Shake video -- don't scoff; you know you want to see it -- and encourage Gamecocks boosters to buy $100,000 worth of ads on his YouTube channel.
The better question remains, why not? In January, Texas A&M released a study that found Manziel's Heisman Trophy run produced $37 million worth of free publicity for the school. Such exposure has been proven to draw a wider and deeper group of applicants that will ultimately make the university a better, more competitive place. Why shouldn't Manziel share in some of that largesse? Why shouldn't Clowney, who might be the most highly anticipated NFL draft prospect in 25 years, have the chance to grab a piece of the money he brings his university?
The NCAA created this particular model of amateurism -- as well as the term "student-athlete" -- decades ago so schools could avoid paying payroll taxes on their athletes and so schools wouldn't have to pay worker's compensation claims when those athletes were injured. While not entirely above-board, that probably was the fairest, most practical solution available in an era in which college sports were a business but not a huge one. Thanks to that choice, which freed up more money, thousands of athletes got to attend college for free who otherwise wouldn't have. But now the dollar amounts paid to televise football and men's basketball at the highest levels have increased exponentially. So have the salaries of coaches, athletic directors and NCAA officials. So have the expenditures on stadiums, JumboTrons and weight rooms. The only thing that hasn't changed is the salary for the athlete, who still gets tuition, room and board.
As NCAA officials and university presidents take a long look in the mirror in the wake of the Miami debacle, they need to consider their real goals. I've been an advocate of the Olympic model, which wouldn't cost the schools an additional penny. Would allowing the famous few to cash in really affect competitive balance? (It wouldn't. Check the Rivals rankings. The wealthiest schools already get the top recruits.) Or would it provide a more workable system that still allows athletes in less popular sports to get a free education while also allowing the ones who bring in the real money to get a piece of the pie?
Because if the past week has taught us anything, it's that the current model is irretrievably broken. The NCAA should be making commercials about Bauman, not forcing Minnesota to threaten his scholarship. But that's the problem with a bloated bureaucracy that exists to defend a concept that was flawed from the start. When the NCAA's rules screw the Joel Baumans so the Johnny Manziels can't get what they already deserve, it's time to find another way.