Petter Northug wins 15k individual freestyle gold at Nordic worlds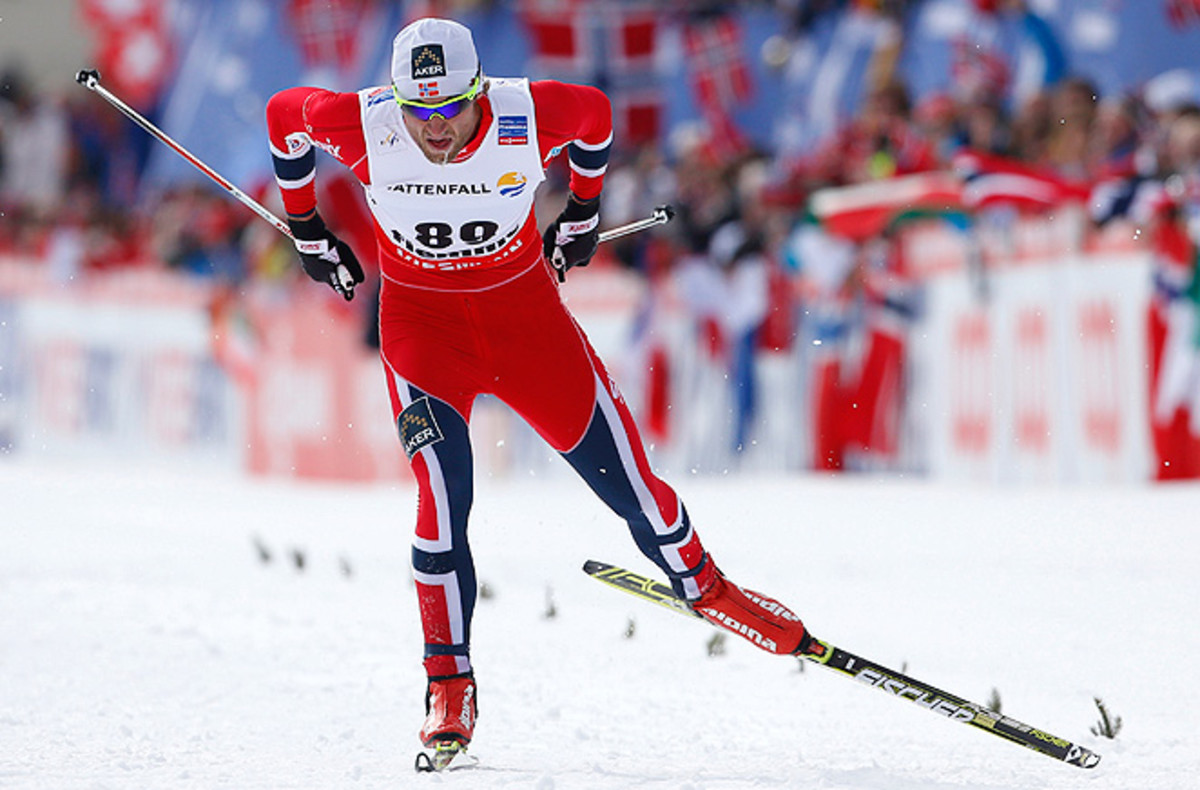 VAL DI FIEMME, Italy (AP) -- Petter Northug won his first gold medal of this year's Nordic world championships on Wednesday in the 15-kilometer individual freestyle.
The Norwegian beat Johan Olsson of Sweden by 11.8 seconds, finishing in 34 minutes, 37.1 seconds. Tord Asle Gjerdalen was third, 22.3 seconds behind Northug.
"I knew from the first races that I was in good shape so my plan was to attack for the gold medal, so I gave it my all," Northug said. "Today is the day you dream of when you're an athlete: You wake up and feel like you have a lot of power and you know you can give it your all ... and then when you win it's amazing.
"I knew it was going to be fight between me and Johan Olsson and when I heard the others' times I just focused on the times of Johan. I was losing a bit because I was tired, then I just focused on my legs and not falling because I knew I had the seconds."
Northug attacked from the start and was more than 20 seconds ahead of Olsson after 9.4 kilometers. He started to struggle and lost 10 seconds within the next 2 kilometers.
However, he maintained his pace over the final section and collapsed over the line, where he lay for several minutes before being helped up.
"When you're so tired as I was today you don't hear any crowds, it feels like you're racing on your own," Northug said. "You just want to cross the finish line because then it'll be over. Then after you cross, you have a couple of minutes rest and then you hear the crowd cheering, you hear the speaker announcing you're world champion and that's a dream."
It was Northug's eighth world title after winning three gold medals at each of the previous two championships and one in 2007.
"When he is at his best no one can beat him," Olsson said. "He is the best. I couldn't have done anything else. I did my race, kept my speed and couldn't have skied one second faster today.
"When I heard the first time and had an indication that Petter was skiing so fantastic, I felt I didn't have a chance, I thought with a 20-second gap there's for sure four or five guys between us. But I just focused on myself, on doing my best and that's all you can do."
Olympic champion Dario Cologna, who won Saturday's skiathlon, finished eighth, 1:21.1 behind Northug.