Shame on Rutgers for not firing Mike Rice immediately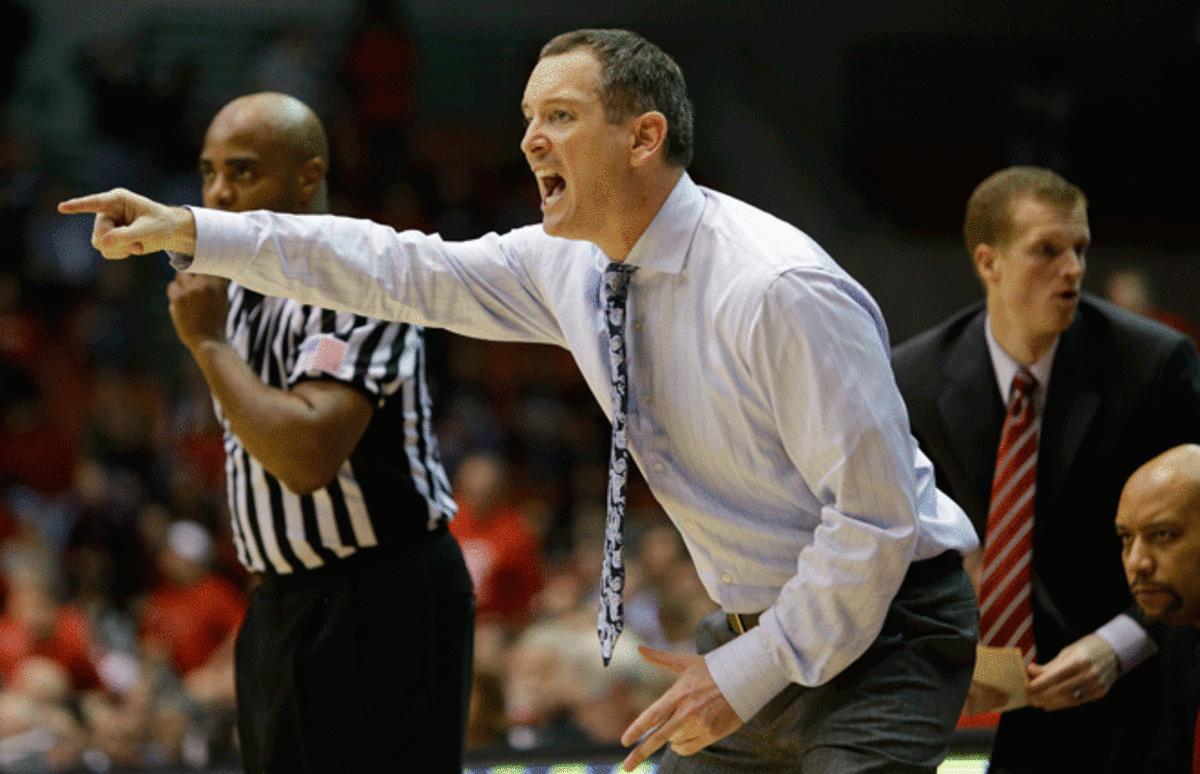 The world is a beautiful place. I have proof of this, in the images before me on my laptop screen.
To the left, there is Earvin Johnson III, walking through the Sunset Strip holding another man's hand, wearing a fur coat and carrying what appears to be a purse.
To the right, there is Mike Rice, the Rutgers men's basketball coach who was caught on tape physically abusing players during Scarlet Knight practices while demeaning them with gay slurs.
When TMZ -- which first posted the video of Earvin Johnson III on Tuesday -- contacted Magic Johnson for comment, the legendary Laker offered the full backing of his 20-year-old son. "Cookie [Johnson's wife] and I love E.J. and support him in every way," Johnson said in a statement. "We're very proud of him."
When ESPN -- which released the disturbing video of Rice on Tuesday -- contacted Rutgers athletic director Tim Pernetti for comment, he sounded like a fool. "The moment we became aware of the video ... we immediately commenced an independent investigation into the matter," he said. "We suspended Mike in a more significant way than coaches have been suspended in recent memory."
Rice's significant penalty from a university that routinely stresses its commitment to diversity: A whopping three-game suspension and $50,000 fine. After the video went viral Rutgers was forced to fire Rice on Wednesday, but the damage has already been done.
TMZ ran the video of Johnson III because, well, that's what America's slimiest "news" organization does. It shocks and embarrasses. Only, in 2013, there is nothing shocking or embarrassing about being gay. The collective "ho-hum" you heard in response to the Johnson non-bombshell was neither surprising nor especially interesting. I polled 207 people on Twitter and Facebook with the question, "On a scale of 0 (yawn) to 10 (shocking!), how much do you care that Magic Johnson's son is gay?" The average score: 0.4.
Rutgers, meanwhile, surely believed there was nothing particularly embarrassing about Rice. He is, by their reasoning, your typical sideline-pacing tough guy; paid to bark out plays and mold men and speak in clichés and help the perennially mediocre Scarlet Knights reach the NCAA tournament. Coaches, after all, are known to lambast players, and if Rice needed to use ugly gay slurs to rally to troops, well, who was the overmatched Pernetti to argue? The athletic director clearly figured that, with the suspension and fine (and without the tapes), any lingering controversy would vanish.
There's just one problem: While the invisible bubble that often seals colleges from the outside world can numb an institution to reality, Rutgers has no business whiffing on this one. It was less than three years ago that Tyler Clementi, a gay 18-year-old freshman, committed suicide after his roommate used a webcam to record him kissing another man in their dorm room (then posted it on the Internet). In other words, while perhaps other colleges and universities could be excused for having a tin ear when it comes to gay bullying, Rutgers cannot. It is shameful.
And yet, that's the wonderful thing about Tuesday's duel news pieces. Twenty-two years ago, when Magic Johnson held a press conference to announce he had contracted the HIV virus, he went out of his way to assure people he wasn't gay. This isn't an indictment of Johnson's response -- times were different, understanding was lacking.
Now, two decades later, homosexuality is more accepted. In a recent poll, more than 70 percent of Americans under age 30 support gay marriage. More and more athletes are speaking out on behalf of gay rights, and it seems only a matter of time before an active player in one of the four major American team sports steps out from the shadows.
Earvin Johnson III isn't a professional athlete. He's merely an NYU student with a famous father and a familiar smile. Yet there he was, holding another man's hand and a handbag, and Mike Rice and Tim Pernetti were the ones who looked the fool.