Princess of Sylmar wins Kentucky Oaks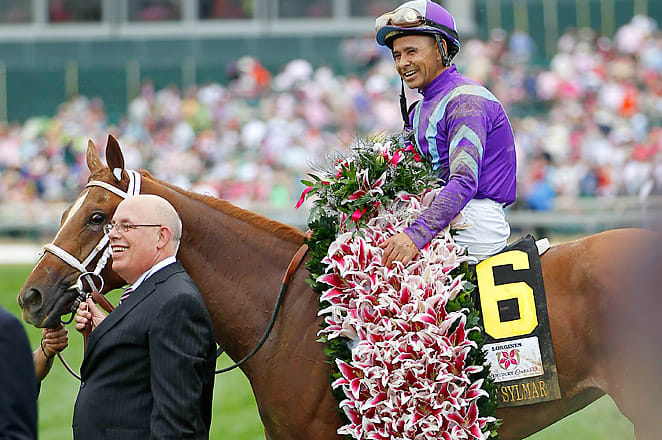 A filly that trainer Todd Pletcher waffled on entering in the Kentucky Oaks has him poised to complete a rare double Saturday in the Kentucky Derby.
Princess of Sylmar, a 38-1 long shot, rallied with a huge stretch run to win the $1 million Grade I Oaks on Friday at Churchill Downs.
One of four fillies trained by Pletcher, she upstaged stablemate and 3-2 favorite Dreaming of Julia, who finished fourth. Unlimited Budget, another Pletcher entry, ran third behind 2-year-old filly champion Beholder.
The win positioned Pletcher for a weekend sweep if he can claim the 139th Run for the Roses, where he has a record-tying five entries Saturday.
Pletcher aims to become the first trainer since Ben Jones in 1952 to pull off the Oaks/Derby double and the fourth overall. Jones did it with Real Delight in the Oaks and Hill Gail in the Derby.
Starting from the No. 6 post with Hall of Famer Mike Smith aboard, Princess of Sylmar ran 1 1/8 miles in 1:49.17 and paid $79.60, $29.40 and $14. Beholder returned $9 and $5.60, and Unlimited Budget paid $3.80 to show.
Pletcher earned his third Oaks win while Smith claimed his first, adding to a resume highlighted by a career Triple Crown - including a 2005 Derby victory aboard Giacomo, another long shot.
"I've never come close in the Kentucky Oaks and I've always wanted to win this race so bad," Smith said. "I thank Todd for putting her in."
Earlier in the week, Pletcher wasn't sold on Princess of Sylmar's Oaks prospects.
Concerned after her April 20 workout, he said her final workout a week later was much better. He talked with owner and breeder Ed Stanco, head of King of Prussia Stable, who made the call to keep her in the race.
"Ed said, `I want to take a shot, let's do it,' " Pletcher recalled. "I said, `Here we go."'
On numbers alone, Pletcher figured to get some return with four competitors in the 10-horse field that included 48-1 choice Silsita. However, Dreaming of Julia was expected to provide the payoff, bringing in a 4-1-1 record including a 22-length romp in her last start at Gulfstream Park on March 30.
But with a deep field featuring several unbeaten competitors, the race was considered wide open.
Unlimited Budget came in 4-0 under Pletcher. Close Hatches was 3-0 for trainer Bill Mott while Midnight Lucky was 2-0, providing Bob Baffert's lone on-track presence in Churchill Downs' two biggest races. Early in the week, he chose not to enter Govenor Charlie and Code West in the Derby.
Though overlooked, Princess of Sylmar could make claim to contend with four wins in six career starts and a second to Close Hatches in last month's Grade 2 Gazelle at Aqueduct.
Smith helped her talent show in the final turn.
As the field turned for home, Smith had her in the clear but fourth behind Midnight Lucky, Beholder and Unlimited Budget. Beholder dispatched Midnight Lucky but was caught in the stretch by Princess of Sylmar, who won by 1 3/4 lengths.
"They thought they had moved a little early last time out and to really be patient," Smith said of Pletcher's pre-race instructions. "It really worked out great."
The crowd of 113,820 clearly affected Beholder, who dumped rider Garrett Gomez prior to the race. The jockey said she nearly fell and stepped on herself in the process.
"When you upset a female, you're in trouble," trainer Richard Mandella said.
Gomez got back in the saddle and rushed Beholder to the gate before she regrouped to press pacesetter Midnight Lucky for the first six furlongs, even taking the lead in the stretch.
"Once she was in the gate, she was beautiful," Gomez said. "She ran beautiful. I just wish she wouldn't have expended so much energy coming up to the gate."
Pletcher's main hope in the race was Dreaming of Julia, whose troubled start doomed her. She lagged behind before recovering in the stretch to finish fourth.
"She got creamed coming out of there and it is hard to overcome that kind of thing," Pletcher said. "She tried hard to make it up and I thought she ran very courageously. But it was too much to ask."
Thanks to Princess of Sylmar, Pletcher's day still ended happily with the chance for a historic Saturday still to come.
"When we were looking at our fillies' chances," Pletcher said, "I told some people, `If they go fast early and this filly settles, I give her an outside chance."'