Fever's Tamika Catchings has won it all -- except a WNBA title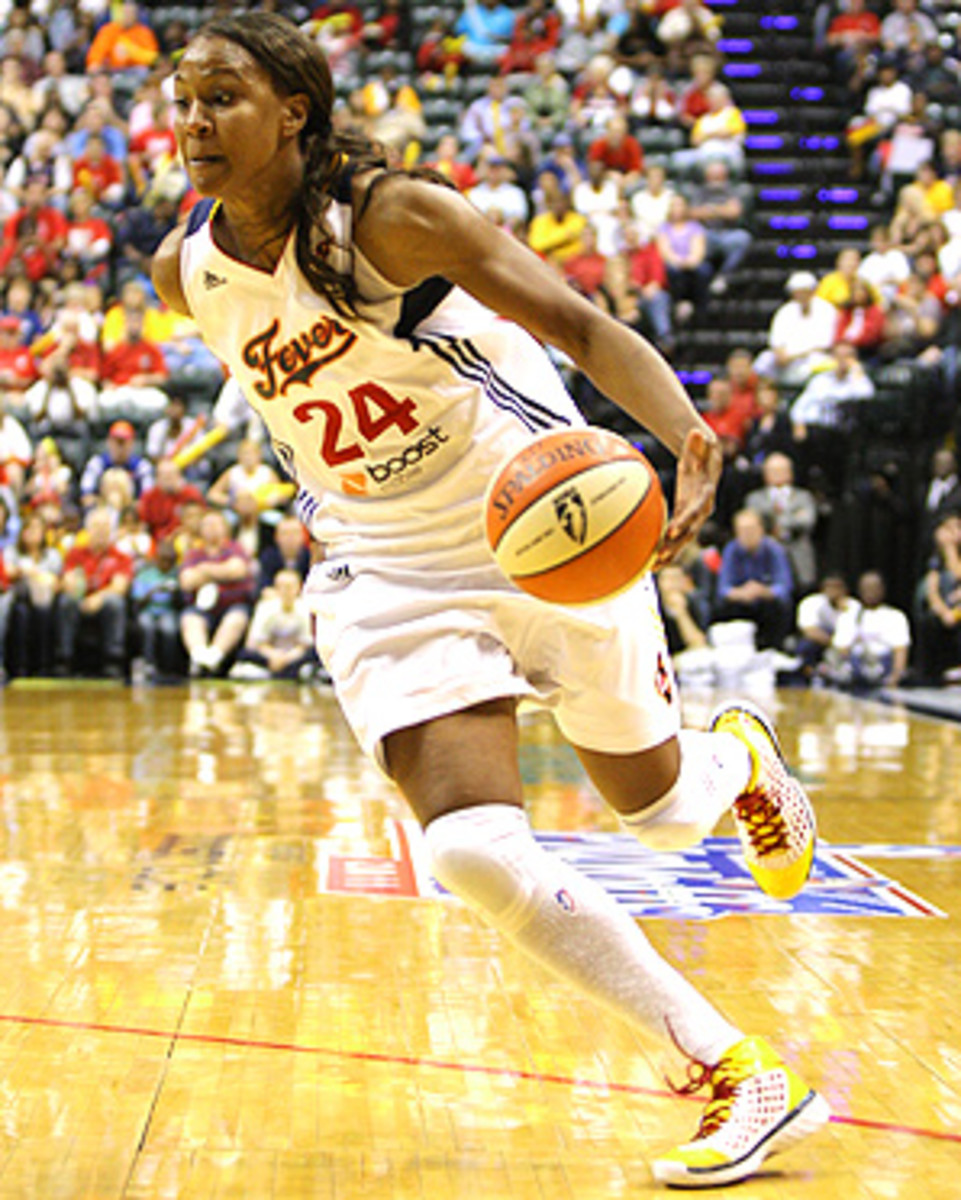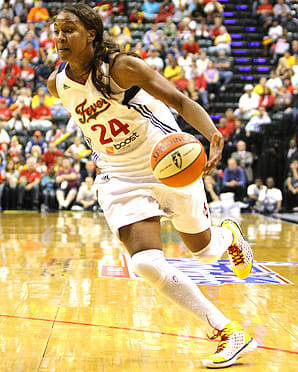 The 2011 WNBA All-Star game had reached intermission, but Tamika Catchings could not rest. There was still the second half of a historic double shift to complete. The league was honoring its 15 best ever players in San Antonio as part of a summer-long celebration for staying in business for as many seasons, and Catchings's attendance was required at center court.
The July afternoon should have been a proud moment for the Indiana Fever forward, who has seemingly done everything in basketball but invent it. And yet as she stood inside a darkened AT&T Center and listened as the PA announcer prefaced his introductions of legends like Cynthia Cooper, Sheryl Swoopes and Lisa Leslie with the number of WNBA crowns each had won, Catchings couldn't help but feel lightheaded.
She could swear the announcer hesitated before introducing her, as if the lone hole in 12th-year vet's resume is what makes her tough to talk about. The problem with Catchings, 32, isn't that you'll run out of stuff to say, but that you'll run out of breath with which to say it. In high school she twice won state titles and player of the year honors at schools in Illinois and Texas; at Duncanville High in 1997 she became the first player -- man or woman -- to be officially credited with a quintuple double. (Her line: 25 points, 18 rebounds, 11 assists, 10 steals and 10 blocks.) A year later, at Tennessee, she helped lead the Lady Vols to a national championship as a freshman; her junior year she captured the Naismith award.
Since entering the WNBA in 2001 Catchings has wrung every ounce of effort from her 6-foot-1, 167-pound body to win a championship. Her desperate style of play -- one measured as much by the 15.5 points, 7.1 rebounds and 3.5 assists she averaged in 2011 as the floor burns and body bruises she earned in pursuit of rebounds and loose balls -- doesn't figure to change this season, in which her Indiana Fever tip-off on Saturday May 19 against the Atlanta Dream.
The individual accolades she has carted off in between -- among them, an unprecedented four defensive player of the year awards, seven All-Star nods and the '11 MVP -- is cold comfort. The statues, plates and paperweights won't mean much to her without a ring. "Ten years from now, people are not going to be like, Who won the MVP?" said Catchings, who has finished in the top three in the voting for that in nine of the past 10 seasons. "They're going to be like, Who won the championship? That's what motivates me."
Catchings said this from Seattle; last weekend the U.S. National team summoned her from the Fever's training camp in Indianapolis for Team USA's only practice before the Olympics, during which the WNBA will take a month-long break (beginning July 14). The highlight of the weekend was an exhibition tune up against China. Catchings scored a game-high 19 points (going nine-for-11 on shooting), and collected five rebounds, five steals and a block while tying for the fewest USA minutes played; her performance suggests a third straight Olympic gold medal should be no sweat. Her personal medal count, which dates to high school and includes the Olympics and the FIBA games, among many other competitions, is already up to a staggering 10 medals -- eight of them gold.
Still, Catchings's triumphs with Team USA on the international stage don't make it any easier to see past her lack of WNBA jewelry. If anything, her lack of a WNBA championship ring is most obvious when Catchings joins forces with contemporaries like Swin Cash (a season removed from celebrating her third championship with the Seattle Storm), and upstarts like Maya Moore (a winner in her rookie season last year with the Minnesota Lynx) and even Angel McCoughtry (a finalist in two of her three seasons with the Dream).
Catchings has put the Fever in position to win a title plenty of times. Since 2005 the team has finished no worse than fourth in the Eastern Conference. The consistency is commendable, but it's also prevented Indiana from following the easiest path to a WNBA championship, traditionally bulldozed by one or more first overall draft picks. Between the six No. 1 draft picks who have won WNBA championships -- all of whom are still active -- are a whopping 10 of the WNBA's 15 titles. That's partly why league GMs overwhelmingly picked the defending champion Lynx, led by Moore (class of 2011, and reigning rookie of the year) and '11 Finals MVP Seimone Augustus (class of 2008), to win it all in 2012, foregoing Catchings and the Fever, who currently do not have a No.1 draft pick on their roster.
What really rankles Indiana coach Lin Dunn are the perennial playoff contenders who score big after one bad season. "Look at Phoenix. Somebody gets hurt and they end up getting [Diana] Taurasi," said Dunn, who nonetheless selected Aussie center Lauren Jackson (a three-time league MVP) over Catchings while she was coach and GM of the Seattle Storm in 2001. "In L.A., Lisa Leslie gets pregnant, and they end up getting Candace Parker. I mean, come on! You've got to be kidding me! When you finish in the top three or four every year, you're going to be picking eight, nine, 10, 11."
Every year Catchings cranks out chicken salad after chicken salad. In the odd years, when the Fever makes its deepest playoff runs, fate usually intervenes. In 2007 Catchings limped out of the conference finals clincher with an Achilles injury, dooming Indiana to defeat. In 2009 the Fever were simply turned back by a (slightly) better Phoenix Mercury team, the victor in a breakneck, best-of-five WNBA Finals series. In 2011 Catchings's body betrayed her again; midway through the fourth quarter of Game 2 of the conference finals, she crumpled to the floor with a torn plantar fascia in her right foot.
The injury, which opened the door for Atlanta to tie the series and win the decisive third game, could have also given Catchings license to beat up herself. But, of course, she's been there, done that too. In 2001 she blew the anterior cruciate ligament in her right knee 17 games into her senior season at Tennessee and was convinced her WNBA dreams were dashed. Ex-Fever coach Nell Fortner, trusting her experience coaching Catchings in the USA Basketball system over the protestations of her staff, drafted Catchings third overall anyway. Had Catchings stayed healthy, it's unlikely she would've have fallen that far. "I knew how tough she was and how driven she was," Fortner said.
A rehab setback not only cost Catchings the entire '01 season, but nearly claimed her spirit, too. It started as "a little depression," said Catchings, then "I got to a point where I would cry a lot and was just angry [all the time]." Her father, Harvey, an 11-year NBA vet, was among the many family members who tried to be there for her, but he could only do and say so much from his home base in Texas.
After seeing the team psychologist, she was soon reframing disappointments as opportunities; sitting that out her first season had become a blessing in disguise. "It allowed me to sit back and see before going into it exactly what the WNBA is all about," Catchings said. The following year she claimed Rookie of the Year honors while carrying Indiana to its first playoff appearance.
It's a testimony that Catchings often referenced while rehabbing her plantar fascia alongside Fever teammate Briann January, a dynamic young point guard who has not only fully recovered from the torn right ACL that ended her '11 season after 10 games, but gained three inches on her vertical. Those two, along with the best end-to-end shooting guard in the game, 12th-year vet Katie Douglas, lead a Fever team that made a concerted effort this offseason to get younger. In March, Indiana shipped starting power forward Tangela Smith to San Antonio a month before her 35th birthday in exchange for 29-year-old reserve shooting guard Roneeka Hodges.
The trade allows Catchings to move from her small forward spot back to the four position, where she excelled early in her career. Offensively, she's a matchup nightmare, an efficient post player who also possesses an abundance of perimeter skills. Defensively, she saves on wear and tear by not having to chase 22-year-olds around all afternoon.
Not that Catchings lacks the energy. To hear her teammates tell it, she has stamina to burn. How else to explain the flurry of encouraging e-mails and text messages that fill their inboxes at all hours of the day and night? "As much as I enjoy waking up to a positive note or reminder," Douglas said, "I always wonder when she sleeps."
Even though Catchings did not play overseas this offseason, she had plenty to keep her busy between being the president of the Players Association; her foundation Catch the Stars, which seeks improved educational opportunities for underprivileged kids across the country; and her barnstorming with First Lady Michelle Obama for her "Let's Move" fitness campaign. Just last month Catchings was at the White House for the annual Easter Egg Roll; the visit was her second this year and eighth overall, a streak that spans the past three presidents. To hear her tell it, the current one is expecting her back at least two more times before the year is out. "He said he's ready for [the Fever] to come after the Olympics," Catchings said.
She won't rest until she gets there.