Video: Thunder's Kevin Durant is the 'Baddest' in new Nike ad
Kevin Durant is eminently marketable, but he still must contend with LeBron James' immense shadow. That's true even though Durant took home his first MVP award this season, and it will almost certainly remain true until the Thunder win a title or James' star starts to fade.
Photos: Nike unveils Kevin Durant's latest signature sneaker, the 'KD 7'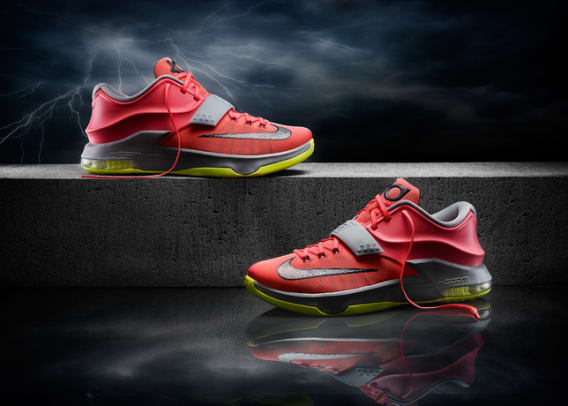 Although Durant's ads can't honestly pitch him as the "best" or the "greatest" quite yet, there are plenty of other directions to take the Thunder star's persona. In its latest spot, a minute-plus clip that promotes Durant's new "KD7" signature sneaker, Nike hones in on Durant's cold-blooded scoring ability by referring to him as the "Baddest." The ad features cameos from Hall of Famers George Gervin and Chris Mullin, pitching Durant as "bad like black coffee, like a good Thanksgiving meal, like bubble gum ... like a panther, like a hail storm."
​
Video: Thunder's Kevin Durant gives emotional MVP acceptance speech
The approach is both logical and appealing. Nobody in the NBA can fill it up quite like Durant, but the manner in which he breaks defenses is often as important as how many points he compiles. Ruthless, steady and efficient, Durant has all the necessary weapons to simultaneously break the opposition's will and excite a stadium full of people: a step-back jumper, deep range, long-armed slams and a herky-jerky handle that can send his man to the floor.
"Baddest" feels more authentic than Nike's previous "KD is not nice" effort, which always seemed just a touch off. Durant might be mean on the court, but the public also knows him as a man who donated $1 million to the Red Cross and who brought down the house with his touching MVP speech. The "Not nice" moniker fit Durant's game but not his personality, whereas "Baddest" works nicely with both.