Why trading Andrew Wiggins for Kevin Love makes sense for Cavaliers
Andrew Wiggins is loaded with potential, but the Cavaliers should include the No. 1 pick in a trade for Timberwolves All-Star power forward Kevin Love.
I understand that over the last few weeks NBA coaches and executives have differed over whether the Cavaliers should make No. 1 pick Andrew Wiggins the centerpiece of a trade for Timberwolves All-Star power forward Kevin Love. Very credible writers from very credible outlets quoted and paraphrased some (presumably) very credible folks who anonymously doubted that Love was worth it. They cited Love's defensive issues and the fact that he has never sniffed the playoffs in six years with Minnesota. They pointed to Wiggins' tantalizing talent and suggested that in three years we could all be laughing at the suggestion of such a swap.
I believe these league officials exist. I just didn't run into any of them while chatting up many talent evaluators during eight days at the Las Vegas Summer League.
The vast majority of opinions sounded something like this: Do the deal. If the Wolves want Wiggins, hand him over. If they want last year's No. 1 pick, Anthony Bennett, give up him, too. If they prefer the fourth selection in 2012, Dion Waiters, he should be on the table. A future first-round pick? That's a small sweetener to pay for a player with Love's skill set.
Rare Photos of Kevin Love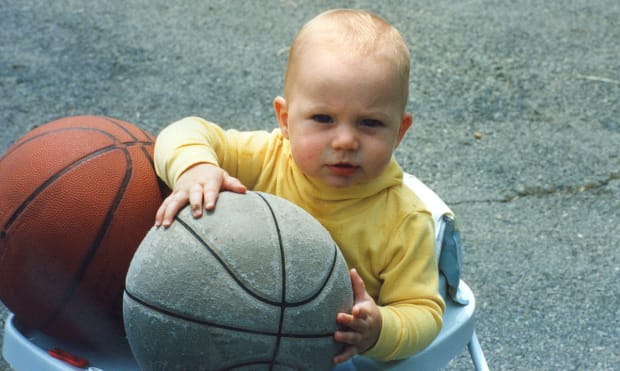 A sampling:
"I wouldn't hesitate to trade Wiggins," an Eastern Conference head coach said. "He could be a great player, sure. But Kevin Love is 25 and a top-10 player right now. I don't know what there is to think about."
Or this, from an East assistant general manager: "I'd trade Wiggins. If I'm Minnesota, I ask for Wiggins, Waiters and two No. 1 picks. And you know what? If I'm Cleveland, I do it."
Think about what Love would bring to Cleveland's lineup. We all know about his three-point shooting; he sank 37.6 percent of his 6.6 attempts last season, making him arguably the league's most dangerous floor-spacing big man. LeBron James loves playing high pick-and-roll, and with Love setting screens he would have an ideal pick-and-pop partner. Love also connected on 39.3 percent of his mid-range shots, according to NBA.com, a mark slightly better than that of scoring small forwards such as James, Rudy Gay and Luol Deng. Pick your poison, defense. Do you trap James and try to keep the NBA's most unstoppable offensive force from getting into the paint, leaving Love open? Or do you switch, defend Love closely and allow James to turn whatever helpless big man who jumps out on him into a turnstile?
Evaluating Wiggins, Parker, more lottery picks at Vegas Summer League
It's no secret, of course, that Love has his limitations on defense. Some scouts have said he's an indifferent defender, and at a listed 6-foot-10 with a more grounded game, he's not a reliable rim protector. But rebounding has to be folded into a player's CV here, and Love led the NBA with 9.6 defensive boards last season and, according to ESPN.com, ranked first in rebounding rate among power forwards who played at least 30 minutes per game. Put Love with a defensive-minded center -- new Cavs acquisition Brendan Haywood, 34, could be serviceable if he has anything left in the tank after missing last season with a broken foot -- and it won't be a total disaster.
There is something else here that bears repeating: Love is 25 years old. (He'll be 26 at the start of the season.)This is not a thirtysomething on his last legs or a broken-down mercenary being brought in to give a team one more shot at a championship. This is a young, still-improving veteran entering his prime. There is no reason to believe that Love, a committed-to-Cleveland-for-life (we think) James, 29, and 22-year-old Kyrie Irving, who signed a five-year extension last month, can't be the core of a team that dominates the East for the next half decade, if not longer.
Landing a player of Love's caliber requires surrendering something substantial in return, which is what made Cleveland's early efforts to sell Minnesota on a Waiters/Bennett package -- or Bennett/Tristan Thompson or Waiters/Thompson -- laughable. Wolves president/coach Flip Saunders knows he can't present a haul of so-so prospects to a fan base that hasn't seen the playoffs since 2004 or real relevance since Kevin Garnett was shipped to Boston in '07. He needs a focal point, and Wiggins would be it.
Wiggins has enormous potential. There is an effortlessness to his game, an ease exemplified by a ridiculous baseline spin and dunk against Philadelphia that quickly became one of the most buzzed-about plays from the 11-day competition in Las Vegas. The 19-year-old swingman, one of the rare college players who arrives in the NBA as a strong defender, could blossom into a perennial All-Star. Maybe more.
SI.com's 2014 NBA free agent tracker
Still, Cleveland has to part with him if that's what it takes to get Love, who would instantly shake up what now appears to be a free-for-all in the East. Many consider Chicago to be the early favorite, but Derrick Rose has played only 10 games over the last two seasons and newcomer Pau Gasol just turned 34 and has a lot of mileage. Washington has bolstered its frontcourt depth and rebounded from Ariza's departure with the signing of Paul Pierce, but its backcourt of John Wall and Bradley Beal is still young and the injury-prone Nene has to stay healthy. Indiana took a huge hit when Lance Stephenson signed with the Hornets. Miami recovered nicely from LeBron's exit by adding Deng to complement the re-signed Chris Bosh and Dwyane Wade, but it will need a big season from Wade (and Wade's knee). Toronto is probably one piece away. Brooklyn, New York and Charlotte are probably two.
With Love, the Cavaliers can win the East. It won't be easy, and the lack of playoff experience for youngsters such as Irving and Thompson will work against them. But it's doable. Which is why Cleveland needs to act quickly and not let Golden State (which is still divided about whether to offer Klay Thompson for Love, according to a source), Boston, Denver or Phoenix devise a deal that appeals to Saunders. Minnesota isn't in the ideal negotiating position because Love can opt out of his contract after next season, but that hasn't stopped front offices from working overtime to construct creative packages to submit to Minnesota. And the Wolves need to like only one to pull the trigger and potentially deny Cleveland.
The Cavaliers seem to realize this, though. On Tuesday, they sent Carrick Felix, a 2015 second-round pick and cash to the Jazz for John Lucas III, Erik Murphy and Malcolm Thomas. Why? Lucas, Murphy and Thomas have nonguaranteed contracts, making them attractive trade chips. It's the type of deal that moves Cleveland one small step closer to Love and, perhaps, to the championship James so desperately wants to bring home.