Ten questions with Bob Ryan: Celtics tales, NBA's G.O.A.T. and 'Scribe'
Bob Ryan's new book, Scribe: My Life in Sports, neatly gathers the highlights of a 46-year career that the renowned sportswriter says he was "programmed" to pursue. By 11, Ryan had already dubbed himself "The Sportster" and was extolling the virtues of Bob Cousy in impassioned columns. By high school, Ryan's work on the student paper earned him the "scribe" moniker from the school's football coach. By 23, Ryan found himself on the Celtics beat for the Boston Globe, at a time when he was often the only media member in attendance at practices. From that professional toehold, Ryan would go on to write books with John Havlicek and Larry Bird, enjoy a successful career as an ESPN television personality and earn the Naismith Basketball Hall of Fame's Curt Gowdy award.
Scribe covers Ryan's personal story, offers vignettes from sporting events across the globe, and includes reflections on the many changes to professional sports that have taken place over the last half-century. The meat of the book, to no one's great surprise, is its rich discussion of the Celtics and the NBA. Ryan notes that he was born in 1946, the same year that the Basketball Association of America (the forerunner to NBA) was founded, and he carefully documents how he came to love the game. The book travels everywhere from the Ohio hills, where Havlicek cultivated his cutting skills by running through trees, to Monte Carlo, where Ryan covered Bird and the rest of the 1992 Dream Team.   
In advance of Scribe's release on Tuesday, Ryan discussed Scribe, the good old days covering the Celtics, how Boston's greats stack up against other NBA legends, and much more in an extended conversation with SI.com.
SI.com: The arrival of Larry Bird and Magic Johnson, followed quickly by Michael Jordan, catapulted the NBA onto its global course. You have had a first-hand view of the league for almost 50 years. Did you ever think, prior to that period, that the NBA was destined for such big things?
Bob Ryan: I was among many who felt the NBA had a lot of growth potential and could be the "Sport of the 1970s." There was a lot of thematic stuff being written at the time about that and I was a subscriber to that theory.
But to answer the question, fully, no. Not to the extent of the global nature. Michael was the final piece of that puzzle, no doubt. Michael and the Bulls. I honestly remember thinking in the early 1970s, in the early Dave Cowens regime that it would be great if they could only average 10,000 a night. Averaging 10,000 was a milestone in my head for them. Selling out routinely in anything other than the playoffs was unimaginable. There's no way I could have projected what the league became 10 years later. ​
The perception of the league in the late-1970s with drugs, and a feeling of stagnation, delayed the league's growth. I came into this thing as a college basketball fanatic learning about the NBA. It did not take me long to realize that the problem with the NBA was image. This was a better product than college basketball but it lacked the trappings, it lacked the tradition, the pomp and circumstance. The basketball itself was the greatest basketball in the world. The people who had these myths about how every game was decided in the last two minutes, how they don't play defense, blab la bla. The basketball was better.
The late 1970s wasn't a great era for the league. There wasn't a dominant player. You can argue who the best player in the league was – from 1976 to 1980. [Julius Erving] came over from the ABA. Maybe it was Dr. J. Kareem [Abdul-Jabbar] was bored, this was Kareem's boredom period. He was traded to L.A. and before Magic arrived he was just going through the motions. Marques Johnson might have been the best player in the league. Then Magic and Larry show up in 1979 and they get credit for focusing the positive attention on the NBA as the league was coming out of a period of ennui.​
SI.com: Flashing back to your time covering the Celtics in the late-1960s and 1970s, your book lays out a media atmosphere that is very different from today. What are today's writers missing out on when it comes to access, and is today's landscape the product of a gradual change or a few major precipitating events?  
Ryan: I remember the famous "Willis Reed Game" in 1970. It was actually the "Walt Frazier Game." The seventh game of the championship, Reed had the first two baskets of the game and the crowd went crazy, but Frazier went on to have 36 points and 19 assists and the Knicks went on to win the game. And we, as the few media members who were covering the game, were allowed into the locker room awaiting the Knicks entrance. We were waiting for them. No TV intrusions. Frazier came in and his first words were, "Man, I need a beer!" I was able to get that into my story, but that is unattainable for any writer today.
SI.com's Top 100 NBA players of 2015
Two things changed things for writers. One: charter flights. The Knicks for a long time were the only team that flew charter, no one else flew charter in the 1970s. Two: the Chicago Bulls. They were the turning point in the separation of media from the players and the teams. The Bulls traveled with security and as rock stars. They built a practice facility, the Berto Center, which was very inaccessible to the media. The parking lot for the players is out of sight, so you didn't even know who was there.
Another big change came when closed practices became the norm rather than the exception, as they were in the 1970s. The only team that regularly closed practices was the Knicks. The Celtics never had a closed practice until the late-1980s. The accessibility was much different and the number of people covering was much fewer. You were able to move more freely than when more attention was focused on the league. In the 1970s, no local television came over on a daily basis. I was routinely the only person at practice in the early 1970s. I had unfettered and complete access to the players. I watched the entire practice, I was there after practice, I was the only one. The other paper did not have a guy there and there was no local TV. No one today can imagine that world. But that was the world I was fortunate enough to live in.
SI.com: There's a great picture in the book of you typing from a courtside seat with a group of fans looking over your shoulder. How important was proximity to the quality of your writing, and do you hold out any hope that NBA owners might reconsider their decision to move writers away from courtside and up into the bleachers?
Ryan: Without question, the treatment of the media and the elimination of media courtside seating has adversely affected the writing ability of anyone who is covering the game, the way we were able to cover games. Not only was I able to see the game unimpeded, but I was able to hear – the oral part of the game was a very big deal. You could hear things, you had rapport with referees and coaches during the game. It was so vital. It kills me seeing some 5-year-old kid eating ice cream, sitting in a seat that I should be sitting at or some beat man should be sitting at.
It all started with Jack Kent Cooke moving the beat writers off the floor. In hindsight, if the Los Angeles Times had boycotted the Lakers and said, "We're not covering you until you put our people back where we belong," we would have headed this off at the pass 45 years ago. But they didn't and it gradually took root, and one team after another after another eliminated courtside seating. Now you have what you have: you can't see the game properly. In places like Boston, they don't even treat local radio with respect. Local radio sits in the same angled corner where the media sits. I could never have written the stories I wrote and did as well as I did writing game stories -- that's what it was all about then, that's not what it's about now -- if I did not have that courtside seating. They've wrecked the opportunity that we had. 
There's no hope that it can return. The owners don't care about writers, they are total afterthoughts. It's not going to change. No new owner is going to come in and say, "I'm going to take away these courtside seats that generate thousands of dollars per night for 41 games to give the print people better access so they can write better basketball stories." It's never going to happen.
David Stern did care for a long time, he did. One of his first moves was to hire Brian McIntyre as his first PR director. Everyone knew and liked Brian from his days at the Bulls. Brian was media-friendly, always. They took care of the press as much as possible. Even then, they gradually gave over to the owners' desire to squeeze every dollar out of the high-priced seats. I was invited into the owners meeting to make an impassioned plea to save courtside seating in 1982. They gave me a forum, I was the incoming president of the Pro Basketball Writers and I made my little presentation. They nodded politely and went on with their business. 
SI.com: John Havlicek appears on your 12-man all-time NBA team, and you argue that he would "flourish to the exact same degree" if he played today. You also remark that "time has done a nasty job on his memory and legacy" making him "something of an afterthought" compared to his contemporaries. For younger fans, which modern player would you compare Havlicek to and what made him so special?
Ryan: The closest thing to John Havlicek in terms of the versatility at two positions and the ability to play offense and defense is Scottie Pippen. Scottie Pippen is a wonderful player, no question, but Scottie Pippen was not John Havlicek. John Havlicek was a master of moving without the ball, relentless energy. He could handle the ball. He taught himself to be a good enough ball-handler that he could run fast breaks like a point guard. He had triple-doubles before we formulated the concept, many of them – we'll never know how many. There was a competitiveness and an intelligence about his game.
Havlicek went from being the most acclaimed sixth man in history, which he remains, to a starter who led the league in minutes played, a guy who became a first-team All-Star, a guy who led his team in scoring, rebounds and assists. He was acknowledged as the gold standard for stamina, after being a sixth man! He was a unique player and there was no one quite like him. In those days, in his prime, he was as good a guard as Jerry West and Oscar Robertson. And guard wasn't his natural position. He was a small forward by trade. He was the best player in the league without any question in my mind for a four-year period, from 1969 to 1973. He's starting to fall through the cracks of history and that's very, very sad.​
SI.com: You detail an entertaining exchange with Celtics star Dave Cowens, who intentionally fouled Mike Newlin in 1976 after Newlin twice flopped to draw fouls on Cowens. You took Cowens to task for "smashing into a smaller player from the blind side" in your column, and then Cowens wrote you a letter requesting that his viewpoint on flopping be printed in the Globe. 
The letter read, in part: "Pretending to be fouled when little or no contact is made is just as outrageously unsportsmanlike as knocking a player to the floor. ... I have noticed that the number of pretenders has risen over the past three or four years resulting in numerous invisible contact fouls being assessed."
Did Cowens sway your opinion on flopping? 
Ryan: His essay didn't change my mind. I knew how Dave felt. But that exchange brought it all out and heightened it, put the spotlight on it. I still have the original letter outlining his philosophy, why he thinks he was above-board and what Newlin did was cheating. But it didn't change my opinion at all.
I think flopping – go ahead and try, but don't expect any sympathy when you don't get the call. Even today, this anti-flopping law that the NBA has is unnecessary. What we really need is better referees to know the difference between flopping and taking a legitimate charge. I've always felt the issue was a referee's issue. A good referee should know what a flop is and what isn't. 
There were certain people who were famous for flopping. If you read Dave's letter, he thinks it's a very serious issue in the league. I think that was Dave's private issue. I don't think it was as widespread as he would suggest. It was something that truly bothered him. It offended his sense of morality and justice. At the time, I didn't really remember it was a major issue. Remember, the Boston Celtics had a guy who took part in a Sports Illustrated piece, Frank Ramsey, with illustrated drawings demonstrating the "art of drawing fouls." Ramsey was basically spilling all the company secrets about how to fool the referees into drawing fouls in Sports Illustrated! The Celtics organization was not in a position to take a high moral position against flopping when they had a guy teaching the world how to flop. Of course, that was before Dave's time and he brought his own opinions to the issue. 
----------------------------------------------
Ed. note: In 1963, Frank Deford indeed picked Ramsey's brain on the subject of drawing fouls for a piece entitled "Smart Moves By A Master Of Deception." The piece, which included visual diagrams explaining the flopping tricks, can be read right here. Deford quotes Ramsey: "Drawing fouls chiefly requires the ability to provide good, heartwarming drama and to direct it to the right audience. I never forget where the referees are when I go into an act. The most reliable eye-catcher is still the pratfall. Particularly on defense, when everything else fails, I fall down. Luckily, I happen to be type-cast for the part, because I have a peculiar running style—back on my heels, with my knees locked. It makes falling very easy and natural-looking for me."
Smart Moves By Master of Deception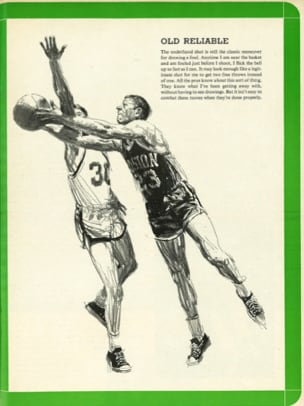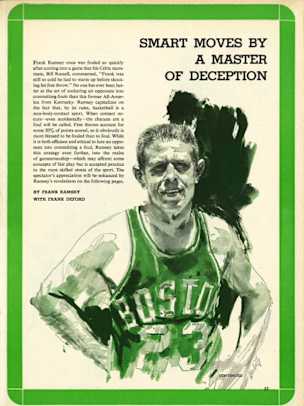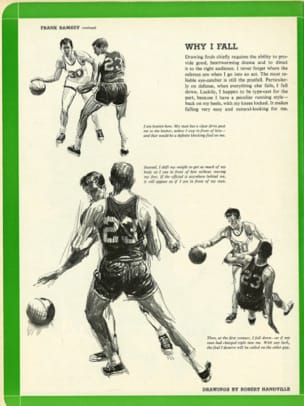 ​
----------------------------------------------
SI.com: Regarding the 1985-86 Celtics, you write that "their best was the best of all time." Which team throughout history would have given those Celtics the best series, and what's the argument for the 1986 Celtics over the 1996 Bulls, who won 72 games?
Ryan: The Celtics had enough lazy nights throughout the year, that if they had concentrated fully and set 70 wins as something that mattered to them, they would have won 70-72 games. They would have won at least 70, and then, who knows? They had some giveaway nights, especially in the first half of the season. Once they got locked in in January, totally locked in, there were no giveaways. I had a line, "They rendered meaningless the concept of the meaningless game." Their games were so relentlessly entertaining in January, March, April, May and June of 1986 that every game they played was a visual delight. It really was.
Turner Sports to rotate Anthony, Hill and Webber in place of Kerr
I believe the 1987 Lakers and the 1986 Celtics was the greatest series that never was. Of all the potential match-ups in the history of the NBA, that's the one I want to see. The trump cards for the Celtics was [Bill] Walton as a sixth man. There was never a sixth man who changed the game the way Walton did. Most sixth men are mid-sized players, guard/forward guys. He was a seven-foot center who came in and changed the game every night. The answer from the Lakers, they became great again, when they picked up Mychal Thompson after the 1987 All-Star Game. That's when they became great and whole. It gave them a dimension they desperately needed. I would have loved to see that series.
I can write down 12 names – Walton, [Kevin] McHale, James Worthy, Vinnie Johnson, etc. – each of these guys came off the bench for a full season in a regular capacity for one of the four teams that won the championships in the 1980s, the Celtics, Lakers, Pistons, 76ers. I can name up to 15 guys who were all subs at a point in time on those four championship teams. I believe that team of subs would have beaten any of the Bulls teams. I can't prove it. The depth of the rosters was staggering to what expansion has done to all sports, basketball included. Now, you can't even think of bringing one All-Star off the bench. The Bulls were fine, they were terrific, Jordan was terrific and all that, but the Celtics and Lakers would have beaten those teams.  
SI.com: You write that Bird, unlike Jordan, could dominate a game without taking a shot. Which performances stand out as evidence of that contrast? 
Ryan: It's the gospel truth. Larry Bird could dominate games, sections of games, turning points of games, without ever taking a shot. That's not what Michael Jordan did. When it all came down to it, Michael Jordan took the ball and put it in the basket. Or, he may have drawn some attention and made a drop-off pass, but he wasn't out there to pass the ball.
I saw a game in Phoenix, the Celtics were down by 20 but they won the game. In the third quarter, as they came all the way back, Bird didn't take a shot. He had seven assists and completely dominated the entire game. In the Milwaukee playoff series in 1986, he dominated because of the totality of everything he did in Games 3 and 4. One first period, he didn't take a shot but had six assists, set the tempo and dominated the game by not taking a shot. Magic could do that as well. That's not what Michael could do.
It might be an academic point I was making, but I'm trying to differentiate the skillset of all these guys. Universally, Michael is acknowledged as the greatest, virtuoso player of all time. I won't argue against that. But to someone who really knows basketball, the idea that a player can be out there and dominate without taking a shot should be really impressive.
SI.com: Jordan and LeBron James are your two candidates for the "Greatest of All Time" tag. You write in the book that you prefer to watch James because of "aesthetics" but you don't definitively make a case for one or the other as the GOAT. So, who is it? 
Ryan: If I had to win one game, I would take Michael. The ruthless competitiveness of Michael Jordan. The demonstrated clutch ability. Bill Russell was 21-0 in winner-take-all games. But Michael never had a seventh game among his six championships, that's a tribute to Michael. He didn't even need a seventh game. He lost Game 7s before he won a championship, but once they started winning he never needed one. Michael is the greatest individual virtuoso. Russell is the greatest team dominant player, no one can argue against his record. I'd rather watch LeBron play over Michael because he can pass. Michael is still all about scoring. LeBron isn't. LeBron is as much about the pass as he is about the shot. ​
My point in that chapter was that Michael and LeBron came from totally different mental compositions. Michael didn't win until he learned how to share and acknowledge the other four guys, and LeBron didn't win until he was willing to assume the burden of being the best player on the floor more often. Coming up, no one knew who Michael was outside the state of North Carolina. He was a regional phenomenon. LeBron had been on the cover of SI while in high school and was a well-known commodity.  He lived in an entirely different environment, the AAU world, traveling teams, that's where we are now. It's an interesting compare-and-contrast at how they reached the pinnacle of their game. 
LeBron has the same body as Karl Malone – or at least he did, I'm anxious to see his new body. He handles the ball as beautifully as Magic did and he's the best passer in basketball, better than any point guard. He's not quite the efficient shooter that Larry was, but he's made himself into a very effective three-point shooter. Much like Larry, when he needed to broaden his game, develop a post game, he did it. Larry would come home and come back with new moves. Larry came back with a "throw shot" before the 1985 season and he worked on the baseline shot that he didn't have before. He combines elements from both Magic and Larry. 
SI.com: Regarding the 2008 Celtics, you have written that they won for a "Lost Generation" of Celtics fans who lacked a direct connection to the franchise's past greats and that the title belongs to fans "who text instant observations to friends in Singapore" and "who were either very angry or very sad when Danny Ainge first traded Antoine Walker." That depiction clearly places some distance between the generations. Was it difficult for the older Celtics followers to fully embrace that title team? 
Ryan: The Celtics emptied out the building and replaced the fans with 15,000 to 18,000 new season ticket-holders. It was entirely a new generation. They had gone from 1986 to 2008 without a title. It was clearly a different constituency. Walker was a touchstone, flashpoint player. Older people hated his game; younger people loved him. The divide was clear at that time.
It wasn't a hostile separation, it was just identifying that this was the younger generation's team. This is the one they get to put up in the rafters, no connection with Russell, [Bob] Cousy, Havlicek, Cowens, Bird, McHale. An entirely new situation. Paul Pierce was their Havlicek, their Bird. Kevin Garnett was their McHale. Doc Rivers was their coach, he wasn't Bill Fitch, Tommy Heinsohn or Red Auerbach. It was just a changing-of-the-guard championship.
SI.com: What is it that you want readers to take from Scribe?
Ryan: This is a positive book by someone who loves sports. This is not an exposé​, a tell-all, taking names or settling scores. I don't have any. I could write a book about negativity, we can do that. There's all kinds of stuff that bothers me, but that wasn't the objective here. It's about somebody who lived a very pleasurable life doing this. I think I was programmed to do it, things came into place. I'm totally grateful and had a great time. A lot of writers are detached and say they don't care who wins or loses and that they only write about people. That's fine. But we wouldn't be caring about these people absent the games. To me, the game has always been paramount, and I wanted to convey that.​