Walter Iooss Jr. discusses classic Michael Jordan photo
SI photographer Walter Iooss Jr., discussed how he captured his classic photo of Michael Jordan at the 1988 Slam Dunk Contest in a recent interview with the magazine.
Michael Jordan's 52nd birthday is Tuesday, just three days after the NBA held its Slam Dunk Contest. One of the most famous nights of Jordan's career -- the 1988 Slam Dunk Contest -- was captured by the camera of Sports Illustrated photographer Walter Iooss Jr., who later recounted his memory of that night to SI's Lee Jenkins.
The photo shows Jordan flying through the air, seemingly levitating while his right hand pushes the ball out to his side and toward the hoop. The image might not have happened, Iooss said, if he hadn't taken the time to conduct a little advance research with Jordan himself before the contest.
• JENKINS: An oral history of Michael Jordan's most memorable dunk
"Three hours before the contest, Michael was sitting in the stands, and I went up to say hello," Iooss said. "I explained that it was really important for me to get a good picture—as if he cared—and it would help if I knew which direction he was going, so I could see his face. I asked, 'Can you tell me which way you're going to go?' He said, 'Sure, I can do that.' I said, 'How?' He put his right forefinger on his knee and said, 'I'll point.' I asked, 'You're going to remember this?' He said, 'You watch.'"
The result was among the most ubiquitous photos of Jordan, who won the contest that year over a field that included Hall of Famers Dominique Wilkins and Clyde Drexler.
Jordan doesn't deserve all the credit, however. It took what Iooss deemed unsatisfactory photos from the 1987 dunk contest in Seattle to prompt him to make some changes for the 1988 event in Chicago.
• NBA All-Star Game: Russell Westbrook headlines player-by-player grades
"I had set up the lights so that it was a little theatrical-looking. ... Not the standard lighting that you do in an arena," he said.
"One of the problems I found out after I looked at my tape was if you didn't see the player's face, there's no picture. I don't care what his body's doing; if you can't see his face, the picture's meaningless."
The adjustment sure worked.
GALLERY: SI'S 100 BEST MICHAEL JORDAN PHOTOS
SI's 100 Best Michael Jordan Photos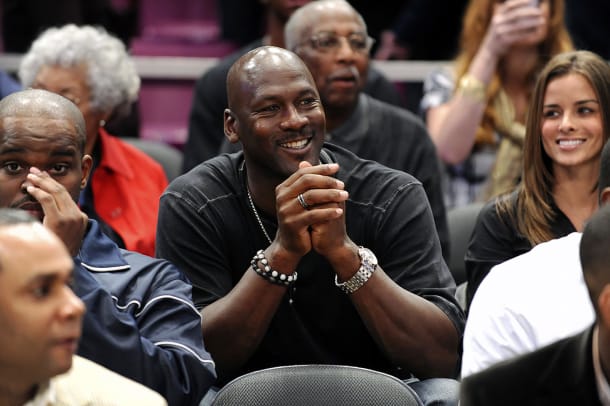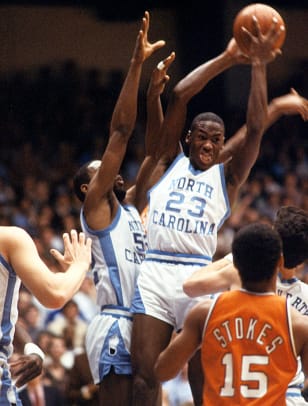 ​
- Mike Fiammetta