Dunk grades: LaVine, Gordon make '16 one of the best contests ever
Zach LaVine outlasted Aaron Gordon in a classic 2016 Slam Dunk Contest, which will go down as one of the best ever. Here are SI's dunk-by-dunk grades.
TORONTO — The only grade that matters from Saturday night: A+.
The 2016 Slam Dunk Contest will be remembered as one of the greatest shows in NBA history. At worst, Zach LaVine's marathon double-overtime victory over Aaron Gordon belongs in the top three in the contest's history with Michael Jordan over Dominique Wilkins in 1988 and Vince Carter's epic performance in 2000.
Some, including LaVine himself, may make the case that 2016's competition, which was layered with creativity and complicated maneuvers, was even better than that. "In my opinion, yes," the back-to-back champ said, when asked whether Saturday's contest was the best ever.
• Sports Illustrated's NBA All-Star Weekend hub: Features, videos and more
The standout elements of this contest were its length and drama. After LaVine and Gordon posted perfect scores on both of their final round dunks, the competition moved into a dunk-off. That extra round saw the competitors post perfect 50s again. Finally, in the second dunk-off, LaVine prevailed 50–47 to join Jordan, Jason Richardson and Nate Robinson as the only dunks to win back-to-back contests.
All told, LaVine scored 299 out of a possible 300 points on his six dunks. Afterward, the Timberwolves second-year guard told reporters that his winning dunk, which came from a step inside the free-throw line and saw him pass the ball between his legs, was improvised on the spot thanks to a suggestion from fellow competitor Will Barton.
• WATCH: Relive LaVine's classic performance | See Gordon's absurd dunks
Meanwhile, Gordon finished with 291 points and had perhaps the best dunk by a non-winner in Slam Dunk Contest history when he took the ball from the Magic's mascot, passed it underneath his butt from left to right, and finished in one smooth motion.
"I think potentially I could have won," Gordon said afterward. "It could have gone either way. Zach's an incredible dunker, he went through the legs from the free-throw line. That is insane. So off that dunk, you've got to give it to him. That's why the trophy's with him and not with me."
Photos: NBA's Slam Dunk Contest champions through the years
NBA Slam Dunk Contest Winners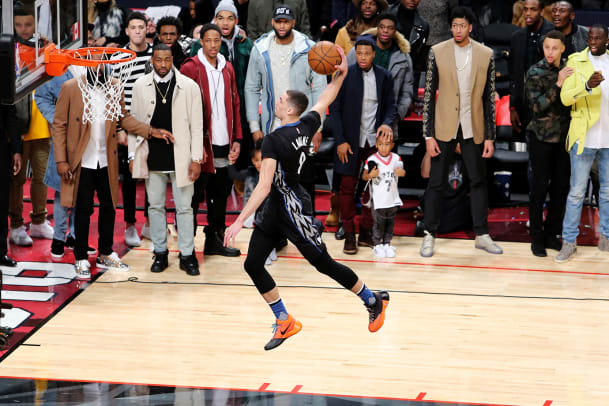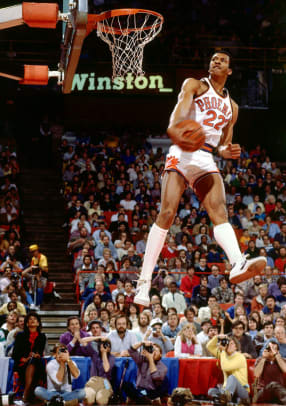 In SI.com's opinion, the five judges—George Gervin, Dikembe Mutombo, Shaquille O'Neal, Tracy McGrady and Magic Johnson—ultimately crowned the proper champion. LaVine was a deserving winner, by the slightest of margins.
Without further ado, let's hand out grades for all 16 dunks from Saturday night in Toronto.
FIRST ROUND
Will Barton's Dunk No. 1
Will Barton aka "The Thrill" aka "The People's Champ" came out with a bang, dressed Michael Jackson-style in a red leather jacket and surrounded by zombie dancers.
His first dunk was very good: he went right-to-left through his legs, passing the ball from back to front, before finishing with two hands over his head. The judges were a little bit too harsh, likely because this was the contest's first slam and they wanted to leave a little wiggle room.
Official Grade: 44 out of 50
SI.com's Grade: 46 out of 50
SI.com's ballot gives LaVine a perfect total score of 300 out of 300. Gordon finished just behind him with 295 out of 300.