The Greatest Goodbye: Kobe scores 60 in last unforgettable show
Kobe Bryant last NBA game was one to remember: 60 points on 50 shots and plays that brought to mind an NBA superstar once at the top of his game.
​Get all of Lee Jenkins's columns as soon as they're published. Download the new Sports Illustrated app (iOS or Android) and personalize your experience by following your favorite teams and SI writers.
LOS ANGELES — One-thousand-three-hundred-forty-six regular-season games, but when future generations examine the oeuvre of Kobe Bean Bryant, let them start with the last one. With Snoop Dogg dancing and Jay Z grinning and Shaquille O'Neal shaking his giant head. With the man in the lower bowl who was crying and the woman in the upper deck who was laughing and everybody else who was staring skyward in disbelief at two digits illuminated for all time on the Staples Center scoreboard: 60.
The number was both preposterous and predictable. The Achilles tendon had been torn. The rotator cuff had been ravaged. Twenty years had abused his body. But they could not steal his soul. Bryant left the way he came, bald head and jutted jaw, craving the rock and hunting the hoop. No one paid $10,000 for a seat to watch him pass. They shelled out for the same reason they always have, to witness a showman who takes the shots others aren't bold enough to attempt or skilled enough to convert.
Fifty times he let fly, floaters mixed with fadeaways, pull-ups spliced with turnarounds, as if trying to purge every unconscionable jack from his system. No one will remember the misses, though there were plenty. Everyone will recall the makes, in the kind of detail usually reserved for Game 7s. The box score will show that his final field goal was a game-winner, from 20 feet, one more save for the quintessential closer. As Bryant sat on the bench during the ensuing timeout, towel draped over his shoulders, giddy teammates fanned him with their arms. He stared right through them. Here was the Kobe Bryant Experience, cold-blooded and hot-handed, somehow distilled into one spring night.   
• MORE NBA: Kobe timeline: From phenom to legend | The perfect ending

SI's 100 Best Kobe Bryant Photos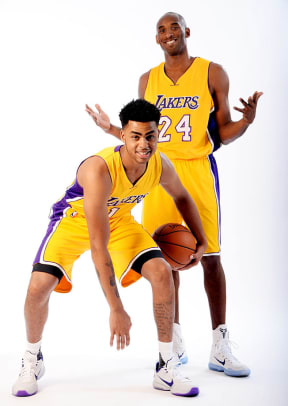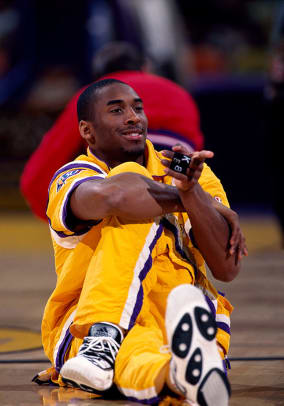 The Lakers beat the Jazz, 101–96, and the building throbbed as if it were 2000 with Shaq or 2010 with Pau. In reality, it was the Lakers' 17th win, the end of the worst season in franchise history. But this was as good as it gets for a 65-loss team. The Lakers likely set records for video montages and celebrity testimonials: from actors and musicians, Dodgers and Kings, Steph and LeBron. Kanye West appeared with Kim Kardashian. Paula Abdul appeared with her dog. Bryant tried not to watch, but when he did, he beamed like the rookie who promised Chick Hearn he'd play 19 years for the Lakers. He played 20.
• MORE NBA: Pau Gasol says goodbye to former teammate Kobe
At the end of the longest, loudest goodbye in pro sports—an entire winter of farewells spanning every corner of the NBA—confetti fluttered in the air. Streamers fell from the rafters. Old Lakers stormed the court. Bryant grabbed the mic and crowed. Perhaps the production was overblown, but the organization spent three years and $48 million waiting for this night, and they were not going to shortchange their audience. The guest of honor delivered a performance to match, with baseline drives and reverse dunks, behind-the-back passes and one near dunk, flourishes that haven't been glimpsed on a consistent basis since the Achilles snapped. "Go figure," Bryant told his wife, Vanessa, before turning his attention to his two daughters. "I used to do this pretty often," Bryant informed them.
"Really?" they replied, incredulous.
"YouTube it," Bryant said.
All day, he thought about those old highlights, and fought off emotion like an irksome double team. When he arrived at Staples Center and saw the mob outside, fit for a championship rally ... when he walked through the corridor and saw reporters lined up behind a barricade, as if flanking a red carpet ... when he greeted the security guards, when he lay down for his pregame massage, when he slipped on his uniform. "This is really happening," he told himself. "This is the last time." He heard melodramatic piano music in his mind. Then he muted it. "None of that makes a difference," he sniffed, "if you come out here and lay an egg. You can be nostalgic tomorrow."
He missed his first five shots. "Little bit of nerves," he admitted. "I had to settle down." Then he reeled off 15 points in four minutes. That's how the evening progressed, stretches where you didn't think he'd make another basket, and stretches where you didn't think he'd miss. "I can't believe this is happening!" Bryant thought during each surge, and right then he'd fire up a couple air-balls, reminiscent of Jazz games two decades ago. "It was a constant dance," he explained, "of accepting the moment versus digesting the moment."
Lakers coach Byron Scott tried to rest him at the start of the fourth quarter. "Let me go," he said. He logged 42 minutes, though his legs were numb for many of them. "Don't have to save it for anything," he reminded himself. So he kept firing, even more than he did in the Smush Parker era, when everyone was pleading with him to dish. Suddenly, teammates were begging him to shoot, and they don't have to ask Kobe Bryant twice. He became the first player to launch 50 field goal attempts since Basketball Reference started keeping track in 1983. Nobody will praise Bryant for his efficiency, but then again, nobody ever has.
• MORE NBA:Kobe addresses fans after game | Lakers' video tribute
This was him, the kid who went scoreless one summer in Philadelphia's Sonny Hill League and spent the next year shooting alone in France, repeating the mantra: "One basket. Just make one basket." When he returned to Sonny Hill, and saw the ball slip through the net, he grew addicted to the image. He didn't leave buckets on the table, not in the first 20 years, and not on the last day.
After Bryant addressed the Lakers in the postgame locker room—"This goes by fast," he said. "If you don't give it your all you will regret it. Don't be that guy"—and after they doused him with champagne, he still could not bring himself to peel off the jersey. "You can't write something better than this," he said, voice finally cracking. 60 points. 50 shots. 42 minutes. One unforgettable show. From a 37-year old who broke down a long, long time ago. How is that even possible?
For a clue, here is one last Kobe story: October 1996, Lakers training camp in Honolulu, an 18-year-old Bryant introduced himself to the team. "I know I'm young," he told them. "I know it's going to be physical. I know I'm going to get hit. Don't worry about me. I can do it." He stammered, and then repeated himself. "I can do it." Some Lakers stifled laughter. "We were all watching him, thinking, 'Is he trying to convince us or is he trying to convince himself," Lakers athletic trainer Gary Vitti said. "I think he was trying to do both. He was talking himself into it. 'I can do this. I can do this.' That was Kobe's thing."  
• MORE NBA: Purchase SI's Kobe Bryant commemorative issue here
It was also his appeal. From Southern California to the Far East, a vast audience drew inspiration from Bryant's self-help spirit, his belief that a man could mold his fate through work and will. No problem couldn't be solved with a 4 a.m. wake-up call, a bike ride through a desert, a three-hour workout. Basketball is not "a part of life," he was fond of saying. "It is life."
Now, that part of his existence is gone, and Bryant ponders what he will do tomorrow. He will spend time with his family. He will work in his corporate office. And he will go somewhere else, partly out of habit, partly out of necessity. It is the place to which he always escapes when he needs answers, whether for his next game or his next life:
The gym.