The eight most interesting players in the NBA playoffs
The NBA playoffs are here. Who are the most interesting characters in play? Stephen Curry, Damian Lillard and Blake Griffin to name a few.
Are you ready for an odyssey? Have you stocked your house with emergency supplies? Have you safely detoxed after the high–powered hallucinogen that was Mamba Night? It's time to take the final step.
It's time to go to bed with "Inside the NBA" and wake up the next morning with the TV still on, and the soft sounds of "Castle" cooing into your living room. It's time to watch that awful "Meet The Hoopers" commercial no less 2,500 times. It's time to argue about Hack-a-Shaq, and marvel at Russ's postgame outfits, and spend entirely too much time on Twitter. 
The playoffs are here. Let's look at of the most interesting characters in play this year.​
​• MORE NBA: Western preview | Eastern preview | Entertainment rankings
​
Damian Lillard, Blazers
Most of the Western Conference's first round is operating somewhere on the spectrum between three–days–expired milk and Chinese food that's been in the fridge for the past two weeks. This sounds like a joke, but it's not. Watching Lance Stephenson and Matt Barnes try to keep up with the Spurs may actually make you sick. Proceed at your own risk. 
Damian Lillard is a different story, though. Let's go. I'm putting on war paint to get ready for what's about to happen in Los Angeles. 
Consider: Lillard just finished leading the Blazers to the most surprising season in the NBA, and even as he's made the entire world look stupid for doubting this team, he still doesn't get talked about among the best guards in the league. Kyle Lowry is considered a lock for one the All–NBA teams, for example. Same with Russell Westbrook. Ask experts to rank the best point guards in basketball, and John Wall is probably above Lillard on almost every list. Ask fans, and Kyrie Irving is probably higher, too. He missed the All-Star Game in each of the past two years, and he's taken it very personally. Now he has a chance to go nuts on national TV to prove everyone wrong, and that's great, because that's the opening scene in all the best Dame Lillard movies. But there's more at stake, too. 
• MORE NBA: Western Conference: Best series, predictions and more
What I love most about the NBA playoffs is that it allows the best players in the league to either announce their arrival as stars, or elevate themselves to an entirely different level. The regular season is how players build buzz for this transition, but the playoffs is where it happens. Anyway, for the next two weeks, Lillard will be matched up against one of the best point guards of all time. If he wants to prove he belongs among the best players in the NBA, turning this series six or seven games of full-scale combat is a great place to start.  
Kyrie Irving, Cavaliers
He's in the middle of a five–year, $90 million contract. He doesn't appear to be very popular with teammates. He's a liability on defense. He overdribbles on offense, and he's not a very good distributor. He's a decent outside shooter, but not great. He's excellent at finishing around the rim. In iso situations, he is one of the five or six best players in the league. When his shot's falling, he can give us nights like that Spurs game last year, when Kyrie turns into a religious experience and all the skepticism looks like blasphemy. I just wonder how much those nights obscure the reality with the other 90% of his games. 
There are two ways to view this season in Cleveland: 
1. On the one hand, they've looked underwhelming for the better part of the year, and this may be proof that this roster was a bad idea all along. This is the simplest way to look at it, and it's probably the most accurate assessment. 
2. But there's also at least a chance that this team's been sleep–walking through the regular season for completely understandable reasons. No success or failure will matter until the Finals, right? Nobody is beating them in the East. I can't promise I would be fired up to play the Raptors in February, either. Maybe there's another gear waiting for us in the playoffs. They could win a series or two, build some momentum, and start hitting on all cylinders for the first time since last March.
In either case, Kyrie Irving is the biggest wild card. If the Cavs are going to hit that mythical extra gear, it will involve Kyrie playing better than he has all year. He has to be great enough offensively to mitigate what he's giving up on defense, and he has to be willing to give up the ball enough for the rest of the offense to get rolling.
• ROUNDTABLE: Where does Kobe Bryant rank in NBA all time?
If the Cavs lose in the Finals and LeBron starts looking for changes ... it's a real question as to how much value Kyrie has. Go back to that first paragraph, and then remember that he hasn't played a full 82 games in his entire career, and he's had multiple serious leg injuries. What if he goes through these playoffs and continues to struggle as a point guard or gets exposed defensively? Kevin Love's value is rock bottom already. If Kyrie struggles enough to force a trade—and he's harder to trade than expected—LeBron's options would get awfully limited in Cleveland. Then, anything is possible. 
Harrison Barnes, Warriors
There are so many Warriors worth celebrating after this season, and each of them—Steph, Klay, Draymond, Iguodala, Kerr—will be worth watching in the playoffs. But Harrison Barnes is the wild card. He has always been the wild card. 
• MORE NBA: Golden Season Remembered: Looking back at 73 wins
Both in college and in the middle of the greatest regular season ever, Barnes is the player who will disappear for entire games, only to reappear a week later looking like a star. This year? He's been a frustrating disappointment for most of the year, but he's also come back to life over the past few weeks. It's vintage Barnes. 
When he's playing well and everyone else is healthy, the Warriors are completely unstoppable. There is just no good option for a defense trying to handle this team if Harrison Barnes is hitting jumpers and being aggressive to the rim. When he's not... he provides at least a glimmer of hope for teams looking to hide defenders, and they can also punish him on the glass with big men. This is what happened in that Spurs loss a month ago.
GALLERY: SI's 100 best NBA Finals photos

100 Best NBA Finals Photos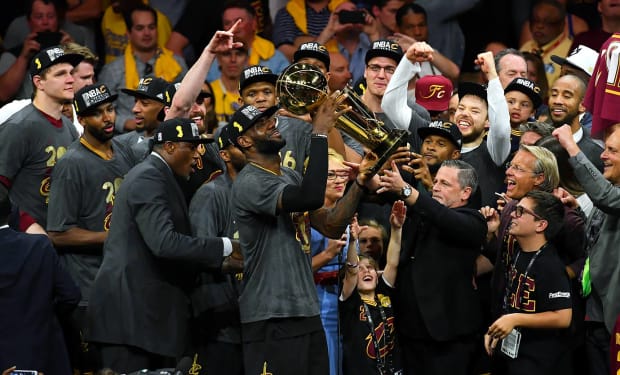 Barnes is also in a contract year. So as the Warriors proceed through the playoffs and everyone wonders how far this can go both this year and beyond, Barnes is a big part of the "beyond" question. 
He can play the three, but he's also the perfect stretch four next to Draymond Green. He's the final piece of a Golden State nucleus dominated by guys in their mid-20s. He's the youngest, too, with plenty of room to grow. Someone is going to offer $100 million this summer for exactly that reason. Assuming KD is off the table by the time this decision is made, do the Warriors let Barnes go and hope they can survive with a cheaper replacement? Will it make more sense for them to overpay to keep the core together? And how much of this will be decided by what happens over the next eight weeks? 
​
Russell Westbrook, Thunder
Westbrook's numbers have been unbelievable this year, just like they were last year. He's the focal point of Billy Donovan's offense, and if it hasn't quite solved eight years of OKC issues, it's at least translated to an avalanche of triple doubles. With that said, the Thunder were a disaster in fourth quarters this year, and it will doom them in the playoffs if they don't solve it. The difference in the numbers is staggering.
Westbrook is tough to discuss rationally on the internet. People get apoplectic if you question his point guard credentials, and I get it, because most of the people who do that are low–key questioning his entire game and discounting his value. But then ... how else do you explain an offense that's built around Westbrook, but stops functioning normally in the fourth quarter? He's not the only problem, but he's certainly involved. 
His defense has gotten worse over the years—not quite Harden levels, but there are Harden moments—and at the end of games, he still has a tendency to get so wound up that he flames out. He dominates the ball next to a Hall of Fame scorer, he forces bad shots... this is how most OKC playoff runs have ended. He's one of the 10 best players in the league regardless, but it's something to watch. 
It's the biggest question for the Thunder against the Spurs. Kawhi will be all over Durant, and they'll need Westbrook to a) light Tony Parker, Patty Mills, and Danny Green on fire, while b) remaining stable enough to keep the offense running smoothly. If he can do it, then most of what's just been discussed will look crazy. In that case, the Thunder can beat the Spurs and, I swear, they can push the Warriors. If not, they are probably going home in the second round, and then the entire future is up in the air. 
​​
Justise Winslow, Heat
Winslow probably has no business being on this list. He plays less than most everyone on here. He's a rookie. He can't shoot, which means he can't really score much at all. 
Call this a gut feeling, though. Winslow will matter. The Heat have been surging for the past two months, and notwithstanding Wednesday's collapse against the Celtics, they enter the playoffs as the hottest team in the East. Meanwhile, Winslow has spent the entire year winning respect for his defense, hustle and general approach to everything. 
• MORE NBA: Big Board 2.0: Simmons still at No. 1 | Mock Draft 2.0
He is smart, he's never scared, and he's entered a league that's now dominated by rangy wings who can do everything on offense. Having a player who can harass those guys all over the court—Nicolas Batum, or Kent Bazemore, or Demar Derozan, or LeBron James—is pretty valuable come playoff time. Did I just predict that Justise Winslow could come out of nowhere to slow down LeBron James as the Heat take down the Cavs? MAYBE I DID. 
Even if that doesn't happen, there are three critical facts to know: 1) Amar'e Stoudemire is doing his best to educate Miami's younger players about art, and Winslow is his prized pupil. 2) With a combination of strange young players and grumpy old men who are still producing every night, the Heat will be one of the three most entertaining teams in the playoffs. 3) It will be awesome to see Justise Winslow unleashed in the fourth quarter of playoff games.
​
Isaiah Thomas, Celtics
Before we get to Isaiah, some honorable mentions...
•​ LeBron James. Inspired basketball's answer to Kremlinology this winter. By the summer, he could either go down as one of the five greatest players ever with a win over Warriors, or he could leave Cleveland and drive America insane. Interesting.
•​ Xavier Munford. PLAYOFF MUNFORD.     
• Kawhi Leonard. Kawhi is like Ryan Gosling in Drive. "So that guy's doing a lot of cool things, but I think it's been 45 minutes since we heard him speak." Interesting. And the new logo is great.
•​ DeMarre Carroll and Kyle Lowry. We need Lowry to be 100%, because Lowry is great. If DeMarre Carroll is close to 100% in a few weeks, the Raptors could be pretty great, too.
•​ Michael Beasley. I can't tell whether I'm actually excited to watch Beasley, or I just hate the rest of this Rockets roster so much that Beasley is the only way I can convince myself to watch this team for another two weeks.
•​ Dion Waiters and Enes Kanter. Whether they succeed or fail, Waiters and Kanter in the playoff spotlight is a victory for everyone.
Now... the Celtics. They need a superstar to make this a title contender, but to get one, they need to go deep enough in the playoffs to get the league's attention. That means beating Atlanta, and if not beating Cleveland, at least scaring the crap out them. That's where Isaiah Thomas becomes crucial. 
• MORE NBA: Celtics proving you can rebuild on the fly
He will need to get them buckets at the end of Hawks games. He'll need to be much better against the Cavs than he was last year. He is the catalyst on offense, and also the last resort when things get tight. And if all of this seems like pressure, it's also an opportunity to prove that this year's All-Star selection wasn't just a polite acknowledgement of an overachieving Celtics team. Let's see what happens.  
Blake Griffin, Clippers
"If they don't win this year, it's time to break it up" is something we were saying about the Clippers at this time last year. It was probably said two years ago, too. 
Maybe it's never time to break it up. They may be closer to a title with Blake than they would be with whatever pieces they could get back for him. They could be better off waiting, hoping to get lucky with the right matchups at the right time. That's probably the most reasonable opinion. It worked for the Mavs in 2011, and the Warriors core won't stay the same forever. 
• MORE NBA: Ranking first–round matchups by entertainment value
The other side of the argument would say that if this isn't working, there's a psychological toll on the players, and the window for Paul is closing. The chemistry between Blake, CP3, and DeAndre has never been great. While CP3 and DeAndre work wonderfully together, Blake's game can clash with both. And ... Blake would bring back the most in a trade ... so ... connecting the dots...
The Clippers allegedly already offered Griffin to the Nuggets at the trade deadline. It's a real possibility that this is the last run with the Lob City Clips (how long has it been since people watched this team with the joy that Year 1 Lob City brought? 1,000 years?). If this could be the end, that makes Blake Griffin's role twice as interesting. He's still working his way back to 100% after the broken hand that cost him the second half of the season, and nobody knows how he'll look over the next month. 
If he's healthy, the Clippers have more than enough talent to survive Dame Lillard in kamikaze mode. Then, there's probably enough talent to hang with the Warriors, too. They were the last team to beat Steph Curry in a playoff series, and recent Golden State dominance aside, that early–season game at Staples Center was dead–even with Blake Griffin hitting on all cylinders. A close series against the Warriors, even if it ends in a loss, may be enough to convince the Clippers to run it back one more time. The other scenario? Blake Griffin doesn't look right throughout the playoffs, the Clippers decide they need to trade him, only to find out that teams are freaked out by his health and his value has been cut in half. Here we go! 
Stephen Curry, Warriors
Were you impressed by him eclipsing 400 threes the other night? Honestly, I wasn't. Everyone made a big deal of this, but never in my life have I walked away from an NBA season wondering how many threes someone made. It's just not a stat that's ever mattered, so throwing out "400" doesn't even sound that impressive. 
Yes, I know the previous best from a non-Warriors player was 269 from Ray Allen. I understand why it's crazy to hit 400. But let's not pretend there was ever a '96 Bulls in this category. We'd never even thought about this.
This is the case for Curry as one of the greatest players of all time, and it's being made with each passing week. He is revolutionizing our idea of what's possible the same way Jordan did. He's a force of nature like Shaq, or Wilt. He's inventing new records, and then breaking them. 
He's the most entertaining player in the NBA because all of this continues to be dumbfounding. Nobody knows what to say, who to compare him to, or how this happened. The only certainty is that he just finished the most impressive regular season of all time. 
It felt like a thousand threes, not 400. Let's see what's next. ​