LeBron, Kyrie lift Cavs past Warriors for title: NBA Finals Game 7 highlights
The Cavaliers took down the Warriors to clinch their first title in franchise history. Check out the best highlights from Game 7 of the NBA Finals.
Your teams. Your favorite writers. Wherever you want them. Personalize SI with our new App. Install on iOS or Android.​
The Cleveland Cavaliers pushed past the Golden State Warriors late in the fourth quarter to pull off a 93–89 victory in Game 7 and seal their first NBA title in franchise history.
The record-setting 73–9 Warriors were stifled at the end of an insane, back-and-forth game that ended with a critical LeBron James block, a clutch Kyrie Irving three and a clinching free throw by James, on the road, no less.
The Cavaliers are the first team to overcome a 3–1 Finals deficit.  James scored 41 points in consecutive games, then came through with a triple-double (27-10-11), three blocks and two steals in Game 7. He 29.7 points, 11.3 rebounds, 8.9 assists, 2.6 steals and 2.3 blocks on his way to being named Finals MVP.
Irving led the Cavs with 26 points on the night. Draymond Green had 32 points, 15 rebounds and nine assists to lead the Warriors.
Relive the entire game below.
• Get SI's Cleveland Cavaliers NBA Championship package
Draymond Green got off to a solid start.
Tristan Thompson continues his stellar defensive play.
And Kyrie is still Kyrie.
•​ LeBron, Kyrie lift Cavaliers in Game 7 to claim NBA title
Here's Steph Curry's first three of the game.
Klay in the mix.
Hi LeBron.
​Golden State, and Curry, came out shooting well from three, typically a good indicator of where they're headed.
LeBron to the rack. We're off to a solid start.
Things are picking up: Iman Shumpert with a four-point play and Curry responding with an and-one the other way.
Draymond Green has started 3–3 from three.
LeBron James is chasing a triple-double already and added this nasty block on Curry.
Basketball is still fun!!!
And Draymond opened 5–5 from three...
The Warriors led 49–42 at halftime. LeBron has 12 points, eight rebounds and five assists. Golden State has made 10 threes. Draymond Green has 22 points, six rebounds and five assists.
• Was LeBron James's 2016 NBA Finals performance his best yet?
The second half opened with a J.R. Smith barrage.
It's getting weird.
Gallery: NBA Playoff 3–1 comebacks

NBA Playoff 3-1 Comebacks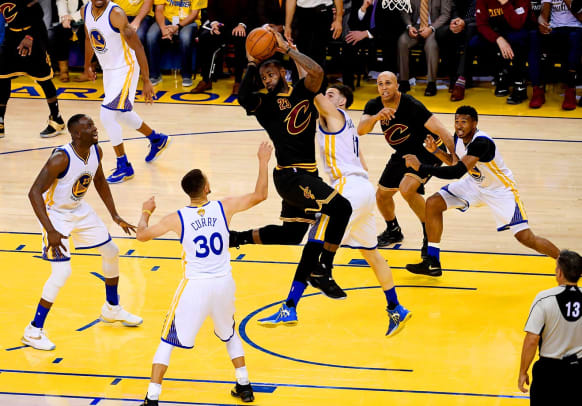 Kyrie Irving is cooking in the third. Look out.
​The Warriors punched back toward the end of the third to tie the game.
Take a bow, Shaun Livingston.
The Warriors lead 76–75 after three quarters.
Kyrie is keeping the Cavs afloat offensively in the early fourth.
#https://twitter.com/NBA/status/744713645607641089
This looks familiar.
Draymond with a hustle bucket.
LeBron with his first three of the night at a very good time.
Big defensive play from last year's Finals MVP.
• LeBron James's first Cavs title: A timeline of his second Cleveland stint
THEN THIS BLOCK BY LEBRON.
Kyrie Irving with the late go-ahead three that would seal it.
Mayhem.
​
The championship marks the first by any major Cleveland sports franchise since 1964.