From small town to big-city playmaker, Giants' Brown a revelation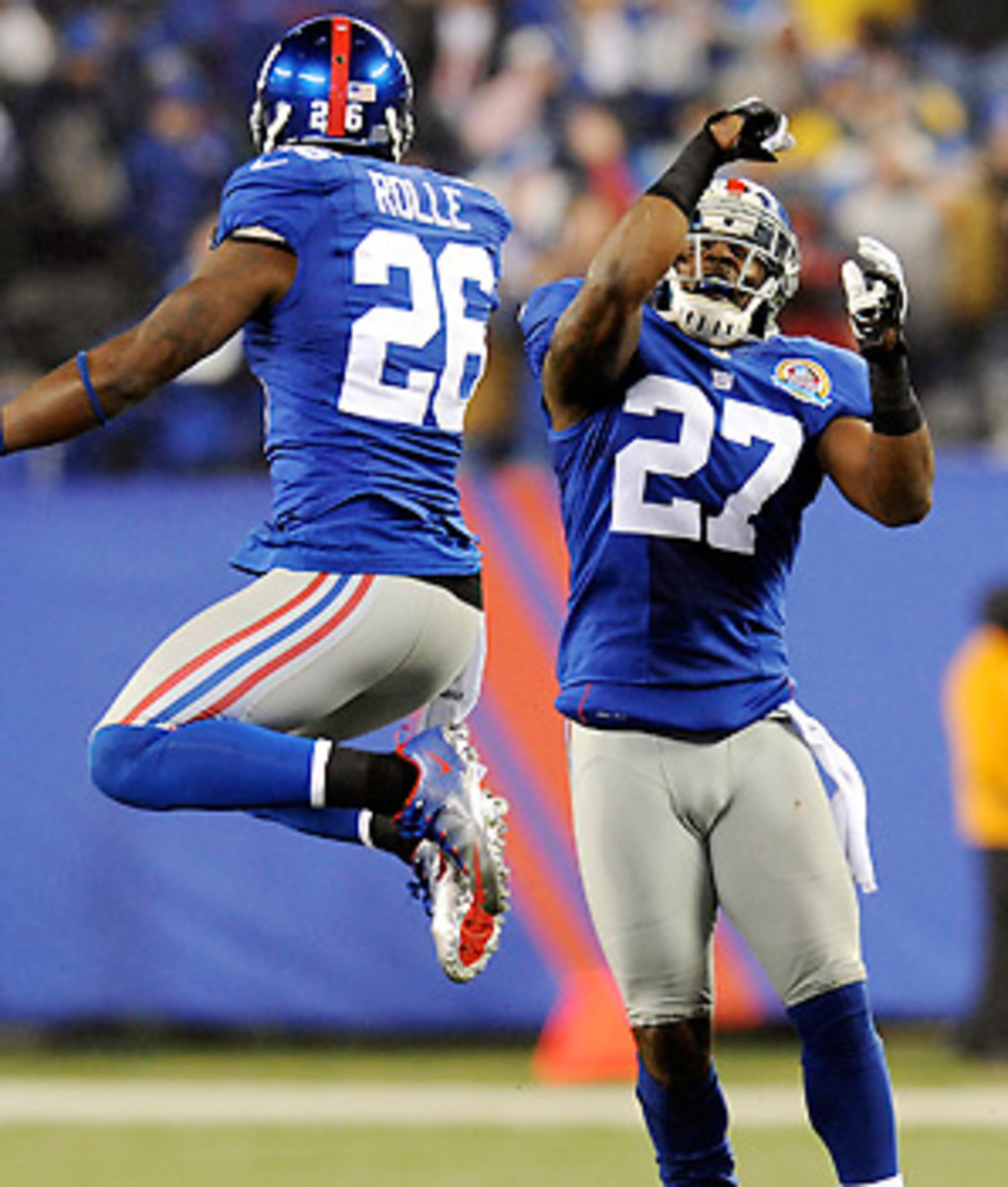 Early this year, Stevie Brown powered up his iPad and plugged in his goals for the 2012 NFL season.
First, he wanted to make a roster, not necessarily a slam dunk given that in his first two seasons he had been released by the Raiders and the Panthers, and his third team, the Colts, wasn't going to re-sign him. Second, he determined he wanted to be a starter, even though he had started only one NFL game. Finally, he strove to make seven interceptions -- an imposing, if not audacious, objective for someone who had yet to force his first turnover in the pros.
So let's see whether Brown met his goals.
Make a roster? Check. Become a starter? Check. Intercept seven passes? Check.
In his third season, the 5-foot-11, 215-pound safety has become an integral player for the defending Super Bowl champion Giants, who are 8-6 but still in contention for a playoff spot despite the 34-0 lambasting they suffered in Atlanta last Sunday. Brown, 25, who became a starter in the New York secondary after Kenny Phillips suffered a sprained medial collateral ligament in his right knee in Week 4, has 69 tackles, eight passes defensed and two forced fumbles. He ranks second in the NFL in interceptions behind Bears cornerback Tim Jennings, who has eight, and his 259 return yards off of picks are the most by any player.
So how does one explain Brown's improbable ascent?
"It's not necessarily about talent or where you get drafted. It's about being prepared for the opportunity," said Blake Baratz, Brown's agent.
A seventh-round selection out of Michigan in 2010 -- he was Oakland's compensatory pick, No. 251 in a class of 255 draftees -- Brown was a special teams player who came in on defense in the Raiders' nickel package as a rookie. In 15 games (one start), Brown made 30 tackles and broke up two passes. He also had 15 tackles on special teams.
After the Raiders waived Brown on Sept. 3, 2011, the Panthers claimed him. He was on Carolina's roster for all of three days. "I went to a meeting and a practice, another meeting, and when I woke up the next morning they had released me," Brown said.
Two weeks later, the Colts signed Brown, who played in eight games for Indianapolis last season before suffering a quadriceps injury and going on injured reserve. Given his checkered resume, the goals Brown set for 2012 were especially lofty.
"I was able to keep my spirits up," he said. "I felt like I was still young and inexpensive. At the same time, I felt like my first two years, even though in Indy all I did was play special teams, I still felt like I did pretty well on special teams -- a reason for someone to bring me into camp. From there, I was going to do what I needed to do to make the team."
Although other teams showed interest in Brown, he elected to sign a one-year, $605,000 contract with the Giants. Among the things that attracted Brown, beside the fact they had just won their second Super Bowl championship in four years, was that the Giants had played a lot of three-safety sets in 2011 with Phillips, Antrel Rolle and Deon Grant. Brown eventually replaced Grant, who currently is out of the league, and then moved into the starting lineup opposite Rolle after Phillips' injury.
In his fourth game as a starter, Brown picked off Tony Romo twice and recovered a fumble in a 29-24 victory over the Cowboys in Dallas. That performance earned him the honor of NFC defensive player of the week. Brown also intercepted Drew Brees twice in a 52-27 win over New Orleans on Dec. 9, returning them for a combined 91 yards and breaking the Giants' single-season record for yards off interceptions.
Quarterbacks have become much more aware of Brown, who has had interception returns of 44 yards off of Carolina's Cam Newton, 46 yards off of Cleveland's Brandon Weeden and 41 yards off of Washington's Robert Griffin III.
"When you watch him, he moves very well," Falcons quarterback Matt Ryan told reporters before last week's game. "His change of direction is very good. He's got good instincts and certainly is a guy that is playing with a ton of confidence right now."
All of which makes one wonder why Brown went so late in the 2010 draft (even Brown tired of watching it on TV and had gone outside to talk to a friend when the Raiders called him). Part of the reason was that Brown, a two-year starter at Michigan, moved from safety to linebacker in his senior season. Some NFL teams weren't sure which position fit Brown more.
There's no question about his place in the defense now. Brown owes some of his evolution this season to his two secondary mates, Rolle and Phillips (who, notably, did not regain his starting job after he returned from his injury), and secondary coach David Merritt Sr. "All three of them are always in my head," Brown said, "talking to me and giving me helpful tips."
Too bad, they couldn't have advised Brown on using the New Jersey transit system. Shortly after signing with the Giants as a free agent on April 3, Brown took a bus to Manhattan. On the return trip, the bus was crowded. When a pregnant woman got on, Brown gave her his seat. Brown was bending down, looking out the window, when he saw a gas station like the one across the street from his apartment, so he pressed the button and got off the bus. Unfortunately, it wasn't the same gas station. His phone was dead, so Brown wound up walking five miles to his apartment in North Bergen, N.J.
The next time Brown rode the bus to Manhattan and back, he was determined not to exit it prematurely. So he rode the bus to the end of the line, five miles beyond his apartment. Fortunately, the driver helped him find a bus going back the opposite way, and Brown made his way home.
It's understandable, given that Brown hasn't spent a lot of time in a big-city environment. Born in Dallas, he was young when his family moved to Columbus, Ind., a small, middle-class town about 40 miles south of Indianapolis, where Brown, one of three siblings, played sports year round (baseball, basketball, football and track).
Although he lives in the shadow of the Big Apple, Brown maintains a low-key lifestyle off the football field. He drives a 2005 Ford F-150, a truck he purchased in Indianapolis in case it snowed, and he lives in a modest, one-bedroom apartment that has the essentials -- couches, bed, TV -- but nothing ostentatious. He doesn't even have pictures on the walls.
"He's just a very down-to-earth, humble individual," Baratz said of Brown. "It doesn't waver whether he gets cut from Indianapolis or he is defensive player of the week in the National Football League."
Brown rarely goes into Manhattan. When he does, it's usually to meet some friends from Michigan for dinner. More often, Brown will cook for himself. He developed a culinary interest while he was in college -- his specialty is sweet potato casserole -- and has considered pursuing it after football.
"Either becoming a broadcaster, cooking or doing something where I can work both of them together," he said. "That would be something I would enjoy."
By now, Brown is almost as comfortable traveling by bus as he is navigating his way around a football field. "I know how to use it now," he said. "I know exactly where I am."
Conquering the Jersey transit system -- another goal Brown can check.