Baltimore Ravens 2013 Offseason Preview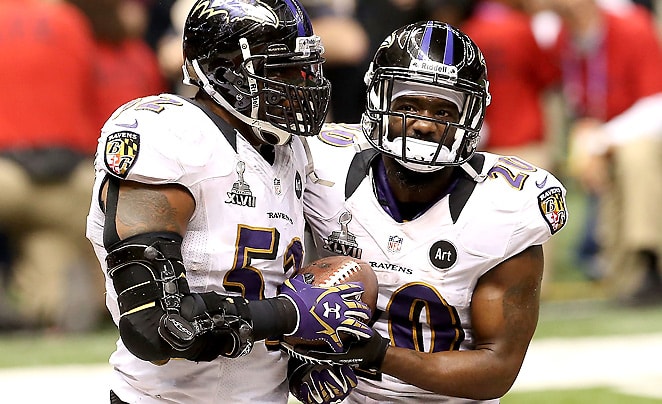 SI.com is laying out offseason road maps for all 32 teams as they start their journey for the Lombardi Trophy -- two teams per day, from the teams that need the most work to contend in 2013 to the ones that are in pretty good shape. See them all.
2012 Record: 10-6; beat 49ers">49ers in Super Bowl Key Pending Free Agents:Joe Flacco, QB; Dannell Ellerbe, ILB; Ed Reed, S; Paul Kruger, OLB; Cary Williams, CB; Bryant McKinnie, OT; Dennis Pitta, TE (RFA); Ed Dickson, TE (RFA), Arthur Jones, DE (RFA). List of Draft Picks (pending compensatory picks): 1 (32), 2 (62), 3 (94), 4 (126), 5 (158), 6 (190), 7 (222) Available Cap Space: Just more than $5 million. GM/Coaching Moves: The Ravens made their only headline coaching move late in the 2012 regular season, elevating Jim Caldwell from quarterbacks coach to offensive coordinator after firing Cam Cameron. Caldwell will return as the team's OC and play-caller in 2013.
2012 Season Recap
The Super Bowl champion Ravens had what felt like three very distinct seasons on their way to a rather unexpected title run: A 9-2 start that represented over-achievement in light of Baltimore's plague of early defensive injuries; a mystifying and troubling 1-4 slump to close out the regular season; and then a glorious 4-0 closing burst in the playoffs, with the No. 4-seeded Ravens beating both the Colts and Patriots by 15 points, and squeezing past the Broncos and 49ers with dramatic three-point victories to claim the second Vince Lombardi trophy in franchise history. Baltimore averaged 31 points per game in the postseason, underlining that the era of a defensive-led Ravens roster is indeed over.
It was a testament to Baltimore's resilience that John Harbaugh's team wound up taking the final victory lap of the season, because the Ravens' 10-6 regular season record made them the first AFC champion to win fewer than 11 games in a non-strike season since the advent of the NFL's 16-game regular season in 1978. But on the other hand, you can't say we shouldn't have seen this coming at some point, because Baltimore is the only team to make the playoffs in each of the past five seasons, and the Ravens even won at least one game in all of those postseasons. There's no fluke to Baltimore's triumph.
For the Ravens, it was the year that Ray Lewis departed and Joe Flacco arrived, with the fifth-year quarterback finally emerging as the team leader and most valuable component in the franchise's hierarchy, just as Lewis' 17-year career was coming to an inspiring close. Baltimore undoubtedly used Lewis' retirement saga for motivational fuel in the playoffs, but in reality the Ravens played most of the season without their celebrated and injured middle linebacker. And yet they still thrived and persevered without Lewis, and even more critical cogs on defense like rush linebacker Terrell Suggs, cornerback Lardarius Webb and inside linebacker Jameel McClain.
So close to earning a Super Bowl berth in 2011, the Ravens fought their way back and finished the job this time, becoming the first team since the 1994-95 Cowboys to lose a conference title game one season and win the Super Bowl the following year.
Stat To Feel Good About
398. Baltimore's point total in the 2012 regular season, the highest in the 17-year history of the relocated franchise.
If It Ain't Broke ...
The Ravens last offseason prioritized improvement on special teams, and it was mission accomplished -- in spectacular fashion. Baltimore signed receiver-return man Jacoby Jones after Houston released him, and Jones responded with an NFL-leading three kick/punt return touchdowns, and then added another in the playoffs, with a league-record-tying 108-yard kickoff return score to open the second half in the Super Bowl.
After the Billy Cundiff debacle late in the 2011 AFC title game at New England, Baltimore brought in rookie kicker Justin Tucker and was overwhelmed with the results turned in by the thunder-footed former Texas Longhorn. Tucker was money all season, converting 34 of the 37 field goals he attempted (including the playoffs), and all 58 extra-point tries. That's 92 successes in 95 attempts, a 96.8 percent conversion rate. And no playoff jitters for Tucker. He was 20 of 20 in field goals and PATs in the postseason.
Troubling Stat
10. Sacks allowed by Ravens offensive tackle Michael Oher, which was tied for third most in the NFL.
Must Fix It
If they can swing a new deal for veteran free-agent-to-be Bryant McKinnie, the Ravens might be wise to re-sign him and let him take a shot at holding down the pivotal left offensive tackle slot in 2013, after his superb work at that position in Baltimore's four-game playoff run. The Ravens' inconsistent offensive line came together in the postseason after Oher was switched from left to right tackle, with McKinnie replacing him. In addition, rookie right tackle Kelechi Osemele slid to left guard, taking over for the injured Jah Reid.
Oher has The Blind Side on his resume thanks to the best-selling book and subsequent movie, but he hasn't always been a reliable protector of Flacco's backside from the left tackle slot. Re-signing McKinnie, which won't be easy for the cap-strapped Ravens, would allow them to leave Oher on the less stressful right side and afford them another year to evaluate his future, with his contract up after 2013. If the Ravens do opt to give Oher a long-term contract extension this offseason, it will likely be because his cap number needs to be reduced to help them retain some of their critical free agents.
More On The To-Do List
1. Make Joe Flacco rich, or richer. It's an understatement of monstrous proportions to say the Ravens have some work to do this offseason, given their tight salary cap restraints and the laundry list of potential free agents on their roster. But it all starts with Flacco, who had the mother of all well-timed Super Bowl runs just as his five-year rookie contract was expiring. The Ravens remain optimistic that they will strike a long-term deal with Flacco before the March 4 deadline for applying the franchise tag, but they had better hope so, because the two scenarios that will ensue if they don't are ugly ($14-million-plus franchise tag) and even uglier ($20-million-plus exclusive franchise tag) from a cap perspective.
Baltimore basically has three plans prepared for this offseason. The first is if Flacco re-signs without being franchised, which likely would allow the Ravens to retain its priority free agents like inside linebacker Dannell Ellerbe and McKinnie. The second is if they gamble and apply the non-exclusive tag on Flacco, which would still set off a flurry of cuts and restructuring of veteran contracts to get under the anticipated $121 million cap. And the doomsday scenario of tying up more than $20 million of cap room on Flacco with an exclusive franchise label, which would basically be the only significant move Baltimore could make in free agency.
2. Find a replacement for Ed Reed in a safety-rich draft. While there's been some chatter in the heady Super Bowl afterglow that Reed and Baltimore might find a way to stay in each other's future, I still wouldn't bet on it happening. Reed is going to get much better offers than the Ravens can make, so unless he swallows hard and tamps down his pride to remain in purple for a 12th season, he's probably moving on.
The Ravens would like to keep him, but he'll be 35 in September, his body is on the verge of breaking down every season of late, and he doesn't play one of the game's most critical, high-money positions, like quarterback, left tackle, defensive end or cornerback. With their Super Bowl rings on order, the Ravens view Reed as replaceable. Especially since they'll have an estimated 11 draft picks by the time April arrives, with four of them via the compensatory route thanks to last year's free agency losses of Ben Grubbs, Jarrett Johnson and others. It has been a good, long, mutually beneficially run for the Ravens and Reed, but it's probably over.
3. Get creative enough to retain Anquan Boldin. The veteran receiver has a 2013 cap number in excess of $7.5 million, and that makes him vulnerable to be released given Baltimore's money crunch. But the Ravens and Boldin know the good thing they have going, and neither wants to see it end. Baltimore will have to restructure his deal to keep him, but there's motivation on both sides to get it done. Especially after his inspired playoff performance, with a team-high four touchdown receptions and clutch plays galore.
Other Ravens veterans won't be so lucky. Center Matt Birk is set to retire, which helps the cap situation some. But players like fullback Vonta Leach and reserve offensive lineman Bobbie Williams are likely cap cuts, and marquee free agents such as Reed, outside linebacker Paul Kruger and cornerback Cary Williams won't be affordable enough to retain. Baltimore will gladly make those sacrifices if they help assure Boldin's return. Beside Boldin, restructuring the contracts of other big-money players like Suggs, defensive tackle Haloti Ngata, guard Marshal Yanda, Jacoby Jones and Oher is the way Baltimore will navigate its way out of this year's cap squeeze.
What We'll Be Saying In July
Sure, it looks gloomy at the moment in Baltimore, at least through the haze of all that confetti and champagne. But even after the painful salary cap and roster machinations required this offseason, the Ravens will still hit training camp with youth and talent at quarterback (Flacco will be back one way or another), running back, tight end, receiver, cornerback, and kicker. That's not a bad foundation upon which to launch a defense of a Super Bowl title.
The Ravens are pretty familiar with the reality of losing some homegrown starters and key reserves every offseason, but the talent drain will be more pronounced this year than any in recent memory. If Flacco requires the exclusive franchise tag to be retained, the exodus could be significant. But Baltimore usually finds a way to reward its core players and replenish its roster in the face of cap challenges, and I expect Ozzie Newsome and Co. will somehow mitigate the damage in the coming months.
The Ravens have never mortgaged the future for the present, and with another trophy on the shelf, they'll be less inclined to do so, not more so. Still, they want to keep the nucleus of this team together and take a shot at a repeat. Baltimore believes that's possible without the likes of Lewis, Reed, Kruger, Cary Williams, Birk and Leach. But much less so if they fail to retain players such as Flacco, Ellerbe, Boldin and possibly McKinnie. And don't forget about the draft, one of Baltimore's strong suits. With 11 picks, including compensatory choices, the Ravens will be able to re-stock several positions. Defensive tackle and inside linebacker still top the need list at this early juncture of scouting season.
SEE ALL OF SI.COM'S OFFSEASON PREVIEWS