Flacco, Brady on opposite ends of QB contract spectrum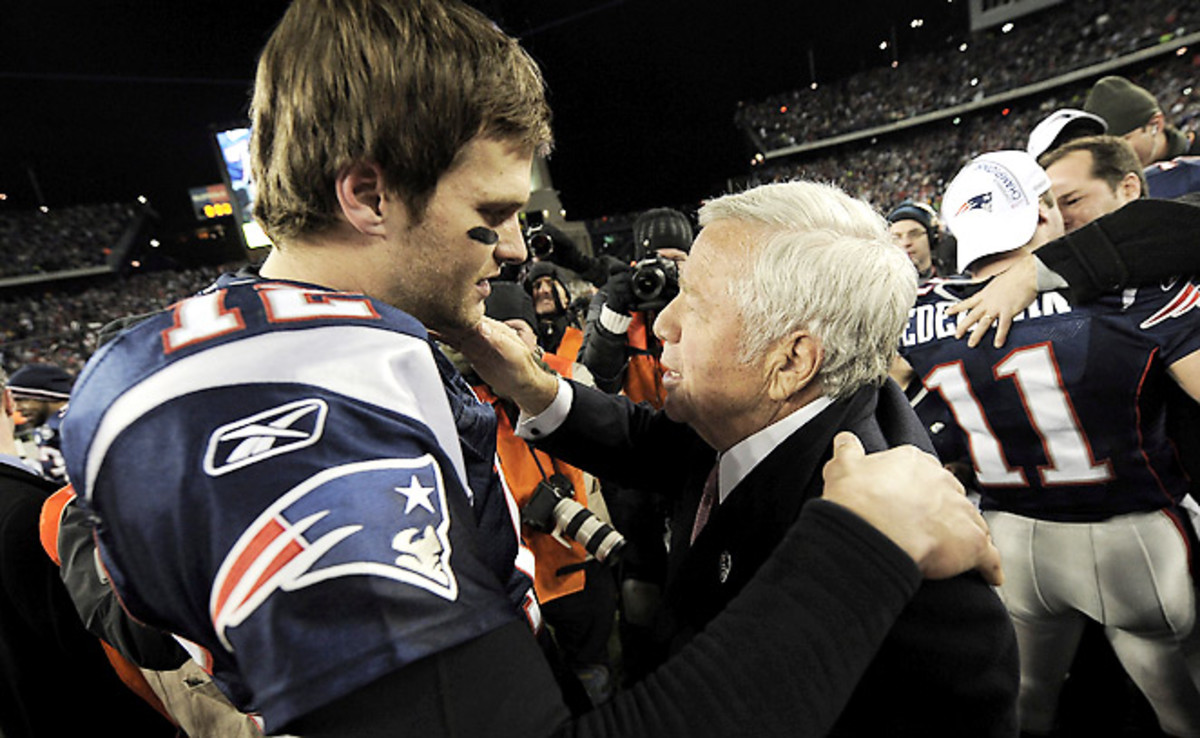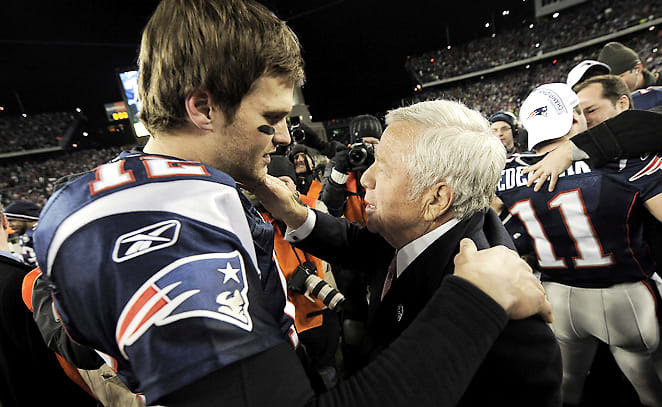 I'll get to the news of the week in the never-ending NFL news cycle in a few moments, but let's start with the elephant in the room in the wake of the Tom Brady contract. A majority of you seem skeptical (and that's putting it mildly) that Brady did a good thing for the Patriots the other day.
This is what I hear from people in the media business and on Twitter, by and large: The three-year, $27 million contract extension's a phony deal.
Or, put another way: He'll never play for $7 million, total, in 2015. The quarterback and the Pats have to have some agreement -- tacit, at least -- to re-do the deal if Brady's still Brady then.
This, first, from the man who birthed the idea of the Brady extension and broached it to Brady in painstaking detail when they flew alone together from Massachusetts to Los Angeles the week after the Patriots' season ended:
"No, no, no,'' Patriots owner Robert Kraft told me. "This is a real deal. Look at our track record. We don't do fake deals. The contract we have with Tom Brady is a real contract we will both live by."
Kraft said he had "been thinking about this for three or four years. I was probably wearing my fan hat as much as anything else. I just didn't want to ever see this become like Joe Montana leaving San Francisco, Emmitt Smith leaving Dallas, Brett Favre leaving Green Bay, Peyton Manning leaving Indianapolis. If Tom Brady played out this current contract and left us, there was no doubt in my mind that someone out there would pay him top dollar, and they should, for his ability, his leadership and his unselfishness.
"I was just trying to stay ahead of the curve. If we were going to have to pay him elite-quarterback money and have elite-quarterback cap numbers, I just didn't think we would be able to build a team. We don't want to have a team where we're paying 18 to 20 percent to a player on the cap. I wanted to do something elegant that would work for everybody. I had been talking to him off and on for maybe 18 months, about how I wanted him to finish his career here, and about how we both have to be smart about it. I just really want him to end his career a Patriot.''
So Kraft and Brady boarded the plane five weeks ago, and Kraft laid out the rough vision he had for the deal. "We had a lot of time to talk,'' Kraft said. "Six hours." Kraft wasn't exact with the terms that day, but he got the idea across. The Patriots, essentially, would convert all the money in the last two years of his current deal to guaranteed money in the form of bonuses to be paid out between now and 2015. The Patriots would add $3 million to the deal now. In exchange, Brady would extend the deal three years for significantly less money than the market would yield if he were free two years from now -- it turned out to be $7 million in 2015, $8 million in 2016 and $9 million in 2017 -- with one valuable proviso. If Brady were healthy enough, year by year, to continue playing after the 2014 season, the salaries in each of his last three years would be guaranteed in the event of injury. (More about that later.)
"I presented an idea to him that I thought could work for both sides. He takes care of his body in terms of exercise and working out and his food. Tom's intake of food is, really, so healthy. He has a whole style of living that is so important to him ... We're taking a chance making this commitment, and he's taking one, in terms of his ability to maximize pay. I just thought if winning is the most important thing to him, and I think it is, and it certainly is to our family, this gives us the best chance to win. Hopefully we have an elite quarterback that, even if his skills decline even a little bit, he'll still be better than 90 percent of the quarterbacks in the league. And his legacy -- I already believe he's the greatest of all time -- if we win one or two more, he can solidify that.''
When Brady and Kraft parted that day, Brady said he'd think about it, and discuss it with his agent, Don Yee, and his family. "I credit Don Yee for being supportive and not talking Tommy out of it,'' Kraft said.
"I am glad we are able to take negotiations out of this relationship for the next five years. Look, I don't know what's going to happen in the next five years. No one can know. But this move, strategically, helps us be in a position to win. We're going to spend to the cap. Tom knows that it's not like whatever we don't pay him we're putting in the Kraft family pocket. He gets it, and now he's rooting for us to make the right decisions in building the team. By the way, I have heard that it's been reported Tom made demands about who he wanted us to sign. Absolutely not. It never happened.
"I credit Tom for doing the right thing and thinking outside the box. That's what we're trying to do as an organization, and certainly what Bill Belichick tries to do as a coach. If you don't have a good coach and a quarterback, you don't have much of a chance to win. We are fortunate that we have both who are way above par. Tom is everything that we want.
"In life, the best deals are the deals that are good for both sides. You have to understand what is most important for both parties. You do the deals that work well both ways. I'm not sure we will ever see anyone like him again. Being the 199th pick in the draft, I think he's always worked harder and fought harder, and I think he's able to think differently because nothing has ever been handed to him. I wanted to get this done fast so we could create room for free agency, room on the cap over the next two years when the cap was too tight. If this thing took three or four months, we would have lost that window.''
You know, I told Kraft that there will be many who don't buy the blue-skies-and-sunny-days story line here. They'll be waiting to see what the Pats do in the spring of 2015, when so many are sure they'll rewrite the contract to make Brady the fourth-highest-paid quarterback, not the 24th.
"These people don't know the relationship between Tommy and this team,'' he said. "Maybe they hate the Patriots, or they're jealous. I understand the naysayers are out there, but we want to build a team capable of winning every year, and while this is not perfect in every way, we think this will help us get there."
A couple of other points about the deal:
The guarantees. Keep in mind Brady was going to make $30 million in cash in the next two years, not guaranteed. Now he'll make $33 million, guaranteed. (In many quarters, it was reported Brady was handed a new $30 million signing bonus, but it wasn't new money -- just a guaranteeing of the money he was supposed to make in 2013 and '14, with a $3 million sweetener added.) While guaranteeing the money is significant, think about it: What are the chances Brady wouldn't play for the Patriots in either of the next two seasons? Certainly he will be there in 2013, and the only way he wouldn't is with a career-ending (not -threatening) injury some time before opening day 2014. Some have compared that to Peyton Manning, and the Colts having no idea they would ever have cut Manning. The difference is, at a comparable point when the Colts would have had to make a similar decision on guaranteeing Manning's salaries, he already would have had one neck procedure and two serious bursa-sac knee surgeries in the very recent past, and I doubt owner Jim Irsay would have been terribly eager to guarantee him two huge-money years coming off that.
As for the other guarantees, the final three years will be guaranteed year by year. In some quarters it's been reported that Brady will have the final $24 million guaranteed if he's healthy and able to play in 2015. In reality, the 2015 salary will be guaranteed if he's healthy entering that league year, and the 2016 and '17 salaries guaranteed similarly, year by year, if he's healthy.
Brady has $33 million guaranteed today. The $7 million, $8 million and $9 million salaries in 2015, '16 and '17 will be guaranteed, but only if Brady enters each of those league seasons healthy.
Recent history. Time will tell if the Patriots do for this contract what they have done often, but not exclusively, with contracts of stalwart players. Which is, basically, very little. Brady signed a contract in 2005 for six years and $60 million ($4 million per year, on average, below Peyton Manning's deal), and no new money was added to the deal (some was moved around for cap purposes, but no new bonuses) until year six. In 2010, he signed an extension for four years (2011-14); the existing 2010 season on his 2005 contract stayed in force, and his four-year extension was for $78.5 million. He played the 2010, '11 and '12 seasons, and then the Patriots made this contract-for-life (presumably) deal. In the final New England deals of Willie McGinest and Rodney Harrison, for instance, the Patriots moved money around for cap reasons but didn't add money.
When Brady signed in 2005, the deal called for $5 million in salary and $3 million in a roster bonus in 2008. Brady threw 50 touchdown passes, and the Patriots went 16-0 in 2007. And Brady still made $5 million in salary and a $3 million roster bonus in 2008, as scheduled.
My feeling is, out of principle, it's pretty unlikely the Patriots will re-do the deal in 2015, even if Brady's one of the lowest-paid starting passers in the league. He knew what he was getting into when he signed it. But we'll see.
Finally, I understand the skepticism about a player doing what Brady did, but looking at history, and listening to Kraft, I wouldn't count on this deal adding any new money in the next three seasons. Still want to debate it? I'll be happy to run your best emails in my Tuesday column, with my responses.
KING: Inside Tom Brady's amazing new deal
***
The rest of the Flacco story.
On the other side of the salary spectrum comes Joe Flacco. News broke from Jay Glazer Friday that Flacco and the Ravens had agreed on a six-year, $120.6 million contract -- $20.1 million a year, an average of $100,000 more per season than the previous highest-paid player in football, Drew Brees. What I know now:
? The cap numbers in the first two years of the deal are approximately $6.8 million and $14.8 million, which should allow the Ravens to keep a player or two they really want to keep, such as wideout Anquan Boldin and left tackle Bryant McKinnie. I think defensive end Paul Kruger, a free agent, will get big money somewhere and won't return. I think it's looking more and more likely that the free-agent inside linebacker the team would like to keep, Dannell Ellerbe, will get a bigger offer elsewhere than the Ravens would be willing to pay. If so, he'll likely leave too.
? Baltimore will likely have to re-do the six-year Flacco contract after year three. Approximate cap number in year four: $29 million. With the cap estimated roughly to be about $130 million in that season, 2016, it's highly unlikely the Ravens would devote 22 percent of their cap to the quarterback.
I've also learned a little bit of history about the deal, and just how close the two sides came to making a five-year extension worth about $17 million a year happen last year.
The Ravens and Flacco were going to leave the 2012 salary as is ($6.76 milion) and extend the deal five years, through 2017. The two sides were agonizingly close -- the Ravens wanted to pay Flacco $15.5 million in the last year of the deal, unguaranteed, and Flacco's agent, Joe Linta, wanted $17.5 million, unguaranteed. Keep in mind there's a very good chance the last year of the deal wouldn't have been kept intact anyway; it's likely the deal would have been re-done before that season. When the two sides met for the final time to try to get it done, the Ravens were insistent on their 2017 number. Linta probably would have accepted if they'd split the difference at $16.5 million. But the Ravens -- and who could blame them? -- thought they had extended themselves for a player who hadn't been a 4,000-yard quarterback yet.
In retrospect, the July 2012 position of the Ravens seems more understandable than Flacco's. Only three players in football would have been higher paid than Flacco under the Baltimore five-year extension offer; that seems more than fair. But Flacco felt so confident in his ability that he gambled on himself, then went out and had one of the best playoff months an NFL quarterback has ever had. Baltimore, as it turns out, had to pay $3.1 million more per year than Flacco wanted last season.
And sure, the Ravens now probably wish they acceded to Linta's number last summer. But hindsight in contract talks is always 20-20. There's no way anyone (other than Flacco, maybe) could have forecast what Flacco did this postseason. So it's unfair to castigate Baltimore for not caving last year; I can't think of any team, given the same situation, that would have caved.
I found one more thing compelling in the Flacco deal. Linta is an agent for mostly middle-class players and free agent hopefuls. On the first day of the Scouting Combine, the day before Linta was to meet in Indianapolis with Ravens negotiator Pat Moriarty on the Flacco mega-deal, Linta was driving through a snowstorm into Carbondale, Ill., to the campus of Southern Illinois, to work out a free-agent outside linebacker prospect named Jayson DiManche. DiManche wasn't invited to the combine, but he's the kind of player who normally is Linta's stock in trade -- a Rudy type who might not get drafted but will end up in some team's camp with a prayer of making it. I've known Linta for a while, and he gets as excited about the Jayson DiManches as he does about the Joe Flaccos, because he doubles as a high school football coach in Connecticut and likes the underdogs. If he believes in a cause -- and he believed that Flacco was worth every dime he was seeking last summer -- he has no problem walking away from a deal that would have everyone screaming, "Take it!"
I just like the fact that the underdog quarterback won the Super Bowl, and the faithful agent backed him, and both were rewarded.
BURKE: Flacco struck while the iron was hot
Quote of the Week I
"He's not going to win any games for you. He's a defensive back who will shut down the [opponent's] top receiver, but the ball is not in his hands. The Jets need more than a top corner. They need some pieces. If he gives them the value to get those pieces, then move him."
-- ESPN analyst Keyshawn Johnson, on the possibility of the Jets trading Darrelle Revis, to Bob Glauber of Newsday.
Now, I've always liked Keyshawn Johnson. Hard worker when he played, unselfish blocker, etc. But this is one of the most short-sighted things I've heard a TV analyst say in a long time, and that's covering a lot of ground.
He's not going to win any games for you. Let's go back to the Jets' playoff win at San Diego in the 2009 season, the one in which the Jets amassed all of 262 total yards. The receivers Revis covered that day caught one ball -- for minus-four yards. Next year: Jets over the Bengals two straight weeks, once to end the regular season, once to start the playoffs; Revis held Chad Ochocinco to two catches for 28 yards in those eight quarters. Against Indy in the 2010 playoffs, Revis held Reggie Wayne to one catch for one yard when he covered him.
That's domination on a Lawrence Taylor scale. That's like justifying the Giants trading LT in 1988 because he only touches the ball when he intercepts it.
Now, if you want to make the case that the Jets should trade Revis because he's damaged goods after ACL surgery, then make that case. If you want to make the case that the Jets don't have the luxury of paying a corner that much money because they need so much help on offense, then make that case. But don't insult the readers of Newsday by saying defensive players aren't going to win games, implying, of course, that the only players who should make really big money are offensive players. Watch the game. Watch the games in 2012, and you'll see how, with the rise of the mobile quarterback, cornerbacks are going to be more valuable than ever because they'll be on islands with the Calvin Johnsons and Andre Johnsons more, without the regularity of safety help.
SI.COM'S OFFSEASON PREVIEWS
Quote of the Week II
"I've got a better chance of following A-Rod at third base for the Yankees than following Benedict XVI as the bishop of Rome."
--Timothy Cardinal Dolan, the leader of the Catholic church in New York.
Is it just me, or is every shot of Vatican City with those beautiful religious edifices the best advertisement for visiting Rome?
Quote of the Week III
"It has been weighing heavy on my heart for a while. I just felt like as much as I kind of went back-and-forth on it, I believe if you are thinking about retirement that much you are already retired. I am happy with the decision that we made. I look forward to the next chapter of my life. The neck obviously played into my decision even though it was a ligament issue and not a structural issue. It is still your neck. Obviously with three young kids and hopefully many more years ahead of me, I did not want to leave the game broke down. That definitely played into it. I wanted to end my career a Buffalo Bill. That came to fruition today and I feel very blessed to have that opportunity.''
-- Versatile defender Chris Kelsay, 33, who announced his retirement last week after a 10-year career in Buffalo.
Kelsay was one of the game's underappreciated players, a fireman who played where he was told and didn't complain. Over the last three seasons, he played every outside position in Buffalo's 3-4 and 4-3 defenses -- left end, right end, left outside linebacker and right outside linebacker. He never was a star, but he was steady, with 32.5 sacks and 147 games in 10 seasons.
Stat of the Week
I want to pay tribute this morning to Rick Gosselin, the Dallas Morning News columnist and longtime member of the Pro Football Hall of Fame. Many of you do not know Rick. He's a quiet worker bee of a writer who loves pro football and works tirelessly to try to make sure the Hall elects the right members. Any of the other selectors would tell you the same thing: He's an invaluable piece of the Hall of Fame electoral puzzle.
A few years ago, Rick began stressing to the electorate that the Hall was trending to the offensive side too much in a game, in his eyes, that should be closer to equal in immortals. He produced stats that said of all the Hall of Famers who played one side of the ball exclusively, many more offensive players than defensive players had been enshrined. And so slowly, over the last few years, the committee has seemed to keep Gosselin's advice in the back of its collective mind as the classes have been selected.
I say "has seemed'' because I've never interviewed fellow selectors about their defense-versus-offense leanings. But the statistics tell the story over the last 12 years, separated into six-year periods:
"Others'' include coaches and other contributors, like owners.
There are still 51.7 percent exclusively offensive players in the Hall, versus 34 percent defenders (with the remaining 15 percent being contributors or two-way players), so there is still a ways to go to see a Hall of Fame not so lopsided toward the offensive side.
Factoid of the Week That May Interest Only Me I
According to ESPN's Trey Wingo, first-round draft prospect Barkevious Mingo has a brother named Hughtavious Mingo, and another brother named Hugh Mingo.
BURKE: NFL Draft Big Board | BANKS: Mock Draft 2.0
Factoid of the Week That May Interest Only Me II
Question (that surprises absolutely no one who follows the NFL and its never-ending quest for pie-growing) on the survey emailed to fans who attended the Scouting Combine last weekend, gratis, at Lucas Oil Stadium in Indianapolis: "If in future years the NFL instituted a charge of $25 to attend the NFL Scouting Combine for one day, how likely would you be to buy tickets?''
Mr. Starwood Preferred Member Travel Note of the Week
Twice on Sunday in Manhattan this happened: I was walking my dog, Bailey, on the East Side of town, once in the morning and once in the afternoon. And on each walk I saw a person jogging -- guy in the morning, woman in the afternoon -- while talking on a phone, hands free, into a wire draping from the ears. The woman was gesturing quite emphatically as she approached, and for a second I thought she was talking to me. The one thing I heard her say as she jogged by was, "And so I said, THAT IS NOT HAPPENING!' ''
Free country. But it's amazing we cannot live without phones for any length of time. Remember Brady Quinn's plaintive screed after the death of Jovan Belcher three months ago, when he said sometimes we're so preoccupied with our phone and social media that we don't deal well with the relationships we have in front of us? I just think it's bizarre to see people out for exercise talking on the phone.
Tweet of the Week I
"Chip Kelly on Nnamdi Asomugha: 'As a person, I think he's outstanding.' Translation: 'As a player, I think he's way overpaid.' ''
-- @adbrandt, Andrew Brandt, the ESPN business analyst and NFL columnist.
GALLERY: Veteran players who need a team
Tweet of the Week II
Twin Tweets, actually.
"My visit to Cameron last night was my first. By far the best game atmosphere I've ever seen. I wonder if, after 100 times, it gets boring.
"I suppose it'd be like a roller coaster getting boring, or driving a Porsche getting boring. Probably not."
-- @MattCrossmanSN, the Sporting News writer, after covering Miami-Duke Saturday night at venerable Cameron Indoor Stadium.
Matt's right. I was at Cameron once, about a decade ago, in the last row of the bleachers behind one of the baskets. Memorable experience.
Tweet of the Week III
"Whoever designed the phoenix airport really needs to be prosecuted."
-- @JonHeymanCBS, presumably traversing said airport Saturday afternoon.
Tweet of the Week IV
"We live in interesting times when news anchors soberly read tweets from the Pope as he leaves Vatican in a helicopter."
-- @richarddeitsch, media reporter for Sports Illustrated, as said Pope left the Vatican in a helicopter.
Ten Things I Think I Think
1. I think it's a great year, with the middle-class depth of this draft, to be picking 16th, 22th and 46th overall, as the Rams are. They're the only team with three picks in the top 50. If I'm St. Louis, I spend money on a left tackle in free agency (could they steal a damaged-goods Jake Long for three years, $25 millon, with a lot up front and/or guaranteed?), then do what GM Les Snead knows he should to build a long-term winner: pick the best players, almost regardless of position.
2. I think the next time the NFL picks a woman to try out at one of these satellite combines, as the league did with a kicker named Lauren Silberman Sunday, it will need to be sure the kicker can kick the ball off a tee more than 19 yards, which is what Silberman did on a kick in which she apparently injured herself Sunday. "Just a hunch,'' tweeted Bart Hubbuch of the New York Post, "but I don't think NFL Network is going to be consistently replaying Lauren Silberman's 'historic' tryout." Maybe she injured herself and it killed her ability even on the first kick, to be competitive. But it's pretty bad to hype the woman the way the NFL did and have it turn out like that.
3. I think Cincinnati tackle Andre Smith should come with a warning label. Something like, "Huge money is hazardous to this player's greatness." Talked to several teams scared of Smith. They remember his weight problems early in his Cincinnati tenure, and they fear what a big signing bonus would do to his desire.
4. I think I am dreading this expanded NFL calendar, if it happens. And I can tell you what the already overburdened coaches and scouts and front office people would think of late March/early-April free agency and a mid-May draft: More meaningless hype to shop the NFL product, less time to be a person. As one agent said to me: "I have not talked to a single person in the business -- coach, scout, agent -- who wants this to happen.''
5. I think, still, that Manti Te'o will be a first-round pick (not past No. 21 to Cincinnati). As one scout told me over the weekend, if you assume Te'o is likely to be a two-down player out of the lineup on most third downs, or passing downs, then the importance of his 40 time diminishes. And his 10- and 20-yard intervals were in the range of what players who run 4.6-second 40s would do. So if you assume it's important for an inside linebacker to have good burst, strength and instinct, then a guy with fast 10-yard speed is going to be valuable for that position.
6. I think Randy Moss played well enough to get one more year somewhere in 2013. Where, I don't know. But it'd have to be very cheap, and the coach would have to be secure enough and comfortable enough with his own decisions and scheme to bring in a guy he'd have to manage pretty carefully. Can't see him back in New England after his selfish rant a couple of years ago, but you never know.
7. I think Peyton Manning just finished a week he'll never forget, along with Curt Schilling, Austin Collie, Vincent Jackson and Colts assistant and good Manning friend Clyde Christensen. After a USO Tour to see troops in Italy, Afghanistan and Germany, Manning said: "A life-changing experience for me. Everybody say a prayer for your military." Good for them to invest a week of their lives in something so important.
8. I think the Patriots are going to find a way to keep Aqib Talib. He's too important at a position that otherwise is bankrupt for New England.
9. I think you can trust me on this one: If the Ravens hadn't gotten Joe Flacco committed to a new deal by today, they would not have franchised him at the exclusive level, which would have been $6 million more than the regular franchise tag. They just didn't want to have Flacco on the books for $20 million in 2013.
10. I think these are my non-football thoughts of the week:
a. Watched a good bit of Blackhawks-Wings on NBC Sunday. A treat to see Chicago pass the puck, like Gretzky-to-Kurri used to be. What a special team. No regulation losses through 22 games, after a Patrick Kane goal with 122 seconds left in the third period erased what was close to a 1-0 loss.
b. We should all know more about an 19-0-3 team. That's the fault of a lot of things, but I can't help but think the long lockout killed any casual hockey fan's ardor for this season. A shame. A great, great team, and a great story.
c. Still hate the shootout in hockey. The five-minute four-on-four OT is fine. How about a three-on-three second OT, and if no goal is scored through two overtimes, then give me the tie anytime.
d. Wonder if Dennis Rodman would call the North Koreans a friend for life if he took five minutes to understand how the Kim Jong-un administration treats its citizens.
e. Read Escape From Camp 14, Dennis. Then sit with that man and laugh while watching a basketball game.
f. Seems to me Rory McIlroy could have played 10 more holes of golf with a toothache.
g. Totally sucked in by the reruns of The Sopranos. Miss you, Phil Leotardo. (Greatest name in Sopranos history. Number two: Johnny Sack.)
h. I keep hearing about how the Obama administration is shutting out the press corps, which is reprehensible. Don't see how you win doing that.
i. However, the Bob Woodward "threat'' thing seems ridiculous. This email from a White House economic official, obtained by Politico.com, is what upset Woodward: "I apologize for raising my voice in our conversation today. My bad. I do understand your problems with a couple of our statements in the fall -- but feel on the other hand that you focus on a few specific trees that gives a very wrong perception of the forest. But perhaps we will just not see eye to eye here. But I do truly believe you should rethink your comment about saying that Potus asking for revenues is moving the goal post. I know you may not believe this, but as a friend, I think you will regret staking out that claim ... I agree there are more than one side [sic] to our first disagreement, but again think this latter issue is different. Not out to argue and argue on this latter point. Just my sincere advice. Your call obviously. My apologies again for raising my voice on the call with you. Feel bad about that and truly apologize.'' If that's a threatening email, my name's Henry Kissinger.
j. Had a swell time at MIT's Sloan Sports Analytics Conference Saturday. Next year I'll go and listen to more panels if I can. A privilege to be with ESPN's Buster Olney, Chad Millman (my old SI and Montclair friend) and Dean Oliver talking about the future of analytics to decide Hall of Fame votes. My take, in a sentence or two, is that I think I'll use whatever tool I can find to help me determine which candidates are Hall worthy, but there are some things that are going to be difficult to measure. Particularly when you look back at the career of a center like Mick Tingelhoff, who was one of the most durable workhorses (never missed a game in 17 seasons, including preseason and postseason) in history, and made the All-Pro first team five times, same as Mike Webster. Not sure you're going to be able to watch enough tape of so many of these players of bygone eras that you'd be able to compare them with players of different eras and advance their causes much.
k. Coffeenerdness: My free advice for you, Dunkin Donuts: Please, please, please put your dark roast in more shops. That is a very good cup of coffee, cheap.
l. Beernerdness: One of the great things about visiting Boston (and I'm a broken record here) is finding Harpoon's UFO White beer in a bar -- and then having your boss pick up the tab for a couple before getting on the train back home. That's one of the great underrated beers in America.
m. This just in from Westchester County, N.Y.: New Rochelle 61, Mount Vernon 60 in playoff tournament basketball. If you can find a video somewhere on YouTube -- or here, on The Big Lead -- I strongly suggest you watch. That's some crazy finish.
n. Really enjoyed Koch, the movie about the controversial three-term mayor of New York, Ed Koch, who died last month. Tremendous scenes of New York in the '70s and '80s, particularly in the neighborhoods and on the subways, and capturing Koch later in life not giving a crap about who he offended.
The Adieu Haiku
Mad at Flacco? Why? It's the American way. Bet on himself. Won.