Everyday Life, but No Ordinary Thing
Brandon Moore went back on a deal with the Cowboys to retire, a decision that left him wearing winter boots instead of shoulder pads in August. He's not sweating the move
When Brandon Moore's former position coach came calling last week, the long-time Jets guard agreed to sign with the Cowboys—only to have a change of heart less than 24 hours later and retire after 10 seasons and 142 NFL starts. Moore, a 33-year-old former undrafted free agent turned Pro Bowler, gave The MMQB's Jenny Vrentas a first-person account of how he came to the toughest decision a professional athlete can make: walking away from the game you're still able to play.
By Brandon Moore
I was watching TV with my wife, winding down, about to lay down in bed on Monday, Aug. 5 when I saw my phone go off around 11:30, and I saw the text.
"Would you be interested in coming and playing for the Cowboys?"
It was from my old coach, Bill Callahan. My first thought: Wow!
Back in March, I was excited for free agency. After 10 seasons with the Jets, my contract was up, and I guess I wasn't in their plans. But I was ready to give it some more. I felt like I had some more. Teams contacted us, but they weren't serious. Nobody was beating down the door. As the months went by, my life had to go on. Before I got the text, my worst fear was that I would be settled down, ready to move on and then somebody would come calling in the middle of training camp. I didn't want to be put in that position, to have to make that hasty decision.
Moore (65) will miss these kinds of moments the most: celebrating a 2008 touchdown with Leon Washington.
When training camps opened, my wife Regina and I were closing on a house in New Jersey. We had been renting ever since the Jets moved from Long Island in 2008, and we had extended our lease several times, because my career was in limbo. Was I going to play? Where I was going to play? When it got to be May or June, we had to make a decision. We bought a house. We enrolled our 6-year-old daughter, Mikayla, in first grade, and our 3-year-old son, Isaiah, in preschool. We decided to lay down roots here and make this our home.
My former teammates reported to camp while I was arranging for movers and orchestrating junk removal. All those everyday things people deal with, that's what I was doing. I had, to a certain degree, moved on. I hadn't fully closed the door, but I was behind it—the door cracked a little bit—about to close it.
My mindset was that if an ideal situation came along, or if something very, very intriguing came along, I would consider it. But it's easy to say that until it happens, which is what occurred with Dallas.
I knew if I played this season, it would have to be for a contender. I entered the NFL wanting to be the best football player I could be, to contribute along with the guys around me, to win a lot of ball games and to win some championships. That's why I played, and that's what I was going to continue to play for. I didn't want to go to just any team to be around football and pad my bank account. I wanted to go to a team with a great quarterback, stud receivers, a good offensive line, a solid defense—all things the Cowboys have. Plus, a coach I really care for, in Bill, and a great organization with a well-respected history. They had the team to make me consider not retiring.
When Bill texted me, my wife had the same reaction as I did: "Oh boy!" You're surprised, and then it hits you: You have to make a decision, and you can't believe the timing—just two days ago you moved into a new house that's still cluttered with boxes. I called Bill the next morning, at about 8 a.m. on Tuesday. He told me about the team, about the guys who were there, about how much I would like it. As we talked, I got a little excited.
My agent went back and forth with their salary-cap guy that day, negotiating a deal. Meanwhile, my wife and I went back and forth, too, playing out different scenarios. Would she and the kids stay in New Jersey? Would they move to Dallas? We looked at the Cowboys' schedule, figuring out when I could come back—during the bye week or after the Thanksgiving Day game?—and when our daughter would be out of school. My family is back in Gary, Indiana, and my wife's family is back in Chicago, so we are our own support system, and we had to see if we could make it work.
Money wasn't a factor. It boiled down to whether I wanted to go through the grind it takes to be a consistent, productive, efficient player on Sundays. Did I really need to go do that?
You weigh all your options, and you pray about it, and you ask for guidance. But you know, sometimes you pray for something and you can't get the answer right when you want it.
Tuesday night, around midnight, we agreed to a deal with the Cowboys. Afterward, I didn't really sleep. I'd doze off, but wake up every 30 minutes or so. I just had a sick feeling, that nauseous feeling. I kept wrestling back and forth, wondering if I had made the right decision.
You look at the clock and realize that if you're going to go through with this, you're going to have to leave for the airport in a few hours. The scenario I wanted to avoid was getting to Oxnard, Calif., where the Cowboys were in camp, and thinking as I put my pads on, What the hell am I doing here? I kept asking myself if that would happen.
By 5 a.m., I still wasn't 100% sure I wouldn't have regrets about going. But I knew I wouldn't have any regrets about staying. That's when my answer turned to "no." My wife asked me the same question I'd been asking myself: "You sure about that? I don't want you to have any regrets." I told her I wouldn't.
When I went to call my agent and Bill, I had another sick feeling, sort of like being called to the principal's office. It was a nervousness in my gut that I hadn't had in a long time. Everyone had gone to sleep last night believing the Cowboys had a new guard. This was a big-boy decision, kind of going back on your word, which is something I take very seriously.
I called Bill around 8 that morning, or about 5 in California, and I told him, "I can't go through with the deal, and I wanted you to be the first person to know."
Everyday Life, but No Ordinary Thing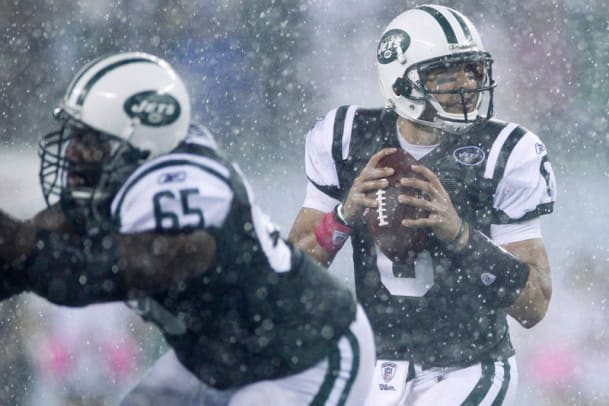 It feels disappointing to let your coach down, knowing that he would stand on the table to get them even interested in you. The Cowboys don't know who I am, besides just my name, except for maybe a personnel guy who watches film. They were going off Callahan's recommendation. And all the work that happened to get this deal done, you think about going back on that. But you also know this isn't the game you played as a kid in a pee-wee league, where your mom's cheering you and you're just happy to be out there. Other people's livelihoods are involved in your performance. I would want to give my best to Bill, to the Cowboys, to the name on the back of my jersey, and to the game—and I don't know if I would have been able to do that.
There was no dramatic scene. I didn't have my wife run up behind me as I was going through airport security, then turn around with my bag and run into her arms. You just realize you're about to go all the way across the country in a few hours, and you literally don't have any clean clothes, because we didn't have a washer and dryer in our new house yet. I had been going to the grocery store wearing Timberlands, my winter boots, because that was the easiest box to open.
Everyone had gone to sleep last night believing the Cowboys had a new guard. This was a big-boy decision, kind of going back on your word, which is something I take very seriously.
A day before, hours earlier, you were making plans for your house, plans for the future, and settling in as a retired player. It flips your world upside down. And it's not just a family thing, it's your body, too. You start envisioning Wednesday afternoon practice, and maybe needing to medicate yourself for that practice, or being in the training room and asking trainers to stretch you, and seeing the chiropractor late on Thursday night, and the massage therapist on Friday. All these things you'd have to do just to get out there to play at the level you are familiar with, and you start thinking about whether it is really worth it.
For any player considering retirement, the first thing you ask is, Can I financially do it? That's not to say you play for the money, but you have to determine if you can live with what you have, or if you'll have to transition into a career that doesn't pay as well as the NFL. In this case, money wasn't a factor. It boiled down to whether I wanted to go through the grind it takes to be a consistent, productive, efficient player on Sundays. Did I really need to go do that?
Nothing can replicate the rush of running out the tunnel in NFL stadiums, especially the way Moore did on Sept. 11, 2011.
I look at it like this: From the time I first put on pads in the seventh grade, I had the time of my life playing football. And from seventh grade through last season, I always tried to get the guy across from me and the guy next to me to respect me as a football player. I'm proud of what I've done. I don't have the championships, I don't have all the big accolades some great athletes have. But I gave it my all, I played at a high level, I grew as an athlete and as a player, and that's all you can ask. I feel comfortable with that. I have no regrets.
The past week has been weird. You get all these texts and emails and calls, people congratulating you, showing gratitude for what you've done. It's an awkward feeling. I guess it is somber in a way—though not regretful in any way—because it's the end of something you have been doing for such a long time. That part of you is over. The door is now closed.
On Wednesday night, my family went out and had a steak dinner. I got the biggest rib eye I could get. My wife told our daughter to wish me a happy retirement, and she brought a little play camera (an old camera we don't use anymore) and she took pictures.
I know I'm not going to find something else to replace the passion I have for football, something that replicates the feeling you get on Sundays running out of the tunnel. But I'm sure I'll find something I'm very competitive at, and passionate about, and find ways to get thrills out of that. I'll take my time. And I'll try to get my weight down to a normal, healthy size. I played at 305, so if I could get down to 250 and work from there, I'd feel like that would be an accomplishment.
Damien Woody, my former teammate, still lives right around the corner from me. He retired after the 2010 season, but would sometimes come to watch us practice. I'd always ask him, "Man, you don't miss it?" And with the straightest face, he'd say, "Nope." Then he'd smile. I would think to myself, This is weird. How does he not miss this? But you get to a point where you feel you've given all you can, and you move on.
I see now what he meant by that. I'm at that place, to a certain degree. I mean, I don't think I'll ever get over that feeling when you turn on the TV and some big game is on, and it's the fourth quarter, and you're watching the offensive line in the heat of the moment. You never lose that feeling of, Man, what I wouldn't give to get in that stance and run off the ball at somebody. But if I played 20 years, I don't think that would go away. My old high school coach, he's got to be about 70 years old, and I'm sure he wouldn't mind getting in that stance one more time.