London Fletcher Is Ready For What's Next
It took time, but by the end of his 16th NFL season the ironman linebacker was one of the game's most respected and admired players. Whatever his future holds, it looks to be bright
Linebacker London Fletcher is all but sure that his 16th NFL season was his last. With 215 consecutive starts, he would retire as the all-time ironman among NFL linebackers, and his 256 consecutive games played ranks fourth in league history. A veteran of St. Louis, Buffalo and Washington and a two-time Super Bowl starter for the Rams (in the SB XXXIV win over the Titans in and the SB XXXVI loss to the Patriots), Fletcher has clear ideas about the direction of the league, his plans for life after football, and his Hall of Fame status. He spoke to The MMQB's Robert Klemko after the conclusion of the season.
ROBERT KLEMKO: Are you sure you're done, or is it still 99 percent?
LONDON FLETCHER: It's still 99 percent. You have to leave that one percent out there.
RK: And you've settled on TV as a post-football career?
LF: That's my aspiration once I leave the game. I still want to be around the sport, and I think I can give some insight about the game, because I've been around it so long. I think I could provide some good analysis. I've done enough in the last four or five years to know how it goes. Coaching was a thought, and I'll never say never, but I have three young kids, so the demand and hours that would come with coaching is not what I want to do. I'm walking away from the game to spend more time with my wife and children, not to spend less time. When you become a father it just puts you in this totally different mindset. Everything you do becomes about them.
RK: Will you let your five-year-old son play football?
LF: He loves football. He's glued to the set. He plays flag now. It would be more difficult for me to keep him away just because he loves it so much. You think about the risks with head injuries, and you don't want them harmed. That comes into play. You have to make sure he's in a program where they're teaching him the fundamentals and doing things the right way from a tackling standpoint. I have confidence in that.
RK: Do you worry about CTE for yourself?
LF: With all the research that's come out, you think about that, but I don't think I'll have an issue. I've suffered a few concussions, but I've never been a big hitter with my head. Even before all the research came out, I didn't think that was smart.
London Fletcher Is Ready For What's Next
RK: Fondest football memory?
LF: The Super Bowl is the fondest memory. That's absolutely what we play for. It doesn't get any bigger than that. The thing is, I did it at such a young age, I don't think I truly appreciated it as much as I could have. I still enjoyed it and it was a great accomplishment from a team standpoint, but as I've gotten older and realized how difficult it is to get to the playoffs, I've had a greater appreciation for being able to win it.
RK: If you played next season, could you be as effective as you'd like?
LF: Yes. It's not a productivity thing, the reason I'm walking away. I know I can go out and make plays and be effective, just because I know how to prepare. It's just that I want to do other things in life.
RK: What's changed the most about the NFL over your time in the league?
LF: So many more rules have been implemented. It makes it so difficult to be a defensive player and do your job effectively. If they're going to keep lowering the hit zone, you're eventually going to have to curb the knee injuries too. It's going to end up being two-hand tag. I understand the health concerns, but it's still football.
RK: Who was the greatest motivator and the greatest football mind you ever played for?
LF: The greatest motivator was Frank Gansz, who passed in 2009. He coached special teams in St. Louis [in addition to several other teams]. That guy could get you to run through a brick wall. You would go to the special teams meeting even if you weren't on special teams, just to hear him talk. The greatest football mind was Dick LeBeau. He came to Buffalo in 2003 for one year before he went to Pittsburgh. He is far and away the greatest football mind I've ever been around, and it's not even close. There's no close second. You realize it right away, in the first three minutes of him doing the first install of a fire zone. Anybody who's been around him, played for him, spent a moment with him—you know, that's football royalty. It doesn't get any better.
RK: You were underappreciated for much of your career. Was it a motivating factor?
LF: It was one of them. It pissed me off. Even now I still get pissed off. I still don't know that people gave me my due respect for my production. It was a motivating factor for a number of years in my career. That feeling never really went away.
London Fletcher Is Ready For What's Next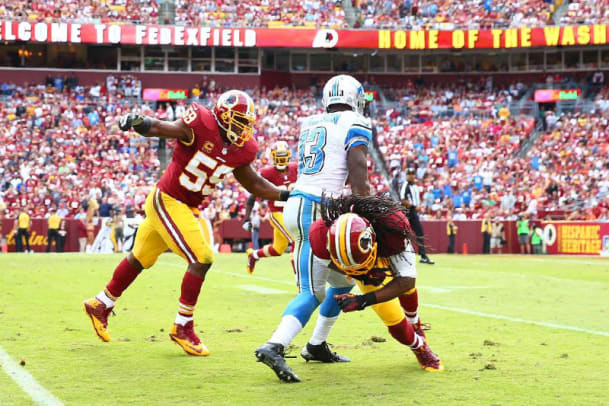 RK: Should you go to the Hall of Fame? 
LF: I think my career was Hall of Fame-worthy. I don't have a vote, but when you look at the other linebackers who were Hall of Famers, and you look at every possible measuring stick, you can't discredit me. I don't see how it's a debate, but it's hard because one of the things I've always tried to be is a humble player and a humble person. I don't want to send the wrong message. But I think when you look at the productivity, the durability, the longevity, I'm in there.
RK: Best player you ever faced?
LF: Marshall Faulk.
RK: Hardest to tackle?
LF: I don't know, man… They all fall.