An Education at the Combine
Pay attention in Indy, and the NFL knowledge comes quickly. Here's what we gleaned listening to coaches and GMs address the media, including Cleveland's plan at No. 2, the Rams' big move and why OL play is lagging
INDIANAPOLIS — Combine week may be touted as the event where the country's top draft prospects strip down and run around, but it's also a chance to hear from just about every coach and general manager in the league. Those interview sessions can devolve into monotony fast, but every once in awhile, there's a nugget or thought that can give some insight into where the league is and where it might be going. We put together a handful of the more interesting notes from this week in Indianapolis.
All eyes are on the Browns
This week, Cleveland has proved it's undeniably the most intriguing franchise in the league as we move closer to the draft, where the Browns have the second overall pick. Most coaches start their time at the podium with a short opening statement that glosses over some basic thoughts from the previous season and resets the conversation for a new league year. But Hue Jackson isn't like most coaches. His time at the podium started with a five-and-a-half-minute treatise on his first six weeks at the helm in Cleveland. Jackson went on long enough that I figured he was about to wonder whether it's nobler in the mind to suffer the slings and arrows of outrageous fortune.
He never quite got there, but Jackson did spent a significant chunk of his introduction laying out his vision for the communication between Cleveland's coaching staff and its fascinating new structure on the personnel side. The Browns have the league's most interesting collection of personalities in that realm. Sashi Brown, Cleveland's executive VP of football operations who spoke to reporters Thursday, is a 39-year-old, Harvard-educated lawyer who is going from managing the Browns' cap to having final say on player matters. Andrew Berry, who both Jackson and Brown mentioned by name, was hired as the team's vice president of personnel; Barry is 28 years old. He spent four years as the Colts' pro scouting coordinator and, oh yeah, also went to Harvard. Then there's Paul DePodesta, of Moneyball fame and most recently of the New York Mets, making his foray into professional football. You can probably guess where he went to school.
• A CHANGE OF UNDERWEAR (OLYMPICS): The NFL is considering altering the combine, and Robert Klemko found opinions divided on the topic
"I knew that those guys were very bright and very strategic thinkers, but on top of that, when you look at the group they're also about using every resource that we have at our disposal to make better decisions for our football team," Jackson said about the trio. He followed up the effusive praise by espousing the collective experience among the Browns' scouting staff, which isn't surprising. The concern about Cleveland's offbeat approach was that it lacked traditional talent evaluators, but both Jackson and Brown went out of their way to mention the seasoned group designed to inform and bolster Berry as he starts the job.
Part of the attention paid to this group comes from just how critical this draft is going to be for the Browns. Cleveland is desperate for a quarterback, and with the Marcus Mariota-led Titans the only team picking in front of them, the Browns will have their pick of guys, barring a trade. Both Jared Goff and Carson Wentz predictably fielded questions about their interest in playing for the Browns, and shockingly, each said he would be happy to play there. With Johnny Manziel likely out—"I think his future on our team will be addressed here pretty soon," Jackson said Wednesday—the Browns will be looking for their future at quarterback, and that means that in their first season together this group is about two months away from the decision that could define their entire tenure in a city starving for a winner.
* * *
A sign of the times in L.A.
After the Rams released James Laurinaitis last week, a void was left in the middle of their defense for both a Mike linebacker and defensive signal caller. Enter Alec Ogletree, who went down in October with a broken ankle but will be back at full speed in Los Angeles this fall. Jeff Fisher confirmed Wednesday that Ogletree is the Rams' new middle linebacker, but on top of that, he also gave some insight into what his team is thinking schematically as it heads into 2016. "I'm confident that Alec can do it," Fisher said. "Alec is going to get people lined up. He's going to call the plays. He's a really smart player. So the question is, and our challenge now, is be it Mark Barron or whoever else is going to get behind the ball next to Alec, I'm hoping it's Mark and those few snaps a game when you've got to play with three behind the ball, we'll figure out who that last one is."
• WHAT I LEARN AT THE COMBINE: For film analyst, Indy event provides more than just a look at the prospects
Barron is a free agent who the Rams are hoping to retain, but he's also a 215-pound former safety who general manager Les Snead traded for in the middle of last season. By going with Ogletree and Barron in the middle of their defense, the Rams are following a similar philosophy to the one the Cardinals have deployed with former first-round pick Deone Bucannon. In today's pass-happy NFL, speed is king. The days of the downhill, thumper linebacker are all but over, to the point that Fisher is willing to concede that the Rams will spend most of the time with about one and a half actual linebackers on the field.
If they can secure that duo, the back seven of the Los Angeles defense starts to get pretty scary. Both Trumaine Johnson and Janoris Jenkins are set to be free agents, but as of right now, the Rams have about $58.3 million in cap room with which to work. Even if they can't bring back both, 2014 rookie standout E.J. Gaines will be back after missing most of last year with an injury. With some combination of those three, safety T.J. McDonald, and the versatile Lamarcus Joyner, the Rams have a chance to have a slightly less talented, slightly less versatile version of the secondary that made the Cardinals' so dynamic in the secondary a season ago. Add that to a pass rush led by Robert Quinn and Aaron Donald, and it's enough to make a quarterback cry.
* * *
QB insights are never-ending at the combine 
Every year, these interviews invariably produce a handful of nuggets related to quarterback selection and development that shine a light on how specific teams and coaches think about the position at large. Bruce Arians got several questions about how to groom a young quarterback, and just about every bit of the answer was worth noting.
Arians said that in evaluating quarterbacks, he tends to focus less on the arm strength, mechanics and several other factors that scouts and experts tend to obsess over this time of year. "To me, the quarterback position is just about one thing: that's processing information really fast," Arians says. "If you can process it, I don't care how weak your arm is or how strong your arm is, you'll get the ball to the receiver at the right spot, the right time. If you can't process the information and you're going to wait to see him open, you're going to throw a lot of interceptions."
• THE NFL COMBINE AND YOU: Robert Mays examines five themes that arise every year and how they apply to the 2016 draft class
Measuring just how adept a prospect is at processing that information starts this week at the combine, when the interview sessions are open season for coaches to pick a player's brain about the specific situations in a game where the choices happen quickly. "Even in these 15-minute interviews, I want them to get up and give me their two-minute offense, every call," Arians says. "Run me down the field in a drive in your two-minute drill. I can figure out a little bit of what he knows about his offense. Then in a longer interview you put him on the ball and give me your favorite play, third and 5, the game's on the line. What coverage you're anticipating, things that are totally relevant to just that one position. Hopefully that gives you enough information, if you do that enough times, that the guy's smart enough to play."
Quarterback evaluation is especially relevant to the Rams this year, but when Les Snead was asked about how aggressively he'd be pursuing one this offseason, he gave a somewhat surprising answer. Snead explained that the Rams had looked into the records for every quarterback since 2012 that had started at least 45 games and analyzed their winning percentage based on the amount of points that quarterback's team allowed. Of the 21 quarterbacks, only one had a winning record if his team allowed 25 or more points. If the team allowed less than 17 points, all 21 had winning records.
It was a numbers-heavy way of explaining that although everyone spends this stretch of the calendar harping on how quarterback is the most important position in the league, it's only one piece when it comes to team-building. It also seemed like a way to explain why the Rams were comfortable sticking with Case Keenum as they head to L.A. "To sum it all up, when Case Keenum came in he went 3-1 down the stretch, so he stabilized us," Snead said. "We had gone on a five-game losing streak and he goes 3-1 down the stretch. That's a start there. We do like what Case brought to the table. That's why we traded for him last year, to bring him back, and he helped stabilize the position. So my answer, it's not just one variable to win in this league. There's a lot. The QB is important, but there is a lot of other things that are important, too."
* * *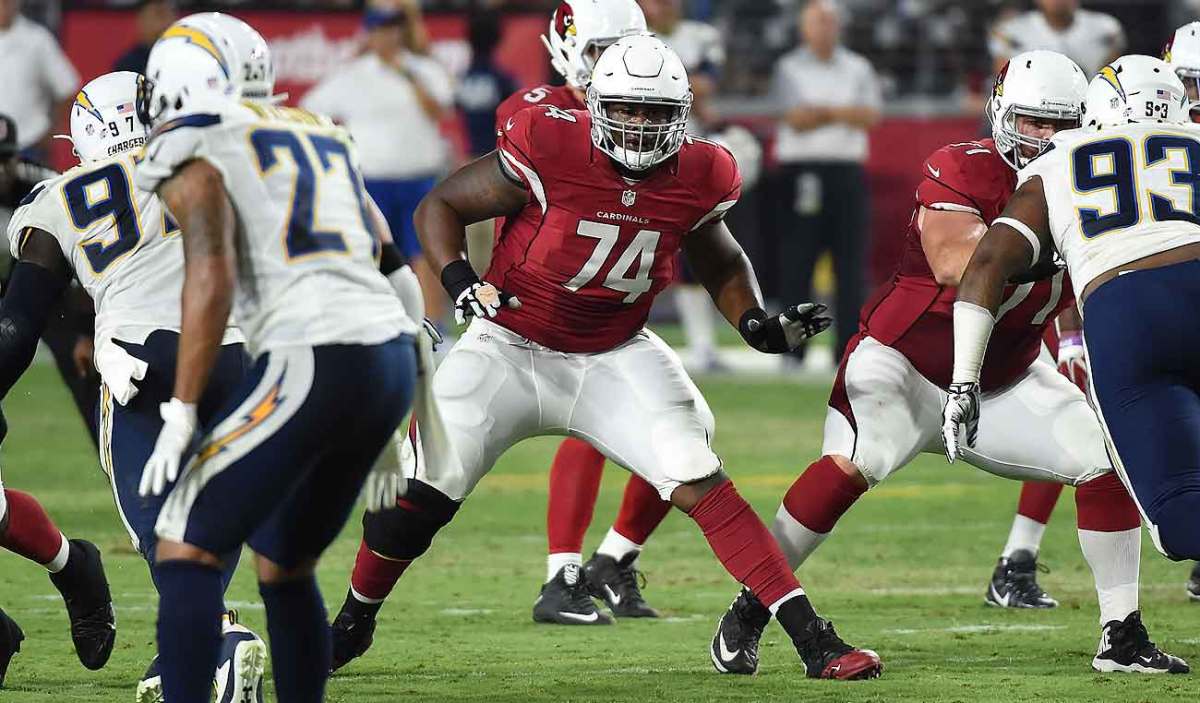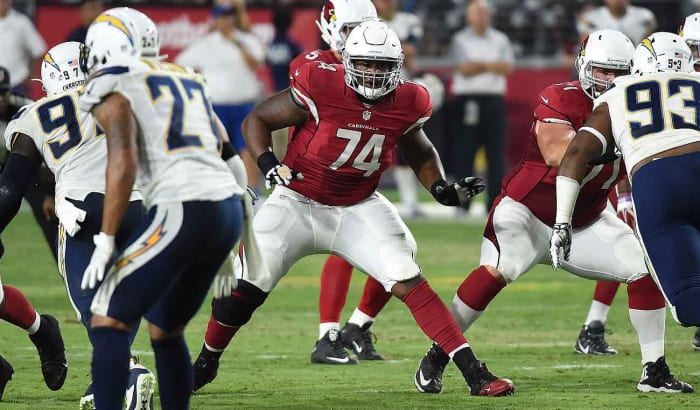 Offensive line play just isn't what it used to be
A common theme the past two days was the troubling trend that young offensive linemen just aren't NFL-ready as they leave school. The proliferation of spread offenses has made the gap between pro and college football wider than it's ever been when it comes to fundamentals, and NFL coaches have to deal with it at every turn.
"The hardest thing, so many of those guys never get in a three-point stance," Bruce Arians said. "You're drafting a guy right now coming out of some colleges that haven't been in a three-point stance since high school, and you're going to pay him a ton of money. You have to teach him to get in a three-point stance and run block. It's fundamentals that we're going back now and have to teach. We never had to teach it before. Great athletes. The athletes are much, much better, but the fundamentals are worse than they've ever been."
• EVEN IN THE DRAFT, THERE'S NO SAFE WAY TO TACKLE: Peter King examines the inconsistent history of drafting offensive linemen in top 10
Arizona took Florida tackle D.J. Humphries in the first round last season, but when Humphries sat behind right tackle Bobby Massie all season, it wasn't a disappointment. It was the expectation. "We drafted D.J. last year knowing we were going to redshirt him because we had so much to teach him," general manager Steve Keim said. "If he threw him out there, he was going to fail. Once they fail, it's hard to get those scars off. He didn't dress a game purposefully just to get better and better."
The observation about Humphries came only a couple questions after Keim laid out some of the concerns with going after big-money players in free agency, namely that there's reason to be worried why a player is hitting the market at all. Where the Cardinals have been willing to spend in recent years is along the offensive line, and in a way, that willingness and the struggles most teams are seeing throughout the league are intertwined. The level of offensive line play is so poor that being able to sign a known commodity, even if it's one with a limited ceiling, can be safer than wading into the unknown with linemen in the draft. Jared Veldheer may not be a top-5 NFL left tackle, but he's a more than capable one. The dearth of offensive line talent, in a way, has mirrored the one with quarterbacks. With players like Von Miller attacking, having a reliable option on the edge is more crucial than ever. And several teams are going to be facing that type of decision as free agency nears, with players like Mitchell Schwartz and Kelvin Beachum set to hit the market.  
• Question or comment? Email us at talkback@themmqb.com.