Calais Campbell: 'The World Doesn't See Jacksonville the Way I Do'
The veteran defensive end had a chance to go home and play alongside Von Miller in Denver. But Campbell also sees a Super Bowl future with the up-and-coming Jaguars—and a chance to leave his own mark
Last Friday, former Arizona Cardinals defensive lineman Calais Campbell inked a four-year deal with the Jaguars worth $60 million, joining fellow top-tier free agents Barry Church and A.J. Bouye on what is shaping up to be a formidable defense in Jacksonville. The Jags were able to hold off a late push from Campbell's hometown Broncos, pairing the two-time Pro Bowler with former Denver defensive lineman Malik Jackson. Campbell spoke with The MMQB to discuss the decision, his continuing commitment to the Phoenix community, and his hopes for the Jaguars.
KLEMKO: You were franchise-tagged before you re-signed in Arizona, in 2012, so you haven't been on the "open market" since you were a high school kid in Denver. What was the biggest difference this time around?
CAMPBELL: In high school you have time. There's not a lot of time to figure out where you want to go in the NFL. You try to research everywhere, and then you've got three or four teams coming at you, and you literally have a day to research the cities. And then your price goes up, but you don't know who's going to stick around. You have to make a quick decision.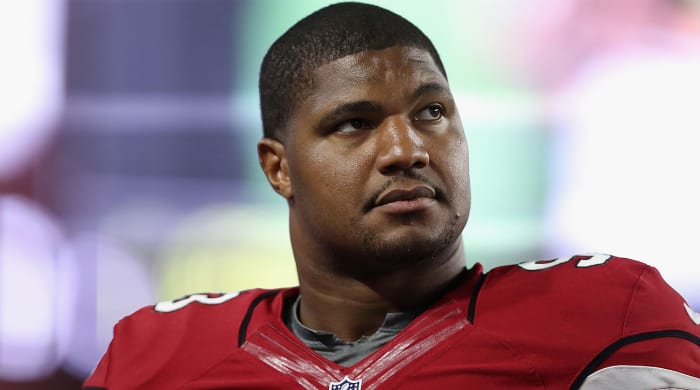 KLEMKO: What distinguished Jacksonville in your mind?
CAMPBELL: Young talent. I looked at the roster and said, Oh, wow, this is a team that could really use a guy like me; an older vet who's been to the playoffs, been to the Super Bowl. I really liked [executive vice president] Tom Coughlin. I've always respected him from playing against his team over the years. I like the way he carries himself. His organization has always been top-notch and guys that play for him always say good things about him. Then you look at what they did in free agency and I think it shows they're committed to winning. Great draft classes the last couple years, so you feel like the GM [Dave Caldwell] has the team headed in the right direction. They sign Barry Church, A.J. Bouye—big-time pickups. They're doing whatever it takes to win and I want to be a part of that.
• A FREE AGENCY FREE-FOR-ALL: In Monday Morning QB, Peter King examines the first frenzied days of signings, trades and much more
KLEMKO: What was Coughlin's pitch to you?
CAMPBELL: I actually didn't talk to him until after I already signed. But I didn't need to have a conversation with him because his résumé speaks for itself. It's automatic. He's a future Hall of Famer, so no conversation was needed. I did tell my agent to ask how they were going to use me. I know they're an attack defense and I like that a lot. Being able to play one gap and own it and make a play.
KLEMKO: Did you get a chance to talk to Doug Marrone?
CAMPBELL: Afterwards. After I signed I talked to everybody. But before I signed I didn't talk to anybody. I had talked to guys who played for them. I feel like that's the way to do it. The one person that has given me good advice over the years is my [Cardinals] D-Line coach, Brentson Buckner. He gave me a lot of advice over the last couple months concerning schemes and coaching staffs and how they use players.
KLEMKO: How tempting was it to go play for the Broncos, in your hometown, where they feel like they're one or two players away from another Super Bowl?
CAMPBELL: Playing with Von Miller was a big temptation. He's going to be a first-ballot Hall of Famer. Playing next to a guy like that is a positive, because you feed off a guy like that. That would have been cool. Also, being home would have been a good situation. But you look at the division the Jaguars are in, the AFC South, and the players they're bringing in, and I felt like it could be an opportunity to go out there and leave my mark on a young team. I didn't want to go to Denver and just be one of the guys, which is cool. But I knew in Jacksonville I could add a lot more value.
• TEN THOUGHTS ON FREE AGENCY: Andrew Brandt on the Moneyball trade, the Romo situation, the D.C. mess and much more
KLEMKO: Chris Harris and a couple other guys tweeted out some criticism after your decision, suggesting you didn't want to win a Super Bowl. Did you see that?
CAMPBELL: I did. Everybody's got their own opinion. I feel like the rest of the world doesn't see Jacksonville the way I do. I think Jacksonville's close. They lose 10 games last year by one score. I know how it goes with one-score games. We're 13-3 in Arizona a year ago and won all those close games. Jacksonville is right there. We just have to find a way to win those games. They had the sixth overall defense last year and improved. Now we can get tighter, get some turnovers, and it's a whole different ballgame.
KLEMKO: Why couldn't Arizona get over the hump?
CAMPBELL: I don't know what it was. One play here, one play there, it makes a huge difference. We were in every ballgame but we just didn't make the plays in critical situations.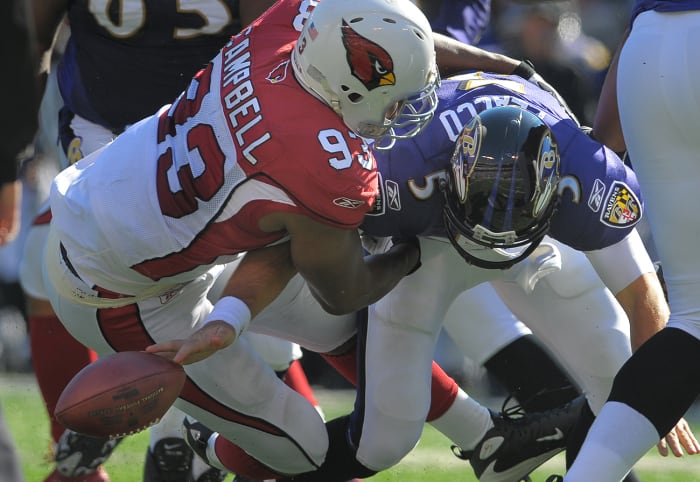 KLEMKO: You go from a 3-4 in Arizona to a 4-3 in Jacksonville. I know those lines have blurred a lot over the years, but do you anticipate a learning curve?
CAMPBELL: For me, I feel like I can play in any scheme. I was a college 4-3 rusher. I got to NFL and I was a 5-technique mostly, then after a while they realized I could play well inside as well. It's all based off what the offense does. Teams knew they couldn't run the ball against us when we were in a big front, with me playing outside, so they'd go to 11 personnel and try to run the ball, so I'd go inside to play D-tackle. To me, as long as I have a job to do, I'm gonna do it the best way I know how to. But there is an adjustment period going outside to inside … going back outside? Easier adjustment.
KLEMKO: You won the Walter Payton Man of the Year Award twice with the Cardinals for your extensive charity work. Is it tough to walk away from the community in that sense?
CAMPBELL: I don't plan on leaving the community. I plan on continuing to work with the kids I've gotten to know and try to help. I think it's important to keep that going. I wish I could come every day, but it's impossible. But I'll be able to keep a consistent presence in the offseason. I think the only thing we won't be able to do is see the kids on the holidays. I'll continue to donate and be dedicated to that community.
• THE 10 THINGS PODCAST: Gary Gramling and Andy Benoit on all the moves and deals of the free-agent period
KLEMKO: Do you recall when the Eagles signed some of the best free agents, and Vince Young called it a "Dream Team"?
CAMPBELL: [Laughs] Yes, yes I do.
KLEMKO: How does a team go from winning free agency and making a big splash in the spring to winning games in the fall?
CAMPBELL: To be a winner in the NFL, it's about the way you prepare, the way you work. There's a formula to it and it's not hard; you're going to lose games, but can you win the close games? Most of your season is made up of games that could go either way. That's where you have to be prepared for any situation, and you have to execute. I don't think it's a mistake that the same teams always win. They have a belief that no matter what happens in a game, they're not out of it. And they know not to relax when they're winning. Couch Coughlin knows how to win. Coach Marrone has the right mind-set, and he's someone I'm excited to play for. This team is so young, you can teach them how to win.
• Question? Comment? Story idea? Let us know at talkback@themmqb.com