Bonnie Bernstein Fires Back
The former NFL sideline reporter for CBS was criticized for her tweets about Tony Romo replacing Phil Simms as the network's No. 1 analyst. Here she lays out all the challenges of a job that can overwhelm even the most seasoned pros  
Bonnie Bernstein was the sideline reporter for CBS's top NFL broadcast crew for eight years. When she found out that Tony Romo, without any TV experience, would replace Phil Simms as the network's No. 1 analyst, she took to Twitter to, as she puts it, come "to the defense of people who are in the industry already, and working really hard toward even being giving the opportunity to have a position like that." The MMQB spoke with Bernstein about the ins and outs of working on the coveted No. 1 crew, the tough transition ahead for Romo, and several new projects she's working on away from the cameras.
KAHLER: You have a wealth of experience in network broadcasting, including eight years on CBS's No. 1 crew with Phil Simms and Jim Nantz. How difficult is the job Romo will embark on? What goes into each play?
BERNSTEIN: Honestly, I think a lot of people assume that as long you have this encyclopedic football knowledge you are good to go, right? It's so much more complex. As an analyst in a two-man booth, you have to take every single play you see, be able to process the All-22, decide what to dissect on-air for the audience, and then, without stepping on your play-by-play guy, you have to provide perspective. Is that personnel package working? What was wrong with that defensive back's technique covering the back shoulder fade? And be able to provide perspective on a player's history. Whatever the context of the moment requires. You have one shot to get it right and 15 seconds to do it—and if the offense is running hurry-up, you have even less time. You have all of this information at your fingertips, what you're seeing, all of the insights gathered from players and coaches during our production meeting. So, on Fridays when we get there, we meet with the home team head coach and coordinators and star players. You have all of this insight that you gather from the production meeting; essentially you are trying to flawlessly and cohesively stuff 50 pounds of information into a two-pound bag. Ask anybody who has tried it, and easy is the last adjective they will use.
KAHLER: Do you think Romo will face an even harder transition because he will be on a two-man crew instead of a three man crew?
BERNSTEIN: It's funny because a lot of people countered my point with, well, Phil [Simms] had no experience and he started on the 'A' crew for NBC, Jon Gruden had no experience and his first gig was on Monday Night Football. First of all, Phil did studio work for ESPN. He did get some live reps, albeit in a different setting. Each of those guys, and even Troy [Aikman] really, when he started out with Dick Stockton and Daryl Johnson on the 'B' crew, they were all in a three-man booth. Phil was with Dick Enberg and Paul Maguire, and Gruden was with Jaws [Ron Jaworksi]. The luxury there is that the new guy has the freedom to interject where he is most comfortable without having to carry the entire load. It really gives him the path to ease his way into taking on more responsibility while still learning on the job.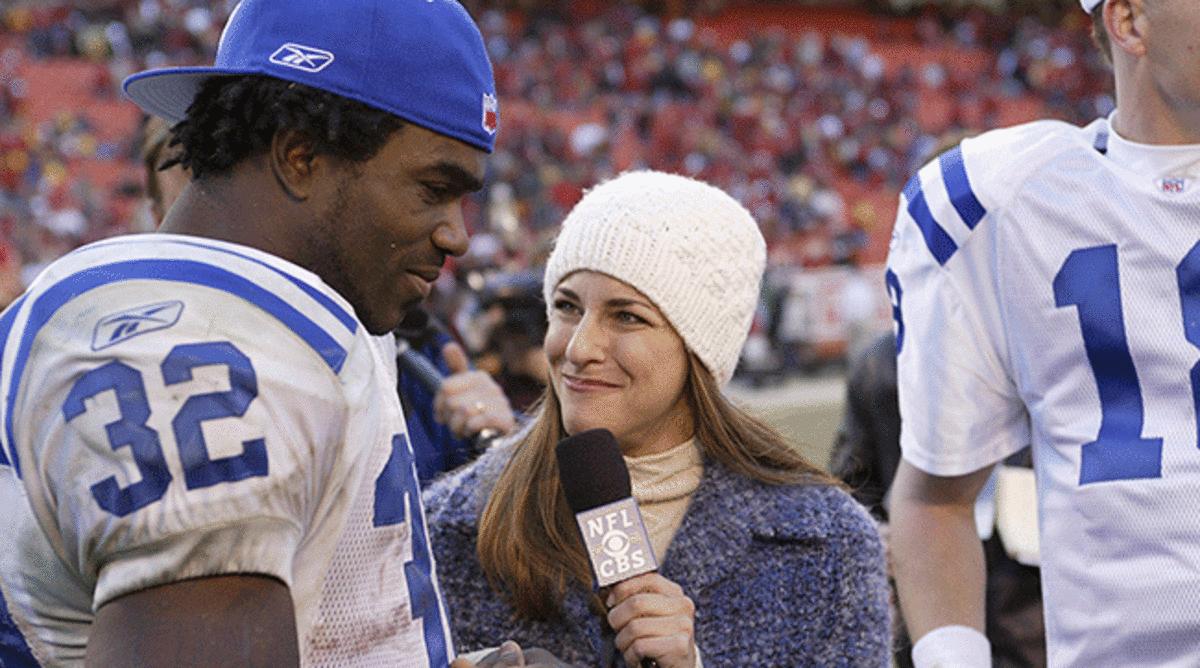 KAHLER: NFL television ratings were down across the board this past season. Do you think the decision to replace Simms with Romo was motivated by ratings? As a veteran network broadcaster, why do you think CBS put Romo in this spot?
BERNSTEIN: It was really no secret, I think all of the networks were interested in bringing in who many feel to be a Hall of Fame quarterback, on one of the teams that truly does have a national base. The Cowboys are called America's Team for a reason. I just want to reiterate, my tweet had nothing to do with Tony. I like Tony, and as a fan of his, I hope he is great. Ultimately, it was a nod of respect to the prestige of the position. Being a TV network's top analyst is like reaching Mount Olympus for an NFL color guy. There are four of those positions in existence, right? Four. While this isn't quantum physics, it is a really difficult job with a lot of responsibility and a lot of pressure and more than anything, I was just sticking up for all of the really talented former players and coaches I know, who have been busting their tails and would give anything for that gig. I tried to make that clear, but there is only so much you can do with 140 characters. My interactions with Tony have been great. The fact of the matter is, there is no better person to help ease Tony's transition than Jim [Nantz]. He is the best in the business and of course CBS is going to provide Tony with every tool possible to get ready . . . If you watch, you'll notice how much responsibility analysts have. There are replays after nearly every play, highlight packages, and as many specialty elements as they can jam in. This is all going on while you have a producer talking in your ear, so you can be the smartest, most articulate, charismatic guy out there, but there is no substitute for reps and experience. It's really not unlike football, it just takes awhile for the job to become instinctual. Tony is obviously very articulate on camera, he has an incredible story of being an undrafted free agent, and I'm sure he will unpack this new opportunity with the tenacity he did with football. Again, this is no slight against him at all. It's just that, being in this industry for 20 years, and having eight years worth of play-by-play guys and color guys in my ear, I know it is not something you can snap your fingers and do to perfection. It's not unreasonable for one of the most high-profile quarterbacks in the country to be highly coveted by a broadcast network.
• WHY ROMO LEFT FOOTBALL: Albert Breer on how a soft market left the star quarterback asking himself— is it worth it?
KAHLER: What kind of responses did you get from people who disagreed with your opinion?
BERNSTEIN: Oh, I got everything: You're jealous, what are you talking about?You only got your job because of your looks… typical troll stuff. You're a Romo-hater. I don't think anybody should expect people to be fact-checking before they respond, but the fact of the matter is that Phil [Simms] did not go straight to the No. 1 analyst position and Troy Aikman did not go straight to the No. 1 analyst position, and Jon Gruden had another guy in the booth, Ron Jaworski, who helped him acclimate and took a lot of the load off. One thing you know when you tweet an opinion, is that 100 percent of the people who see that tweet are not going to be on board. I enjoy the debate and discussion. As long as there is healthy conversation out there, I am happy to have it any time of the day.
KAHLER: Will this decision set a precedent? What is the future impact?
BERNSTEIN: Make no mistake, this is not the first time that a player has gone straight from the field to a broadcast position. We see plenty of athletes retire or do stuff in the offseason or even on their off day, but when you are in a studio setting and sitting on a panel or you're just doing a five-minute segment, while they are valuable live reps, you can't compare that to having to be on your game for three to four hours. Again, there are four of these positions at TV networks, so it's really not for me to say if this is precedent setting. I hope that Tony crushes it and if he does, that's fantastic and I will be the first one to applaud him. Again, being in this industry for 20 years, I know how hard it is. I know how hard it is to get a job and how hard it is to keep a job—and there are so many talented former coaches out there who have worked really hard to hone that skillset for an opportunity like what has been given to Tony Romo. If people fault me for defending those people, I'm OK with that.
KAHLER: Your opinion got a lot of attention and various headlines like: 'Total Crap' Bernstein Slams CBS Replacing Simms with Romo. How does the immediate reaction illustrate how the media business has changed?
BERNSTEIN: From that perspective, it's a headline writer's job to write something with fizzle, that's why headline writers are really good at what they do. If you are going out on a limb and putting an opinion out there, you have to realize that people will take what they choose and interpret the way they wish. All I could have done is express my thoughts in as clear of a way as possible. I also can't expect that every person who saw the initial tweet is going to my timeline and read all four of them. But that's OK, I really felt like I was coming to the defense of people who are in the industry already, and working really hard toward even being giving the opportunity to have a position like that.
KAHLER: When you left CBS in 2006, did you part on good terms with Simms and Nantz?
BERNSTEIN: Jim [Nantz] is like a big brother to me. Phil [Simms] and I both would fly out of Newark and we would sit next to each other sometimes on the flight, and we'd do crossword puzzles. I actually miss those times. He would bring the People magazine. One of the things I enjoyed most about doing sidelines was sitting in a film room with Phil and just watching the excessive amount preparation that he did. Sideline really created an incredible platform for me, but during my eighth season at CBS, I lost my best childhood friend to cancer and it brought into focus for me how important it is to seize every day as an opportunity to grow. I made a difficult decision in the middle of a four-year contract to depart. Just a few months after I returned to ESPN, I wound up suffering my own health scare and it threw my world into a tailspin and blood clots forced me to cut back on my travel schedule. Ultimately I started doing a ton of studio work for ESPN. I got to build and host my own NFL radio show for ESPN Radio New York, and I realized there are all of these other amazing areas of the industry to explore. Four years ago, I got the opportunity to work for a startup digital network called Campus Insiders, and it's not just on-air but also behind the scenes. It has unquestionably been the most rewarding career move I have ever made. Having the ability to learn about all the different stuff in the business from distribution strategy, to sales and marketing, to creating partnerships, I've had a chance to develop all these new skillsets and a profound appreciation for everything that goes into building a network. That's what I have been doing the last four years. I just launched my production company called, Walk Swiftly Productions, and I have a few projects in the pipeline, including a project for Sports Illustrated. I always hope on-air work will be part of my portfolio but being able to take something from concept to market, it provides as close of an adrenaline rush as I had during my years as a competitive gymnast. It really is the best feeling in the world.
KAHLER: What are some projects you are currently working on with your new production company?
BERNSTEIN: I'm developing an eSports gaming docuseries. You would be amazed at all of the parallels you can draw between traditional athletes and gamers. Those of us who have grown up playing traditional sports might scoff at that, but they watch film, they have strategy sessions, they practice insane hours, injuries can be debilitating and career-threatening. Imagine sitting at your computer and banging away for two hours, and how if you develop carpal tunnel or a wrist injury, you can't function. They have sports psychologists, they have nutritionists, they have to workout. I think people assume they down energy drinks and chips all day, but if you think about how you have to be alert in front of your computer, and making all of these quick decisions in a game and you are responsible for four other teammates, you have to energy, and nutrition plays a huge part of that. There is all sorts of fascinating research that points to gaming leading to better eye hand coordination, better decision making, better strategic processing, reduce the risk of Alzheimer's and early onset dementia. It's not part of our traditional world, but if you look at the global growth of gaming, it is not going away.
The Grand Finals of League of Legends drew more viewers than every other major sporting championship except the Super Bowl. More than Game 7 of Cavs/Warriors, the final game of the World Series, the Stanley Cup final, the Masters, all of them. They have scholarships for collegiate gamers now, 20-some odd schools that offer scholarships in athletics. What's interesting about it is that, because collegiate gaming doesn't fall under the purview of NCAA they are eligible to win prize money from tournaments. You can brand the living daylights out of them. For the last several years, front and center has been the argument of whether athletes should be paid for their name and likeness. So the NCAA, you've got to wonder if they are looking at the current model of collegiate gaming and saying, Well, this is something we are going to have to deal with at some point.
Question? Comment? Story idea? Let us know at talkback@themmqb.com