Analytics and the NFL: Finding Strength in Numbers
How number crunching has worked its way into NFL decision making at all levels. And how, with some of football's greatest minds, it has always been that way, even if they didn't know it
Paraag Marathe arrived in San Francisco with a very clear directive from the 49ers, to reimagine the Jimmy Johnson draft chart. And after a couple months work, the senior associate from the Boston consulting firm Bain readied to show team president Bill Walsh and GM Terry Donahue his findings, in disbelief at the results being spit back at him.
It was uncanny.
"I tried to use historical trends and true value," says Marathe, now the Niners' chief strategy officer and EVP of football operations​. "And it wasn't like Coach Walsh was telling me, 'Hey, a third rounder has more value than it says here, and a second rounder has lower value.' It was meant to be totally independent. And once I was finished, I looked at all of Coach Walsh's trades over the years. And it was a total match with all of Coach Walsh's trades."
All that work, and all that was proven was what some guy on his couch down the street in Santa Clara could've told them: Walsh was a savant.
That was 2001. Moneyball—the best-selling book based on the baseball team across the Bay from the Niners, which would shed light on the coming numbers craze—was still two years from release. The idea of using advanced statistics to drive decision-making in baseball was still in a nascent stage, at least publicly. And that, of course, implies the truth about the NFL then, which is that few in football had even given that concept a thought.
It's a different time now. Analytics in the NFL have moved well beyond the point where a team hiring a consulting firm to run numbers constitutes outside-the-box thinking. Yet, there remains resistance, a battleground of thought, and a general cloudiness on how far you can take numbers, and how far numbers can take you.
And just the same as 16 years ago, you can place a genius in the center of it.
Perception holds that the Patriots are among the league's most progressive teams, but there's precious little evidence of their investment. They have people who are responsible for advanced statistics, but coaches and scouts are largely charged with integrating data gathered into their work. The "analytics guy" there is 64-year-old Ernie Adams, a former Wall Street trader and prep school buddy of Bill Belichick's.
So why are people so convinced that the five-time champions are knee-deep in the numbers? As one informed long-time NFL exec explains it, "It's because they're completely consistent with what sophisticated analytics would tell you to do."
"[Belichick] does it with intuition," says one AFC executive. "You know because you've been coaching for so long, how you match these 11 guys against those 11 guys. It all makes sense to you. At some point, maybe we can all come to those conclusions without having Bill Belichick's brain. We're still a long way from that."
The NFL is getting closer. The MMQB spent a month discussing analytics with more than 40 team officials from across the league—coaches, executives, scouts and analytics people—and there are some hard conclusions that can be made on where the league is.
1. Most teams don't shy away from analytics. In fact, more than one official was offended by the notion that their team would be called "old school". When it comes to player acquisition (which is what Moneyball was based on), the average NFL team is using the data. It's just that it is being used to generate boundaries rather than drive decisions. Teams want to know when they're making exceptions on one player, and they want to know what they might be missing on another they may have otherwise dismissed.
2. On the coaching side, analytics are generally used to make staffs more efficient. There may only be time for quality-control coaches to break down four or five of an opponent's games in the week they have leading into a particular game. And that, in the past, would lead to guesswork on tendencies and strengths and weaknesses. The data allows the quality-control guys, and staffs, to crosscheck against larger sample sizes.
3. The limits in those two areas are the number of games (16) and the variance in players' assignments and situations that affect plays. That makes it more difficult to collect the amount of data necessary to make hard decisions.
4. Conversely, the value of the data in those areas is proven in that nearly the entire NFL has subscribed to Stats LLC and/or Pro Football Focus, and some rely on smaller services, like Pro Scout Inc., which is run by 64-year-old former Utah coach Mike Giddings.
5. There aren't sure marks of analytics-friendly operations on game days (as there is in basketball, with teams that go for the "two-for-one" possession at the end of the quarter or half). But on the personnel side, you can see it in asset management, with teams that trade down in the draft to pad their margin for error, and use cap space creatively.
6. There is one strong consensus league-wide: Analytics data related to injury prevention, which straddles sports science and comes through player tracking, is useful and will only get better. The NFL is just scratching the surface with this technology, and the floodgates will truly open only when the league makes available all the Zebra data it's been collecting. Another step here that's expected to come eventually is in profiling the minds of players.
7. The Walsh/Belichick robot is not on the market. Yet.
• SMARTER FOOTBALL WEEK: A series examining the cerebral side of the sport, including technology, analytics, how a brainy linebacker prepares and just what goes into a typical NFL play.
* * *
The cliché is still going strong. On one side you have the gym teacher with the whistle around his neck, on the other it's the dweeb with the taped glasses, pocket protector, and stacks of hard-to-decipher numbers and data. And, if you believe the cliché, it continues that football's tough-guy culture has made it slower to change than other sports.
The truth is more complicated. Part of the problem with finding analytics' place in football is the term itself. Often, the perceived hesitancy to embrace quantitative analysis in the NFL is due to the fact that what is often referred to as "analytics" was already a huge part of the game. It just didn't have that name.
The game itself is rooted in tactics and strategy and details, and so the study of those has always been inherent in the coaching of the sport and building of its teams.
"I think most of the stuff we've done for a long time," says one NFC general manager. "[Analytics] is the buzzword. That's how everyone clumps it together now. Like, until five years ago, I'd never heard combine data called 'analytics.' But now, someone smart can make it look pretty—analytics. To me, analytics is the Pro Football Focus numbers, finding a way to put a numeric grade on every play and quantify it.
"No one has enough people on staff to do all of that. A lot of it is just statistics, and then what the smart computer guys can make it tell you."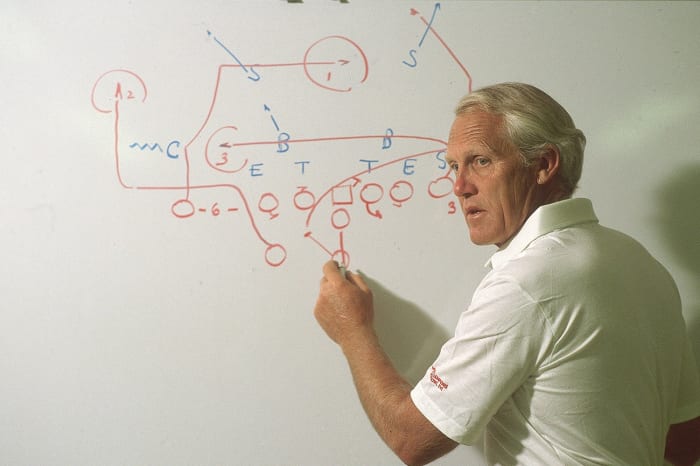 There's a lot of gray to cut through. Quality control coaches have forever done what are now considered game-week analytics—identifying opponents' tendencies, finding trends, and setting up their bosses to game plan. On the personnel side, scouting assistants have, likewise, undertaken analytical studies for decades to uncover advantages and inefficiencies in the draft and free agency.
"Up until 15 years ago, football was probably the furthest along of any of the sports as far as studying the game itself," says an analytics manager for one AFC team. "It just wasn't guys from fancy schools doing regression. But there was real systematic study of the game. And frankly, basketball and baseball only started doing the kind of film study that football has done forever just recently."
So here's where you start: The reason there isn't an NFL team ignoring analytics is because analytics has been done in football since Paul Brown came along.