CFL Takes Leadership Position in Football Safety
The Canadian Football league is limiting full-contact practices in a big way through the end of 2018. CFL commissioner Randy Ambrosie explains the decision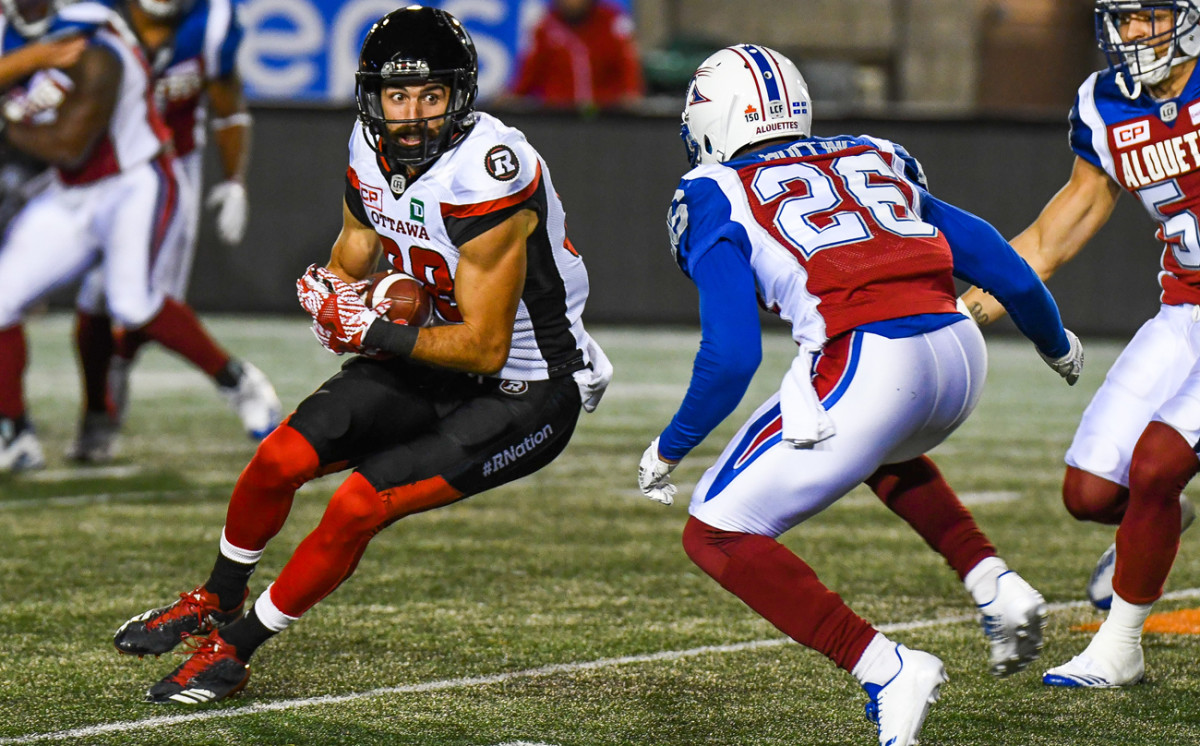 The Canadian Football League has told its nine franchises that, except for training camp in 2018, full-contact practices will be banned through the end of the 2018 season. Players can wear helmets in practice, but no shoulder pads, and tackling in practice will not be allowed. I talked to the CFL commissioner, former offensive lineman Randy Ambrosie, on Friday about how it came about.
MMQB: How'd you make this happen, especially in-season like this?
Ambrosie: It's what I can only describe as a magnificent display of partnership between us and the players union. It will give our players more time to recuperate, and stay on the field. There was another part of this, going from [18 games in] 20 weeks to 21 weeks. Because of our nine-team structure, because not all of our teams have access to their facilities at all times, we have had some tight turnarounds on our games. We have now gone to a 21-week schedule, staying at 18 games. It dramatically improves the time players will have to rest and recuperate. One example this year was Ottawa. The Redblacks had three games in 11 days [a Friday-Wednesday-Monday schedule.] That is just way too much football is too tight a time. There is something magnificent and elegant about simplicity. We wanted to do something fairly immediate and avoid the confusion of tackling too many issues at once. It is going to challenge our coaches, who I believe are world-class. It's going to be different. Coaches begin to wean themselves off padded practices later in the season anyway. We know coaches can go with less, because we've seen that in football now anyway. Coaches will adapt. They will find new training techniques.
MMQB: Have you gotten any pushback from football people over the decision?
Ambrosie: I have not had one of those calls at all. We had our [CFL] Hall of Fame inductions last night, and I spoke to a couple of our coaches. They were positive and polite and constructive. I am aware this may have cost me one or two Thanksgiving dinner invitations, but the reaction has been almost entirely positive. It was a quick decision, and some would argue too quick. But when you're on the doorstep of doing the right thing, quick is good.
Challenging 2016 Behind Him, Mike Zimmer Wants to Make Good on an Old Promise
MMQB: How much are you concerned about the future of football, with all the issues of head trauma and CTE that have surfaced?
Ambrosie: Talking about player safety is not just words to me. It means very much. The [future of football] has been on my mind throughout this. The more we do together to make this game safer, it will inspire confidence that the game can be played at the safest level. … What I love about the game is it offers the greatest inclusiveness of any game. You can be a gigantic person, super strong, and you can be a small person, super fast, and then in a locker room all these things come together. We need to fight, literally, for the future of football, and we do that by making it safe. I think the battle for the future of the game is one we will win. We're teaching safer tackling. It's gonna take us all pushing it. Change is hard. We all know that. The fraternity of football people, we'll find our way. I'm honored to be part of it.
The MMQB things you need to know this week
We have a newsletter, and you can subscribe, and it's free. You can get our terrific NFL newsletter, "Morning Huddle," written Monday through Friday by young staffer Jacob Feldman, simply by going here and checking The MMQB newsletter box. I've become a bit of a newsletter junkie—for news and politics and sports—and find these newfangled bite-sized collections of news summaries perfect for a world that moves fast. So I asked Feldman—who co-curates the "Sunday Long Read" collection with Don Van Natta—to do one for the NFL this fall. I love it. It's quick, with a newsy top each weekday, then good reads and videos from around the internet. Basically, you should let Feldman be your NFL news curator. I start every day with it.
A new series is coming this week. For eight weeks this fall, The MMQB, in partnership with State Farm, will examine the state of football in the U.S. We'll go to eight places, from the Bay Area to Philadelphia and other rich football markets in between. It'll be a thorough bottom-to-top look at the game, from youth football to high school to college to pro, here on this site and on our social channels including Twitter and Facebook Live. I was in the Bay Area over the weekend, and that's where we'll start when the "Football Across America" series debuts this week on social and on video and in print Thursday. We'll go to four games in 48 hours in each area and listen to the players, coaches, parents and fans on the state of the game. Our debut of "Football Across America" will take you to:
• Friday night: San Francisco's storied Kezar Stadium, where the Niners used to play, to see a city high school, Mission High, take on a strong suburban program, San Mateo. You'll learn about the significance of the game to a senior player who witnessed his father's murder at age 10.
• Saturday morning: In gritty Oakland, at Oakland High School, we'll take you to the youth program where Marshawn Lynch played.
• Saturday night: In Berkeley, we tailgated before Ole Miss-Cal, trekked up Tightwad Hill to see the strange tradition of the Cal cannon, then watched the interesting intersectional clash.
• Sunday afternoon: Live from the Black Hole, Jets-Raiders.
The archive is back. You asked, we listened. (Well, it took us a while, but we got it done.) Now you don't have to go scrounging for stories at The MMQB that you may have missed. The archive will always be on the front page of our site. The moral of the story is, keep yelling at us to improve, and we'll try our best to do so.