Joe Thomas' Snaps Streak: Five Things to Know
Joe Thomas' streak of consecutive snaps played is now more than 10,000 and counting. Here's what to know about the Cleveland Browns lineman's record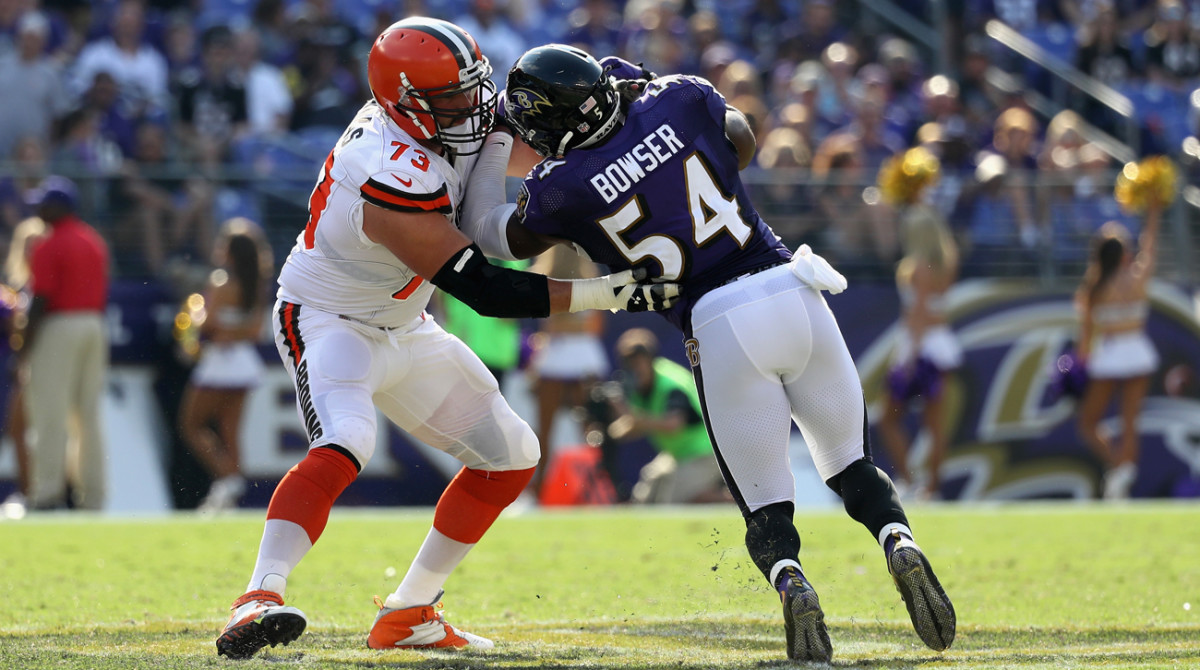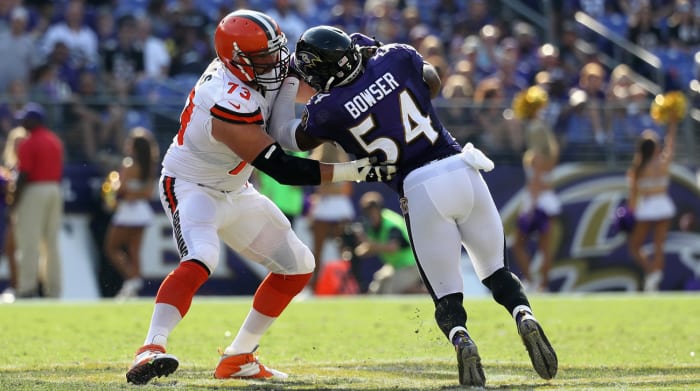 Joe Thomas, in this day and age, is absurd.
The streak of consecutive snaps played by the franchise left tackle for Cleveland is now 10,062. It's comical to suggest that any position player has ever played every snap of every game over a decade or more. Your shoe splits and you have to come out for a snap. You get a busted face mask that has to be fixed. You get stepped on. Something. Not Joe Thomas.
Five things about the streak you should know:
1. No one acknowledged it Sunday in Baltimore when Thomas played his 10,000th straight snap. It happened on a nine-yard Isaiah Crowell run … to the right side, on the fourth offensive play of the game. "We were in the middle of the game," Thomas told me afterward. "It was just a regular play, like so many others. Not like you ignore it, but no one really says anything. It wasn't 'til later in the game that a couple of guys on the Ravens said something. Eric Weddle, C.J. Mosley, they both congratulated me on the field."
2. He's played through a grade-two LCL tear, three MCL strains, and two high ankle sprains. "In 2012 I got the LCL tear mid-game in the last game of the year, and I was able to hobble through it. If it wasn't the last game, I might have missed some time."
3. The streak came closest to ending on Oct. 12, 2014. Near the end of a rare blowout win over Pittsburgh, the Browns were subbing in backups to rest vets. Earlier in the game, center Alex Mack broke his leg, so there was more motivation to keep everyone else on the line healthy. "Yeah, the famous Vinston Painter incident," Thomas said, laughing, on Sunday. "I was not hurt, but they sent Vinston in to replace me. I think they were just paranoid after Alex Mack got hurt. But Vinston got out there, and I wasn't leaving." By that time—he began to realize the rarity of playing every snap of every game in 2012 or 2013—Thomas knew he was doing something great.
Falcons the Clear Team to Beat in the NFC After Dominant Win Over Packers
4. The ethos. "How did it happen? To be honest, I never set out to do it. It just sort of happened. It's ingrained in you as a young athlete: 'Get up! Play the next play!' It's the job. You know, obviously, the losing hurts. I'm human. But something I've found comfort in is, Just do your job. I've got people in my family who get up and go to work every day and they don't complain. Regardless of the record, I get to play a kids' game. I am blessed to do what I love to do so much."
5. What does it mean? Thomas tries to not overthink this. "I just hope it means I'm a regular guy who gets up every morning and goes to work, and plays as hard as he can, and is a good teammate. I hope that's what they say about me."