Ten Things I Think I Think: On Week 3, Aaron Hernandez CTE Findings, Non-NFL Items, More
Peter King's 10 things on NFL Week 3, including Titans offense, Seahawks defense, Aaron Hernandez CTE findings and much more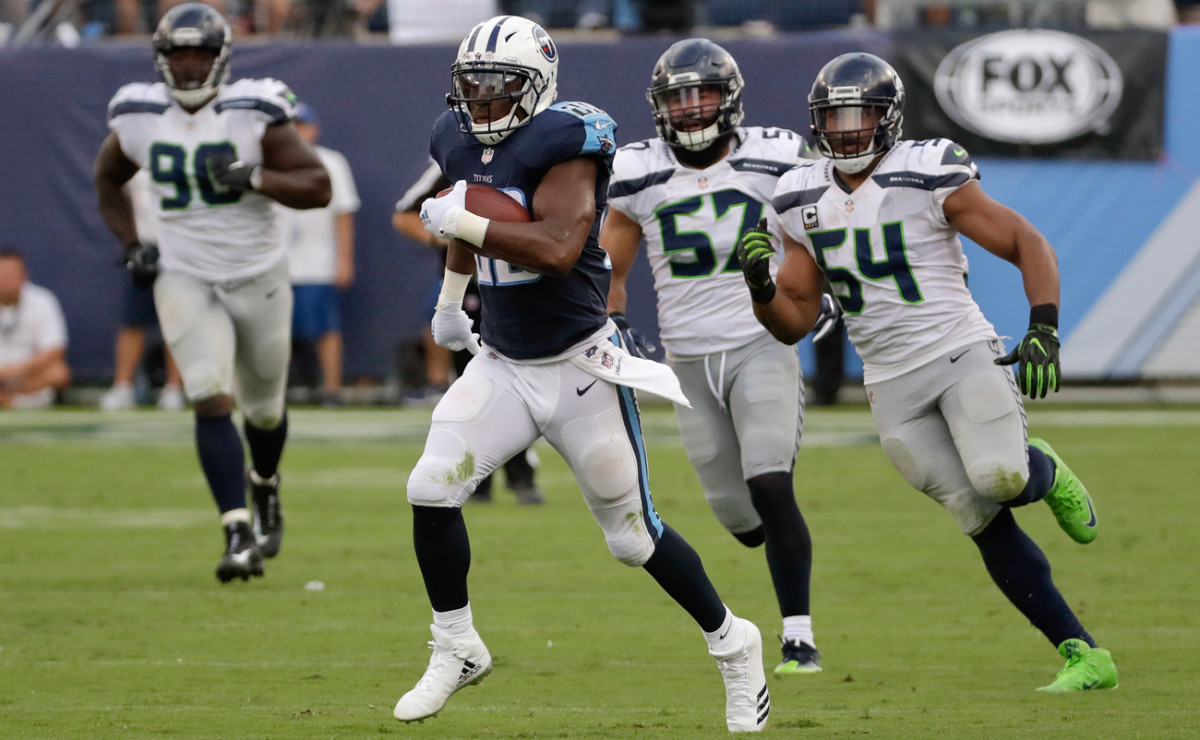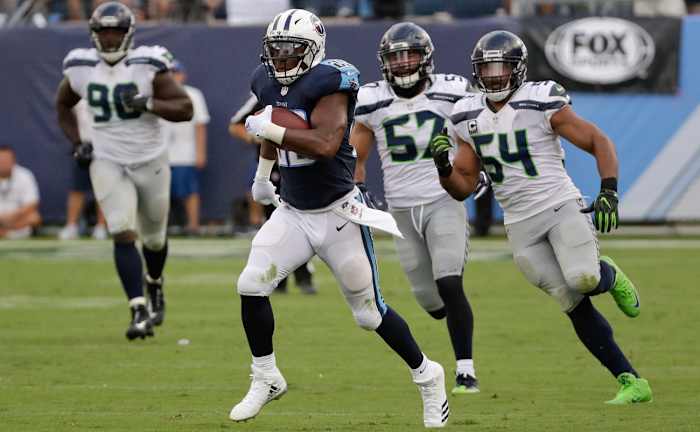 1. I think these are my quick (and apolitical) thoughts of Week 3:
a. I can't imagine the all-22 tape exonerating the official who called the offensive pass interference against San Francisco's Trent Taylor in the last seconds of Rams 41, Niners 39. Huge call. Mega-huge call. And I will wait before judging, but man, that looked like the ultimate marginal call, and you've only got 16 of these football games. Even though neither team's going to the Super Bowl this year, it matters.
b. I'll tell you the impressive performance Sunday: The Titans running it 35 times for 195 yards, a 5.6 average, against the formidable Seahawks.
c. Was This Just a Dream First Quarter of the Year: Jacksonville outgained Baltimore in yards, 170 to minus-1, in the first 15 minutes in London.
d. You cannot make that unsportsmanlike call on Von Miller for offering to pick up a fallen Tyrod Taylor and then jerking the hand away. That is a gag. It is silly. It is not a penalty in the National Football League. Maybe in the 6-Year-Old Flag League of Bozeman, Mont.
e. I will hand it to Odell Beckham Jr. for this: He does have phenomenal hands. However he caught that ball at the edge of the left side of the end zone at Philly is just unfair.
f. I don't want to give the Dolphins an excuse, and I know Adam Gase doesn't either, but their Miami-to-California-(for nine days)-to-Miami-to-New Jersey travel slate couldn't have helped in the 20-6 loss to the Jets. Now in three days, they leave for London.
g. Jameis Winston, three interceptions. Beginning to think that's going to be a pox on the talented lad.
h. That's a stunner, the fact that Aaron Rodgers won his first OT game ever on Sunday. Also stunning: He's 1-7 in overtime.
i. Marshawn's night in the nation's capital: eight touches, 26 yards, no points, 16 snaps. What'd he have, the flu? 
j. Sixteen snaps? The man's the missing link to your offense, Raiders. I know you want to keep him healthy for 16 weeks, but don't put the guy in bubble wrap.
2. I think the way those owners could most forcefully illustrate their solidarity with the players would be for one of them to sign Colin Kaepernick this week.
3. I think it seems like six weeks ago, not four days go, that The New York Times broke the story of Aaron Hernandez's autopsy results—his brain had stage three chronic traumatic encephalopathy, which means he had the brain at death at age 27 that their examiners sometimes see in men in their 60s. The maddening part of trying to put your finger on the whys of this death and what it means for future football players is that we can't be sure of many things here. Hernandez's family is suing the NFL, but we can't be sure the NFL was the primary cause of this—at all. Hernandez played 28 games of high school football, and he played both ways in high school. He played 40 games at the University of Florida. He played 44 games with the Patriots. He played an undetermined amount of Pop Warner football in his younger days. I can accept that football was the root of the CTE. But which football? All of it? I imagine it's all of it, because if he got whacked a few time in Pop Warner before his brain was fully developed, that's a dangerous thing too. My point: There's a lot we don't know about CTE, and about when players are most susceptible to damage from head trauma.
The Discovery of CTE in Aaron Hernandez's Brain Further Complicates This Complex Story
4. I think Troy Aikman said it right after Odell Beckham Jr., caught his first touchdown pass of the season, the 300th catch of his young career, and "celebrated" by going down on all fours in the end zone and raising his right leg, as if to urinate on the Lincoln Financial Field turf: "That's not smart. It's just dumb football." Because it's a 15-yard flag in a close game. That's why.
5. I think Phil Mushnick's got three weeks of columns on that play. If you're not sure who that is, google him.
6. I think I admire Sean Payton for, after a big win the Saints had to have, having the presence to be able to say of the White House: "I think we need a little bit more wisdom in that office." Payton is a staunch Republican. I saw him geek out when meeting President George W. Bush. He could have no-commented or soft-pedaled that. But he didn't.
7. I think I think I'm not saying Ben McAdoo shouldn't be a head coach in the NFL, but when I see him speak publicly, he does not inspire confidence that he should be a head coach in the NFL.
Tattoos of the NFL, and the Stories Behind the Ink
8. I think, at the risk of extending the Zeke Elliott-loafed story into an eighth day, I simply must call out Michael Irvin on his ridiculous deflecting defense of Elliott.
9. I think he didn't win Goat of the Week honors because the Eagles beat the Giants, but Philadelphia coach Doug Pederson certainly made a goat-like decision that could have cost his Eagles the game Sunday. With 2:43 left in the first half, and a fourth-and-eight at the Giants' 43, and the Eagles up 7-0, Pederson chose to go for it instead of pinning New York deep in their territory with the Giants' offense struggling. The Giants sacked Carson Wentz and drove for what appeared to be the tying TD—except Sterling Shepard dropped the tying touchdown pass.
10. I think these are my non-football thoughts of the week:
a. Story of the Week: Kent Babb of the Washington Post with a gem on Marshawn Lynch and the new Oakland that welcomes him back to the Raiders.
b. Great writing and story-telling by Babb, starting with a scene about being on the way to lunch with a coach, Lynch's cousin, the head coach at Oakland Technical High School:
The coach agrees to join me for lunch, and he locks the weight room and we continue chatting and walk toward my rental car, on the other side of a football field surrounded by a chain-link fence. A moment later, Larkins looks behind him to see a gray SUV turn left onto the narrow path between a school building and the practice field, more of a walkway than a road.
It's a Tesla Model X, and we casually step out of its way — and as we do the driver jerks the wheel, pointing the vehicle at me, and guns the motor. Larkins sprints to his right; feeling trapped and terrified, I bolt around a corner to my left. 
The vehicle screeches to a stop a few yards from us, the door swings open and out steps the driver, Marshawn Lynch.
… An outsider entering his space to talk to his guy about his town? That's trespassing.
c. Absolutely true. And absolutely vivid. Great job by Babb.
d. In an event truly signifying we're all incredibly old … Happy 90th birthday (last Friday), Tommy Lasorda.
e. Other happy birthdays this week: T.J. Houshmandzadeh 40 (on Tuesday), Jake Reed 50 (on Thursday), Tunch Ilkin 60 (last Saturday).
f. Baseball Story of the Week: Ben Reiter of Sports Illustratedon the incredible last-minute trade machinations that sent Justin Verlander from Detroit to Houston at the late-August midnight deadline. Houston GM Jeff Luhnow found out it got finalized 14 minutes after the deadline, when Verlander finally waived his no-trade clause … and a league operative told him: "Jeff, don't ever put me through that again. We received final verification from Verlander at 11:59 and 58 seconds." Good cloak-and-dagger by Reiter.
g. Holy cow. This Saquon Barkley is one great running back. That leap over the Iowa Hawkeye on Saturday night was Olympian enough. But then he gets whacked from the side as he's coming down but still in the air, and he keeps his balance and gains more yardage? Last spring, Pete Thamel told me Barkley might be better Ezekiel Elliott, and I didn't know what to think because obviously I'd just seen Elliott lay waste to the NFL as a rookie. But now I know what Thamel meant. Barkley is the genuine item.
h. Alabama 59, Vandy 0. I get Alabama should beat Vanderbilt 59-0 regularly, but Vandy was 3-0, with some hope. Man, it's got to be tough to be an SEC team trying to climb the ladder to try to get in Alabama's league.
i. Ten years ago, Louisiana-Monroe beat Alabama.
j. Coffeenerdness: Tried the Starbucks maple pecan latte the other day. Though not a fan of the pumpkin spice latte, I liked this one, because it didn't have the sickeningly sweet taste of its pumpkin brother.
k. You were good on Bill Maher, Bob Costas.
l. One week until the new season of "Curb Your Enthusiasm." So I'm officially on Larry David Watch.
Who I Like Tonight
Dallas 23, Arizona 13. Ezekiel Elliott in two games: 33 carries, 112 yards, 3.8 yards per rush. Meh. The Arizona run defense: 56 carries, 158 yards allowed … 2.8 per rush. Time for the rushing champion to carry his team in a tough environment.
The Adieu Haiku
I don't imagine
we will be "Back to Football"
much before Christmas.
• We have a newsletter, and you can subscribe, and it's free. Get "The Morning Huddle" delivered to your inbox first thing each weekday, by going here and checking The MMQB newsletter box. Start your day with the best of the NFL, from The MMQB.
• Question or comment? Story idea? Email us at talkback@themmqb.com.