Peyton Manning Talks Football, the Future and Life in Retirement as a Carpool Dad
On The MMQB Podcast With Peter King, the former Colts and Broncos QB addresses his interest in running an NFL team, his secret attendance in a draft room, his nonexistent political aspirations and more
For as omnipresent as Peyton Manning is on TV these days, he sure knows how to disappear from the public eye otherwise. Other than occasional appearances to watch his beloved Tennessee Volunteers (he was honored at halftime of the Vols game Saturday), the formerly uber-public Manning has been mostly private since his retirement from football 19 months ago, turning into a carpooling dad for his twins and a part-time flag football assistant coach in the Denver suburb where he lives.
But this weekend in Indianapolis, Manning will come back into the light for awhile. The Colts will unveil a statue of Manning at Lucas Oil Stadium on Saturday afternoon, and he'll have his number 18 retired Sunday and his name installed in the Colts' ring of honor at halftime of the Colts-Niners game.
In advance of the weekend ceremony, Manning and I spoke for 33 minutes this week for The MMQB Podcast With Peter King, which also will be available for download via iTunes on Wednesday. The early part of the pod is about his life as a Colt, and the meaning of this weekend, having a statue of him unveiled at the ripe old age of 41. Later, we get into his current life.
"I am not 100 percent comfortable with all of this, but I'm extremely grateful to [owner] Jim Irsay and his generosity," Manning said from Denver. "I will admit I've gotten a couple of physicals recently, just to check my health, because I agree: Most people aren't alive to see something like this."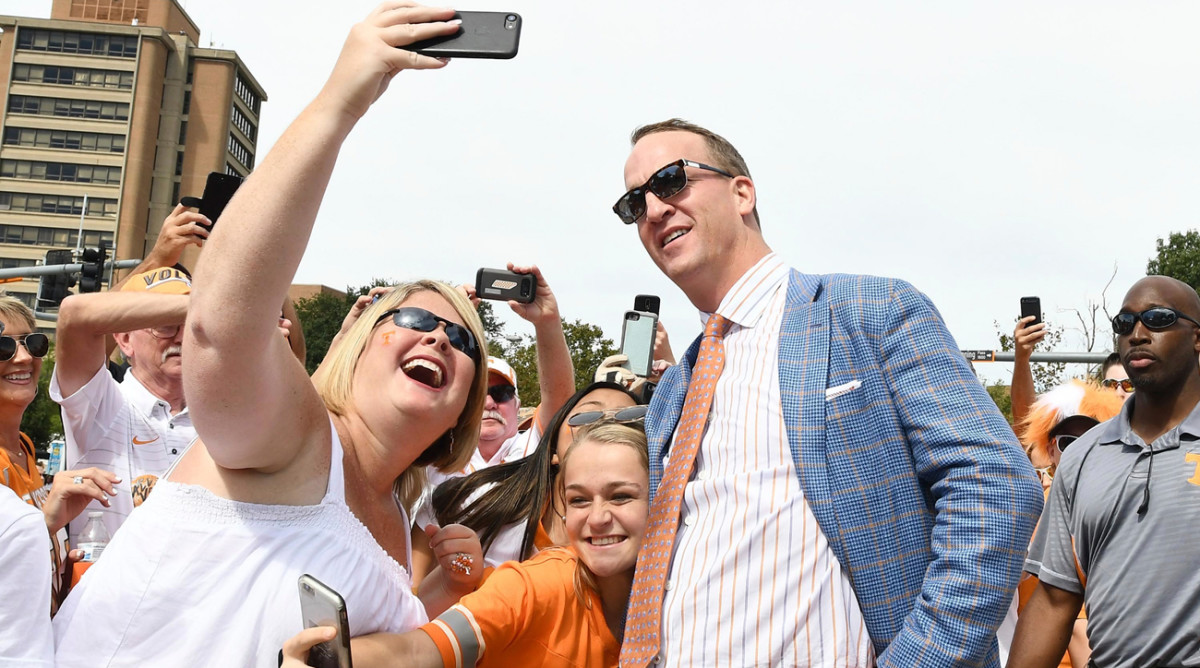 Regarding the headlines of Manning's life now:
• He said he never had a second thought about retiring and wasn't tempted to return, not even last year when Ryan Tannehill went down in Miami and close friend and Dolphins coach Adam Gase texted, apparently to gauge his interest in returning to play. "I'm out," he said, definitively.
• He's interested one day in exploring running a team, the way John Elway has taken the reins of the Broncos. But "it is just not the right place for me right now," he said.
• His twins, Marshall and Mosley, are in first grade, and he said much of his life is centered around speaking engagements, traveling with wife Ashley, and the twins' flag football and soccer games and practices.
Inside The MMQB Writers' Room: All Things NFL at the Season's Quarter Pole
• Owning a team doesn't sound like it interests him. Running one does—just not right now.
• When I asked if he was concerned about long-term effects of head trauma or his health later in life, he said he feels "like I am competing every day against my health—that's my new opponent … That's important to me, to stay healthy, so I can be around for my kids and my family and see lots of things I still want to see."
• Manning said he spent "several days" with Rams coach Sean McVay "talking football, talking philosophy" in the spring. But he said he spent several days with a few teams in the past year or so, even sitting out of camera view monitoring one team's draft weekend last April, just to learn the business of it.
• This was not on the podcast, but Manning running for political office has become a hot topic since he retired. Some in Tennessee would like to see Manning become a politician, but he has told me he has "zero interest" in running for public office.
• For a while, at least, it sounds like you might see Manning mostly as a TV pitchman, and not in very many other places.
"I'm still on TV a lot doing commercials," he said. "I apologize to all the people out there who are tired of seeing me on commercials."
Trevor Siemian's Calm and Collected Demeanor Earning Him Respect—and Wins—in Denver
Most people in football, when Manning's name comes up, predict he'll end up following in John Elway's footsteps. Listening to Manning, that sounds like it appeals to him too—but the other obligations he has now conflict with the time it would take to run a team. Reading between the lines, it sounds like if and when he does come back, he'd want it to be with a team with the right structure for him to be a difference-maker.
"It certainly could be a possibility," Manning said. "I know John didn't take his job with the Broncos until he was 50 years old. He had stopped playing for 12 years at that point … I'm 41 years old and it's my second season out, so people like to make that comparison but it is such an individual thing.
"I believe in staying close to the game. I went to the combine last year and met with some GMs and some owners to pick their brains on different sides of things. I sat in with a team during the NFL draft this year. I stayed off camera, but I was able to sit in and watch. Often times if I am speaking at a certain event, I will stop by that NFL team or college team and go talk some football.
"But I know what that job entails, and that is an all-in job. That is a do-not-put-your-phone-down-ever job. It's a 24-7-365 days a year job. Because I know what that commitment is and what that job entails, it is just not the right place for me right now. I really am enjoying what I'm doing. As far as what will happen in the next few years I can't really say, but like I said, I will always be close to the game."
He didn't rule out ownership but said: "I keep looking for that $2.5 billion in my pocket. Just don't see it. Derek [Jeter, just named one of the new Miami Marlins' owners] will be great in that role. I have such great respect for him. I'm happy for him. … I enjoy teaching football. I love our football camp [the Manning Passing Academy]. I love going to these colleges and answering questions. I sat down at the Chicago Bears with Mitch Trubisky and he had some questions for me. I love paying it forward if anybody has any questions … just probably not in the coaching world. An executive role of some sort, who knows, it is a possibility but it's all pretty futuristic."
NFL Power Rankings Poll: Patriots Finish Regular Season On Top, As for the Browns . . .
Since he walked away in March 2016, Manning expected he might miss it more. Friends in football told him he would. But even when Gase reached out via text when Tannehill got hurt last December, it didn't tempt him. Manning, as you recall, struggled mightily with arm strength down the stretch of the Super Bowl-winning season in 2015.
Maybe he just had enough of football. Whatever, he never felt the pull to go back.
"Adam Gase reached out to me [when Tannehill got hurt last season]," Manning said. "He said, 'Look Peyton, I know what I am going to get asked in my press conference tomorrow. There's no doubt they are going to ask me. Just tell me what you'd like me to say.' And this was via text, and I said, 'Adam, you tell the media that yes, I probably could come back and play and there is no doubt that we would go to the Super Bowl,' … I'm being sarcastic on that … 'but there is no way I could be at practice every day and still fulfill my carpool duties for my two 5-year-old twins. So I'm out. I had a lot of people tell me how much I was going to miss it and be anxious and miserable, and … it is such an individual feeling, and that was just not true."
Manning has buried himself in his new life. "My kids are playing flag football and soccer so I go to those practices and games," he said. "It's important to me to be a part of those and to be around. I am a volunteer assistant coach on our kids' flag football team. Last year they wanted me to be a full-time coach and I said, 'Coach, let me tell you, you don't have any pass plays. I cannot be involved with a team that has no pass plays.' So I got them throwing the ball a lot more this year."
This part of our chat was not surprising: He said, "I feel busier than I ever have." Manning was good at football. He's not good at sitting around.
Rams Are Great, Patriots Are Not and More NFL Oddities 'Nobody Saw Coming' After Four Weeks
Now for your email...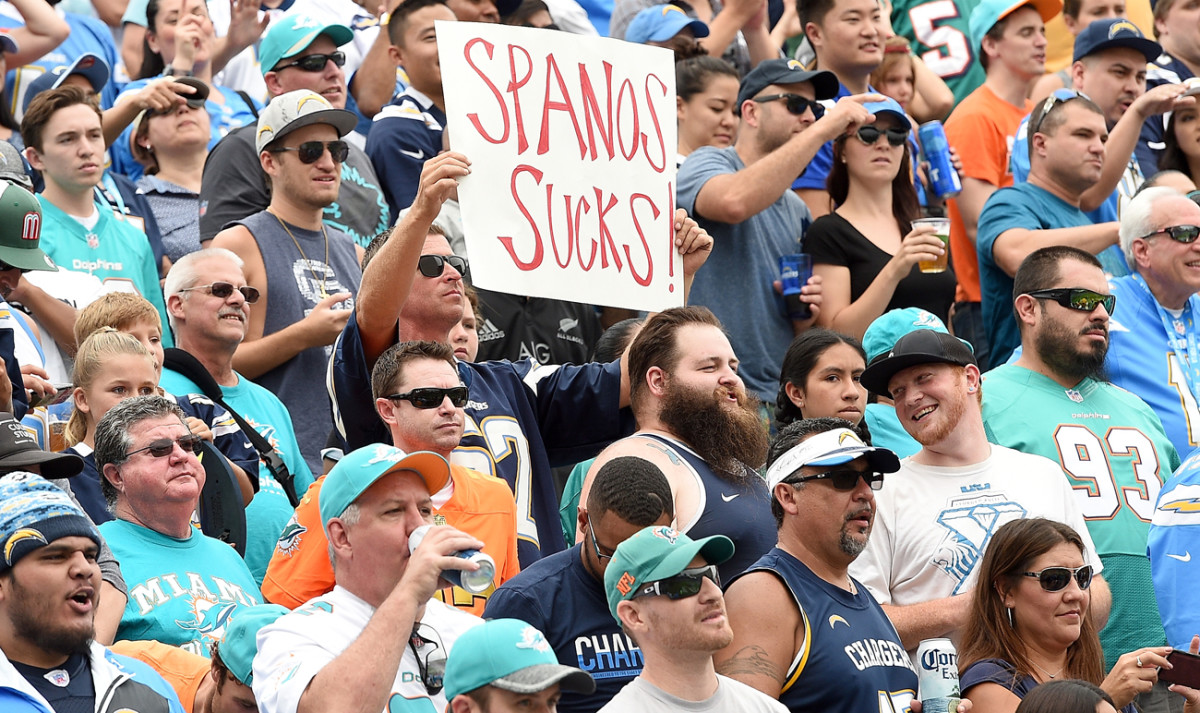 CHARGERS TO LONDON?
Just a quick thought on the Los Angeles Chargers as I was watching them yesterday. With the complete and obvious lack of interest in L.A. and the generally poor product in London that the NFL has been bringing with the teaser games of rotating teams, do you think there could be any possibility that there could be a home for the Chargers across the pond? I'm sure Philip Rivers would most likely want no part of it (and I still hold out hope that something crazy comes up to send them back to San Diego) but a permanent team there would provide a market that seems to want a team and a better product could be consumed by the fans. I know the logistics of the travel for home and away games would be a HUGE hurdle, but it's clear L.A. couldn't care less if they are there.
—Rick, Deerfield Beach, Fla.
Anything's possible, but the league is not going to pull the plug on the Chargers after one month. I'd be surprised if anything substantive happened before the Chargers tried to make a go of it for at least two years. I never thought the team was even a remotely good fit in Los Angeles—unless the Spanos family puts a winning product on the field. The Chargers have not won a game since Thanksgiving weekend; their nine-game skid is the league's longest losing streak since then. That will not fly in Los Angeles, period.
NO LOVE FOR THE BILLS
The Buffalo Bills are 3-1 and all you can muster is six sentences about them (not including your haiku)? They've beaten Denver, who has a great D, and the defending NFC Champs. I get it. They are a small market team that hasn't been too good in almost two decades. But if you can write as much as you do about the other surprise 3-1 teams, you could find more than six small sentences in your massive article to include more on them.
—Brian
I can't write about every worthy team every week. I'm sorry the Bills got jobbed, but it's going to happen.
Should We Believe in the Buffalo Bills?
USING THE TERM, "ANTHEM PROTESTS"
I am a long-time fan of your work and really appreciate the time and coverage you're giving to the NFL protests. However, referring to them as "anthem protests" only reinforces the misconception that the athletes are protesting the national anthem. In this age of lies, misinformation and fake news, semantics are important. "Police brutality protests" or "racism protests" would be a better term.
—Jared
Thanks, Jared. They are protests during the national anthems, and by and large, you're right—players are not protesting the anthem itself. They're protesting the perceived injustice in the country that they see. I guess I'd quibble with you. I shorten "protests during the national anthem" to "national anthem protests," and I think most people understand.
PATRIOTS DEFENSE
We are looking at another year when Bill Belichick the GM failed Bill Belichick the coach. New England's defensive depth and talent is woeful at best.
—Don D.
It's early. They suffered the injury at the dawn of the season they absolutely could not afford—to Dont'a Hightower. That came on the heels of the retirement of another player they couldn't afford to lose, Rob Ninkovich, who was in many ways this Patriot team's version of Mike Vrabel. But we'll see. Belichick is a pretty good coach. He'll adjust, and he'll figure out what his defense can do. For this week, though, it's about the worst time of the season for the Patriots to be a road team in a short week. They needed a good practice week, and they get nothing like that, and here come the Bucs on Thursday night.
The Morning Huddle: What Happened to Bill Belichick's Last-Place Defense?
JASON WHITLOCK IS INSANE
I've never been a fan of his, and reading his comments regarding Donald Trump and the protests further cemented that. Did he truly give the president a pass on his behavior AND words?! Did he really say the athletes should be held to a higher standard than the president?! He comfortably used words like "bait" and "troll" as if President Trump was still on a reality show?! Does he not realize that Trump occupies one of the most powerful offices in the world?! I've been reading your articles since I was 12 years old. It was the first time I thought about ending my dedication. I frowned when I saw Whitlock's name on your podcast. First one I missed. He's a disgrace to the profession.​
—Tory E.
Whitlock's an opinionated and strident and popular voice in the media community, like him or loathe him. I'm an equal-opportunity listener. I don't think he gave the president a pass. His point was that the players overreacted to the words of a troll. I don't see what's wrong with that.
BOOING PRAYER
It is entirely unfair for you to suggest the fans in Baltimore were booing the Ravens' players for kneeling in prayer. They were booing what they viewed as disrespect to the flag of the United States. In a situation such as this, fans are focusing on what type of pregame display of unity their team has come up with rather than listening to the PA announcer to describe exactly what they are seeing. Naturally, when the team knelt, the fans associated that display with a political protest and showed their disapproval. Nothing more, nothing less. Bucketing the whole stadium as "booing prayer" is just nonsense. Your defense of the player's right to protest has been stout since Colin Kaepernick knelt for the anthem a year ago, and that is commendable. But you should be just as stout in your defense of the fans right to object to those protests.​
—Chris, Stamford, Conn.
Were you in the stadium? I was. This was the sequence of events: Teams line up on their respective sidelines … PA announcer asks the crowd to pray "for kindness, for unity, for equality and justice for all Americans" … When he says the word "pray," the Ravens players kneel on their sideline and bow their heads … The crowd boos, lustily … Chris, this was not the PA announcer asking fans to stand for the anthem. This was the PA announcer asking the crowd to pray for the country. Is it possible many in the crowd were not listening? Yes. Is it possible that the crowd was so on edge waiting to see what the players would do during the anthem that the fans simply saw the kneeling and assumed the players would be kneeling for the anthem? Yes. But I reported what I saw, and heard. The PA announcer said pray, the Ravens kneeled, the crowd booed. If you want to interpret why that happened, that's your privilege.
ON VICIOUS HITS
My first taste of the NFL was a Chiefs-Raiders game, somewhere around 1968. Though I can't specifically remember the date, I certainly remember Ted Hendricks driving his helmet into Len Dawson's back while Dawson was on the ground, and of course, the melee that followed. We've seen players carted off the field over and over, yet the offending party or parties are never punished in a manner equivalent to the injury they caused. Why? Why not suspend the offender for the amount of time the injured player misses work/games? Vicious hits, intended or not, need to be severely punished, or they simply won't stop.
—Chris
Not a bad idea to consider, Chris, except in this case Danny Trevathan would likely be playing for the Bears this week. Adam Schefter reported Tuesday that Davante Adams could play Sunday for Green Bay at Dallas.
CONCERNED GIANTS FAN
Full disclosure, I'm an enormous Giants fan and football fan. I'm not extremely savvy with regards to coaching strategy, planning and front-office process. So I don't understand why Ben McAdoo has a leash or how long the leash should be. Jerry Reese, too, for that matter. As Week 1 neared, I read the rags and was pleased to see the Giants ranked anywhere between 5th and 9th in the league. Now they're 0-4 and I see them doing nothing to get better. What gives?​
—Cory R., New York
Cory, interesting email. Thanks for it. I think the one point I'd make is that, unlike baseball, there's not a lot a team can do to add players that really can help once a season starts. Most teams don't want to trade significant players during the season (the trading deadline this year is Oct. 31) unlike in baseball, and the difficulty in getting, say, an offensive lineman, up to speed in a couple of days in a new offense is a hard thing to do. It's like George Young, the late ex-Giants GM, used to tell us in the press: "We're not like baseball. They can plug in a second baseman for a second baseman. From team to team, they do the same job. We can't plug in a guard for a guard and have him play right away." I think, especially in an organization that majors in patience, you're not likely to see significant changes till the offseason.
FANS WHO QUIT THE NFL
Thank you so much for posting these letters about fans turning off the NFL as a protest to players protesting during the anthem, as this is exactly the way I feel. Until you affect the NFL's pocket book there will be no change. I was an avid Monday-Thursday-all-day-Sunday fan. Haven't watched any this year and don't intend to start back. Thanks again for the post.
—Robin P.
Thanks, Robin. We'll see if permanent damage to the game is done here. I think more protests would have to come before that happens, but I could be wrong.
• We have a newsletter, and you can subscribe, and it's free. Get "The Morning Huddle" delivered to your inbox first thing each weekday, by going here and checking The MMQB newsletter box. Start your day with the best of the NFL, from The MMQB.
• Question or comment? Story idea? Email us at talkback@themmqb.com.