The Morning Huddle: Andrew Luck, Teddy Bridgewater Headed in Opposite Directions
Andrew Luck's season is now in doubt
All of a sudden, a 2017 season without Andrew Luck seems like a distinct possibility. There was a time when the Colts hoped their quarterback would be ready for Week 1 following offseason surgery for a shoulder injury he'd been dealing with since 2015. Hope returned when Luck showed up at practice two weeks ago and began throwing. But now, he's being shut down again for the time being in response to soreness in his recovering arm.
Indianapolis GM Chris Ballard would not rule out Luck's chances of playing this season, opting to not put him on IR, but Wednesday's news indicates we are likely at least a month away from him being back to 100 percent, and if the Jacoby Brissett-led Colts are, say, 3-7 at that point, is it worth throwing the franchise cornerstone back into the mix?
While gloom blanketed Indy, optimism was in the air in Minneapolis, where video showed Teddy Bridgewater finally returning to practice, to the sound of David Eisley and Bob Kulick's Sweet Victory no less. It was a hard-earned moment of cheer for Bridgewater, who went down with a gruesome knee injury just before the 2016 season. But a full return remains a ways off. Just ask Luck. The road back to the field is rarely short and never straight.
Not getting this newsletter in your inbox yet?Join The MMQB's Morning Huddle.
HOT READS
NOW ON THE MMQB: Robert Klemko lays outRoger Goodell's fight against individuality ... Andy Benoit ranks the NFL's top 21 quarterbacks ... Dan Greene profilesTravis Kelce ... and more. 
LATER TODAY ON THE MMQB: Our newest Football in America drops ... The staff picks every game ... Benoit previews Thursday Night Football ... and more. Stay tuned.
PRESS COVERAGE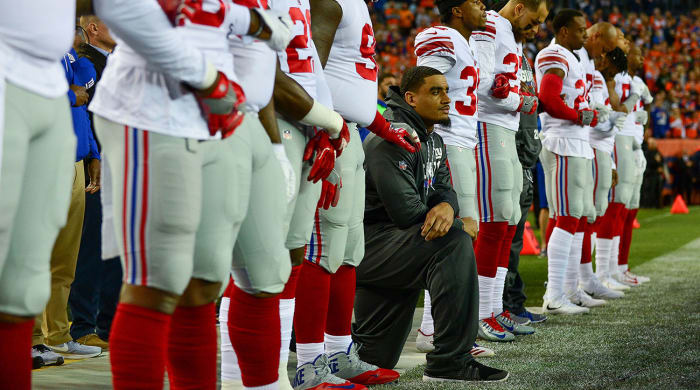 1. JPMorgan media analyst Alexia Quadrani alerted the firm's clients to poor NFL ratings data as it concerned CBS and FOX's stocks. Credit Suisse, meanwhile, lowered its forecasts for the two companies as ratings drops impact the bottom line for the league and its partners.
2. DeShone Kizer is back in as the Browns' starting quarterback, and you can't help but feel the team is hardly setting its rookie up for success.
The 'Worst Game' in NFL History Was the Best Game Lawrence Taylor Ever Played
3. FiveThirtyEight has done some in-depth analysis on the political leanings of NFL fans. Patriots fans lean farther right than you might expect, Packers fans farther left. But the biggest takeaway is that football fans are the least partisan of any major sport. It's the rare league that reaches across the aisle.
4. Eli Manning is the most overrated quarterback. I didn't say it, NFL players did. 
5. The Steelers have a Le'Veon Bell problem. The running back is powering the Pittsburgh offense, but he's also on pace for a team-record 437 touches. Will Mike Tomlin be able to take his foot off the pedal before it's too late?
6. Washington running back Chris Thompson says he's not letting his family come to the Eagles game in Philadelphia. "Philly fans are some of the meanest fans I've ever experienced," he said.
7. The Institute for Diversity and Ethics in Sport ​has released its newest report on the NFL. "I've been disturbed for the past couple of years at the decline in what I consider to be the two key positions of head coach and principal in charge or general manager,"  IDES director Richard Lapchick said. "So the fact that they went up in both categories and tied their all-time high in the coaching area was encouraging to me."
8. PresidentDonald Trump tweeted his displeasure with the league's anthem policy yesterday, while Jaguars owner Shad Khan provided a potential explanation for Trump's interest in the NFL. "He's been elected President, where maybe a great goal he had in life to own an NFL team is not very likely," Khan told USA Today. "So to make it tougher, or to hurt the league, it's very calculated."
9.Dallas will host the NFL draft this spring after Philly "changed the game."
10. Patriots linebacker Harvey Langi was involved in a serious car accident Friday along with his wife. Three days later, they finally reunited during this heartwarming video.
Have a story you think we should include in tomorrow's Press Coverage?Let me know here.
THE KICKER
How do we fix football? Start with more animals.
Question? Comment? Story idea? Email me directly or let the team know at talkback@themmqb.com