The 6-2 Stunner: How the Rams Stole the Spotlight at NFL's Midseason Mark
Jared Goff and Sean McVay explain how thievery has helped Los Angeles turn things around, including in Sunday's 51-17 blowout win over the reeling Giants
Trying to digest the 6-2 Rams. Let's start with Jared Goff, on the bus from the Meadowlands to Newark Airport, after his Rams hung 51 on a once-proud Giants franchise Sunday afternoon. The son of a former major-league backup catcher was talking about the World Series just completed. "I loved this World Series," Goff said of the Dodgers-Astros matchup. "It felt like I was watching the Little League World Series. Every time somebody would hit on a home run, seems like somebody on the other team hit one. It was great."
Goff and the Rams are hitting a lot of home runs these days too. Goff completed throws of 35, 44, 44, 52 and 67 yards in the 51-17 beatdown of the Giants on Sunday. The reason why the Rams are such a great story—other than the fact that their coach graduated from Miami (Ohio) just 10 years ago, and that they haven't had a winning season in 14 years—is they are so darn explosive, and so darn likeable.
Look at the NFL's points per game basement last year ...
| | |
| --- | --- |
| Team | Points Per Game |
| 32. Rams (4-12) | 14.0 |
| 31. Browns (1-15) | 16.5 |
...and the penthouse this season.
| | |
| --- | --- |
| Team | Points Per Game |
| 1. Rams (6-2) | 32.9 |
| 2. Eagles (8-1) | 31.4 |
How have they done it? By stealing, in part. That's right. Thievery.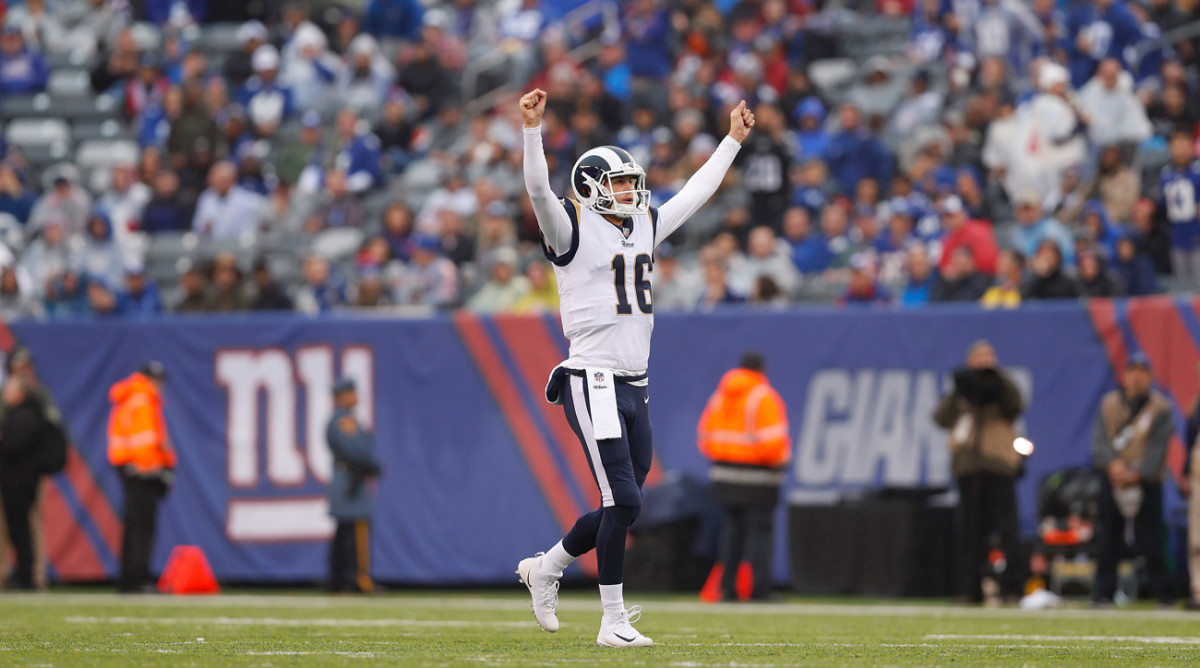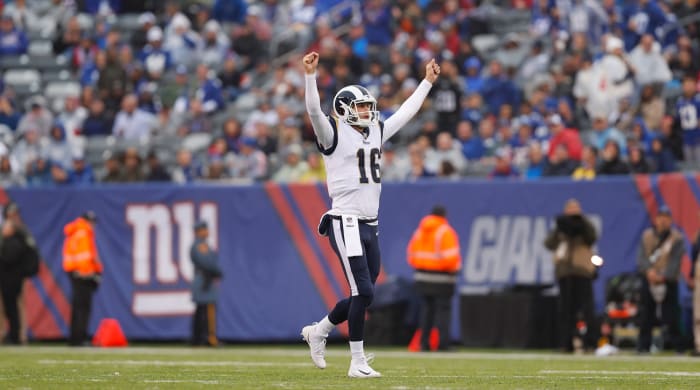 On Friday, on the team bus on the way to the Los Angeles International Airport for the flight to New Jersey, coach Sean McVay was telling a story about one of the turning-point plays of their season. It happened in Week 4, against Dallas. Late in the third quarter, down 29-24, Rams ball at their 47-yard line, Jared Goff took a shotgun snap. From Goff's left, speedy Tavon Austin came in motion. Snap. Ball-fake to Austin on the jet sweep. Todd Gurley circled out of the backfield as though to run a typical running back wheel route. Except he never stopped. He bisected Dallas defenders Damien Wilson and Kavon Frazier and kept going up the right seam. Goff hit Gurley in stride, for a 53-yard touchdown. The Rams took the lead there and never trailed.
"I got that from Andy Reid," McVay said. "Opening night, Kansas City at New England."
So I go to trusty NFL Game Pass, to search for Alex Smith to a back, seam route, big play. There it is, eerie in its similarity, early in the fourth quarter, first game of this NFL season.
Smith took a shotgun snap. From Smith's left, speedy Tyreek Hill came in motion. Snap. Ball-fake to Hill on the jet sweep. Kareem Hunt circled out of the backfield as though to run a wheel route. Except he never stopped. He bisected Patriot defenders Cassius Marsh and Kyle Van Noy and kept going up the right seam. Smith hit Hunt in stride, for a 78-yard touchdown. The Chiefs took the lead there and never trailed.
"K.C. ran it the first game of the season," Goff said Sunday. "That was straight from them. But you saw how well it fit what we do. They've got players like we have. Our coaches do things like that pretty often. It really makes it fun. It's just like, we come into our meeting Saturday night before the game, and we sit down and look at the plays, and it's hard to find plays we don't like. It's hard to find plays we think aren't going to work."
Ben McAdoo's Worst Nightmare Plays Out As Rams Rout Giants
I can't tell you how many coaches over the years, smart coaches, have told me openly that they steal. Buddy Ryan was one of the first, at the height of his "46 Defense" success . In 1985 or '86, he told me he watched tape (might have been film) of other teams he admired every week, and he'd copy some defensive wrinkle or blitz. The coaches I admire admit it the way McVay did instead of huffing and puffing and being all proud. McVay knows everything in the game comes around. Goff says when one of these old but new plays gets introduced in practice, "The defense will go, 'Wow. Cool.'"
"What you notice about Sean," said Rams COO Kevin Demoff, who led the charge to hire the then-30-year-old Washington offensive coordinator, "is he's a millennial in so many ways. But he's really an old soul in football. He knows what works. Like, he said to us he really wanted Wade Phillips to coach the defense. He knew he wasn't going to do it, so why not get someone who'd done it so well for so long. So the defense is all Wade's. He took the interim coach [John Fassel] and kept him as special-teams coach, and gave him more responsibilities, like clock management and timeouts. So he knows it's smart to empower people."
Interesting that the Rams have gone from the most feeble offense to the most explosive, in nine months. How does that happen? By getting everyone involved. Robert Woods, Buffalo free-agent import, with two TD catches Sunday. Sammy Watkins, Buffalo trade import, with a 67-yard scoring bomb from Goff. Cooper Kupp, third-round rookie, with a catch-in-the-flat and quick lateral for a nine-yard gain to another weapon, Austin. Gurley, with 102 total yards and two more touchdowns. Rookie tight end Gerald Everett with a 44-yard catch, and another young tight end, Tyler Higbee, with a touchdown. And Goff, with his best game as a pro, four touchdowns and no picks and a 146.8 rating.
"The ball's going to be spread around," said Goff, "which makes it easy on me. There's always a good option for me. We've got so many talented players here, and for us, it's like what Tiger Woods says: 'Winning fixes everything.'" As does fun. And no team is having more fun than the Rams right now.
You know what else is impressive? Winning travels. Look what's happened the past three games. The Rams flew to Jacksonville and won by 10. Then it was on to London; Rams 33, Cards 0. Then home, then the bye, then on to New Jersey. Rams by 34. Three games, 3,000 to 7,000 miles away from home, and three double-digit wins. It's strange to say "first-place Rams" in November. But the Rams are trending up. I'll be surprised if they flatten out in the second half of the season.
Andy Benoit and Gary Gramling wrap up the Sunday action each Monday morning on "The MMQB: 10 Things Podcast." Subscribe on iTunes.
• We have a newsletter, and you can subscribe, and it's free. Get "The Morning Huddle" delivered to your inbox first thing each weekday, by going here and checking The MMQB newsletter box. Start your day with the best of the NFL, from The MMQB.
• Question or comment? Story idea? Email us at talkback@themmqb.com.