The Saints' Success Is On the Line
The nation is starting to take notice of what was already common knowledge in the New Orleans' locker room: Drew Brees is the face of the franchise, but the offensive line is powering the resurgent Saints
METAIRIE, La. — Drew Brees is holding court at his locker during his weekly press conference. The 17-year veteran and longest-tenured Saint is asked about his top receiver, Michael Thomas, and his emerging star rookie running back Alvin Kamara. Requests are made for him to compare this team to previous playoff teams, including the one that made the magical Super Bowl run nearly a decade ago. And, once again, he'll demure when asked about his contract beyond this season.
He's all smiles. It's Wednesday afternoon and his Saints are sitting at 7-2, the hottest team in the league with seven straight wins, threatening for eight on Sunday when they host Washington. In case you haven't heard, he's not throwing the ball with the same frequency as he has over the course of his Hall of Fame career, and yes, it's wild that these Saints are more efficient on the ground. But he's also taking fewer hits to his 38-year-old body, including zero sacks last week in Buffalo.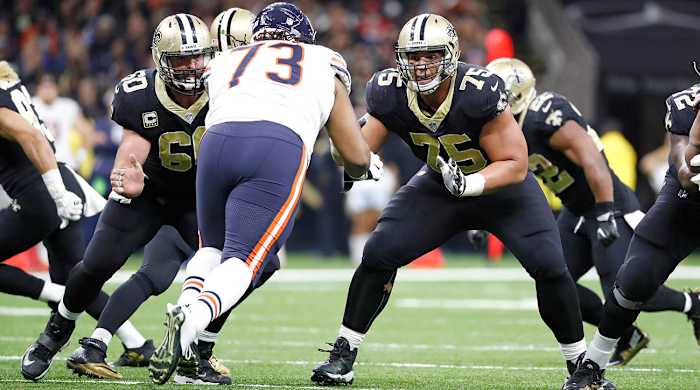 One of the great secrets to the Saints breaking out of 7-9 hell—where they resided each of the past three seasons—has been the consistent play of the offensive line, even if the line itself hasn't had a consistent starting five. According to Football Outsiders, the Saints' offensive line is No. 1 in run blocking and No. 3 in pass protection. Brees has been sacked a league-low eight times this season despite playing behind five different starting line combinations in nine games, and seeing his starting right tackle, Zach Strief, head to injured reserve after Week 4.
"It's just accountability that all the guys take upon themselves," veteran guard Larry Warford says. "We don't have two-deep or three-deep not knowing what to do or how we block. Everybody knows what to do and we have great players. I feel like anyone in that room can start on any team, to be honest."
Since the start of the Brees/Sean Payton era in 2006, the Saints' line has never been poor. In fact, New Orleans has given up the fewest sacks in the league during that time. But there has been a concerted effort on the part general manager Mickey Loomis and college scouting director (and maligned former Dolphins GM) Jeff Ireland to strengthen the O-line play in recent years. Here's how the current lineup was constructed:
• Left tackle Terron Armstead was a third-round pick in 2013, and re-signed two offseasons ago.
• Left guard Andrus Peat was a first-round pick in 2015, Ireland's first draft.
• Center Max Unger was acquired in the Jimmy Graham trade in 2015.
• Right guard Larry Warford was their most expensive free-agent acquisition, signed in March to a four-year, $34 million contract.
• Right tackle Ryan Ramczyk was drafted last spring with the final pick of the first round, a selection acquired from New England in the Brandin Cooks trade.
"I think it's a room that pays close attention to detail. There's a certain fit there," Payton said on Thursday. "There's a lot that goes into that position and it's probably—I don't want to say one of the more complex rooms—but I would say certainly one of the most significant rooms because it can permeate your team, and I think that room has done that for us."
How a Young Defense Is Making the Saints a Super Bowl Contender
Along with a top-10 defense, thanks to the eye of Ireland and the coaching of defensive coordinator Dennis Allen (and the cleansing of Rob Ryan's residue), the Saints choked out the Bills last week and face a struggling Washington team this week before a true test next week, when they travel to L.A. to face the Rams.
The weakest part of this squad is the special teams, which ranks in the bottom-six in the league in returning and defending both kicks and punts. Recognizing this, Payton is attempting to course-correct by hiring former Jets special teams guru Mike Westhoff to oversee New Orleans' unit for the second half of the season.
But what has always been the Saints' strength remains so, even if it looks a little different. The Saints have the No. 2-ranked offense even though Brees's passing game has been dialed back. He isn't in the top five in passing yards more than halfway through this season after leading the league the previous three years and five of the past six.
New Orleans rushed for 298 yards in Buffalo, the highest single-game total by any team in 2017, running it on 24 consecutive plays at one point (though one was a Drew Brees scramble).
"What's the No. 1 objective? To win," Brees said. "We've been doing that and doing it with the formula that's appropriate for that game. When we're running the ball effectively and playing the type of defense we have been playing, it's not necessary to throw the ball 35, 40 times a game."
So into the hands of Ingram and Kamara the ball will go, and they'll keep rushing behind this well-constructed offensive line that has so far yet to garner credit nationally but has gotten plenty in their own locker room.
Kamara was named "FedEx Ground Player of the Week" for his 152-yard game against the Buccaneers in Week 9. (One week later, Ingram go the honor for his 131-yard, three-touchdown performance against the Bills.) As part of the award, Kamara was shipped a load of ribs this week. He knew what to do.
"I went and put them in [the offensive linemen's] lockers and they were telling me today how good they were," Kamara said. "So at least they're full."
• Question or comment? Email us at talkback@themmqb.com.