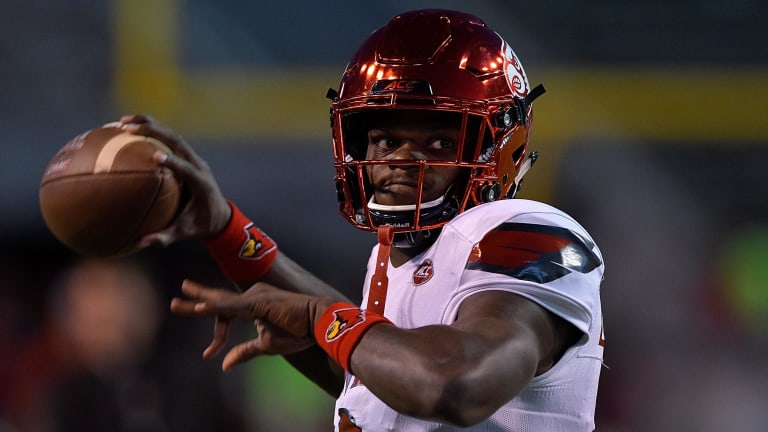 Lamar Jackson Is Trying to Game the Draft Process, But Is He Winning?
Lamar Jackson should go in the first round, but did his pro day boost his draft stock?
The most talked about drills from Lamar Jackson's pro day were the ones he didn't do, as the Louisville quarterback sat out the sprinting and agility portions of testing after doing the same at the combine. Meanwhile, word emerged that teams are struggling to schedule meetings with the prospect. Jonathan Jones was in Louisville for us, and he'll be writing more on Jackson soon, so let's turn to him for answers.
FELDMAN: What was your biggest takeaway from the day?
JONES: He was accurate against air just as he should have been. The biggest takeaway is that the NFL doesn't seem to understand what he's doing in the pre-draft process. He has a contract lawyer but still has no agent. His mom is operating as his manager but teams are having a difficult time getting her or anyone in his camp to return calls. I don't want it to sound like I'm campaigning for agents because I'm not. But this is a process too important for a guy of his caliber to go through without the guidance of someone who's done this before, and it seems like that's lacking here for Jackson.
FELDMAN: What do you make of Jackson deciding once again not to run for scouts?
JONES: The decision makes complete sense to me. I'm going to write more on this in my story that will run early next week, but Lamar Jackson is doing whatever he can to prove that he's a quarterback. We know that he's fast, and we know he's the best runner at the position since Vick. So to have that title, what more is a 40 number going to say? All the 40 would do is convince teams that he should be an "athlete" over quarterback and further prove the point that he's really, really trying to avoid.​​
FELDMAN: Now, coming out of the pro day, where would you put Jackson's draft floor and ceiling for April?
​JONES: The floor is the 32nd pick. I can't see how he falls out of the first round. A team is going to want to grab him because he's the most dynamic quarterback in this draft and if your bet pays off, you're sure as hell going to want the ability to extend a fifth-year option. His ceiling seems to be in the low teens. Everyone believes the top four QBs will go before the top 10, and then we get into players who are at the top of their positions. So once you get to 13 or so I think you could see a team say 'Look, this is the most athletic and dynamic quarterback this draft or last draft or maybe next draft. Let's make this work.'
Not getting this newsletter in your inbox yet?Join The MMQB's Morning Huddle.
HOT READS
NOW ON THE MMQB: Robert Klemko digs into what makes Baker Mayfield tick ... Jonathan Jones chats with recently retired Jeff Triplette ... Albert Breer explains how the NFL is beginning to prepare for legalized gambling ... and more.
WHAT YOU MAY HAVE MISSED:Joe Thomasdefended the new helmet-hit rule ... Michael McKnight and Greg Bishop dove into the dark world of trolling ... Peter King counted the ways an Odell Beckham trade could make sense ... and more.
PRESS COVERAGE
1. Two trades went down since we last caught up. The Browns dealt QB Cody Kessler to the Jaguars for a conditional seventh-round pick. He'll serve as a cheaper backup to Blake Bortles than Chad Henne was last year, though the move doesn't necessarily rule out the possibility of Tom Coughlin adding another developmental quarterback in the draft. Meanwhile, Washington improved its draft capital in exchange for sending Su'a Cravens to the Broncos. The 22-year-old safety left his team shortly before last season and did not play all year.
2.Jim Kelly is "on the road to recovery" after undergoing surgery for oral cancer, according to his wife, Jill.
3. For what it's worth, Mel Kiper Jr. is keeping Josh Allen atop his mock draft.
4. A couple notes on international prospects. One: 6-8, 346-pound Samoan rugby player Jordan Mailataworked out in front of all 32 teams, hoping one would see him as a potential left tackle. Two: the Cardinals signed defensive lineman Moubarak Djeri, a native of Togo, from the German Football League.
5.Green Bay Packers president Mark Murphy, a member of the competition committee, said that if the league does not make the kickoff play safer, "we're going to do away with it. It's that serious."
6. Steven Ruiz did his homework to argue that the NFL needs to clarify its new lowering-the-head penalty, finding that it could have been called 39 times in one half of one game.
Have a story you think we should include in tomorrow's Press Coverage?Let us know here.
THE KICKER
The baseball season opened Thursday, and it could not have started any better for Dan Le Batard.
Question? Comment? Story idea? Let the team know at talkback@themmqb.com