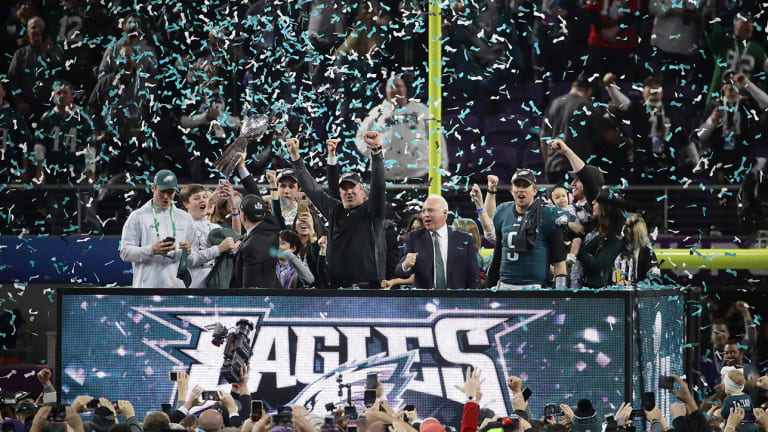 Philadelphia's Title Defense, and Doug Pederson vs. the Super Bowl Hangover
Pederson hasn't been able to get away from the recognition for what his team accomplished last season, but he's trying. The Eagles coach also weighs in on Carson Wentz's ETA, the turnover on his staff and the return of other injured veteran stars. Plus, why J.J. Watt wants to get back so badly, estimating Odell Beckham Jr.'s next contract, and impressive preseason performances from Luck, Peterson and Newton
Pederson hasn't been able to get away from the recognition for what his team accomplished last season, but he's trying. The Eagles coach also weighs in on Carson Wentz's ETA, the turnover on his staff and the return of other injured veteran stars. Plus, why J.J. Watt wants to get back so badly, estimating Odell Beckham Jr.'s next contract, and impressive preseason performances from Luck, Peterson and Newton
PHILADELPHIA — Punta Cana made sense for Doug Pederson, because after an offseason of being stopped everywhere—for selfies and for autographs, everywhere from On The Border down the street to any grocery store in metro Philly—he figured he and his wife ought to go to the kind of place where no one would know his name. So they booked a trip for the break in the NFL calendar at the end of June. And maybe then he realized just how big a life-changing deal all this was.
He thought at least the locals in the Dominican Republic wouldn't recognize him as the Super Bowl winning coach. He thought wrong.
"It was about three days into the trip," Pederson says, leaning back in a chair at the NovaCare Complex. "After a while, you started seeing the staff at the buffet line for breakfast, you're getting an omelet made and you can just see them talking and they're looking at you. And you look over and they turn away. You just know they're talking.
"By the end of our trip, the last two days, more people started coming up and asking for pictures or whatever, and they were really cool about it, really nice about it. But yeah, they know … They see your name, they put the name, the face, all that together—'Oh, you're the coach of the Eagles!' That's how big it's gotten."
The Eagles are 10 days away from opening their defense of the first Super Bowl in franchise history, and this kind of chance encounter is just example of how life, and the challenges ahead, have become different for Pederson and his team over the last seven months. And there was no question that, based on the half-hour I spent with him the other day, Pederson is very conscious of that.
He, in turn, has made his players aware, too. During their final team meeting of last season, he addressed how things were about to be flipped upside down. It was right around the time when the Eagles were taking their ticker-tape ride down Broad Street. He did it again at the beginning of OTAs. And training camp. And anytime he felt like they've needed it.
"It wasn't that I needed to—I wanted to, because I was on a team in Green Bay where we went back to the Super Bowl the second year and we lost," Pederson says. "So I have history with this. And not from the standpoint of guys just out there doing their own thing, I just wanted to address the team and make them aware that people, number one, are gonna pat you on the back and tell you how good you are, how great you were, and, two, they're gonna pull you in a bunch of different directions.
"Everyone's gonna wanna see the ring, hold the trophy, and that's great. Remembering is great. But don't live in the past."
There's been noise around the champs, to be sure. They've brought in high-profile vets like Michael Bennett and Haloti Ngata. They're still one of the most outspoken teams socially, with Malcolm Jenkins and Chris Long as lead voices. Carson Wentz's return from ACL surgery is being covered like a presidential campaign. And yet, Pederson looks comfortable as ever here, with the season coming fast.
Inside Doug Pederson's Interview to Become Head Coach of the Philadelphia Eagles
In this week's MMQB, we're going to check in with J.J. Watt on his recovery, run the numbers on a potential new deal for Odell Beckham Jr., and check out a pretty cool initiative going on at the Senior Bowl. We'll also take a swing through some stuff I heard over the last few days, and look forward to the final cut-down.
But we're starting here, in South Philly, with a team that Pederson sees as having handled all the hoopla that comes with a championship. And like the coach says, his radar has been up for any sort of slips. He let the players know during all of those talks, at the end of last year and start of OTAs and start of training camp and points in between, that he was going to be looking for signs of trouble.
"I didn't see any of it in the spring. And you didn't want any of that lingering when you get into camp and guys were really saying the right things," says Pederson. "But there have been times—maybe it's just my own gut feeling—where I gotta reel back in a little bit, maybe you feel like you're letting things go. And I think every coach goes through that anyway, things get that way, you bring them back down."
Pederson mentioned that experience in Green Bay, and there's no question that it's marked the way he's handled winning his second ring, in a much different capacity, 21 years later. He was the third string quarterback on that Packers team, and even then the afterglow of adulation and crush of requests hit him, which taught him about the depth of the challenge. It literally touches every part of your operation.
That's why one of the most important calls he made this offseason was to his old coach, Mike Holmgren, and that affirmed what he thought as the two discussed the "other side" of success: "What it looks like from the standpoint of being pulled in a lot of different directions." Holmgren told Pederson to create repetition in the program, to remind the players of what got them there last year.
And Holmgren reminded his old backup QB that it had to start with the head coach, which is the way Pederson was looking at it anyway.
"There's not enough of me to go around," Pederson says. "It takes you away from your job. That's time away, and personally I hate being away. This is what I was hired to do. That's why I respect what Bill Belichick's done, really being able to keep things grounded and focused with that team, and just be point-blank with everybody. You don't see him doing a lot of stuff. He's very selective.
"And there's a reason why they win every year. So for me, now in this position, I respect that. Being there last week and seeing those five championship banners in their stadium, I mean, we've only got one. You look up and they've got five. It's like, Man, I'm just hoping I can maybe get one more somewhere along the way."
Based on the roster he and Howie Roseman have built, it's not far-fetched to think they've got a chance to get back there, and soon. But that doesn't mean there aren't things to work out, and consider going into the season. Here are three we discussed …
Wentz's return. I made this one simple: What does Pederson need to see to put Wentz behind Jason Kelce for the opener in 10 days?
"I'm gonna start by saying this is a medical decision," Pederson says. "The doctors have to clear him to play in games. So that's first. Obviously, if we get to that bridge, and we cross it, then it's all the timing and rhythm and accuracy and decision-making and making the calls at the line of scrimmage, that he has to do that he hasn't been able to do at training camp up until this week."
The coach is referencing Wentz's return to 11-on-11 work, which was a step. And what do the doctors need to see for him to take the next step? "It's time more than anything, because we're early," Pederson says. "Everyone can look at when he had surgery to now, the timetable, and it's a lengthy process. So time is probably what we're running out of, but at the same time I want to make sure it's right."
Pederson was resolute on this: He won't sacrifice the 25-year-old's future for a September game against the Falcons or the Bucs.
"He and I are attached," Pederson says. "My first job, I draft Carson Wentz. And so his longevity ties to mine, I want to make sure he's 100%. He's played a ton of football in two years. But he's still growing, he's still learning, and so at the same time, I gotta make sure he gets enough reps, enough time with the starters going into whenever that day comes … He'll play for 15 more years. That's the part I look at. I can't just focus on one game or two games."
… So do a lot of other guys. One thing that helps Pederson keeps his guys engaged? The group of prominent vets that were there but weren't really there. Wentz, linebacker Jordan Hicks, left tackle Jason Peters, running back Darren Sproles and special teams captain Chris Maragos were among those in street clothes for Super Bowl LII, all on IR. And so if anyone's lacking urgency, Pederson can count on those guys to bring it.
"Those guys help behind the scenes in the locker room, out in the community," he says. "Maybe they see something going on, they can kind of reel some guys back in. And I think it helps. … All those guys you mentioned wanted to be out there. I think that helps me, in addressing the team, keeping guys grounded."
Another thing Pederson mentioned that helps: having guys who've been through the experience of winning it all before, like Chris Long (New England, LI), Michael Bennett (Seattle, XLVIII) and Malcolm Jenkins (New Orleans, XLIV) have. On the flip side, there are a lot of people to work back into the lineup, and a lot of roles that will need to be sorted out.
2018 NFL Predictions: Team-by-Team Records, Playoffs and Super Bowl LIII Champion
Coaching staff attrition. This story is not new. An innovative championship coaching staff gets picked apart, with its pieces finding promotions in places looking to emulate a team playing at the highest level. And so it is that offensive coordinator Frank Reich is now the Colts' head coach, and QBs coach John DeFilippo is now the Vikings OC. The good news is Pederson was cross-training others to prepare them to step forward.
New QBs coach Press Taylor spent a ton of time in the quarterbacks room as Chip Kelly's quality control coach from 2013-15, then became assistant QBs coach in 2016, and spent more time last year in the receivers room with Mike Groh. Groh is replacing Reich. He was the Rams' passing-game coordinator in 2016 and he became the receivers coach in Philly last year. Pederson had him working on third downs during the week to involve him at the coordinator level .
"Any time you lose a coach, it's tough," Pederson says. "But for me, that's why you hire great assistant coaches, guys you know can become coordinators or position coaches. … First-time coordinator, coordinating the coaches, divvying up scripts, who's doing this, who's doing that, the job responsibilities, all that's new. But listen, that's why I here. I'm still the one calling the plays, I'm still a big part of the game planning, and we're still doing it as a collaborative effort, just like Frank and I did."
We'll see if Wentz starts against Atlanta. We'll see if the Eagles have truly put the championship behind them. We'll see how all the injured guys work back in, and the elevated coaches adjust. What we know is that Philly isn't ignoring any of that. Pederson has certainly given them their reminders. And maybe that's because he's been unable to escape last season, no matter where he's gone.
Watt Can't Wait to Hit
A couple weeks ago, we explained the crossroads that Aaron Rodgers came to when he broke his collarbone last year—at 33, he could either look at the long road back and dread jumping onto it, or want back in so bad that it didn't matter what he had to do to get there. It was the latter for Rodgers. And when I mentioned the quarterback to J.J. Watt the other day, Watt immediately got what the Packers QB was saying.
"I'd completely agree with that—even if you half-ass it, you're completely screwing yourself in the end," Watt says. "That's why, if you go back and watch when I broke my leg, the pain on my face, just as much as it was the physical pain from breaking my leg, it was the mental pain knowing how far I had come from the back injury, and then thinking how about how far I was gonna have to come again to rehab this leg.
"So in my head, it was months and months and month, and man, 'I'm gonna have to do it all over again.' But like he said, once you flip that switch and decide, 'Yes, I'm going to do this,' there's no looking back."
I asked Watt how long it took him to get there, and he answered just like Rodgers did: "Not long at all."
"This one was much easier than the back, I was like, 'let's do this,'" Watt says. "My girlfriend [Houston Dash midfielder Kealia Ohai] had just come off an ACL and she was rehabbing herself, getting back. So I had a lot of motivation from that. I just had a lot of energy and a lot of motivation, and I wanted to get to work. But like I said, there were plenty of bad days mixed in there."
J.J. Watt and Kealia Ohai: Couple's Rehab and Recovery
Here's the interesting thing: Watt conceded to me that he did consider his football mortality after injuring his back and missing the 2016 season. He'd played through plenty of nicks, but injuries had been mounting. He hadn't missed a snap in five NFL seasons before that.
This time around, he says, he'd gained perspective. In his first five years, Watt piled up 74.5 sacks in making 80 starts in 80 games, winning NFL Defensive Player of the Year three times. He's played in just eight games the last two years, and his last sack was on Sept. 18, 2016, more than 23 months ago, which gave him perspective on and appreciation for what he does for a living.
"I mean, the last two years were miserable," Watt says. "There's no other way to put it. They sucked. They don't complain about nearly as much anymore, you don't have any gripes because you're so grateful and thankful to be out on the field. And when you're away from the guys, you're away from the locker room, you're away from the game, you realize how much it truly means.
"I think I learned it doesn't help to look past one day. Obviously you have dreams and goals and things you want to accomplish. But when you take things one day at a time, everything falls into place. If I just do the best I can possibly do today, it's all going to fall into place. I used to care so much about what other people thought. I used to care so much about pundits and analysts and the internet. All that does is mess you up from your goal."
His goals, for now, are in front of him. He turns 30 next March, but he doesn't have a timetable on how long he wants to play. "I don't have any idea how long it could be, I wanna play as long as I can be great, so who knows?" And he doesn't seem wrapped up in individual goals for the season, either. Getting to Sept. 9 is what's on his mind, and he didn't skip a beat when I asked what he's looking forward to.
"Hitting," he says. "I want to hit people."
Building a Contract for Odell Beckham Jr.
A couple weeks ago, NFL Network's Ian Rapoport reported that Odell Beckham Jr. and the Giants were building momentum towards a deal that could be done before Week 1, and ESPN's Jordan Ranaan wrote this week that the sides are optimistic that the finish line is in sight. And that makes sense, based on how things have gone over the last seven months.
Both Beckham and the new Giants brass, fronted by GM Dave Gettleman and coach Pat Shurmur, deserve credit here. Shurmur gave Beckham a clean slate and—starting with text messages in January—did plenty to build a strong relationship with his star receiver. Gettleman kept an open mind, and didn't go in with preconceived notions.
In turn, Beckham got that the new guys needed him to earn his stripes in their program before they could consider paying him, based on how last year ended and the message rewarding a player coming out of that would send to the rest of the locker room. So Beckham showed for most of the offseason program, and was communicative when he wasn't there, and has been great in training camp, too.
With all that in mind, what's Beckham worth? I pulled together a group of seven agents and team officials to try and ascertain what his new deal should look like, based on market conditions and leverage (Beckham has his option-year left at $8.8 million; Tampa's Mike Evans got $16.5 million this offseason going into his option year, the Rams' Brandin Cooks got $16.2 million going into his option year, and K.C.'s Sammy Watkins got $16 million per as a free agent).
Introducing the Podcasts of The MMQB NFL Show
I asked for new years, new money, three-year cashflow and the practical guarantee. I did get some feedback on what the full guarantee would be, too, and those figures started at around $40 million. Here are the answers I got (remember, these would all fold in his current year at $8.8 million, so a five-year, $100 million extension would wind up being $108.8 million over the next six years) …
Agent 1: 5 years, $97.5 million; $60 million over 3; $60 million guarantee.
Agent 2: 4 years, $74 million; $60 milion over 3; $50 million guarantee.
Agent 3: 5 years, $100 million; $65 million over 3; $62 million guarantee.
Agent 4: 4 years, $82 million; $60 million over 3; $60 million guarantee.
Team official 1: 4 years, $80 million; $63 million over 3; $60 million guarantee.
Team official 2: 5 years, $91.5 million; $58 million over 3; $58 million guarantee.
Team official 3: 5 years, $98 million; $58.5 million over 3; $58.5 million guarantee.
The second team official also offered up a creative alternative deal that would get Beckham to $20 million per in new money—a four-year, $80 million extension—but sacrifice a little on the guarantee ($48 million) and three-year cashflow ($48 million), which underscores how all these numbers are moving targets.
What all the above proposals have in common is that each makes Beckham the highest paid receiver in league history, with the biggest guarantee and best cashflow at the position. That reflects, of course, Beckham's talent, and the work he's done in rehabilitating the way people look at him over this offseason which, again, is a credit to him.
A New Initiative for the Senior Bowl
Jim Nagy, the ex-Patriots, Chiefs and Seahawks scout who's the Senior Bowl's new executive director, remembers googling Sherman Williams, the old Alabama star who became Emmitt Smith's backup in Dallas. He was floored at what came up.
Williams is a native of Mobile, where the Senior Bowl is held, and was done with the NFL in 1999. Long story short, he came home, and a lot of his old buddies were still there. He longed for the brotherhood football brings, and they gave it to him. So with money in his pocket, he got caught up in some of the wrong things. Within a year, he was in prison for conspiracy to distribute marijuana. He spent 14 years there.
To Nagy, what happened to Williams was completely preventable. And as he moved into this new role, taking over for Phil Savage, he felt like that was a new area where the Senior Bowl could make a difference. So one of his first acts in charge was to establish an Ambassador's Club, which is a sort of society for Mobile area natives and south Alabama alums connected to the game with NFL ties.
"What guys say they miss most when they retire is the brotherhood," Nagy said on Sunday night. "They get done playing and they say, 'What do I do now?' A lot of guys struggle with that. We want to plug them into a fraternity, with guys who have shared experience. … Sherman said, 'If I had something to come home to, a peer group to help deal with the transition,' [he] probably wouldn't have gone back to that."
This week, Nagy and the Senior Bowl announced that the Ambassador's Club is in place. They have 25 active NFL players (Redskins LB Ryan Anderson, Jaguars RB T.J. Yeldon, and Rams LB Mark Barron among them) as members—22 originally from Mobile and Baldwin counties, and three from South Alabama. They have 31 NFL alums (JaMarcus Russell, Willie Anderson and new Hall of Famer Robert Brazile) on board.
That number was actually 49 before the announcement, and swelled by seven after it. Only two area guys active in the NFL—Falcons WR Julio Jones and Panthers OL Quinterrius Eatmon—aren't signed up yet. So Nagy, who's lived in Mobile for over a decade scouting for the Patriots, Chiefs and Seahawks, and whose wife is from the area, has already gotten a pretty positive response for the players he wants to serve.
As Nagy sees it, his job is to help grow what Savage built there over the years as the steward of the highest profile college all-star game on the calendar. Savage left Nagy with a lot to work with in the year-round infrastructure he built; this was one creative way he could add to it.
The Ambassador's Club will be on year-round, in one form or another. Nagy will be at a high school game with an Ambassador every Friday night—Anderson and Brazile went to the Blount/Vigor game with him last Friday. The group is planning a football festival for Thanksgiving Day. And there will be camps in the spring that the active NFL guys can participate in.
The main thing, though, will be trying to unify the community around the game, and give all these guys what Williams once lacked: something to come home to.
"Very few people have anything in common with these guys," says Nagy. "People ask me about Tom Brady, having been in New England, and they bang on him for marrying Gisele. I'll say to them, 'Who else does he have all that in common with?' … These guys have gotten to where kids dream of going, they have shared experience, shared respect, so why not create something where they can all get together."
That's just what Nagy is doing. And while I had Nagy—and since the draft will be a year-round part of this column going forward—I did want to ask him about next year's draft class. Nagy has already been to a dozen schools or so (including Alabama, Georgia, Clemson and Auburn), and was at the Manning Passing Academy.
Who Are the Defensive Linemen Expected to Dominate the 2019 NFL Draft?
"Everyone's talking about the D-line class, and it's great, a lot of underclassmen," Nagy says. "But to me, the story is going to be how these quarterbacks emerge. Right now, the quarterback class is not getting a lot of respect. But if you've seen [Missouri's] Drew Lock—I know scouts, respected scouts, who liked him more than the four guys that came out. And I think [Auburn's Jarrett] Stidham is really good.
"To me, those guys are close to each of the guys last year. And then you throw [West Virginia's Will] Grier in mix, if you sort through the off-field stuff from Florida, physically he has a lot of ability. And [Ryan] Finley, at N.C. State. People are downplaying the quarterback class, and it might be better than last year."
That remains to be seen, and we'll sure see a few of those guys in Mobile in January. But between now and then, Nagy's got some pretty cool stuff down there brewing.
… OF THE WEEK
TWEET
Kid on the left's a stud, trying to give her that look—"Sup?"
MEME
Ol' Stripes over here not doing much to help the numbers problem in youth football.
VIDEO
Absolutely mesmerizing, and even better is that Bob Wiley just so happens to be a patron saint for offensive line coaches—one of the leaders of the "Mushroom Society."
QUOTE
"Every year they're making the game harder and harder for a defensive player to play. We got this new helmet rule that they don't even know how to officiate right now. We're doing our best to adjust. I just think that defensive players are just as important as offensive players, if you don't have the defense, this league doesn't exist. I feel like defensive players do need to stand their ground just to show that we're just as important. … You see all the offensive guys getting paid and we're just as important. For me, from that standpoint, it's hard to really tell someone like that what to do because does he deserve to get paid? I mean, look at him; All-Pro, Pro Bowls, best safety in the league, not many safeties like him. So at some point you've got to do what you've got to do business wise, because our years are numbered. I think he's been in the league eight or nine years, you don't know how many more years you got. You got to make sure you take care of the business side and unfortunately that sometimes comes in the way of playing on the field."
—Seahawks LB Bobby Wagner on Earl Thomas's holdout.
And you can apply that to Aaron Donald and Khalil Mack too. Over the last three years, the market for top defensive players hasn't moved an inch. Ndamukong Suh got a six-year, $114 million deal from Miami in 2015. Von Miller basically got the same deal (six years, $114.5 million) from Denver the next year, and he remains the highest paid defensive player in the history of the game. In the time since, we've seen players at some defensive positions (safety, inside linebacker) struggle to get what guys have in the recent past, and the market at the premium positions stagnated. So you can bet all defensive players are keeping an eye on Thomas (who's obviously older and looking for a third contract), Donald and Mack, and their resolve to get fair deals.
S/O TO
Cardinals GM Steve Keim, for opening up and letting the public in Arizona and elsewhere see how his July 4 DUI arrest and resulting suspension affected him as he returned to the building last week. In talking to the media, Keim called the whole thing "extremely humbling and embarrassing beyond belief." And then he got emotional: "I've hurt a lot of people in this process. In fact, after the reports came out, my 12-year-old son was texting his buddy, [who] said, 'They keep showing your dad over and over again on TV. I'm so sorry he had to go through that.' And my son said, 'I'm not. He shouldn't have been doing it.' And my son is right. I don't think there's any feeling that's worse than feeling like you let your children down." Good for Keim—100% contrition, no justifying or couching anything. And a good message in there for people who might be tempted to put themselves in a similar position to go get themselves an Uber.
TEN TAKEAWAYS
1. Loved what we saw from Andrew Luck on Saturday against the Niners, even if his arm might not be all the way back. Officially, he wound up 8-of-10 for 90 yards and a touchdown. But I wanted to go a little deeper, so I hit up an exec from an AFC team who got a good look at him in the game. He texted, "On tape, haven't seen him really rip it and there are times he pushes it. Accuracy, touch, passing instincts all pluses, like always. Guessing he still may be on a pitch count and building arm strength in practice and games. Not hesitant at all physically. Missed OTAs and still working his way back." And a Niners staffer I talked to echoed that, saying coming back from surgery and into a new system will take a little bit, and may be a reason why he's not throwing as much heat now, but pointed to a laser on a third-and-9 to T.Y. Hilton early in the first quarter as proof that Luck can still crank it up when he needs to. My feeling? The Colts have seen what they've needed to ahead of Sept. 9.
'Scrap the Superman Cape': Advice for Avoiding Injuries as an NFL QB
2. After watching him run on Friday, I'm going to conclude, and we've got evidence of this going all the way back to Oklahoma, that Adrian Peterson is just built different than pretty much everyone else. He's 33. He's got 2,574 regular-season carries under his belt over 11 years in the NFL. And somehow, he still has the ability, weighing in the 220s, to run around people at the highest level of the game. I don't know if it'll last through the season, and frankly, it probably shouldn't given the tread on his tires, but man was he impressive in running for 56 yards on 11 carries against the Broncos. And I picked up this nugget from his workout last week: As much as Peterson's combination of size, speed and burst impressed the Redskins staff at what amounted to a tryout on Monday, they were just as wowed by his endurance. The guys there tested Peterson in that regarded, and couldn't wear him out.
3.Cam Newton looked pretty good the other night in piloting the Panthers against New England (when he wasn't taking a silly and unnecessary risk in diving for first-down yardage). And afterward, this was pointed out to me: His progress this preseason is pretty quantifiable. He's completed 68.4% of his passes through three games. That's after completing 42.1% in 2011, 50.0% in both '12 and '13, 57.1 percent in '14, 54.2% in '15, and 55.3% in '16. He completed 100 percent last year, but only threw two passes, as he was coming back from shoulder surgery. What OC Norv Turner and QBs coach Scott Turner have tried to impress on him is to find completions, and "own" the offense by using the whole field. This is, at least, an early sign that it's starting to work a little. Remember, it's been five years since Newton had a season completing better than 60% of his throws.
Introducing the Podcasts of The MMQB NFL Show
4. I thought on Friday night, we saw the lack of first-team reps get Baker Mayfield a little, when he was out there with the starters during Tyrod Taylor's brief absence. And to me, it raises an interesting question: If he's not going to start, should he be the backup? Consider the reasoning for Mayfield sitting in the first place. "I've seen it both ways, and it's the makeup of everything," coach Hue Jackson told me a few weeks ago, when I asked why this is different than Baltimore in 2008, where he was the QBs coach and Joe Flacco played as a rookie. "It's the makeup of the team. When I was in Baltimore, you're talking about Ray Lewis and Ed Reed and Haloti Ngata and Terrell Suggs and all those guys on defense, that was a different team. Here, quarterback's gotta drive the train right now. Let's be honest about where we're coming from. That's a lot of pressure, a lot of things would have to go right for him. So why do that, why force that? If we're talking where we can be in the future, why not set this thing up so it can be successful in the future." If this is about what's best for Mayfield, giving him that year, wouldn't it make sense to just make Drew Stanton the backup?
5. I only hit two camps this week, and I'll be wrapping up my 24-team swing in Buffalo today (where we'll check in on Josh Allen, after he took it on the chin pretty good on Sunday against the Bengals). But since I've given you nuggets from all the rest: The Eagles are really pleased with how their corner depth is shaking out, remarkable considering that, of the eight corners on the 90-man roster, only one (2016 draftee Jalen Mills) was in Philly prior to the 2017 draft, and none predate Pederson. Mills has had a strong camp, as has 2017 redshirt Sidney Jones and 2018 fourth-rounder Avonte Maddox. All that should give Philly flexibility as No. 1 corner Ronald Darby goes into a contract year. … We're going to get to presumed Week 1 starter Sam Darnold in a second, but let's get to a couple of his classmates first. Fourth-round TE Chris Herndon will probably be starting soon, and has flashed big-time potential. And third-round DE Nathan Shepherd and sixth-round CB Parry Nickerson look like they'll contribute, making the team optimistic it'll make up for the two 2018 second-rounders it dealt away to get Darnold.
6. As for Sam Darnold, go back and watch the Jets' first possession against the Giants, and you'll see the same thing the coaches did—poise and quick, accurate reads—as he led the offense swiftly down the field. His numbers on that possession (3-of-5 for 36 yards) certainly don't reflect how impressive he looked moving the team. And there is something worth pointing out here: We know he can improvise, and he showed that again on an 11-yard scramble for a first down, but on this touchdown drive he showed his ability to play on schedule. Outside of a play on which he was chased off his spot and threw the ball away, Darnold made all his throws from the pocket, and all four of them were on time and in the right spot. If not for a Robbie Anderson drop, he'd have completed all four of them. In doing so, he showed his knowledge of Jeremy Bates's offense, getting through his reads quickly and correctly. If there's one thing he'll need to do better (this is the case with a lot of rookie quarterbacks), it's pushing the ball down the field. But the Jets are confident that will come. And so there's not much left to make you believe he won't be starting in Detroit on Sept. 10.
7. My feeling is that Tom Brady's body coach, Alex Guerrero, being back on the team plane and riding the bus from the hotel to the stadium, is significant for the Patriots, as a sort of thawing out of the drama that hovered over the team's playoff run in January and February. And that New England didn't hide him coming off the bus (our camera man at NBC Sports Boston got a clean shot of him coming off in the bowels of Bank of America Stadium) on Friday night tells you they sure didn't mind getting it out there. There was a feeling among those in Foxboro that once the 2018 season drew near, the competitiveness and passion for football of Brady and Bill Belichick would help everyone compartmentalize what's a bumpy period of time. And it looks like that's happened.
For Sean McVay, Work-Life Balance Is a Work in Progress
8. A cut that got my attention: The Raiders released 2017 second-rounder Obi Melifonwu this week. Under the waived/injured designation, he wound up clearing waivers and reverting to Oakland's IR list. But that the Raiders were willing to expose the 56th overall pick of the '17 draft to other teams speaks to the power Jon Gruden wields now, and how GM Reggie McKenzie's role in the decision-making process has changed. And it shows too to the assessment Gruden gave me a couple weeks ago of the roster he inherited upon arrival in January: "We had a lot of needs, we were gutted. … There's no one left here from the '13 draft class, not a player. And we haven't gotten enough out of our '15, '16 or '17 classes, at all. We gotta generate some competition and some depth and find some guys." All of this goes a long way to explaining why Gruden was so aggressive in bringing vets into the mix, and this week certainly shows that young, highly-drafted guys aren't on scholarship anymore.
9. Congrats to both ex-Cowboys exec Gil Brandt and Broncos owner Pat Bowlen on their nominations as contributor candidates for the Hall of Fame's 2019 class. Earlier in the summer, we did a section on the impact Bowlen made on the league level with his work on the broadcast committee, and that's before you even touch all the team success. As for Brandt, he's considered one of the fathers of modern scouting. And today, he's a modern marvel. I worked with Gil for six years at NFL Network, and last saw him three weeks ago at Jaguars camp. That was a Sunday, and practice was in midday, and the heat index under stifling humidity was well into the triple digits—I was dying, just standing still in it. And there was Gil, at 85, taking in practice from a golf cart, nearing the end of a camp tour crisscrossing the country. I don't know what I'll be doing at 85, but it's pretty crazy that he's able to be able out in those conditions at that age—and admirable that he loves football enough to do it.
10. Fun fact that a GM passed along to me on the camp trail: No quarterback on a contract with an average-per-year of $20 million or more has ever won the Super Bowl. I looked it up, and it's accurate. Since Drew Brees became first to break that barrier in 2012, Baltimore's Joe Flacco ($4.76 million APY), Seattle's Russell Wilson ($749K), New England's Tom Brady ($9 million), Denver's Peyton Manning ($19.2 million), Brady again ($15 million), and Nick Foles ($5.5 million) have won it all on contracts under that line. Not sure there's any grand meaning to it, other than the financial flexibility an affordable quarterback gives teams to build with, but certainly something worth keeping in mind going into a year in which 16 of the league's 32 teams have a quarterback at APY of at least $20 million.
OFF-FIELD ISSUES
1. There is so much to respect about John McCain's service to our country. And I hope everyone can take this apolitically: It'd be pretty cool if one thing we could all take from him is his ability to reach across the aisle and connect with people who may have come from different backgrounds or belief systems. It really hit me over the last couple days how few people had anything negative to say about him, which says a lot about the person he was and the life he led.
2. I don't have any more answers on how to handle the mass-shooting problem in this country than the next guy. I just know doing nothing about gun violence isn't the right one.
3. I've gotten asked plenty about the situation at my alma mater, Ohio State. What I'd say is: There's no question there was enough reason for the football program to cut ties with Zach Smith before it did, there were certainly procedural problems with how the situation was handled, and the press conference the other night was bad all the way around. That said, in covering the NFL over the last four years I've learned to be careful in rushing to a conclusion in these types of cases. That has nothing to do with the diploma on my shelf.
It's Time We Realize Football Is a Little Less Important
4. It'd be really hilarious if Kobe Bryant showed up at the Lakers facility with a gym bag in December, after saying he wasn't coming back, Francesa-style.
5. Pretty interesting that new Nebraska coach Scott Frost will open his first season back at his alma mater starting a true freshman, Adrian Martinez, at quarterback. And while we're there, how about this for his Big Ten opener: Frost and the school he once quarterbacked, going against Jim Harbaugh and the school, Michigan, that he once quarterbacked. That one's set for Sept. 22.
FIVE-DAY FORECAST
Five days from now is cut-down day, which means trade talk is about to heat up across the NFL. And the last year or so has provided proof that teams are far more open to dealing, and dealing for, veterans than ever before.
With that backdrop, I'll repeat what was in this space last week: Offensive linemen are the hottest commodity out there on the market, making it good to be a team with any sort of depth up front. You could see it in what the Bills put in front of Allen on Sunday, and what Josh Rosen has had to operate in front of in Arizona. The league just doesn't have enough of the big guys.
Who could be moved? Colts OT Austin Howard, Raiders OT Jylan Ware, Eagles OG Chance Warmack and Bears C Hroniss Grasu were among the names I've heard as available, with Howard and Warmack carrying extensive starting experience.
Elsewhere, there's plenty of chatter on tight ends and linebackers. We saw one of the latter, Antonio Morrison, moved from Indy to Green Bay this weekend, as the Packers work to fill the hole left by Jake Ryan. And the prominence of the former in the types of offenses being run now in Philadelphia, Kansas City, Indianapolis and Chicago has created a desire for depth at the position in other places.
It should be a fun and fast-paced week, even if you aren't paying any attention to the 16 games being played on Thursday (which, to be honest, probably don't deserve your attention anyway).
• Question or comment? Email us at talkback@themmqb.com.