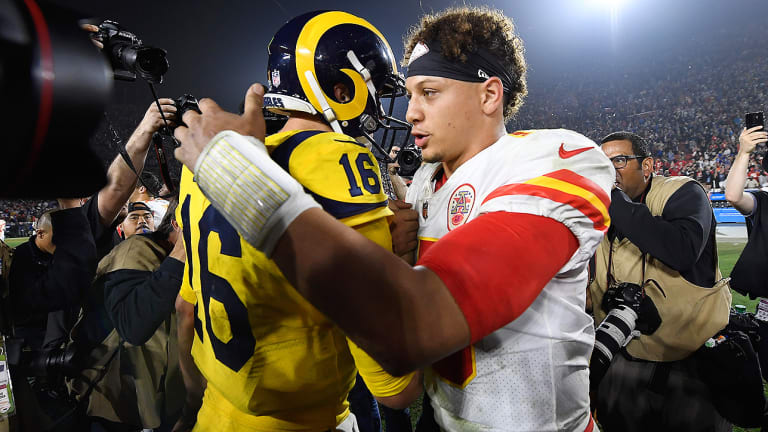 It's Time to Stop Asking Quarterback Prospects About Transitioning to the NFL Game
Something else that Monday night's game between Jared Goff's Rams and Patrick Mahomes's Chiefs emphasized: Quarterbacks who played in spread offenses in college can transition just fine to the NFL game.
By now you've read all about how the NFL will never be the same as the Rams beat the Chiefs 54–51 in Monday night's thriller in Los Angeles. Indeed, the college game has finally made its way to the NFL after a decade's worth of stubbornness by The Professional Men Who Know All.
But Monday night signaled something else to me. The revolution is here, and that means it's time to stop asking stupid questions that no longer matter in the pre-draft process to these quarterbacks.
For example, every year in Indianapolis we scribes ask the quarterbacks coming into the NFL from college spread offenses about how difficult the transition will be to playing under center. On Monday night, 101 of the 144 offensive snaps were taken out of shotgun. I don't have some fancy garage computer to tell me that's the first time in NFL history a game has seen at least 100 shotgun snaps, but I would bet it probably is.
Here's Jared Goff during the 2016 combine after being asked about the transition to the NFL after taking 99.8% of his snaps from shotgun.
"There's obviously going to be a transition and I think it happens, but there's a transition with every quarterback coming from college to the NFL," Goff said. "So I'm excited for it, honestly. I think I did a lot of stuff in college that does translate well and again there's a lot of stuff I need to improve on. Again, I'm excited for that and excited to make the adjustments and that transition."
Recall, also, that he came to the combine with hands measuring nine-and-a-half inches—a half-inch under the 10-inch threshold that has forever been held up as one of the main indicators of an NFL quarterback.
"Yeah, I've played football my whole life and never had any problem with that," Goff laughed.
And Patrick Mahomes was a "system guy" coming out of Texas Tech. His passing numbers there were comical and couldn't possibly be duplicated in the NFL. So Patrick, what do you say to people who say you're a system guy?
"I just show them my knowledge for the game. That's the only way I can prove it wrong," Mahomes said at the NFL combine in 2017. You look back at the system quarterback, a lot of guys didn't work out. So for me, it's just going to be about proving those guys wrong, going out there and really showing my knowledge of the game and just competing. It'll all show up when you get to the field."
We are entering a brave new world, and soon all our pre-draft questions and worries from the recent years will age just like this 1994 clip of Bryant Gumbel asking "what is Internet, anyway?!"
Not getting this newsletter in your inbox yet?Sign up for The MMQB's Morning Huddle.
HOT READS
NOW ON THE MMQB: How the Jaguars are coping with a lost season. … Andy Benoit looks at the 2019 draft needs for all the bad 2018 teams. …Michael McKnight was on the scene in Los Angeles for a game that meant so much to that area. … and more.
WHAT YOU MAY HAVE MISSED: The Saints are looking a whole lot like the 2007 Patriots. … The handful of NFL teams that we can't quite figure out. … Get your power rankings here! … and more.
PRESS COVERAGE
1. The Athletic's Lindsey Jones has a smart take on the need for updated passer rating metrics in the age of the new NFL offense.
2. Thought that game was all about offense? The Big Lead's Jason Lisk points out that L.A. played its best defensive game of the season.  
3. I've heard Cam Newton mention many times about the only pro sports player he met growing up in Atlanta was David Justice. Well done by ESPN.com's David Newton to track down Justice and see what that means to the former ballplayer.
4. After just seven games with the Broncos, safety Adam Pacman Jonesposted to Instagram saying his time in Denver is over. You'd imagine a team with playoff chances would add him on a minimum contract for depth.
5. Chiefs coach Andy Reid sounds optimistic that safety Eric Berry will start easing his way back into the fold. He hasn't practiced since mid August with a heel injury.
THE KICKER
A few years ago, my high school buddies started getting together for a flag football game on Thanksgiving Saturday. I initially resisted the first year because I didn't want to miss the Iron Bowl. So what? If you have your health, get out during this holiday week and play in that backyard game you're invited to. I'm glad I did. It's OK to miss some of the Lions or Cowboys' games tomorrow. Trust me, they'll be playing next year, too.
Question? Comment? Story idea? Let the team know at talkback@themmqb.com